Rev. Davison and the Methodist Church
The following article by Charles Hartley originally appeared in The Courier-Journal on 9 Feb 2014. It is archived here with additional information for your reading enjoyment.
---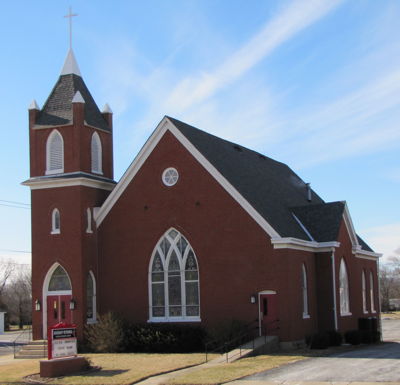 Davidson Memorial United Methodist Church
I recently came across a pamphlet titled "A History of Davidson Memorial United Methodist Church" written by Robert McDowell. According to McDowell, Rev. Learner B. Davison was appointed pastor of the Shepherdsville circuit in 1881. His name was spelled indiscriminately with and without the second 'd' (Davidson/Davison). He was reappointed to the Shepherdsville circuit again the next year, and then moved on to other stations. McDowell described him as "a good preacher, but one who never reached a first class station."
Then McDowell wrote, "No surviving member of the congregation that I have talked with has any idea why Davidson Memorial Methodist Church was named for him." This was enough to arouse my own curiosity, and what follows is the result of my efforts to answer that question.
In a brief statement in 1848, Learner Blackman Davison wrote that he was born in Grayson County on 3 May 1813 to Philemon and Catherine (Clarke) Davison, and named for Learner Blackman under whose ministry they were converted to the Methodist faith. He was the fourth of their ten children.
Rev. A. H. Redford later wrote of Philemon and Catherine that "their house was a home for the faithful preacher of the gospel, where he was ever welcomed with a cordiality that lightened the burdens of his life." Perhaps the frequent visits in his home by ministers of the gospel, combined with the name he bore, guided Learner to the path of ministry, for he joined that church in 1831, and was licensed to preach eleven years later in 1842.
Six years later he married Mrs. Caroline (Hall) Hinds, the widow of the Methodist preacher William Hinds from Louisiana. They had two sons, Charles and James, before Caroline died in April 1858 in Logan County. With two young sons to rear, Learner soon remarried, this time to Sarah Knowles in October of that year.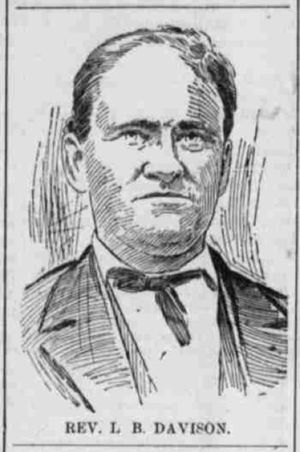 Life as a Methodist minister did not allow him to set roots in any one place for long. A list of the places where he served is long as he was normally in a place only a year or two before moving to the next one. In his nearly 40 years of ministry leading up to the time he appeared in Shepherdsville, he found himself in Hopkinsville three times, Louisville three times, Russellville twice, Elkton, Scottsville, Lebanon, Glasgow, Madisonville, Hawesville, Cadiz, Cave City, Princeton, Elizabethtown, Owensboro, Greensburg, and Burksville.
After his two years in Shepherdsville, he moved onto a number of other places including Lewisport, Campbellsville, Columbia, Smith's Grove, and others, finally ending up in 1895 at the small Asbury Chapel, a one-room brick structure at 312 Ohio Street in Louisville, for a second time nearly 50 years after his first stop there. (Ohio Street is now Frankfort Avenue, and the chapel was located near where I-71 passes over that street.)
That year he was interviewed by The Louisville Times, and recollected what Louisville had been like in 1842 when he first arrived there. According to the article, he remembered that "at that time Louisville numbered only 40,000. Chestnut and Walnut streets were on the outskirts. Broadway was out of town, and brick-yards graced the space where the present beautiful thoroughfare runs through the heart of the city. West of Preston street, and including the site of the City Hospital, the landscape was covered with dense woods, with here and there an inviting grove. These woods were well known to the boys of those days as Preston's and Jacob's. The old cemetery at Sixteenth and Jefferson street marked the western boundary of the city, and beyond that point was mainly commons. The main residence streets of the city were Market and Jefferson, the finest houses being build almost exclusively in the western portion. Main street and the river front were the marts of trade."
Learner Davison was still the minister of the Asbury Chapel in Louisville when, on Saturday, 13 Aug 1898, he took the Bowling Green accommodation train to Brooks' Station in Bullitt County to preach. According to a newspaper report, after he exited the train he started across the track to a buggy that awaited him. He never heard the fast Nashville bound train that struck and killed him.
In the minutes of the Louisville annual conference that autumn, a memoir in his memory was included. In it he was described as "a man of tough fiber and great physical vigor, a man of brain and brawn. He was of amiable temper and sweet spirit, of deep, fervent piety. His life was consistent, because of its uniformity. He was always busy and never triflingly employed. He worked with his hands as well as with his brains."
At his death he was the oldest active Methodist preacher in Kentucky.
Shepherdsville Methodists have owned the lot where the present church sits since 1847, and a frame church building stood there from that time until the present brick building was finished in 1906.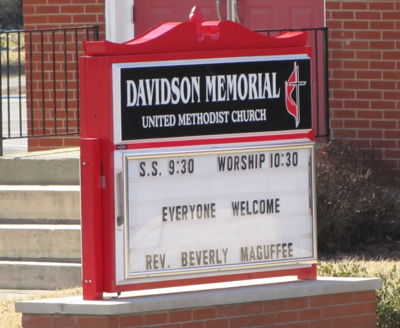 Why did they name their new sanctuary for Rev. Davison? Like Mr. McDowell, I don't know with any certainty; but I strongly suspect that it was because of a combination of things. First he had spent two good years in their church and most of the then-current members likely remembered him fondly. Second, his years of ministry spanning more than half a century recommended him for recognition. Finally, and perhaps most significantly, his tragic death right here in Bullitt County only a few years earlier called for this show of respect.
So the next time you drive past the Methodist Church on Buckman Street in Shepherdsville, take a moment to remember this man of God and what he meant to perhaps thousands of Kentucky Methodists during his remarkable lifetime.
---
Copyright 2014 by Charles Hartley, Shepherdsville KY. All rights are reserved. No part of the content of this page may be included in any format in any place without the written permission of the copyright holder.
---