Riverview School
Today Riverview Opportunity Center/Bullitt Alternative Center sits behind Bullitt Central, but this was not its original location. Nor was it the only Riverview School in or near Bullitt County; but more about that in a bit.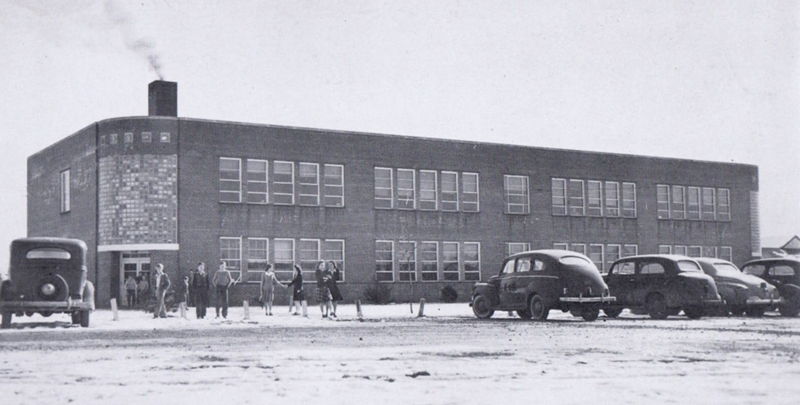 Shepherdsville High School, 1945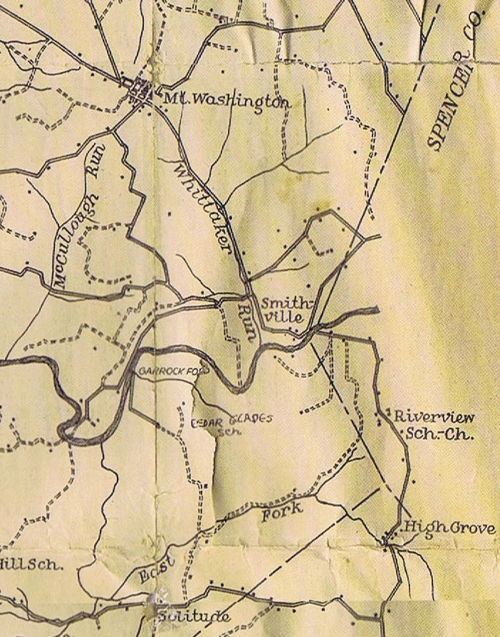 1925 Map
The present school began in the old Shepherdsville Middle School building located next to what is now the little league football field. That building was constructed in the late 1930's as Shepherdsville High School. Then in 1970 when Bullitt Central opened, it became a junior high, and then a middle school in 1980. When Bernheim Middle School opened in the early 1990's, the old building was converted to a special-needs high school, and renamed Riverview. After a flood badly damaged the already deteriorating old building, the new Riverview building was built behind Bullitt Central, keeping the Riverview name and purpose. The old building was then torn down.
Another, much older, "Riverview" was the Riverview Schoolhouse that was located on Bardstown Road about five miles south of Salt River, just in Spencer County in an area that had been a part of Bullitt County until 1824. Here is a portion of a 1925 Courier-Journal article that mentioned that school:
"On top of the hill where lies the road are Riverview School and Riverview Church, the former perched on the edge of the cliff overlooking the valley. Below, between the observer and a range of hills in the distance is a fertile, peaceful valley. One can see for miles. There are pastures; there are fields of corn and other produce; there are barns, and through it runs the green ribbon of trees which marks the banks of Salt River. In the afternoon, as the sun is sinking, the changing lights are reflected on the valley, converting its fields and pastures into an ever-changing kaleidoscope. Clouds overhead add to the color value of the picture as the sunlight sifts through them, and sometimes they assume a mirage-like form which deceives the eye with its appearance of a valley that extends on and on for miles and miles until it reaches the ocean. From the little frame school house, with its tiny belfry, boys and girls play on the edge of the cliff and watch this picture, and they grow up to be sturdy men and tender women, with the quality of greatness which comes only to those in direct touch with Nature. It is said in the neighborhood that no infidel and no agnostic has ever come from Riverview School."
Both the 1925 map and the modern map shown below show the location of the church and school.