Museum Newsletter - 30 May 2014
Friends of the Bullitt County History Museum
E-Newsletter
May 30, 2014 (Volume 10, Number 5)
Dear Friends,
Announcements...
>> Bullitt County Genealogical Society meeting June 21. Mark Twain will be the guest speaker this month. Well, actually it will be Monie Mathews performing his portrayal of Mark Twain...but nearly the same thing. Of course, Mark Twain is dead [grin]. The meeting time is 11:00 a.m. Meeting place is Ridgway Memorial Library in Shepherdsville.
>> Maryland to Kentucky Reunion. A large part of the early pioneer immigration to Kentucky came from Maryland. After nearly two years of preparation, a large "reunion" genealogy and history meet is coming to Kentucky June 27-29 at St. Catharine College. Some really great people have been working long and hard to make this a success. Check the web site for details or on FaceBook.
>> The Mount Washington Historical Society holds its monthly meeting on June 3rd, at 7:00 p.m., at the Lloyd House Museum in Mt. Washington.
>> The Spencer County Historical & Genealogical Society meets Monday, June 23, at 7 p.m., at the library in Taylorsville. Program not yet announced.
>> Louisville Genealogical Society meetings: Tuesday, June 10, 1 p.m., at LDS Church, 1000 Hurstbourne Parkway. Program: Reginald Meeks will speak about Cherokee Heritage. On Tuesday, June 24, 1 p.m., at LDS Church, 1000 Hurstbourne Pkway. Program: Joe Hardesty, History & Genealogy Section, Louisville Free Public Library.
Activity & News...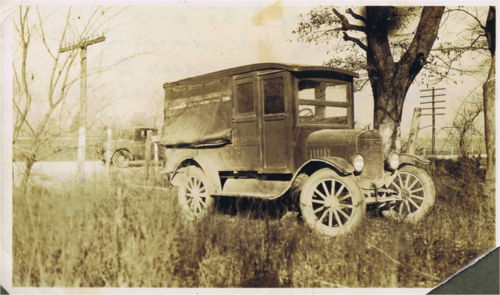 >> Bullitt County School Bus, 1929. I thought you would like this fine old photograph that was recently brought to the museum by Craig Larimore. The writing on the back of the photo dates the photo at 11/9/1929. It is a school bus that was driven at the time by a Mr. Masden. The photo location is the Bowman Valley School House, just south of Shepherdsville. Look close and you can see the railroad tracks in the background. I went by the site this week. 85 years after this photo was taken, the big tree at the right is now gone, but some of the rotted old stump still remains. Oh, how I'd love to have that old vehicle today for the Bowman Valley School House restoration project!
>> CD of historic books. Museum friend, Monie Mathews, recently gave us a fantastic DVD collection of some 125 books related to Kentucky. The DVD is not just an index or partial copy. It contains all 125+ books in text-searchable .pdf format! This amounts to many thousands of pages of Kentucky History. Besides the shear volume of the books, the "text-searchable" format means that names, etc. can be found easily, whether the original book had an index or not. For example, I personally have a 1400-page, two volume set of books called "A History of Kentucky Baptists" originally published in 1885. It's an important set of detailed early Kentucky history, but is difficult to search. Now I have it in digital format and can quickly find whatever I am searching for. Great stuff! Thanks, Monie!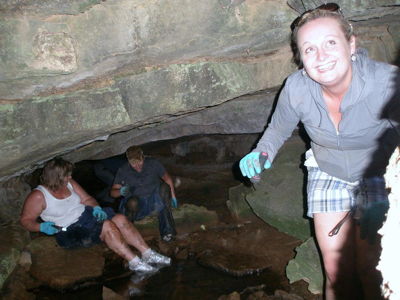 >> Leadership Adventure Day. I will again be leading The Bullitt County Chamber of Commerce "Adventure Day / Indiana Jones Day" on June 26. This day is part of the Chamber's summer-long "Leadership Bullitt County" program that exposes current and future leaders to various aspects of our county. On this particular day, we explore several sites in the county, such as the Camp Crooked Creek Boy Scout camp, the Bernheim Forest Fire Tower, Knobs State Forest, the Iron Furnace, and more. We even do some spelunking! It is a fantastic but physically challenging day. Hopefully I can survive this once again!
By the way, the class roster for this year is already booked solid. If interested in the program for next year, just contact the Bullitt County Chamber of Commerce office.
>> Speaking at Old Mill Elementary School. On June 5th, I will speak to some groups of fifth-graders at Old Mill Elementary School about county history. Talk about an adventure! Actually, they are great students there, and I'm looking forward to visiting again.
>> Web Site Additions. As we do every month, we have added quite a bit of new information and stories to our web site. Be sure to click on these links to take a look.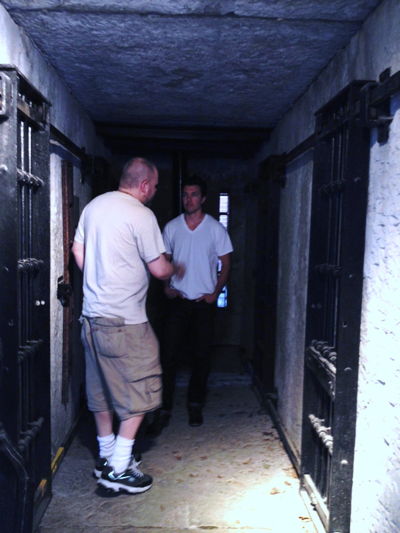 Movie Shoot
>> "Movie Shoot" at Old Stone Jail. Well, it wasn't quite a shoot for a movie yet, but hopefully it will lead to it some day. The photo here shows Eric Welch (former local boy turned actor/producer) being prepared for a photo shot by well-known photographer Chris Kaufman. Eric, with a crew of five, were taking some still shots to promote a movie he hopes to make. The promotional poster will be used at a movie festival in Canada. Genealogy President, Daniel Buxton, helped with the old jail building which our museum operates as a historic attraction.
>> Kentucky Explorer article. Museum volunteer, Sherry Lee, wrote an article about the Brooks family for the Kentucky Explorer Magazine that is out this month. Charlie Long also wrote a story for the same issue. I think Sherry has another one due in the next issue of the magazine.
For Your Information...
>> The Kentucky Genealogical Society offers a wealth of information. Check them out at www.KentuckyGenealogicalSociety.org.
Finally... (some closing comments)
Elections are now, thankfully, over in Kentucky until November.
I thought this election-day story from 1830, from The PioneerPress of Kentucky, might be fun to read. Maybe politics in Kentucky really is no worse than it has always been. Perhaps it has just always been worse. [grin]
DEAR SIRS: I have just witnessed a strange thing, a Kentucky election, and am disposed to give you an account of it. An election in Kentucky lasts three days, and during that period whisky and apple toddy flow through our cities and villages like the Euphrates through ancient Babylon.
I must do Lexington the justice to say that matters were conducted here with tolerable propriety; but in Frankfort, a place which I had the curiosity to visit on the last day of the election, Jacksonism and drunkenness stalked triumphant "an unclean pair of lubberly giants." A number of runners, each with a whisky bottle poking its long neck from his pocket, were busily employed bribing voters, and each party kept half a dozen bullies under pay, genuine specimens of Kentucky alligatorism, to flog every poor fellow who should attempt to vote illegally. A half a hundred of mortar would scarcely fill up the chinks of the skulls that were broken on that occasion.
I barely escaped myself. One of the runners came up to me, and slapping me on the shoulder with his right hand, and a whisky bottle with his left, asked me if I was a voter."
No,"said I. "Ah,never mind," quoth the fellow, pulling a corn cob out of the neck of the bottle, and shaking it up to the best advantage, "jest take a swig at the cretur and toss in a vote for old Hickory's boys. I'll fight for you, damme !"
Here was a temptation, to be sure; but after looking alternately at the bottle and the bullies who were standing ready with their sledge-hammer fists to knock down all interlopers, my fears prevailed and I lost my whisky. Shortly after this I witnessed a fight that would have done honor to Mendoza and Big Ben. A great ruffian-looking scoundrel, with arms like a pair of cables knotted at the ends, and a round black head that looked like a forty-pound cannon shot, swaggered up to the polls and threw in his bit of paper, and was walking off in triumph.
"Stop, friend, "exclaimed one of the Salt River Roarers, stepping deliberately up to him, "Are you a voter?"
"Yes" replied he of the Bullet Head. "That's a lie," rejoined the Roarer, "and you must just prepare yourself to go home an old man, for I'll be damned if I don't knock you into the middle of your ninety-ninth year."
"Ay, ay," replied the other, "Come on, then; I'll ride you to hell, whipped up with the seasarpint!" They had now reached an open space, and the Salt River bully, shaking his fist a moment by way of a feint, dropped his chin suddenly upon his bosom and pitched headforemost toward the stomach of his antagonist with the whole force of his gigantic frame.
Bullet Head, however, was on his guard, and, dodging aside with the quickness of lightning to avoid the shock, gave the assailant a blow that sent him staggering against a whisky table, where he fell to the ground amid the crash of bottles, mugs, and tumblers. Nothing daunted by this temporary discomfiture, the bully gathered himself up, and with a single muttered curse renewed his place in front of his foe. Several blows were now given on both sides with tremendous effect, and in a few moments the Salt River boy, watching his opportunity, repeated the maneuver in which he had first been foiled.
This time he was successful. His head was planted directly in his antagonist's stomach, who fell backward with such force that I had no expectation of his ever rising again.
"Is the scoundrel done for?" inquired the temporary victor, walking up and looking down on his prostrate foe. Bullet Head spoke not, but with the bound of a wildcat leaped to his feet and grappled with his enemy. It was a trial of strength, and the combatants tugged and strained and foamed at the mouth, and twined like serpents around each other's bodies, till at length the strength of the Bullet Head prevailed and his opponent lay struggling beneath him.
"Gouge him!" "Gouge him!" exclaimed a dozen voices, and the topmost combatant seized his victim by the hair and was preparing to follow the advice that was thus shouted in his ear, when the prostrate man, roused by desperation and exerting a strength that seemed superhuman, caught his assailant by the throat with a grasp like that of fate.
For a few moments the struggle seemed to cease, and then the face of the throttled man turned black, his tongue fell out of his mouth, and he rolled to the ground as senseless as a dead man. I turned away a confirmed believer in the doctrine of total depravity.
Thank you for being a friend of the Bullitt County History Museum. Have a good month of June! :)
David Strange
Bullitt County History Museum
Executive Director
Museum Phone: 502-921-0161
E-Mail address: David.Strange@BullittCountyHistory.org