Adam and Ben Chapeze
The following article by Charles Hartley originally appeared in The Courier-Journal on 18 May 2014. It is archived here with additional information for your reading enjoyment.
---
Benjamin and Elizabeth Chapeze were blessed with ten children, born over a period of 22 years, most born in their Bardstown home. Of these, only two, Adam and Benjamin Jr., would spend the greater part of their lives in the Long Lick Valley of Bullitt County. Our story begins with them.
When their father died in 1839, the two older brothers had no interest in the family farm in Bullitt County. Henry was already married and living in Jessamine County; and John was studying to become a lawyer like his father. Adam was 19 and Ben Jr. was 17, and they set out to farm the land along Long Lick Creek.
For ten years the brothers prospered as bachelor farmers. Then in 1849 Adam married Mariah Louisa Smith from Vermont. Earlier that decade, Mariah's sister Louisa had come from her Vermont home to Bullitt County as a school teacher. Then she married George W. Bowman, a neighbor of the Chapezes. Mariah may have followed her sister's footsteps as a teacher, but it didn't take long for her to catch Adam's eye.
While Adam and Mariah were building a family of five daughters and a son, Ben remained a bachelor all his life.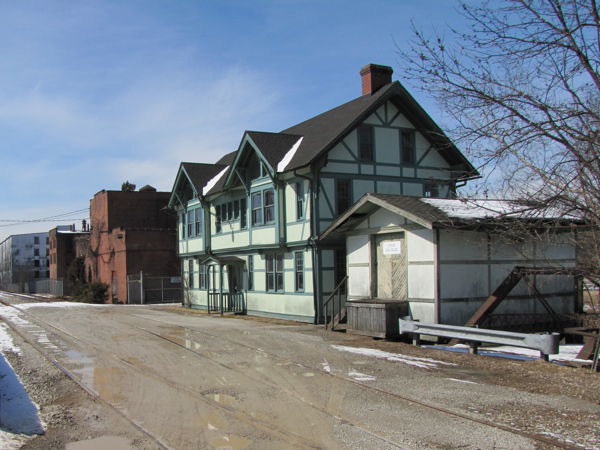 Chapeze Distillery Office Building
Following their mother's death in 1854, Adam and Ben obtained full title to the Long Lick property.
The valley was well suited for growing crops like corn, and the good limestone-filtered springs and wells spurred the growth of whiskey distillation which continues today. With the railroad spur to Bardstown passing next to their land, Adam and Ben Chapeze recognized an opportunity, and about 1867 they began producing bourbon whiskey for sale. According to several sources, they established the Old Charter brand in 1874.
It appears that, like a good family man, Adam Chapeze remained home and managed the day-to-day operations of the distillery, while Ben Chapeze did the necessary traveling to promote sales. This continued until Adam died in September 1881. Ben continued running the Chapeze Distillery until 1890 when the operation and remaining stock were sold to a Louisville distributor. He lived only a short time after that.
The distillery operation at Chapeze Station (later called Limestone Springs) continued up to when Prohibition put an end to legal distilling. The property is currently owned by Beam's Distillery where some of their stock is stored for aging. The business office of the Chapeze Distillery still stands next to the old bridge across Long Lick Creek.
As a side note, the Czechoslovakia scenes in the 1981 movie, Stripes, starring Bill Murray and Harold Ramis, were filmed at the site of the Chapeze distillery.
With Ben's death, Adam's widow and children divided up the remaining land, or sold their share. Adam and Mariah's only son, also named Benjamin, received from his siblings a central part of the estate where he lived the rest of his life.
Of his sisters, only Susan had children of her own. She married Jame Overton Hagan in 1879, and they had seven children including James Chapeze Hagan who would own the distillery property for a time before the advent of Prohibition.
Adam's son Benjamin followed in the footsteps of his grandfather and became a lawyer himself. In 1900 he married an English lady named Elizabeth Newman whose brother was a fellow lawyer. The following year, Ben and Lizzie had a daughter they named Elizabeth. Then two years later, tragedy struck when Lizzie died, leaving behind her heart-broken husband and baby girl.
Ben's life thereafter was devoted to his daughter and to his law practice. Upon his death in 1925, the local bar association published a memorial letter in which they stated, "The most salient characteristic of Ben Chapeze, was his purity of mind and heart. No one ever heard him utter an oath or tell a questionable story. He was most devout in the practice of his faith, and those who knew him intimately felt that he was of those spoken of in the sermon on the Mount: 'Blessed are the pure of heart for they shall see God·'"
Today, all that remains of the Chapeze name is a little lane that passes through the family's lands. They're gone, but not forgotten.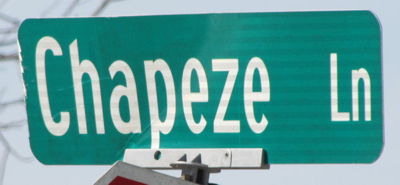 Chapeze Lane Road Sign
---
Copyright 2014 by Charles Hartley, Shepherdsville KY. All rights are reserved. No part of the content of this page may be included in any format in any place without the written permission of the copyright holder.
---