Museum Newsletter - 30 July 2012
Friends of the Bullitt County History Museum
E-Newsletter
July 30, 2012 (Volume 8, Number 7)
Dear Friends,
Announcements...
>>Extra Special Genealogical Society meeting August 18.
Family Fair 2012, Where Families and History Come Together. The August meeting of the Bullitt County Genealogical Society will be dedicated as a "family fair." Display your own family histories, photos, & other family memorabilia, and visit with others. Reserve free table space or get info by calling the Bullitt County History Museum at 502-921-0161 or E-mail Genealogical Society President Daniel Buxton at danielholly@insightbb.com . Door prizes. Free admission.
August 18, from 10:00 a.m. to 5:00 p.m. at the Ridgway Memorial Library Meeting Room, 127 North Walnut Street, in Shepherdsville.
>>Attention Alumni and Everyone that ever Attended LJ High or St. Benedict Schools.
The reunion held every two years will be on Saturday, September the 15th, 2012 at the Paroquet Springs Conference Center in Shepherdsville, Kentucky from 1 PM to 5PM. The cost to those planning to pay at the door this year will be $30 dollars per person. The cost if you pre-pay between now and the 1st of September is $25 dollars per person. The reunion group has a Facebook page at: "LJ and St. B 2012 Reunion" where you can write your comments. For more information, contact Larry Coleman at Larrygcoleman49 @ hughes.net.
Activity...
>>Museum Booth at Bullitt Blast and Civil War Days events.
In keeping with our museum mission of being "widely accessible to the general public" our Volunteers of the Museum and the Genealogical Society set up and staffed active informational booths at the annual 4th of July "Bullitt Blast" and at July 28 & 29 "Civil War Days" living history event marking the 150th anniversary of three Civil War attacks on the Shepherdsville Railroad Bridge. For that Civil War event, we also opened the museum with Saturday hours for visitors that day. It was quite an effort for all our Volunteers, and I even introduced the re-enactments. Special thanks go to Tony and Caroline Schlatter for producing all this for Bullitt County on two beautiful Kentucky days.
>>Group Visits Kentucky Historical Society Research Facility in Frankfort.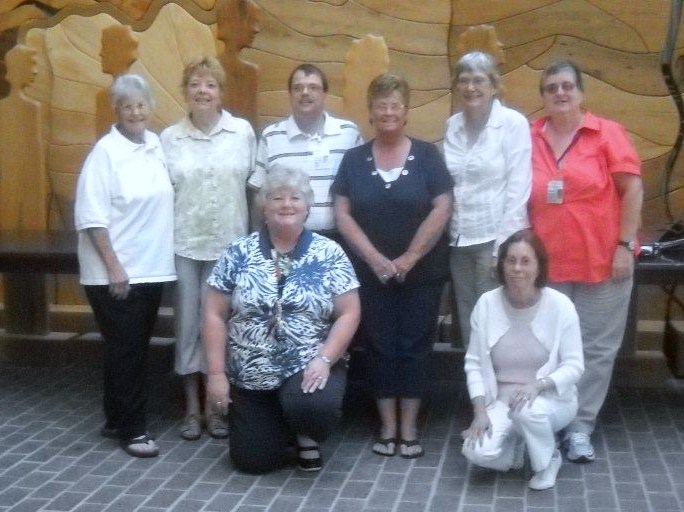 Research Group
Betty Darnell led a group to Frankfort, Kentucky, to learn about and use the fantastic research facilities at the Kentucky Department of Libraries and Archives this month. There are so many research resources located there that it can be a bit intimidating to the newcomer. Many thanks to Betty for leading this trip. Those who made the trip were: Daniel Buxton, Betty Darnell, Wilma Lemons, Barbara Bailey, Billye Jackson, Sherry Lee, Nancy Blakeman, Beverly Owen, and Pamela Dean (not in photo). This photo shows the group in Frankfort.
>>New Museum Staff Volunteer.
I am very happy to tell you that Ms. Lilly Lamont has started volunteering with us at the museum. Lilly attends the University of Louisville and hopes for a career working in graduate school libraries. Welcome, Lilly! You are already a great asset to our museum family.
>>New Display Marking 100th of St. A.
Thanks to Donna Peak, our museum is showing a limited-run display marking the 100th anniversary of the founding of St. Aloysius Catholic Church in Shepherdsville. The display features a nice trifold about the church and a short video playing throughout the day on our TV monitor.
The museum runs such anniversary displays about churches, schools, etc. whenever we learn about them and an appropriate display can be provided. St. A's anniversary is in September. Congratulations!
>>Web Site Additions. Lots of interesting additions to our web site this month, as always. Click on the line to go to the page.
Donations...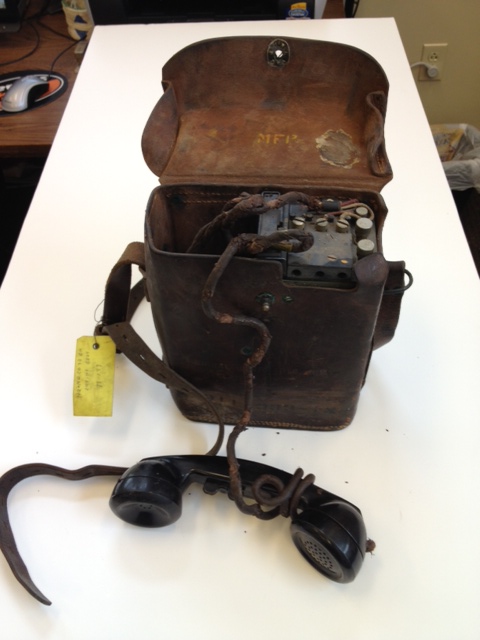 >>Glenn Pallast recently donated a nice old military wire-line radio that dates to the 1930's, brought back from war to Bullitt County by a Bullitt Countian, who used it during the war. We intend to add it to our World War display case when next we open it (The case is screwed together and takes a while to change.)
>>Katherine Dixon donation and Raymond Nute. Katherine Dixon recently donated $150 to the museum in appreciation for Volunteer Charles Hartley's help as a family reunion was organized around Raymond Nute, who was a renowned orchardist in the 1920's for his work in Bullitt County. Thank you Katherine! And thank you Charles for your many kindnesses to researchers. You can read the marvelous story of Raymond Nute here.
>>Cemetery Photos. Thank you to Gail Burns for donating a series of photos of the Browningtown Cemetery. We have already scanned the photos into our archives at the museum.
For Your Information...
>>Old Time Radio Shows For those of us who like old radio shows, here is a great site. The Old Time Radio Researchers (OTRR) Group is a community of enthusiastic fans, avid listeners, and strong supporters of "Old Time Radio." The group's goals include restoring, preserving and sharing the classic shows from what is commonly known as the "Golden Age of Radio" (1930-1960). There are many radio shows available for listening on this site. Check out https://www.otrr.org/. Thanks to Paul Urbahns, with the Hardin County History Museum, for this link.
>>War of 1812 Papers on line. The Federation of Genealogical Society (FGS) has begun a project of digitizing War of 1812 Pensions. The images are being made available as they are ready, and access is free at fold3.com. Check out https://www.fgs.org/pdf/1812pressrelease27apr2010.pdf and find the files at www.fold3.com .
Finally....Slavery Made Personal
It is often true that "what you touch, touches you."
For example, I remember a few years ago, a family reunion was held to celebrate the restoration of a cemetery that we had done. Members of the family came, literally, from all corners of the continental U.S. After the ceremony, the leader of that family effort came over to me. "See that man over there with his hand on the tombstone?"
I looked and saw a grown man leaning respectfully toward a tall old tombstone, his hand flat against it .... tears flowing from his eyes. "That is my son," the woman said. "He disagreed with this cemetery restoration work the whole time, thinking it to be just a silly waste of time over people he had never known."
"That tombstone is his great-grandfather, and he just told me, 'Now I get it, Mom. Now I get it.' "
That is how I feel about some old papers that I come across from time to time at the Museum.
We had several on loan a few years ago, for us to scan to our computer digital files.
But I came across another just recently, as I sorted through one of our collections.
Slave papers. Slave bill of sales.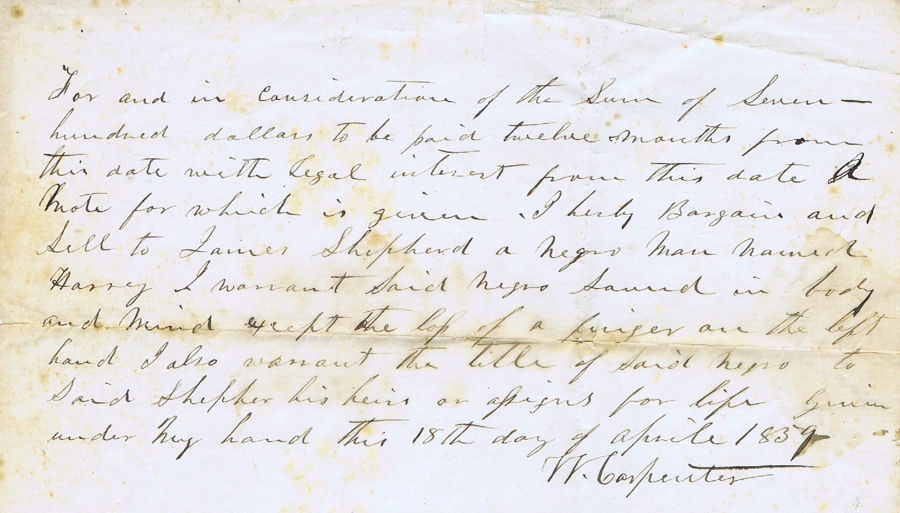 Slave Bill of Sale
Now I "know" about slavery and I "know" that it was wrong.
But to personally touch a paper that was hand written out the same as if one was selling a cow, and touching the folds in the paper from when it was folded up and placed in the "owner's" pocket.
Now, I gotta say, that touches me. It brings home, in simple terms, the reality of things.
The slave bill of sale we have at the museum describes "for a sum of seven hundred dollars...a negro man named Harry" described as "sound in body and mind except the tip of a finger on the left hand."
It was dated 1859. With the Civil War so close at hand, I wonder if the man ever saw freedom.
Others I have seen describe women and children being bought and sold. One I remember in particular was a bill of sale for a mother and two children in 1811.
1811. More than half a century before slavery was ended in America. That bill of sale described them as "slave for life", and I suppose they were. I wonder and fear what all might have happened to that family, so far from any hope of freedom.
Now, this might all seem trite and silly to some who have closer ties to such things. Silly to others because such things were so long ago.
But it is not silly to me.
And I doubt it is now silly to you.
If it is, come touch one of these papers sometime. Visit a grave site of a long-ago relative, touch the tombstone, and think seriously for a moment about real people of our past.
If you touch the past, it will touch you.
Thank you for being a Friend of the Bullitt County History Museum.
David Strange
Bullitt County History Museum
Executive Director
Museum Phone: 502-921-0161
E-Mail address: David.Strange@BullittCountyHistory.org