Civil War
The following article by David Strange originally appeared in The Courier-Journal on 25 Jul 2012. It is archived here with additional information for your reading enjoyment.
---
With a Civil War "Living History" encampment at the Shepherdsville city park this weekend, marking the 150th anniversary of several battles in Bullitt County, I thought I'd tell you this time about some local history from that war.
In Bullitt County, as in most of Kentucky during the war, guerilla bands wreaked havoc, burning bridges and raiding towns and generally causing trouble, but having little real military effect.
But the year 1862 was different. During that time Confederate General Braxton Bragg sent thousands of troops into Kentucky from Tennessee, hoping for a general uprising of the citizens and the gain of Kentucky to the Confederate cause. Confederate cavalry swept up through Munfordville, Frankfort, Lexington, and Bardstown. Union troops withdrew to strongholds in Louisville and Elizabethtown.
On September 6, cavalry officer and famous guerilla John Hunt Morgan sent a small force to Shepherdsville to capture the stockade there and burn the L&N railroad bridge over the Salt River. Morgan sent Captain John B. Hutcheson, commander of Company E in the 2nd Kentucky Cavalry Regiment, along with four companies of the 2nd Kentucky, and two howitzers, to perform the mission. Destroying the bridge would deny Federal forces a quick path for reinforcements to Lebanon Junction and deny the forces in LJ a quick path of retreat to Louisville.
At daylight on September 7, Captain Hutcheson arrived at the Federal stockade at Shepherdsville. The stockade was on the south bank of the Salt River, near the railroad bridge (there was no road bridge built at Shepherdsville until 1906), and the town was on the north side. About 85 men of the 54th Indiana Infantry Regiment manned the small fort. Hutcheson positioned his artillery and then sent a flag of truce, demanding the surrender of the fort. The Federal commander, Captain John Tinker, rejected the demand, but quickly changed his mind when the Confederates fired a volley from their howitzers. The Federals suffered one man wounded in the encounter. The Federals were paroled and the Confederates set to work on destroying the bridge. But destruction of the bridge proved more difficult and time-consuming than expected. The new iron bridge, unlike the usual wooden bridges, was resistant to the usual method of burning. Learning that Federal troops were coming down the rail from Louisville to stop him, Hutcheson had to quickly leave Shepherdsville before being attacked, and before completing his mission. Newspapers reported the bridge only slightly damaged.
Civil War Living History Campsite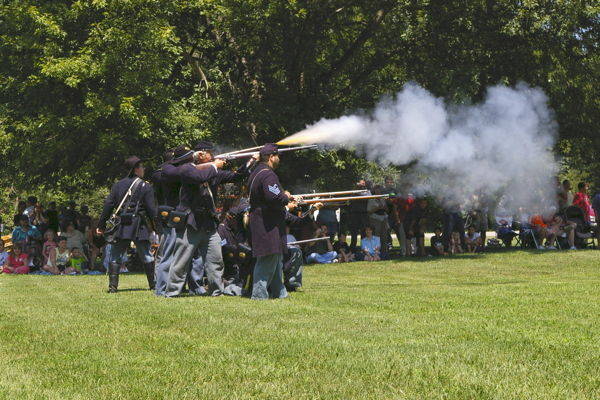 Shooting Demonstration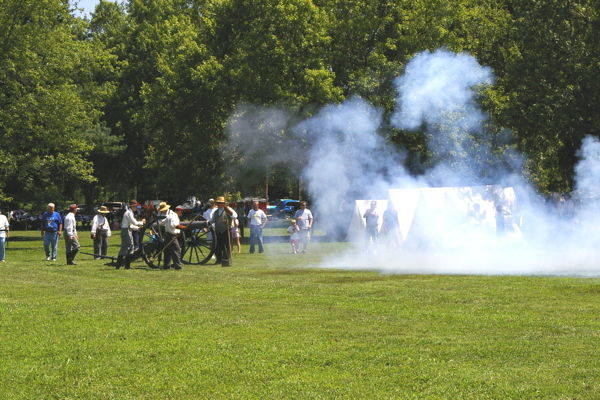 Cannon Firing Demonstration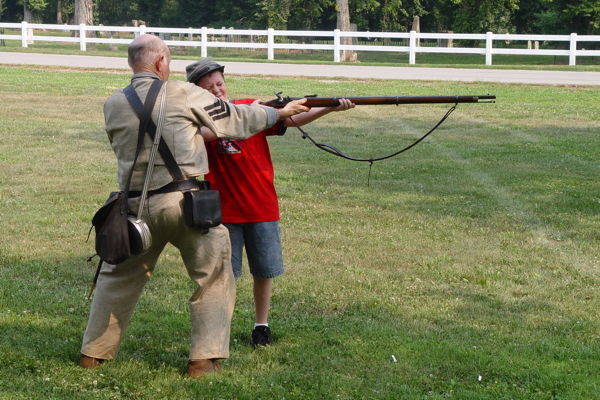 A Youngster Learns How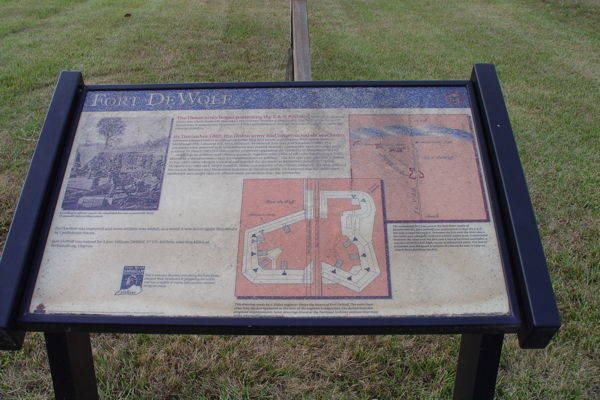 Civil War Plaque Near Railroad Bridge
This was the first of what would be three limited-success attempts to destroy the bridge at Shepherdsville that year.
But the news of Hutcheson's action on Shepherdsville, so close to Louisville, sent shock waves through the Federal high command in Louisville. With attacks now coming from Shepherdsville, Mt. Washington, and Shelbyville, an attack on Louisville seemed eminent. Trenches were dug to defend the big city and evacuations of civilians to Indiana were begun. Reinforcements were sent to Shepherdsville. Federal forces were withdrawn from Lebanon and based in Lebanon Junction to help defend the railroad there.
The Confederate army had problems of its own, though. The general uprising of citizens was not going as well as hoped. The Confederate ranks were thinly spread out over a large area.
In this campaign there were generally not huge armies massed against each other as in the Virginia campaigns where thousands died in a day. In Kentucky, as author Kenneth Hafendorfer wrote, "They died by twos and tens." Bragg commanded 26,000 men, but they were scattered over large areas of the state. Rather than large battles, small fights or "skirmishes" were often all that could be mustered. It was often a game of "cat and mouse" with units from both sides trying to find and attack the other at a weak point, and each not knowing the other's true strength. Skirmishes of ten to a hundred men broke out all around the county.
On September 21, a Confederate force made a second attempt at the railroad bridge in Shepherdsville, but had the bad luck of attacking just as some 1500 Federal troops, under General R. S. Granger, were stopping in the town, creating a more powerful than normal defense force. The confederate raid was repulsed, killing five and capturing 28 with no loss on the Federal side.
On September 28, Baxter Smith and his 4th Tennessee tried again and this time took Shepherdsville with orders to remain until the railroad bridge over the Salt River was destroyed. He advanced through Shepherdsville to near Okolona, but held back to complete his main mission. Confederate units also advanced through Mt. Washington from High Grove, and occupied Fern Creek. Another confederate force advanced along the Shelbyville Road past Middletown, just a few miles from downtown Louisville. But the Federal forces in Louisville, now numbering some 50,000 strong, began to realize its numerical superiority and began to fight back with more confidence.
At Shepherdsville, Baxter Smith had again bogged down because of difficulty destroying the iron railroad bridge, sending hurried dispatches back to headquarters asking for powder and drills to carry out the job. A Federal force from Louisville skirmished with Smith's advance guard north of Shepherdsville. One Federal soldier and four Confederates died.
Federal cavalry began moving from Elizabethtown against the Confederate rear. Thousands of Federal cavalry and infantry began advancing from Louisville down Shepherdsville Road, Bardstown Road and Shelbyville Road. Several fights erupted in Fern Creek and continued as the Confederates withdrew south through Mt. Washington. Imagine hundreds of cavalry soldiers riding down the main street of Mt. Washington! First the wounded and retreating Confederates, so recently flushed with victory, and then the Federal troops, on the hunt and gaining confidence with each attack. Cannon fire coming from both sides, hitting two houses and taking the tops off trees, as each would pause and regroup.
Baxter Smith was forced to retreat from Shepherdsville by way of Cedar Grove Road, with the bridge still only partially destroyed. Though a Confederate general (and thus many history books, and even a roadside history marker) reported the bridge destroyed, it was not. It seems that both the Captain and his General decided to "expand on the truth" about completion of orders, so the soldiers could get out of town and avoid capture. The bridge would be repaired in only a few days. Three attempts without success!
Federal troops followed close behind the retreating Confederates, stopping at Cedar Grove Church to rest and decide which direction to go: continue on Cedar Grove Road east or follow Deatsville Road south. After exploring both directions, a local boy told them that a few Confederate cavalrymen had been watching them from Deatsville Road. Some of the Federal soldiers were sent cross country along Greens Branch to surround them. Two Confederate captains were captured, along with a lieutenant and nineteen privates.
Numerous such skirmishes occurred for several days all along the roads of Bullitt County as Federal troops pushed their enemy south to Bardstown and beyond, eventually meeting in force at Perryville on October 8, the biggest battle of the Civil War in Kentucky. The Confederate armies withdrew back to Tennessee after that and no such serious military campaign was ever brought to Kentucky again, though the terrible guerilla wars had only just begun...
---
Copyright 2012 by David Strange, Shepherdsville KY. All rights are reserved. No part of the content of this page may be included in any format in any place without the written permission of the copyright holder.
---