Museum Newsletter - 28 June 2012
Friends of the Bullitt County History Museum
E-Newsletter
June 28, 2012 (Volume 8, Number 6)
Dear Friends,
Announcements...
>>Bullitt Blast 4th of July.
If you're in Shepherdsville for the 4th of July, come by Paroquet Springs for the annual "Bullitt Blast" fireworks. It's quite a show! While there, stop by and visit our museum booth in the conference center there. 4:00 p.m. until dark.
>>Muss Family book signing June 30.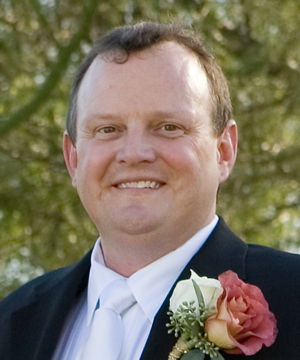 Mark D. Browning
Mark D. Browning recently published a fine book on the Muss family. This book is not only good for its content, it is a great example of how to make a clear, useful genealogy book. Stocked with plenty of photos and information, this book is available for sale at the museum.
Mr. Browning will be visiting Shepherdsville from Arizona on June 30, and will be available for signing his book for a short time. You can visit with him and have him sign your book at the Ridgway Public Library at 10:00 a.m. that Saturday.
>>Genealogical Society meeting July 21.
This month's guest speaker will be Charles Hartley, who will share from his latest book: Murder or Not? about the Hagan-Barbour feud at Huber's Station. Charles is also our Museum webmaster. The meeting is at its usual place, in the meeting room of the Ridgway Memorial Library in Shepherdsville, at 10:00 a.m. Refreshments will be served. These meetings are also great for sharing information and questions with the attendees. It's often amazing what can be learned! Come be with us. For more information, call the museum at 502-921-0161.
>>Attention Alumni and Everyone that ever Attended LJ High or St. Benedict Schools.
The reunion held every two years will be on Saturday, September the 15th, 2012 at the Paroquet Springs Conference Center in Shepherdsville, Kentucky from 1 PM to 5 PM. The cost to those planning to pay at the door this year will be $30 dollars per person. The cost if you pre-pay between now and the 1st of September is $25 dollars per person. The reunion group has a Facebook page at: "LJ and St. B 2012 Reunion" where you can write your comments. For more information, contact Larry Coleman at Larrygcoleman49@hughes.net or call 502-833-2344.
>>Civil War Living History July 28-29.
Mark the date on your calendars. This year's event is to mark the 150th anniversary of three Civil War attacks on the railroad bridge at Shepherdsville. Re-enactor Tony Schlatter and the Second Kentucky Infantry Regiment re-enacting group are leading this event. Food and ice cream will be available. Some fun "civilian" living history events are being developed. Email Tony at tony82155@aol.com or call 502-939-0580 for more information. We will also try to have the Museum and The Old Stone Jail open on that Saturday.
Preliminary Schedule of Events:
Saturday July 28th
8:00 - Officers Call
9:00 - Camp open to public; Speeches / various scenarios
10:00 - Memorial Service at Cemetery
11:00 - Jail House tours
2:00 - Battle
5:00 - Dinner--Public invited
7:30 - Tactical
9:30 - Night Fire
Camps close to public
Sunday July 29th
8:00 - Officers Call
9:00 - Camps open to public
9:30 - Church Service with JW Binion
11:00 - Various Scenarios
12:00 - Artillery Drill
1:00 - Battle
2:00 - First Orphan Brigade Band
3:00 - Skirmish
4:00 - Camp Closes
Activity...
>>Progress on Bowman Valley School House.
Quite a bit of progress has been made on preserving the Bowman Valley School House. (For some of the story, check out this link.) The committee has been organizing, and the building has been secured. Chairperson Tammy Ott found volunteers to clean up the building, remove debris, and board up the doors and windows. The main thing now is to find a way to move the building (and pay for the move) to the new location. The last estimate for the move was $15,000. I will try to give more details, and specific gratitude to those who have already donated time and services to the project, in my next newsletter.
>>461 Surnames List.
Museum Volunteer Brenda Rittman has made up a list of our collection of Family Files. These 461 (and growing) folders of information are what we have collected over time on particular family names. We of course have countless other names in our other resources. But this collection is what I call "The Lucky Files"; If you find your surname in one of these files, you might have just got lucky, because some information on that family line already exists. Some files have more info than others, but it is always the best place to start when working on your genealogy. To see the list, follow this link: Family Files at the Museum.
>>St. A Field Trip.
It's been a few months since we did this, but, at the time, none of us knew that the St. Aloysius Catholic Church School would be closing after this year. So, I include this photo of a field trip I enjoyed leading of a class group from the school. We toured the museum, and then had a great walk down to the city park, visited the cemetery there (interesting learning sessions about history can be taught at a cemetery), and finally posed for fun on the old WWI mortar in the park for this photo. My gratitude and very best wishes go out to all the students and teachers of St. A Gonzaga Academy, now closed by the Archdiocese. This was, to the best of my knowledge, the last Catholic School in Bullitt County. St. Benedict School, in Lebanon Junction, closed several years ago.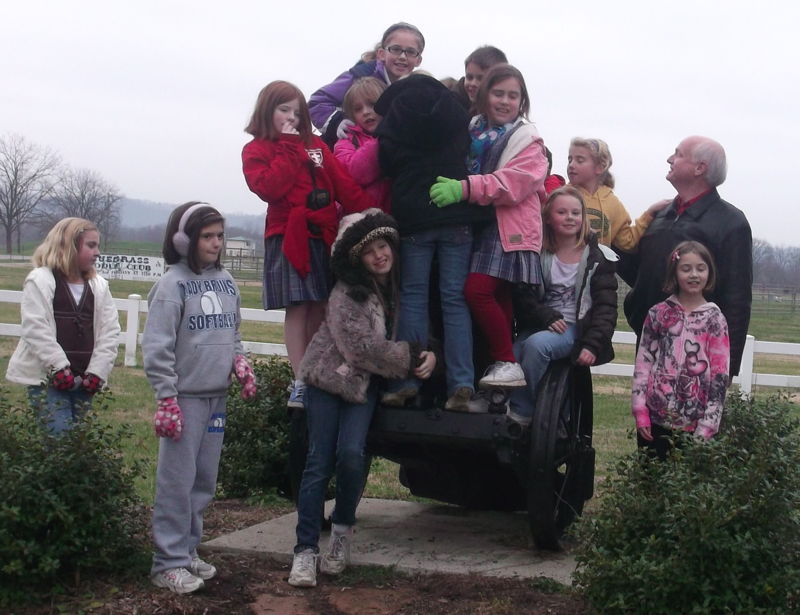 St. A. Students' Field Trip
>>Museum Volunteer Bob Cline's Family Tree Maker database of Bullitt County individual names has now grown to over 50,000 names. Bob continues to work on this project, as he has for a few years now, adding individual genealogy information from many sources as fast as he can. This database is only available at our Museum Research Room, and is another fantastic source with which to begin your research.
>>Museum at Hillview.
The Museum and the Bullitt County Genealogical Society hosted a booth at the 3-day Hillview City Fair June 7-9. The Hillview folks were great to us, as always. They gave us all the space we wanted and even allowed us to use the city overhead projector and large screen to continuously run a slide show of Bullitt County history photos. Beverly Owens, Wilma Lemons, and Daniel Buxton helped me staff the booth.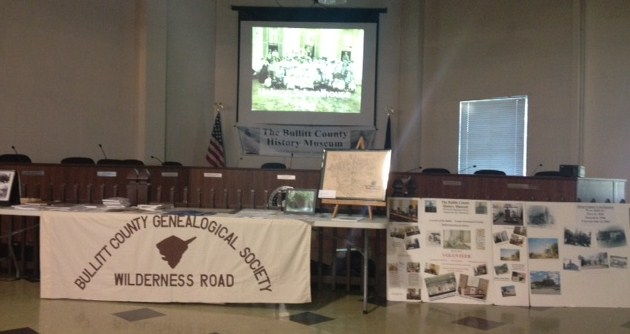 Booth at Hillview City Fair
>>Web Site Additions. Lots of interesting additions to our web site this month, as always. Click on the line to go to the page.
Donations...
>>We now have a book, The History of the Adams Family, which includes some information on the Weller and Bowman family lines.
>>Gregg Hilbert donated a copy of his grandfather's (James Lawrence, Jr.) "A Short History of Bernheim Forest and Surrounding Area." This booklet can be found in our Bernheim Forest history folder.
>>And a third book addition to our collection is The Sanders of Soloma, a genealogical history of the Sanders family from 1776-1844. This book, by Tom E. Sanders, was donated by Elizabeth Bannister, the last living child of Jack and Maggie Sanders.
For Your Information...
>>"Quarry Switch"
We had an inquiry about a quarry , and thought it worth repeating what we learned. Where is "Quarry Switch" in Bullitt County? We had to do a little digging, but, thanks to Volunteer Barbara Bailey, found that Quarry Switch was located where Clermont is today. Quarry Switch was listed as a post office at that location, next to the railroad tracks, in 1872. Does anyone know why it was called Quarry Switch, or any other info about it?
Finally....Vacation!!
This "Finally" section of the newsletter is short this time. I'm on vacation! Of course, where does a history lover vacation? My wife and I are touring several historic sites in Indiana.
My poor wife, shall we say, does not fully share my fascination with history. I remember many years ago when we visited a Civil War battlefield site in Virginia. I was in Heaven, telling stories to Bonnie about this maneuver and that General and ........ Then I noticed her foot kind of quickly stepping time as we stood there in the field on a hot summer day.
"It's a field, David. It's just a FIELD!"
She did not quite see what I was seeing.
But I'm treating her better on this trip. To celebrate our 40th wedding anniversary, we will be attending a special romantic candlelight dinner....... at a historic covered bridge!
History is never far away!
Thank you for being a Friend of the Bullitt County History Museum.
David Strange
Bullitt County History Museum
Executive Director
Museum Phone: 502-921-0161
E-Mail address: David.Strange@BullittCountyHistory.org