Museum Newsletter - 29 May 2012
Friends of the Bullitt County History Museum
E-Newsletter
May 29, 2012 (Volume 8, Number 5)
Dear Friends,
Announcements....Hillview and Bullitt Blast booths
>>Muss Family book signing June 30
Mark D. Browning recently published a fine book on the Muss family. This book is not only good for its content, it is a great example of how to make a clear, useful genealogy book. Stocked with plenty of photos and information, this book is available for sale at the museum.
Mr. Browning will be visiting Shepherdsville from Arizona on June 30, and will be available for signing his book for a short time. You can visit with him and have him sign your book at the Ridgway Public Library at 10:00 a.m. that Saturday.
>>Genealogical Society meeting June 16.
This month's guest speaker will be Brandon Sloan, speaking about the Kentuckians who served in the War of 1812. The meeting is at its usual place, in the meeting room of the Ridgway Memorial Library in Shepherdsville, at 10:00 a.m. Refreshments will be served. These meetings are also great for sharing information and questions with the attendees. It's often amazing what can be learned! Come be with us. For more information, call the museum at 502-921-0161.
>>Quarterlies are in the mail.
The quarterly edition of The Wilderness Road is in the mail to members of the Bullitt County Genealogical Society. It's another great edition. If you are not a member, you should consider joining for this quarterly alone. And then there are great monthly guest speakers to hear as well. Membership is easy and inexpensive. Go to this page for membership directions.
>>Civil War Living History July 27-29.
Mark the date on your calendars. This year's event is to mark the 150th anniversary of three Civil War attacks on the railroad bridge at Shepherdsville. Re-enactor Tony Schlatter and the Second Kentucky Infantry Regiment re-enacting group are leading this event. Food and ice cream will be available. Some fun "civilian" living history events are being developed.
>>Pioneer News has special Memorial Day page. For Memorial Day, the May 28 edition of our local newspaper, The Pioneer News, has a nice page reproducing our "In Memoriam" list of all Bullitt Countians who have died while in military service. If you can find a copy, check it out. A less decorative version can be found on our museum web site here.
Activity...
>>Ft. Knox Cemeteries Visitation.
Several of our Museum Friends and Volunteers visited the Fort Knox cemeteries this past Memorial Day. As I wrote in last month's newsletter, visitation of those old family and church cemeteries is generally only allowed on Memorial Day. So that can become a pretty big event for researchers and family to visit the old sites and graves.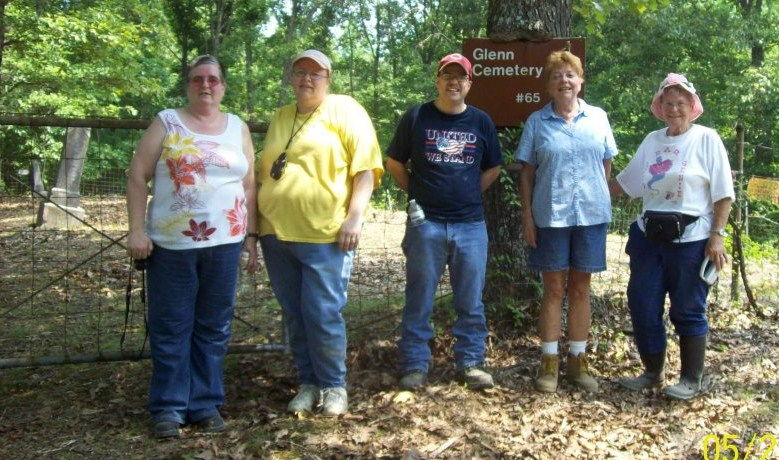 Museum Friends and Volunteers
This year, Volunteers Ed & Sherry Lee went in one vehicle, with Don Stovall. In another vehicle, Daniel Buxton, Barbara Bailey, Wilma Lemons, and Allison and Kenny White, along with Billie Jackson, visited several other cemetery sites.
As always, it was quite an adventure. The roads can be rugged even in dry weather such as this year, and some of the cemeteries are WAY back on the military reservation. The Lee's car broke down at one of the out of the way cemeteries, and, as Sherry told me, it looked like they "might have to spend the night with their ancestors." But help came and they got back out all right.
Daniel and his group had their own difficulty. One cemetery they wanted to visit was banned for car travel because of some muddy ground, so they had to walk about a mile and a half back through rough country. One of their company made the distance, but proclaimed that as enough for her for a while.
Sincere thanks go to Arlin Kramer and the good people of the Fort Knox Military Reservation for caring for the cemeteries and making the day as easy as possible.
A TV news segment on the day can be found at https://www.wdrb.com/story/18640926/ky-town-exists-once-a-year-on-memorial-day .
>>Awards.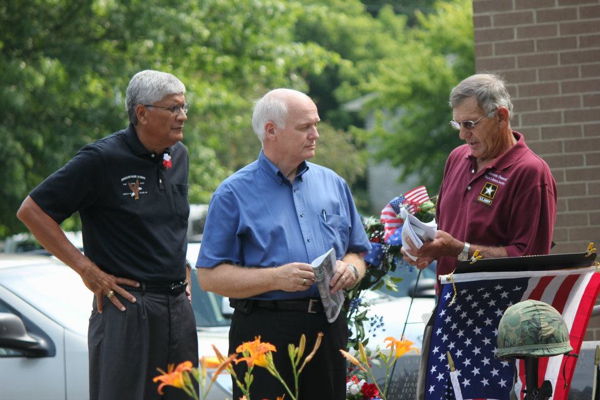 Award Presentation
Lebanon Junction Mayor James "Butch" Sweat recognized Jose Rosario and David Strange with a "Key to the City". The award, given at the beginning of Memorial Day ceremonies in that city, recognized Jose and Dave for their years of work with the LJ community, especially their work supporting Veterans.
Jose has also worked extensively with LJ on Civil War Medal of Honor recipient Henry Mattingly, who is buried there.
>>Museum at Festivals.
The Museum and the Bullitt County Genealogical Society will host a booth at the Hillview City Fair June 7-9. We will be located inside the city hall building.
We will also have a booth at the July 4th "Bullitt Blast" in Shepherdsville. Great fireworks too! Stop by and visit us!
>>Web Site Additions.
Additions to our web site have grown since last time. To see what is new, visit our Latest Additions page.
Donations...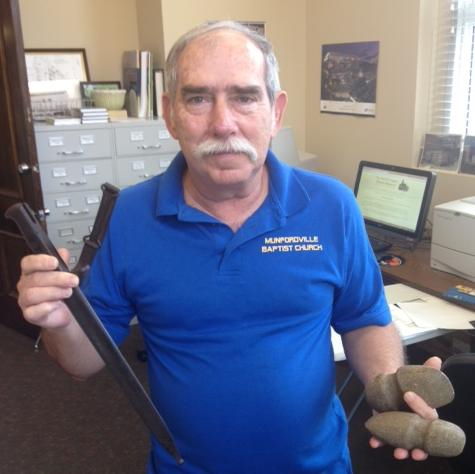 Bob Druin
>>Longtime Museum Friend Bob Druin stopped by the museum the other day and donated a bayonet and scabbard from the Mexican/American War, as well as two prehistoric axe heads found in a Bullitt County cave many years ago.
>>Elizabeth "Liz" Bannister donated a copy of the book The Sanders of Saloma, Some Ancestors and Descendants of Henry Sanders 1776-1844 by Tom E. Sanders. Mrs. Bannister is the last living child of Jack and Maggie Sanders. [See this page.]
>>A copy of A Short History of Bernheim Forest and Surrounding Area by James Reed Lawrence Jr was donated to the museum by Gregg Hilbert, his grandson. Mr. Lawrence worked at Bernheim for many years and has some good local information in this booklet.
For Your Information...
>>Commonwealth Map provides GPS Coordinates.
Using aerial maps on the internet is a very useful tool to research historical sites. But wouldn't it be handy, when looking at such a map, for it to give you the GPS location coordinates of what you are seeing on the map? Check out the Kentucky Map at https://kygeonet.ky.gov/tcm/viewer.htm . It's a pretty darn good tool.
>>Historic Confederate Pension Applications Now Available Online.
The Kentucky Department of Libraries and Archives has announced for the first time the complete collection of Confederate Pension Application files is now available on their web site. The applications are searchable by name, unit, and county. Look for the E-Archives section of the web site at https://kdla.ky.gov/records/e-archives/Pages/default.aspx .
Finally...The Wayward Tombstone...A Followup.
This story is an example of why we do what we do in our research section of the museum.
Back in 2009, a small, old tombstone had been found in a Mt. Washington apartment. Like finding a needle in a haystack, we did actually find that the tombstone belonged in a back-woods cemetery in Breckenridge County, and returned it to its proper place.
And that was the end of it. A nice story with a happy ending right there.
But then it got even better.
A few weeks ago, the museum received the following message through our web site from Rebecca Brown (Stith):
"I am not real sure how I came upon this page while doing some genealogy research, but I am glad I did. My name is Rebecca Brown, my surname is Stith. I was reading about the tombstone of Ethridge L. Stith and wanted to thank all involved for the everything they did and their dedication in finding where the tombstone belonged. Ethridge L. Stith was my Great-great grandfather b:7-31-1876. and L.B. was his wife Laura Bella b:12-13-1877. They had 3 children...one that lived (Ernest Lewis Stith), who was my Great grandfather. After Ethridge died (I believe in 1903), Laura Bella remarried. It is crazy to hear that tombstone ended up in Mt. Washington, but a happy ending that it was found and now back where it belongs!!"
What a fabulous story! A great-great grandfather is found because someone cared enough to save a lost tombstone, that we were able to find the place, and that it was written about on our web site.
Talk about a needle in a hay stack miracle!
You can read the entire fascinating story here.
Thank you for being a Friend of the Bullitt County History Museum.
David Strange
Bullitt County History Museum
Executive Director
Museum Phone: 502-921-0161
E-Mail address: David.Strange@BullittCountyHistory.org