Recently we had a message from the great-great granddaughter of Ethridge L. Stith in which she thanked everyone involved in getting his tombstone back to where it belonged. She had read about the wayward tombstone in one of David Strange's newsletters published in October 2009 in which he told the story of how the stone was returned.
David's account, as printed in 2009, is given below. We have added some photos.
The Tale of a Wayward Tombstone
Tombstone Returned
We received an odd call at the museum last week. Mt. Washington police officer Scott Ballman had a small tombstone (about 12x18x3 inches, rounded on top) at the police headquarters. If I have the story correct, the stone had been found a couple of years ago in an empty rental house. The police saw it, and, not knowing just what to do with it, but also not willing to let it just be lost, had stored it at the police station.
Officer Ballman, assigned to straighten up the property room, had rediscovered that tombstone, and called us.
This is where the story really gets rewarding.
The name on the stone could be clearly read, "Ethridge L. Stith, husband of L.B., July 31, 1876 - November 25, 1903". It was intact except for the crooked edge at the bottom where it had been broken off its base
But who in the world was Ethridge Stith and where in the world did the stone belong?
Well, thanks to good, devoted local genealogical & historical volunteers over the years, many counties have books of cemetery readings for which those workers went to each cemetery and methodically read each tombstone in that cemetery and patiently wrote down what was written on each one of those stones, and where each little cemetery was located.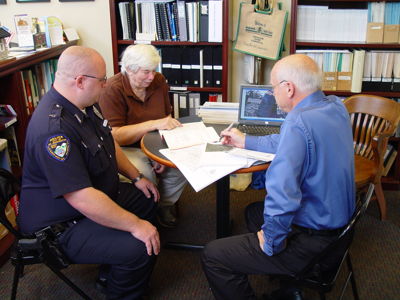 Ballman, Eddington, and Strange at work
Bullitt County has been fortunate to be one of those counties with past workers such as Mary Sabetti and Doris Owen. Indeed, we have a whole team of new workers that have been re-documenting our nearly 300 Bullitt County cemeteries over the past two years.
But Mr. Stith was not to be found in any of those local books.
So we sent out an e-mail request to several of our local researchers, and Lynn Eddington quickly solved the mystery, or at least the main part of it.
She found the exact reading of that tombstone in a Hardin County book she had, titled Hardin County, Ky., Cemetery Inscriptions, Vol. II, by Mary Josephine Jones and James Allison Jones. There it was, in black and white, recorded as being at the Kasey Cemetery in 1979.
The Kasey Cemetery is in far southwestern Hardin County, actually just across the county line in Breckinridge County.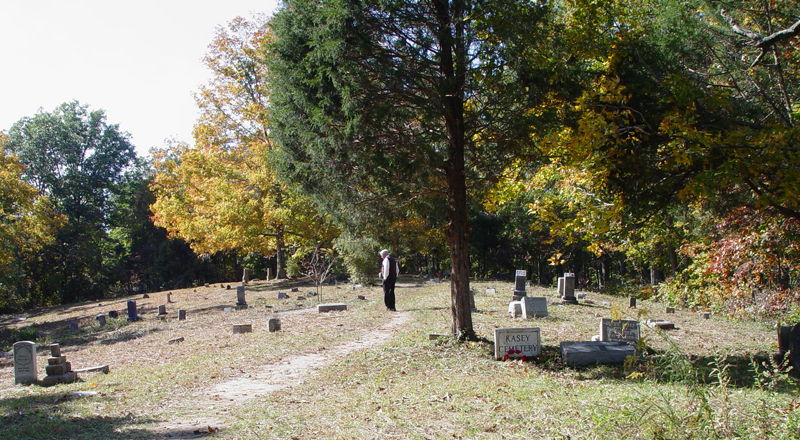 Kasey Cemetery
I picked up the stone from officer Ballman Saturday. My father and I were to be generally in that area, a good hour drive south of Bullitt County the next day for a church 150th reunion service. So, we took the tombstone with us and drove over to find the cemetery, which turned out to be WAY back in the country.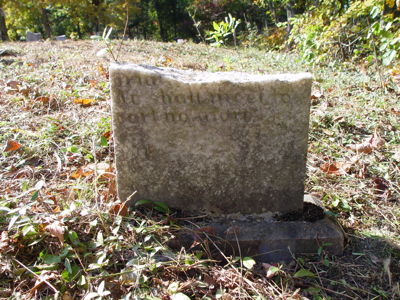 Tombstone Base
A few miles of gravel road after getting that far, we actually drove right up to the cemetery, thick weeds only recently cleared.
Using the inscription book, we found the other Stith burials, and there, right where it should be, was a base of a tombstone. I anxiously went to the car and retrieved my part of the stone. Sure enough, when I sat my stone on the base, it matched perfectly. Mr. Stith's tombstone was back where it belonged.
Such a long shot at finding the proper burial place of someone so far away! It was exciting in some strange way.
And it would have been impossible without the long work of people so patiently recording old inscriptions from almost forgotten stones in almost forgotten cemteries.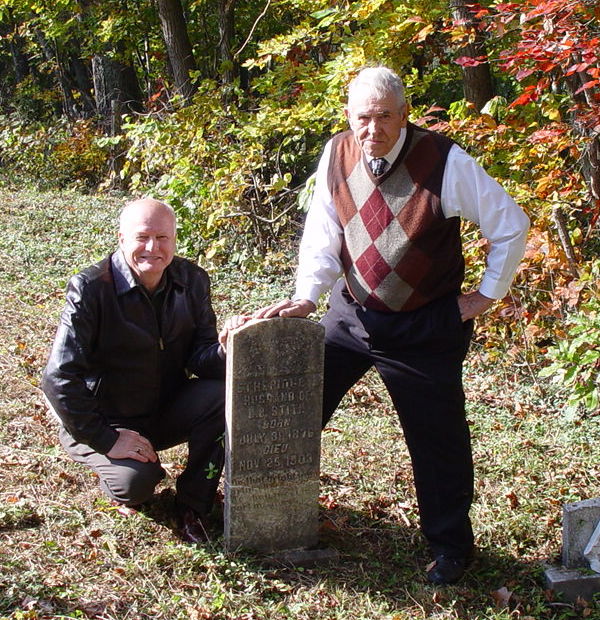 David and Melvin Strange
Returning the Stone
The mystery still remains, though, as to how the stone had come to be in a Mt. Washington rental property. One can only guess. Many of the stones at the little isolated cemetery were broken and vandalized. Perhaps some (I'll restrain my words) "person" had stolen the stone as some weird souvenir and then lost interest in having it. Perhaps there was some more honorable reason that we can not guess.
Who knows. But hopefully the stone, and the man buried beneath it, rest a bit easier now that the stone is in its proper place.
Earlier we asked if anyone could fill out the missing words on the inscription at the bottom of the stone. Annetta Stith has provided them for us:
"On that bright immortal shore
We shall meet to part no more"
Thanks again to the good work of good and caring volunteers over the years that make such otherwise impossible mysteries solvable. And thanks to Mt. Washington Police Officer Ballman and to Volunteer Lynn Eddington for caring enough to right a probably otherwise ignored wrong.
---
| | | |
| --- | --- | --- |
| Two additional stones are shown here. | Earl E. Stith | Overton Stith |
---
Copyright 2012 by the Bullitt County History Museum, Shepherdsville KY. All rights are reserved. No part of the content of this page may be included in any format in any place without the written permission of the copyright holder.
---