Remembering Tom Pack and Robert McDowell
The following article by Charles Hartley originally appeared in The Courier-Journal on 18 July 2012. It is archived here with additional information for your reading enjoyment.
---
Someone recently asked me how I became interested in the history of Bullitt County. Having been here only 47 years, I'm a newcomer to some whose ancestry dates back to the very beginnings of the county's history. So why am I so interested in my adopted county's past? I guess I can credit it to two men, and I'd like to tell you about them.
First was Tom Pack. Before his death in 2003, Tom and I went back many years to our college days. Tom married Penny Bergen, a local girl, and after college they ended up here in Bullitt County. My wife and I arrived about the same time, and our friendship continued unbroken.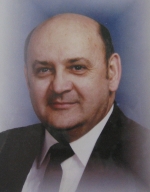 Tom Pack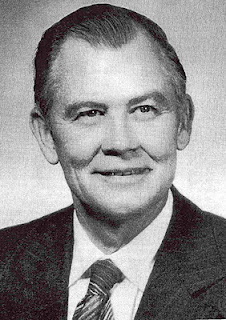 Robert E. McDowell
Tom developed a deep interest in the history of his adopted county, and his enthusiasm for gathering its history rubbed off on almost everyone he met, including me. When folks would hear that Tom was interested in a particular bit of historical lore, out would come the old pictures and documents, and the nearly forgotten family stories.
He filled binder after binder of records, pictures, and stories; and logged countless hours poring over faded documents and blurry microfilm images in search of more information. His goal was to write a history of Bullitt County, and it would have been a good one too, but he lost his battle with cancer, and his history remains unwritten.
Tom introduced me to the second man, or rather to his writings for I never had the honor of meeting Robert Emmett McDowell personally.
Mr. McDowell was a writer of short stories who, later in life, became interested in Kentucky history. In 1961 he published a historical adventure novel titled Tidewater Sprig, which was set in pioneer days in and around Louisville and the salt works at Bullitt's Lick. It was his research for this novel that made such an important contribution to our knowledge of early county history.
Prior to publishing this novel, McDowell presented a paper before The Filson Club in 1956 in which he described what he had learned about Bullitt's Lick, and the related saltworks and settlements. It was this paper that provided the foundation for much of the subsequent research done about this era. Follow this link to read McDowell's paper.
Thanks to the help of Nancy Strange, then Circuit Court Clerk, and many other locals, McDowell soon discovered a wealth of information that no one had paid much attention to for years. As he stated in his presentation, McDowell found "hundreds of depositions of the first settlers and hunters and saltmakers, taken down in their own words. There were surveys and plats, showing the location of salt licks around Bullitt's that I had never heard of, laying out the old buffalo paths and early roads, locating many of the stations."
More important, his research helped lead an effort to preserve these old documents that had laid gathering dust and slowly decaying for years.
I remember when Tom Pack gave me a copy of the Filson Club Quarterly containing McDowell's paper, and encouraged me to read it. I read it, and then I read it again, and I was hooked. While I taught history at the Shepherdsville school, this was different, more vital and compelling. Tom also pointed me to McDowell's writings about the Wilderness Road which had been published in The Courier-Journal Magazine, and in the Louisville Magazine. You could tell that McDowell was fascinated with his research, a fascination that rubbed off on me.
About this time I was taking a graduate level history course that required primary research into a topic of my choosing. I discussed it with Tom, and he suggested that I research the iron manufacturing industry that had thrived in Shepherdsville prior to the Civil War. Like McDowell, I went to the original deeds and court cases, and discovered documents that told me about the beginnings of this industry, as well as its demise. This was my first taste of courthouse research; it certainly would not be my last.
With Tom's encouragement, and Mr. McDowell's research as a starting point, I put together a booklet of information that we used at Shepherdsville Junior High in a mini-course we called Bullitt County Social Studies. One of the highlights of this course occurred when we walked the class to the courthouse to sit in on real court cases. As I recall, this was another of Tom's suggestions.
By this time, Tom Pack's unofficial title was "Mr. Bullitt County Historian." He helped to put together the first Bullitt County history booklet in the '70's, and wrote frequent articles about the county's past for such publications as the Kentucky Encyclopedia. An example of one of his writings is transcribed on another page. Everyone just knew that Tom was the one who would write that elusive county history. Unfortunately it was not to be.
Today there are many others who have been inspired by Tom's example, and have taken up the challenge of telling our county's history. Thanks to their efforts, and the leadership of the Bullitt County Genealogical Society in sponsoring the Bullitt County History Museum, more and more is being learned about our history. Visit the museum, located in the front of the courthouse in Shepherdsville, or visit the museum's web site to see what we are learning about Bullitt County's past.
Those of us who have been inspired by Robert McDowell's research, and Tom Pack's enthusiastic dedication to seeking the county's past, owe each of them a huge measure of thanks that can only be tendered by our continuing what they have begun.
---
Copyright 2012 by Charles Hartley, Shepherdsville KY. All rights are reserved. No part of the content of this page may be included in any format in any place without the written permission of the copyright holder.
---