Museum Newsletter - 28 June 2013
Friends of the Bullitt County History Museum
E-Newsletter
June 28, 2013 (Volume 9, Number 6)
Dear Friends,
Announcements...
>>Very Special Bullitt County Genealogical Society Celebration July 20. This meeting, lasting from 10:00 a.m. until 3:00 p.m., is a combined family fair and celebration of our Bullitt County Genealogical Society's 25th anniversary. Please don't miss this event! We have a lot of great things planned including awards ceremonies. County and State dignitaries will be there, door prizes, cake and ice cream plus the displays of many historical items from the members and friends of the society. Tables of family files, books, and other information will be there. Come help us celebrate the big milestone in the history of the society.
Meeting location is the regular place, Ridgway Memorial Public Library, on corner of North Walnut Street & Second Street in Shepherdsville.
>>Membership Quarterlies went out this month. Our Bullitt County Genealogical Society quarterly booklet, Wilderness Road, was mailed out to Society members this month. This state award-winning quarterly is free to members. The next edition, will be a special, keepsake, anniversary edition remembering the past 25 years of the society. If you are not a member, you should consider joining. Information and an application form can be found on our web site. Follow this link. The inexpensive $15 annual dues brings you four booklets a year, mailed to your address, and helps support the great work of the Society. Good stuff!
Activity & News...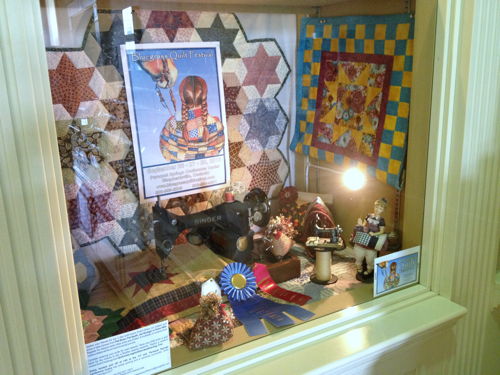 >>New I-65 Display. For the past two or three years, our friends at the Interstate 65 rest stop (just south of Shepherdsville) have allowed us to use one of the display cases there. For the past year, we have had a display about Bullitt County schools, both old and new.
Last week we (by "we" I mean volunteers Pam Heyna and Jo Jeffries) changed the display. This one focuses on quilting and especially the quilt show coming September 26-28 at Paroquest Springs Conference Centre. Check www.bluegrassquiltfestival.com for details.
>>For some time now, the museum has had a special display in the back of the second floor hallway about the 1917 Train Wreck. Well, we have now added video to that display. A small TV and DVD player now plays the segment from the TV show "Kentucky Life" that was recently produced about the wreck. If you can't get to the museum to see the video, you can see the full show on line. Our segment is about halfway through the show.
>>Scrapbook donated. Museum Friend, Betty Porter, recently donated a scrapbook of the 175th county-founding anniversary celebrations that were held in Bullitt County in 1971. Thank you, Betty! Museum Volunteer, Sherry Lee, has scanned all the pages to computer, so that we can view them digitally. The images can be found on our web site beginning here.
>>New Book: Court Order Book O, 1900-1908. Abstracted by Ed Lee and indexed by Betty Darnell, this nice booklet contains information that could be useful in local genealogical research. We also have Court Order Book J, 1867-1873. Both are available at the museum. Price is $6 at the museum, $8 mailed.
>> Web Site Additions. Here are links to this month's additions to our web site.
>>Charles Hartley and I Continue our weekly column, "Bullitt County Memories" in The Courier-Journal newspaper, and I received this nice note from Burnell Esbenshade: "David, Thank you so much for your Memorial Day article. I especially appreciated that you included those whose lives were impacted by their experience. I recalled Junior Deacon returning from war, missing a limb, to work at the Shepherdsville Post Office. My friend, William Everett Hackett, Jr."Billy" was drafted to spend his share of the Vietnam War accounting for and cataloging body bags. Who would have known what the handsome and peaceful manager of Bullitt Federal was carrying every day? Keep up the good work all of you do. Burnell" You can see the article she was writing about here.
>>By the way, Charles and I are beginning to put our "Bullitt County Memories" stories into a book. We hope to have that book ready perhaps late this year.
>>Charles Hartley is also writing another column. This monthly one, for The Pioneer News newspaper, is titled "It happened in..." and draws from news stories from fifteen, thirty, sixty, and ninety years ago. The stories can be found in the Pioneer News, and then on our web site here.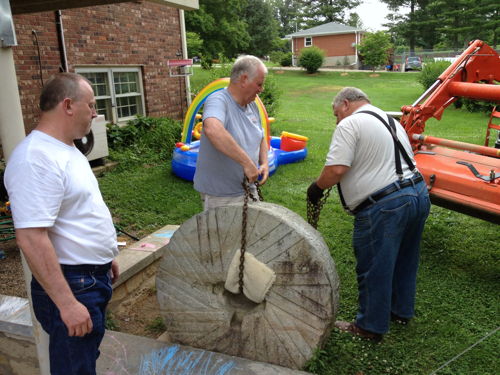 >>Another Grand Adventure. Just call me "Indiana Jones", or better yet, "Bullitt County Dave"! Thanks to the generosity of Mark and Mike Sears, in memory of their father, the Museum is now the proud possessor of a 41 inch diameter original Bullitt County millstone. We went out last month to retrieve it, and thanks to friend Mike Baker and his tractor we now have it safely stored at my house until we figure out the best way to display it. It was touch and go for a while, with the tractor getting scarily close to turning over (Mike said it wouldn't have been the first time!). The photo at left shows Mark and Mike Sears, along with Mike Baker, working with the one-ton stone.
Many thanks to these folks for making this happen. We will have more on the story when the display is ready.
>>Henry Mattingly Memorial Highway. Watch the newspapers, and I expect to have more on this any day now. Museum Volunteer José Rosario has been working for over three years to get a road named in honor of Henry Mattingly, who is a Civil War Congressional Medal of Honor recipient buried in the Lebanon Junction cemetery.
It looks like José has been more than successful. It has been approved to add signs along Highway 61 in Bullitt County designating it as the Henry Mattingly Memorial Highway. This of course will not change addresses or the actual name of the road, but it will bring attention to local history. I believe the ceremony will be some time in July, so watch close for announcements.
>>Thanks to Billye Jackson (and papers sorted by Lynn Eddington and Bob Cline), we have a file-box full of genealogy information on the Calloway, Phillips, and Robinson families.
>> Museum volunteer Ed Lee received two thank you notes recently for his work providing information on Ferguson and other family histories for people. Ed and Sherry Lee are great assets to our museum staff of Volunteers. Ed has also taken the time to go through an old collection of eight rolls of microfilm for us. This microfilm is a collection of a little bit of everything "Floyd." Apparently, Charles Floyd had microfilmed all of his notes, scribbles, and letters that he had collected while researching the Floyd family line in the 1960's. The collection is hard to sort through, but Ed Lee has made an attempt and took some notes, as sort of a directory, about what he found in the microfilm. The film, and Ed's notes, are available at the museum.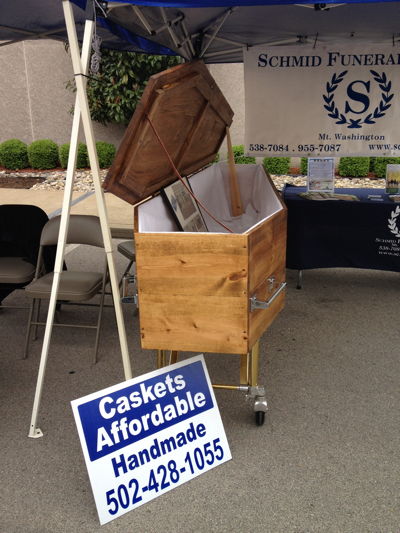 Trivia Question From Last Month
OK, Friends. Last month, I asked, "What is the difference between a coffin and a casket?"
The answer is a "casket" is a rectangular box in which a body is buried. A "coffin" is a six-sided box, narrow at each end and broad at the shoulders, for the same purpose.
And for bonus points, I asked you to tell me what "anthropoid" has to do with the first question. Well, anthropoid means "in the shape of a man" and is used as another term for coffin.
I suppose I really should have saved these trivia questions for Halloween. :)
Greg Hilbert was the first to answer the casket/coffin question correctly, and Tim Gonterman knew the anthropoid.
Of course, both had an inside track on these. Greg builds coffins and caskets (sample shown in the photo at right), and Tim works at Schmid Funeral Home in Mt. Washington.
An interesting web site on this subject can be found here.
This Month's Trivia Question
Speaking of "inside track," know this one at the next Kentucky Derby and you'll be admired by all around you. :)
The great racehorse, War Admiral, swept the Triple Crown in 1937, one of only a handful of horses who have ever won all three races. Well, did you know that the jockey was from Bullitt County?
Tell me the name and I'll tell you the story in the next newsletter.
For Your Information...
>>What significance does the date of Feb. 29th have in cemetery headstone readings? Answer: Like Friday the 13th, it was considered an unlucky omen. People born or dying on that day would not have the day carved into their head stone. So, when looking at headstones and you notice the birth or death date might just say something like "February 1870," not including a day, it might be a good guess that the day was Leap Day, the 29th.
>> Do you have large textiles in your collection in need of proper storage? See this blog post, which is a step-by-step process of how to do rolled storage for large textiles, written by Kentucky Historical Society (KHS) registrar Deb Van Horn. This is from the KHS blog, "History Burgoo."
>> I don't usually do this, but the map is so good it's worth the chance. The link shown here seems to only work on some computers, but if it works on yours, its worth seeing for the detail about the state geology that its shows. Give it a try "if you dare" [smile] https://kgs.uky.edu/kgsweb/olops/pub/kgs/mc90_12.pdf.

>>Remember the New Madrid Fault? That is where this area has always been told from which a big earthquake will some day originate. Well, new studies by the Kentucky Genealogical Survey say the threat might be less than previously predicted. Check the video at https://bit.ly/16TedUG.
>>Spencer County on FaceBook. Our neighbors and friends at the Spencer County Historical and Genealogical Society now has a FaceBook page featuring old photos, meeting announcements, genealogy news and tips. If you are on FaceBook, search for "Spencer County Historical and Genealogical Society".
In Memory of...
Allow me to close this newsletter with a memory, an obituary.
Some had asked about an obituary of Charlie Long passing away, and asking which Charlie Long.
For those of you who might not know, there are two.
We have one history friend, Charlie Long, a subscriber to this newsletter, who lives in Mt. Washington, and is a charter or beginning member of the genealogical society.
That is NOT who passed away.
The one who passed is Charlie "Abe" Long, well-known among many of us for his portrayal of Abraham Lincoln at Civil War re-enactments and other events.
If you did not know him personally, you might recognize his photo. Here is an obituary that I picked up at the funeral home. Please note on that obit that the funeral home web site has a memorial video on the site. He was a friend and will be missed by many.
My friends, this newsletter has gone quite long and I have so much more to tell you about. If I can get to it, I'll try to publish a supplemental newsletter later this month.
Thank you for being a friend of the Bullitt County History Museum.
David Strange
Bullitt County History Museum
Executive Director
Museum Phone: 502-921-0161
E-Mail address: David.Strange@BullittCountyHistory.org