Judge Charles Preston Bradbury
The following article by Charles Hartley originally appeared in The Courier-Journal on 12 June 2013. It is archived here with additional information for your reading enjoyment.
---
H. G. Wells wrote of a man that "a great discontent fell upon him. It was the unhappiness of a fine brain that seeks employment." While the subject of today's article may never have felt a "great discontent," he was certainly a man with a fine brain who sought ambitious ways to use it.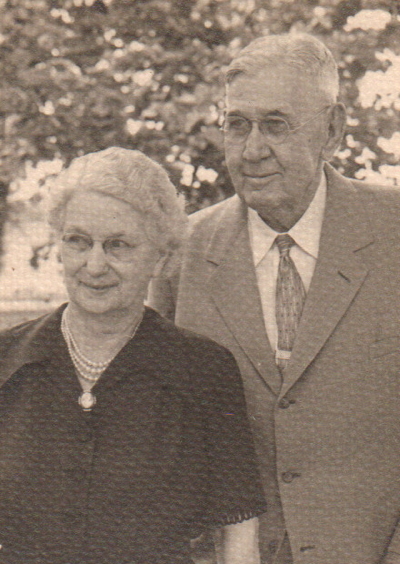 C. P. and Addie Bradbury
50th Anniversary Picture
Charles Preston Bradbury grew up in the Leaches precinct, southeast of Shepherdsville. He was one of four brothers and a sister born to John and Frances (Mathis) Bradbury. His grandfather was Henry Bradbury who was a native of England, and a teacher by trade; and his great-grandfather, John Bradbury, was one of the first two professional naturalists to explore any part of the Louisiana Purchase (the other being Thomas Nuttall).
This John Bradbury's career is well described by Charles Boewe in an article published in the Filson Club Historical Quarterly (Volume 74, Summer 2000), and we won't dwell on it here; but it is sufficient to say that young "Pres" Bradbury had a legacy of accomplishment that challenged his ambition. (A pdf file containing this article may be found here. It is a fairly long download.)
After finishing what education was available locally, he traveled to Lebanon, Ohio, and attended the National Normal University, a teacher's college where he graduated in 1898. Returning home, he was hired to teach in a local school.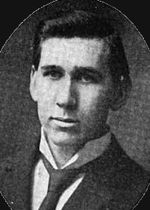 Supt. Bradbury, 1905
Then in January 1902, he was named the superintendent of local schools. He next attended the law school in Louisville, completing a two year course in one year, and was admitted to the bar in 1903, the same year he married his sweetheart, Addie Jenette Lee.
By 1906 he had stepped aside as superintendent, and won the office of county attorney. When he ran again in 1909, he had no opposition. He won again in 1913 with little opposition. He also began serving as Master Commissioner, an officer of the court responsible for managing court-ordered property sales.
In February 1917, Bradbury announced his intention to seek the office of County Judge. Successful as usual, he was sworn in the following January. Then in November 1922 he announced that he would be running for the Circuit Judge seat, only to decide the following January that he would not run, probably because the incumbent decided to remain in office.
In announcing Bradbury's candidacy, the newspaper editor described his career thus far, and stated, "In each office, he discharged every duty ably, honestly, and conscientiously. His success in the practice of law has been marked. He is an able, aggressive lawyer and his zeal for his clients is wonderful. He has a sound, acute and keen legal mind, is courteous to lawyers, litigants and others about the court room, and will, if elected, make a splendid Circuit Judge."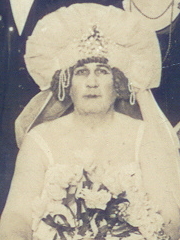 "The Bride"
For a decade and more, Bradbury concentrated on his law practice while continuing to be active in the community, serving at least one term as the mayor of Shepherdsville. In one particularly hilarious instance, he "starred" as the "bride" in a "Womanless Wedding" play held in December 1927. A cast picture is on display at the Bullitt County History Museum.
Even with everything else, Bradbury took time to supervise the cultivation of his splendid farm of two hundred and sixty acres, near Shepherdsville.
An unfortunate incident in the Spring of 1931 landed him in the hospital with a broken leg when a reckless driver ran into a parked vehicle, pushing it into him. The local paper reported that "the numerous friends of Judge Bradbury hope for his early recovery and return to circulation for his gigantic form and hearty laugh are missed by all our citizens."
In 1933, he again won the County Judge's seat, and served one term before winning a seat in the Kentucky General Assembly in 1938. After a term in Frankfort, he returned to the county, again winning the County Judge race during World War II. He continued as Judge until poor health forced him to resign in 1949.
He and Addie had been blessed with two fine sons. Their first, Charles Lee Bradbury became a pharmacist, and lived for many years in Shelbyville. The younger son, John William Bradbury became a doctor, and lived for a while in Hodgenville, before moving to Texas later.
After Judge Bradbury's retirement, he and Addie moved to Hodgenville to be near their son who watched over his father's care. They built a small house that, according to their granddaughter, was "literally a hop, skip, and jump from our house." Here Judge Bradbury was fond of sitting in his favorite wooden rocking chair and watching his grandkids play.
His son's care, and the laughter of his grandchildren combined to extend his life, and his pleasure. When he died in 1964, his granddaughter, who was seven at the time, recalls how it affected her. "It was a cold night as I remember and my mother came in and told me that Grand Dad had gone to heaven. I went upstairs and as I sobbed, 'I Want to Hold Your Hand' by the Beatles was playing on the radio. To this day, when I hear this song I always think of him."
I don't have enough space to relate all of the stories about Judge Bradbury that I've heard while preparing this piece; stories about how he used the head of his cane to wake up a fellow church-goer who had a habit of falling asleep during service; or how he occasionally sentenced a minor offender to attend church rather than jail; or, well you get the picture.
He was a member of the Shepherdsville Baptist Church and Masonic Lodge No. 155, and both played a large part in his life. In a final tribute, Stuyler M. Harris of Mt. Washington wrote "Peace to his memory. May the sprig of acacia flourish over his grave." Fine thoughts for a fine man.
---
Copyright 2013 by Charles Hartley, Shepherdsville KY. All rights are reserved. No part of the content of this page may be included in any format in any place without the written permission of the copyright holder.
---