Dedication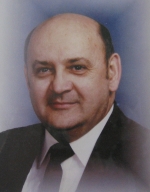 Tom Pack
This work is dedicated to Tom Pack who should be writing it. Tom was known as "Mr. Bullitt County Historian" by most folks who knew about his passion for seeking out and learning all he could about Bullitt County's past. It was his goal to write a history of the county, and he had shelves full of research; but cancer took him before he could finish his work.
It is our hope that, through the efforts of those who share Tom's passion for Bullitt County history, we will see Tom's dream of a published history come true.
---
If you, the reader, have an interest in any particular part of our county history, and wish to contribute to this effort, use the form on our Contact Us page to send us your comments about this, or any Bullitt County History page. We welcome your comments and suggestions. If you feel that we have misspoken at any point, please feel free to point this out to us.