Museum Newsletter - 22 August 2013
Friends of the Bullitt County History Museum
E-Newsletter
August 22, 2013 (Volume 9, Number 9)
Dear Friends,
Announcements...
>>Henry Mattingly Memorial Naming Ceremony at LJ August 30.
Museum Volunteer, José Rosario, has worked for years to get more recognition for Civil War Congressional Medal of Honor recipient Henry Mattingly, who is buried in the Lebanon Junction Cemetery. On August 30, José's dream becomes reality. There will be a ceremony on that day at 10:00 to dedicate the Bullitt County portion of Highway 61 as the "Henry Mattingly Memorial Highway." Large blue memorial highway signs will be placed at the north and south ends of Highway 61 near where the road crosses the county line. The ceremony location will be in the Lebanon Junction city park in the center of town, next to the caboose. Here is a link to a story about the 2010 ceremony marking a new grave stone for Mattingly. Congratulations, José!
>>Closed Labor Day Holiday.
The museum will be closed Monday, September 2nd, for the Labor Day holiday.
>>Bullitt County Genealogical Society Regular Meeting September 21.
Eddie Price will be the guest speaker at the September meeting. Eddie is the author of the book "Widder's Landing," published by Acclaim Press. His book takes place between 1811 and 1812 around the War of 1812. He will be dressed in period clothing, and will have his books to sell and sign.
Meeting location is the regular place, Ridgway Memorial Public Library, on the corner of North Walnut Street & Second Street in Shepherdsville. Meeting time is 10:00 a.m.
>>Bluegrass Quilt Festival September 26-27.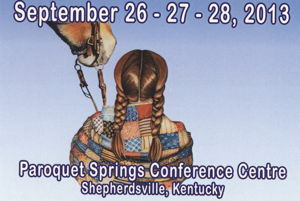 Gather your friends for this three day event at Paroquet Springs Conference Centre in Shepherdsville. Enjoy the judged quilt show or take classes from Pat Sloan, Pat Speth, Jan Krueger, or Karen Witt. Register for classes early to assure a spot. A multitude of vendors will be on hand. Enter your quilt, or children can enter quilt blocks for a chance to win a Brother sewing machine. Quilt entry deadline is August 31.
Contact www.bluegrassquiltfestival.com , or call 502-955-5203.
>>Randy Matlow retiring from library system.
Longtime friend, Randy Matlow, has been Director of Bullitt County Public Libraries for 24 years. Sadly for us, Randy will soon be retiring and heading up to an old/historic house he has been working on up in Ohio. Our loss is Ohio's gain. A retirement reception will be held at the Ridgway Memorial Library in Shepherdsville on Sunday, August 25, from 2-5:00. If you are in the area, be sure to stop by and say hello.
Very best wishes to you, Randy.
>>Ann Johnson gone from KHS.
I am sorry to report that Ann Johnson, a longtime, helpful friend at the Kentucky Historical Society, is no longer with that organization. I am told told that grant funding ran out, eliminating her job. Ann, known by many of us for her work with cemetery preservation, will be greatly missed. But she tells me that she might still be available for training sessions and other related work.
Best wishes, Ann, and thank you for your devoted work all over Kentucky.
Activity & News...
>>We're on National News, and about everywhere else.
It has been a crazy month for the museum. About a year ago, we posted a copy of a 1912 Bullitt County 8th Grade Exam on our web site. Friend, Karen Smith, had donated it to us from a stack of old papers and photos that she came across.
Well, about three months ago, if I recall things correctly, I received a call from Smithsonian Magazine (I think that was the first one) asking permission to post the exam along with an on-line story they were writing.
Then things quickly started building and building. Suddenly, over the past couple of weeks, the story of the Bullitt County 1912 exam has "gone viral." Just "Google search" (or whatever search engine you use) "1912 Exam Bullitt" or some similar combination of words, and you'll see what I mean. The last I heard, we were on over 800 different web sites across the nation and even around the world. Our web site, which normally gets no more than a few hundred hits a month, was bombarded with some 250,000 hits in just a short time. We started getting hundreds of e-mails and letters from nearly every state and a few countries, asking about the exam itself, and challenging/complimenting our answers (see the answer sheet we created. I started getting calls from local, and then national news organizations. One day last week, I was contacted by FOX national news. They sent a car to pick me up, brought me to the FOX 41 Louisville TV station, and set me up for a live, on air, interview with an anchorperson in Washington, D.C. You may view the TV segment at this link.
Pretty big stuff for a little Bullitt County boy in a four-room museum.
The great thing is that it's been positive news for the Bullitt County History Museum, and for Bullitt County in general.
I am told that we have even been in a Munich, Germany, newspaper.
Wow! And apparently it's not over quite yet. Though the pace has slowed down, there will apparently be some more news to report in next month's newsletter.
And all of this is on top of our statewide segment on Kentucky Educational Television a few months ago.
It's been quite a year!
>>Museum & Genealogy Booth at Shepherdsville City Fest and Civil War Encampment.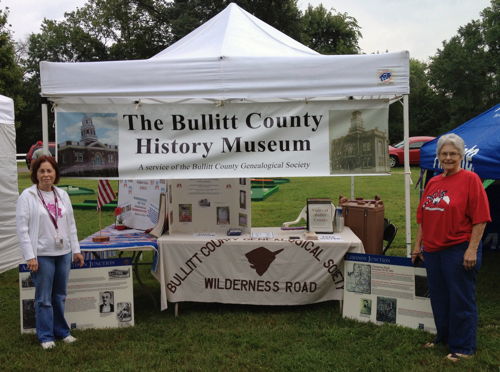 Thanks to volunteers such as Barbara & Keith & Ken Bailey, Ed & Sherry Lee, and Billye Jackson, we set up an informational booth at the recent Shepherdsville City Fair. This event also had a good camp of Civil War re-enactors who put on several great shows for us. The weather was beautiful, the volunteers helped with many questions, and we made several new friends for the museum.
>>1962 Kentucky Death Certificates now at museum.
The museum research room annually updates its microfilm collection of Kentucky Death Certificates, automatically purchasing them as soon as they become available. This week we received the ones for 1962. For citizen privacy reasons, Kentucky has a "fifty year rule" that does not allow the certificates to be widely available for fifty years after a death. Thus, allowing for preparation time, 1962 is the most recent release. The museum has the complete collection of death certificates from the beginning of such record keeping, in 1911, to the year just received.
And we used this new film the same day we received it, finding a certificate that one of our regular visitors had been looking for for a long time. Why are death certificates useful? In genealogical work, death certificate information such as exact death date, place of burial, parents, and spouse can usually be found.
>>FOLD3 now available at the museum.
"Fold3" is a relatively new internet research tool focused on original military records. We recently purchased a license to the site. It is now available at our museum research room. You can see the commercial web site at www.fold3.com .
>> Web Site Additions. Here are links to this month's additions to our web site. Be sure to look at these great additions.
>>The Parklands of Floyds Fork
This is a fantastic developing new parks area running along Floyds Fork in Jefferson County, and beginning to develop down into Bullitt. I am pleased to have had a small part in that, especially as it reaches down into Bullitt County. This is one of the biggest park developments going on in the nation. Check this link for details.
>>Are You a Member of the Elks?
I don't know of an Elk Lodge being in Bullitt County, but there are certainly members of that esteemed organization. Terry Akin recently came by the museum and gave us a CD of photos and text that he has been gathering about the group. His Elk Lodge, located very near General Electric Appliance Park in Louisville, is the fifth oldest of that order. Perhaps you know of "The Henry Clay" building in Louisville. That was originally built for the Elks, but The Great Depression forced the organization to sell. I think that building was converted for YWCA. My father remembers learning to swim in the pool there. Today, the building is beautifully restored and home to a nice theater.
>>Gardner McKay scrapbooks.
The museum received a call last month from Diane Edwards of Murfreesboro, Tennessee. Diane had seen our web page about the research work done by volunteer Judy Richardson about TV star Gardner McKay, who is buried in Hebron Cemetery in Bullitt County. Diane had two scrapbooks she had made over the years of McKay news clippings. On July 29, Diane brought the scrapbooks up to the museum and donated them to our collection.
Thanks Diane! The pages are getting a little brittle, so we have stored the books in our safe-storage cabinet. If anyone would like to see them, just come by the museum and ask.
For Your Information...
>> "Nee." Not "Nay," but "Nee."
You probably already know this word if you are into genealogy, but it was new to me. I recently noticed the word while doing some research. I erroneously thought it was a prefix to a name, such as "Bonnie Strange nee Harris". But it actually means something else. The word can be used to identify a woman's maiden name, or sometimes just a former name that the person was originally or formerly known as. It doesn't have to be a person's name either. For example, in Louisville, the name of the local minor league baseball team is "The Bats." I remember back when the team was called "The Redbirds." So, if I have this word right, I could write something about "The Louisville Bats nee Red Birds." Or "Bonnie Strange nee Harris" for "Bonnie Strange, whose maiden name is Harris."
And here I was thinking it was just some fancy Scottish or French name.
>>County Comprehensive Plan.
I suppose this will eventually fit into the history category in one form or another. You might be interested in details of the developing new "Comprehensive Plan" for Bullitt County. Meant to be a guideline for future development, much of the details can be found at this link.
That's all for this month. I will be out of the office during the last week of August.
Thank you for being a friend of the Bullitt County History Museum.
David Strange
Bullitt County History Museum
Executive Director
Museum Phone: 502-921-0161
E-Mail address: David.Strange@BullittCountyHistory.org