Judge William T. Morrow
The following article by Charles Hartley originally appeared in The Courier-Journal on 21 Aug 2013. It is archived here with additional information for your reading enjoyment.
---
Sometimes I happen upon someone in my research who peaks my interest. Such has been the case with Judge William T. Morrow, and I'd like to share with you what I've learned about this talented gentleman.
In 1854, Kentucky was visited by cholera, and Shepherdsville was almost depopulated. Just before the cholera, there was high water which flooded every cellar in town, and got up to the second floor of about all the houses near the river.
Cholera, a bacterial infection in the small intestine, has occurred in pandemics including one in the 1850's. The worst year was 1854. That was also the year that British physician John Snow, who was working in a poor area of London, identified contaminated water as the means of transmission of the disease. Regrettably it was too late for Mrs. Mary Ellen Morrow, Judge Morrow's mother.
Mary Ellen Shane married Elbridge Gerry Morrow in Bullitt County in August 1840, four months before her 17th birthday. They had two sons: William, born in 1842, and Nathan, born two years later. Then Elbridge died in 1849 just past his 36th birthday.
Mary Ellen had the misfortune of visiting relatives in Shepherdsville during the cholera outbreak and drinking some of the contaminated water. Before she could return home, she was stricken and quickly died.
Her brother, William Shane collected his two nephews and brought them home to Shepherdsville to live. He then married Ann Anderson the next year, and together they reared the two Morrow boys as well as a son and daughter of their own.
Later in life, Judge Morrow would relate the story that he was a water boy for the Louisville and Nashville railroad when it constructed its main line from Louisville in 1854 after his mother died. He drew the water from an old well on what became the Troutman Bros store lot with an old fashioned windlass, and carried two buckets of water each trip. He received fifty cents per day and was paid every Saturday evening.
When war broke out between the states, both William Shane and his nephew William Morrow joined the 28th Kentucky Infantry, Shane as a 1st Lieutenant, Morrow as a private. His unit's company descriptive book described Morrow as five foot, nine and a half inches tall with a dark complexion, hazel eyes, and dark hair.
Shane soon had to resign his commission in order to return home to care for his ill wife. She died in 1861, and he followed in December 1862. Both are buried at Hebron Cemetery. So once again the two Morrow brothers were left without family.
William Morrow was assigned to his regiment's quartermaster department as a clerk, likely because his uncle had seen to it that the boys got as much education as they could growing up, so William was good with writing and calculating, skills needed in that department.
He remained in that capacity as his unit moved from one theater of operation to another, and by late 1864 he had risen in rank to Quartermaster Sergeant. A year later he was promoted to 1st Lieutenant and was acting as the regiment quartermaster. Then in August 1865 he requested a discharge from service in order to return home to deal with "important business which requires my personal attention."
It appears that a bit of property left to the Morrow boys needed to be divided as his brother Nathan "desired a division of the property so that he could convert his part to his own use." Nathan, who had served in a different unit, was now home and ready to get on with his life.
By 1870 William was working as an assistant marshal in Shepherdsville according to the census record. He was boarding at the hotel run by Mike and Sophia Troutman, parents of Frank Troutman, then the town marshal.
At his death, The Pioneer News wrote, "After the war he entered the services of the Government in the internal revenue department and was stationed at many distilleries at Tyrone, Lawrenceburg, Athertontown and Louisville, as well as other places in Bullitt, Marion, and Nelson counties."
At various times he worked as both a gauger (pronounced GEY-jer) and a storekeeper. The former job made him responsible for determining how many gallons of spirits were prepared each day for market so they could be properly taxed. As a storekeeper he was responsible for seeing to the security of the distillery's operation, and actually carried the keys to open doors to its vital operations.
We also know that he worked as the superintendent of the Mellwood Distilling Company in Louisville in 1887-1888.
The citizens of Bullitt County elected him their county judge in 1894, which was remarkable since he was a Republican in a predominantly Democratic county.
Sometime during his work with distilleries, he may have made time to study law for he is listed in the 1900 census as a lawyer. However he soon returned to working for the internal revenue service in the distilleries. He moved to Louisville where he worked as both a gauger and storekeeper for a decade (1905-1915).
Retiring in his mid-seventies, he moved back to Shepherdsville where he made his home for the remainder of his life. That didn't mean, however, that he retired to his front porch to watch the world go by.
As early as 1915 the paper was reporting that Judge Morrow was heading south to Florida for the winter. He did this for nearly a decade, returning each winter to Miami, his favorite destination. It is reported that in the early 1920's Miami was enjoying a building boom, and that both gambling and drinking (despite Prohibition) were popular activities. We don't know if the Judge went south for just the warm sunshine, or if he partook of other enticements, but we have our suspicions.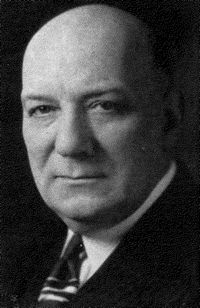 William E. Morrow, Judge Morrow's nephew.
Photo taken from
Louisville Magazine,
Jan. 20, 1953 issue, with permission.
On 4 May 1928, The Pioneer News reported "It is with much sorrow that we chronicle the death of Judge William Morrow, which occurred at an early hour Wednesday morning. He was the oldest man in town, and one of the old men of the County."
Judge Morrow never married. At his death, the newspaper said of him, "Judge Morrow was a man of strong likes and dislikes, and very pronounced ideas on all questions of the day. Considering his very advanced age, he was very liberal in his view, and was a very tolerant man. He was a well-read man, very intelligent indeed, and had traveled in this and other countries considerably and was able to tell very interestingly of his travels. He loved his nephew, W. E. Morrow, of Louisville, and was deeply devoted to his brother, and was heartbroken when he died. He was true to his friends and ideals."
Good words to be remembered by.
---
Copyright 2013 by Charles Hartley, Shepherdsville KY. All rights are reserved. No part of the content of this page may be included in any format in any place without the written permission of the copyright holder.
---