Hot Soda on a Summer Day
The following article by David Strange originally appeared in The Courier-Journal on 7 Aug 2013. It is archived here with additional information for your reading enjoyment.
---
With summer beginning to close, let me tell you of a funny personal summer memory, and of a group of people who I am very proud to call friends.
I am always saying, "Attitude is everything." And this story is a good example of that quote because we could have just as easily chosen to be angry as to laugh. This little memory, because of good friends, is more than just a memory to me.
The year was probably 2002, at the Bullitt County Fair. Several of us were volunteering at a Lions Club booth making and selling funnel cakes.
It was a VERY hot day, pushing close to one hundred degrees, and we were working in our small, enclosed trailer.
We also sold cups of soda, dispensed from liter bottles poured into cups of ice, and those iced drinks were selling like crazy.
So well, in fact, that we were running low.
Fortunately, one of our volunteers had brought extra sodas, and had them stored in his car out in the parking lot just in case we needed them. Suddenly realizing we were indeed running low, the volunteer ran quickly out to his car to get the reserved stock.
Now think about that for a minute.
Large bottles of soda, sitting in an enclosed car, all day, in hundred-degree sunny weather.
The volunteer (I will not name names in order prevent more teasing than we have already given him) ran out across the parking lot, which is really just a rough field, way back to his car, grabbed up a double arm-load of the hot sodas, and ran as fast as he could across the long field, back to our vending trailer.
I say again.
Think about that.
When the man got back to us, he leapt into the Lions cart, and quickly dropped the bottles down onto the storage space on the floor.
We were glad to see them because our supply had just run out.
So, very quickly one of the volunteers reached for one of the bottles to fill a cup.
Did I tell you to think about that? Because we didn't.
In that brief instant, it seemed the world stood still.
I remember a moment when I looked at one of the hot bottles and thinking, "Did I see that bottle vibrate?"
And then all too quickly time sped up again, and a hand grabbed the large, hot, shaken, bottle of soda and just as quickly popped it open. I think at about the same time a couple of us realized what was about to happen and simultaneously screamed, "NOOOOOOO!!!!" But it was too late.
Now.....
You have seen what happens when a hot, shaken soda bottle is opened. It spews great, gigantic rockets of liquid maybe six feet into the air. It's kind of fun to watch......out in the open.
But we were not out in the open.
We were all trapped in a small, low-ceiling vending trailer. About five good, normally-non-cussing people crowded shoulder-to-shoulder in a small space with a live liter bottle of death.
You cannot fully imagine the coverage of such a bottle of soda in such a space.
The soda burst forth, as we all gasped in shock. The soda shot up like an exploding volcano, ricocheting off the low metal ceiling and showering back down onto everything and everyone in that cart.
I don't think a spot was missed. I have always heard the warning that soda causes cavities, but this time I think it was IN every possible cavity.
It seemed to never end. The volunteer holding the bottle seemed to realize holding the spewing bottle up was not good, but she could not decide what to do, so she lowered it, and just aimed it around the room looking for a place to get rid of it.
A fully charged fire hose comes to mind.
I think our girly squeals could be heard all over the fairgrounds.
And then it was over.
Soda dripped from the ceiling. It dripped from the shelves. It dripped down the windows. It dripped down us.
I think everyone just stood there in stunned amazement, me flipping a few drops from my fingers, and Sherry Lee pulling back soda-soaked hair from her face.
We stood there and laughed.
Because when you are with friends, it's all good.
Poor Dave Bishop, who was often stuck with cleaning the trailer after events anyway, took the syrupy trailer home and hosed everything out. I think maybe Lloyd Swann and Sam Hardy helped.
Believe it or not, those hot summer days working with such good people are some of my fondest memories.
The old funnel cake booth trailer is gone now, but to this day one of my favorite photographs is the one in this story, of a group of volunteers working together at the booth/trailer for some event (I think that one was at Valley Raceway), raising funds for our Lions charity work.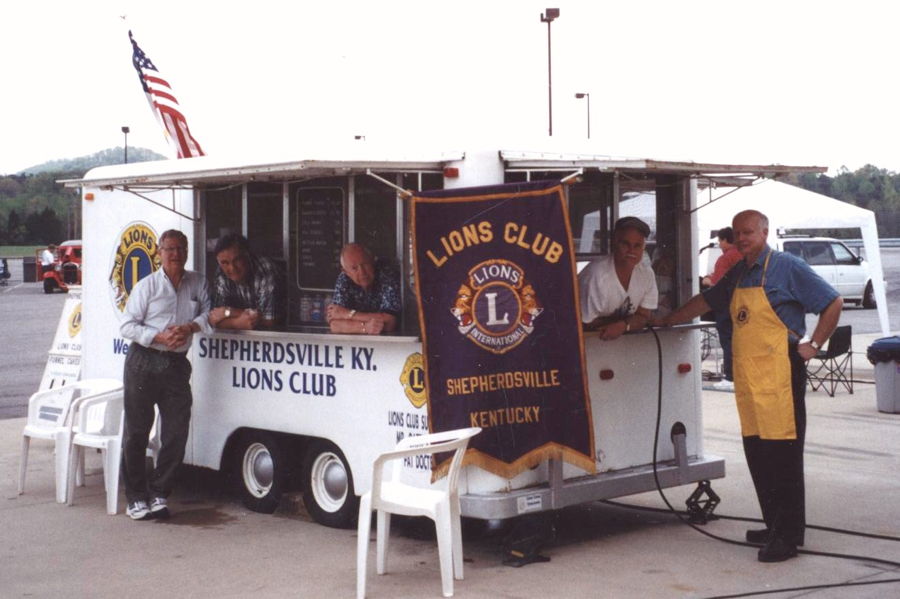 That photo shows some happy men, content in the knowledge that they were doing good work, and that they were among good people. There is Dave Bishop on the left, who devoted countless hours hauling the Lions trailer from place to place, and then cleaning it all up afterward. Then there is Sam Hardy, who always stocked the trailer, and saw to it that everything and everyone was ready. Then Lloyd Swann, who we fondly called our "Dean of Funnelcakeology" for his leadership and devotion to making all those funnel cakes over the years. Next in the picture is Steve Wolfe, who was Administrator for the county Economic Development Office at the time and did fantastic work for our county, yet found time to volunteer with us. Tragically, Steve suddenly passed away in 2003, and is forever missed. And then there is me, just trying to keep up with the role models set before me.
There have been many others, of course, who I have admired for their good will and generous work in the Lions Club group in those days. There have been Sam and Helen Underwood, Sherry and Tony Lee, Frank and Margaret Hatfield, Sam and Barbara Hardy, and others. Many others.
The Lions funnel cake booth is gone now, sold and replaced by other community service projects such as calendar sales and a roll-around ice cream cart.
But the memories still linger, at least in my mind, and, yes, perhaps just a little exaggerated, of summers gone by and of good people who made them better.
And of a really important lesson:
My friends, never, NEVER, open a large bottle of hot, shaken soda in an enclosed little trailer on a hot summer day.
Happy summer, everyone. Enjoy the memories.
---
Copyright 2013 by David Strange, Shepherdsville KY. All rights are reserved. No part of the content of this page may be included in any format in any place without the written permission of the copyright holder.
---