Museum Newsletter - 29 July 2013
Friends of the Bullitt County History Museum
E-Newsletter
July 29, 2013 (Volume 9, Number 8)
Dear Friends,
Announcements...
>>Bullitt County Genealogical Society Regular Meeting August 17. Family Heirloom Day. Bring in your family heirlooms such as photos, old documents, quilts, or anything else that means something to you or that has its own story. We will show and tell and share our stories it will be a great time of fellowship. Meeting location is the regular place, Ridgway Memorial Public Library, on corner of North Walnut Street & Second Street in Shepherdsville. Meeting time is 10:00 a.m.
>>Snellen Family Reunion. Friend Jim Snellen want us to know that there will be a Snellen reunion held August 3rd at My Old Kentucky Home in Bardstown. Hours are 9 to 4 and apparently there will be a bunch attending. Contact Jim for details. If you need his contact information, let me know.
Activity & News...
>>Family Fair & 25th Anniversary Celebration. As announced last month, the Bullitt County Genealogical Society had a special 25th Anniversary celebration of its creation, as well as it's annual Family Fair event. The organization received award citations from Congressman Brett Guthrie and State Representative Russell Webber, as well as from the county Judge/Executive.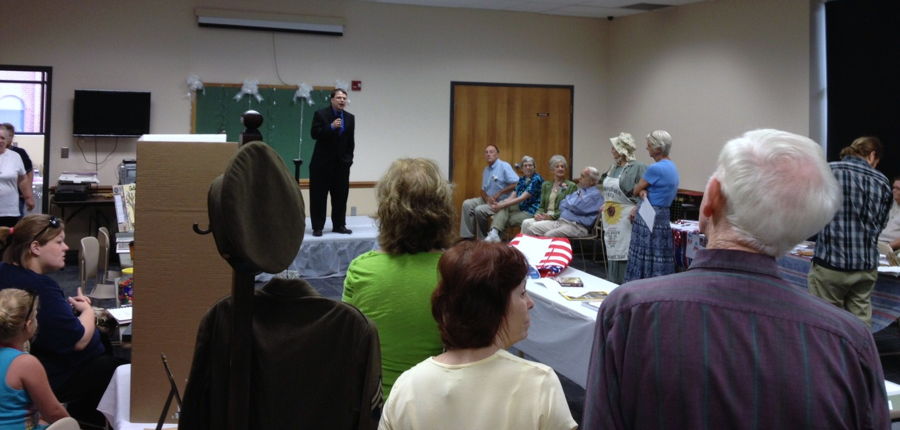 President Daniel Buxton also presented recognition certificates to Charter members and a plaque to Betty Darnell for her years of work with the society. Betty has been editor or our quarterly newsletter, "The Wilderness Road" for many years as well. Details of the anniversary celebration will be in the next edition of The Wilderness Road. You will want a copy of this special anniversary edition. It will include histories of the Society, a history of the museum, and many other stories and photos from our organization's past.
To get a free copy, be sure to be a member of the society (the quarterly is mailed free to BC Gen. Society members). If you are not a member, or need to renew, go to our web page and print out the form, fill it in and mail with the $15 annual dues (such a deal!).
>> Web Site Additions. Here are links to this month's additions to our web site.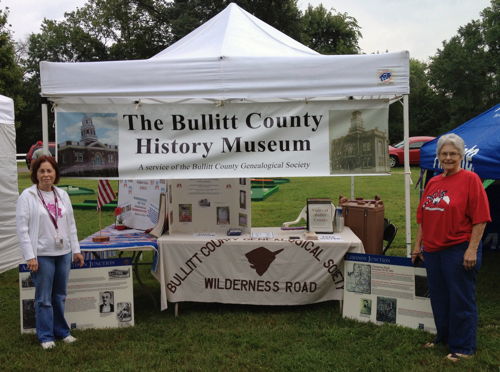 >> Museum and Genealogical (and DAR) booth at Shepherdsville City Fair and Civil War Re-enactment. Museum Volunteer and Genealogical Society Vice-President Sherry Lee (shown here with local DAR President Billye Jackson) coordinated and set up a booth for us at the new city fair event all day July 27. It was a nice event in beautiful weather. We were there last year when the event was purely about the Civil War. This year it had been expanded to include rides and other more modern activities.
Along with Sherry and Billye, other volunteers at the booth were Barbara & Ken Bailey, and their son, Keith Bailey, who brought along some Civil War artifacts of his own.
>> Boy Scout Troop 0685 Cemetery Restoration Work. Boy Scout Troop 0685 and their families worked this past spring and summer cleaning and repairing a small old cemetery, known as the Thompson-Stark Cemetery, in Lebanon Junction. A link to our web site showing the location can be found here.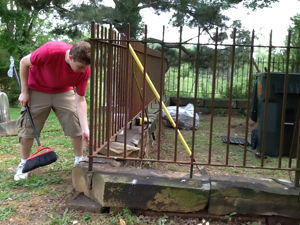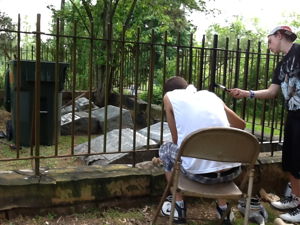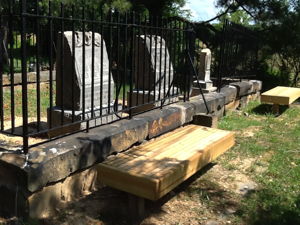 Stones were repaired and reset. The iron fence that surrounds part of the cemetery was painted.
Jimmy Waters and his family built nice benches for the cemetery as well.
I love to hear of community-minded work like this!
Thanks, everyone! Excellent job.
Trivia Question From Last Month
Last month's trivia question was:
"Speaking of "inside track," know this one at the next Kentucky Derby and you'll be admired by all around you. :)
The great racehorse, War Admiral, swept the Triple Crown in 1937, one of only a handful of horses who have ever won all three races. Well, did you know that the jockey was from Bullitt County?
Tell me the name and I'll tell you the story in the next newsletter."
Elizabeth Rivera, of Phoenix, Arizona, answered this question almost right away.
The jockey was Charles E. Kurtsinger. According to his September 25, 1946 obituary in the Modesto Bee And Herald-News (Modesto, California) newspaper, Charles Kurtsinger also another Kentucky Derby winner, "Twenty Grand," in 1931. War Admiral, the son of one of the most famous of race horses, Man O'War, won the Derby and the entire Triple Crown in 1936.
Charles E. Kurtsinger retired the next year, in 1937. He died pneumonia in 1946 at just forty years old in Modesto, California.
You can read Charles Hartley's story about the famous jockey from Shepherdsville on our museum web page here.
This Month's Trivia Question
Well, this is not so much a trivia question as just a question that I hope someone can answer.
For many years, we have seen Golden Riley listed as a Bullitt Countian who had died in World War One.
The problem, or actually good news, is that he lived until 1973.
He is listed in newspaper accounts from all across America in 1917 as having died at that time. In fact, I have a local newspaper account that includes his name to be part of the Bronze Memorial plaque that was made in the 1920's to remember our war dead. But we have that plaque on display in our museum and his name is not there, presumedly because he corrected the mistake himself.
Wartime reports have always had its errors, and I assume that is all this was. But I'd love to know the story behind the facts. Why was Golden Riley listed as a casualty of WWI? Was he first missing in action? Was it a simple clerical error, or had something happened?
We have spoken with some family descendents, but they did not know about the listing.
I'd love to know the story, and will pass it along to you when I know more.
For Your Information...
>> Shepherdsville Fire Department History Video. The folks at the Shepherdsville Fire Department made this nice slideshow of old photos from the department's history. Check it out at this link.
By the way, I'd love to see more of these. If any other departments have such stuff, please let me know and I'll let everyone know.
>> "Land Air & Water" is a nice Kentucky conservation magazine. They now have a free web version here.
>> More Troutman and Simmons info. Though the title of the book is about the Maynard family, Bob Cline recommends that anyone interested in our local Troutman family line and also Simmons, might like to take a look at this book on line (and available for sale) at this link.
>> County Comprehensive Plan. I suppose this will eventually fit into the history category in one form or another. You might be interested in details of the developing new "Comprehensive Plan" for Bullitt County. Meant to be a guideline for future development, much of the details can be found here.
Thank you for being a friend of the Bullitt County History Museum.
David Strange
Bullitt County History Museum
Executive Director
Museum Phone: 502-921-0161
E-Mail address: David.Strange@BullittCountyHistory.org