Bullitt Memories: The Maramans' Store in Shepherdsville
The following article by Charles Hartley originally appeared in The Courier-Journal on 17 Jul 2013. We recently discovered a newspaper article that describes the sale of the store in 1947, and it is shown at the bottom of this page.
---
A hundred years ago the two largest retail businesses in Shepherdsville were the Troutman Bros Mammoth Store, described before, and the George W. Maraman & Sons store that sat just across Main Street. Today we will focus on the Maraman family business.
George Maraman's grandfather, Francis Maraman moved his family to Bullitt County in 1813, settling on a farm on the south side of Salt River near Shepherdsville. Always an entrepreneur, he was soon operating a ferry over Salt River that connected with the road leading to the court house. According to Evelyn Crady Adams, in her essay on Wilford Lee which contained research by Wenonah Maraman (The Filson Club History Quarterly, Vol. 34, 1960, pp. 115-135), the toll for a wagon and team was $1.00, for a cart and horse, one bit (12.5 cents) and for a single horse, a single cow, and a single footman, a half-bit. The family operated the ferry for twenty years, making a tidy profit.
Death struck the family hard in September 1839, taking Francis, his wife Mary, and their eldest son Charles, and leaving behind three daughters and four sons. Of these we will focus on the family of their son, Henry Oldham Maraman.
Henry married Elmira Troutman in 1841. She was an aunt of the three Troutman brothers described last week. By 1870 they had seven sons and two daughters, and Henry was operating a grocery store in or near Shepherdsville while his son, Charlie Mike Maraman took care of the family farm.
By 1880 the family had scattered a bit. While Charlie Mike Maraman continued to run the farm, his brother George had moved to Bardstown and was running a grocery there. Other family members had moved to Louisville where they operated a boarding house.
By 1891 George had returned from Bardstown, and his brothers Harry and William joined him from Louisville. Together they erected a new store in Shepherdsville, a building that still stands today. (See picture at bottom of page.) By 1903 Harry and William appear to have retired from the business, as George W. Maraman & Sons was officially organized on August 23, 1903.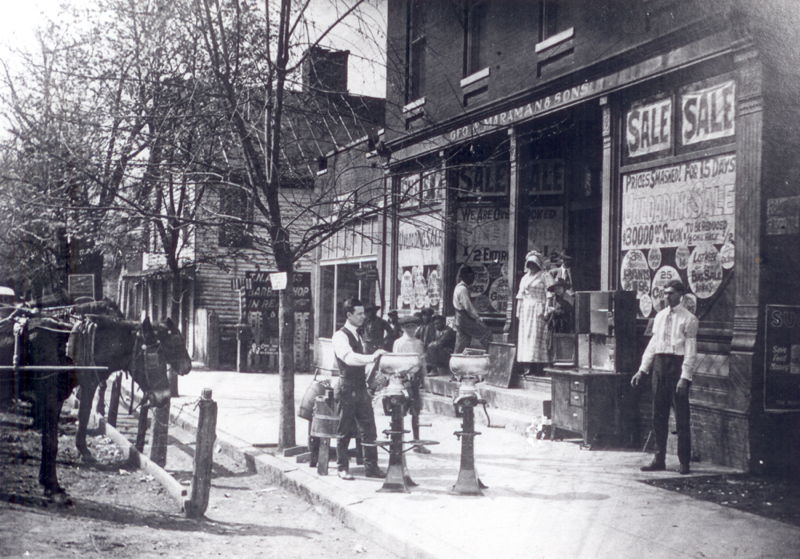 Geo. W. Maraman & Sons store; likely sons Roy and Conrad in front.
As an undertaker, perhaps the worst time George Maraman faced was Christmastime in 1917 when, following the terrible train wreck in Shepherdsville, he and his family had to see to the burying of at least five of the victims including his own nephew, David Maraman, who left behind a grieving widow, a young son and two little daughters.
George and Susan (Swearingen) Maraman had five children including a daughter, Geneva, and sons Conrad, Horace, Henry, and Roy. After George's death in 1923, it was Conrad and Roy who operated the store.
This store sold just about anything one might need from groceries and dry goods to caskets for that final trip. Roy Welch, a local Shepherdsville attorney and Maraman descendant, tells me that the caskets were stored on the second floor.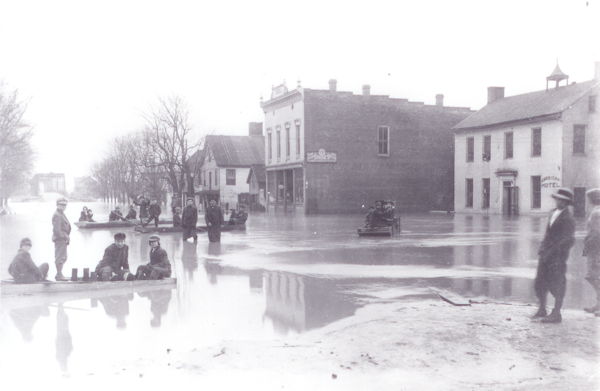 1909 flood. American Hotel to right of store; Salt River bridge to far left.
The Maraman store was spared much of the damage caused by the flood of 1909 which caused considerable damage to the Troutman store. This was due to the elevation of the first floor of the Maraman building, which kept the water below everything except a small portion of the back end of the store.
Conrad (better known as Nat) and Roy continued to operate the store as well as their undertaking business for many years. In addition to their business interests, Nat Maraman was very active in the community's civic affairs. At different times he was the county's treasurer, the local postmaster, chairman of the Bullitt County Good Road Committee, and had just begun a term as county judge when he died in 1950.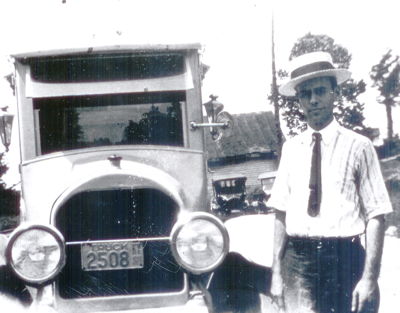 Roy Maraman with new hearse.
Roy Maraman turned his home into a funeral home in the early 1940's. In 1953, he added an addition to it that included four new chapel rooms with air conditioning. However, with his brother gone, running the family business became a burden, and he gradually closed all of it except the dry goods business. This he moved up the street to the building next to the court house that had housed, among other things, the Cruise Grocery. This was in 1958, and he operated this store, as well as his funeral home business until his death in July 1962.
His widow signed a contract with Roy W. Troutman in November, and Troutman took over the dry goods business, but that's a story for next week.
Roy Maraman's daughter, Betty was the first woman elected to the Shepherdsville City Council in 1972. She continued the operation of Maraman's Funeral Home until her death in 1985. At that time her son, Roy E. Welch, continued the funeral business until selling it to David Billings. The business is still operating as Maraman-Billings Funeral Home.
Roy's other daughter was Mrs. Billie Roy Pennington who taught school in the county for many years before her retirement in 1988.
The name Maraman continues to be prominent in Bullitt County today two hundred years after the first one arrived. And the names Maraman and Troutman continue to be intertwined, as we will see next week.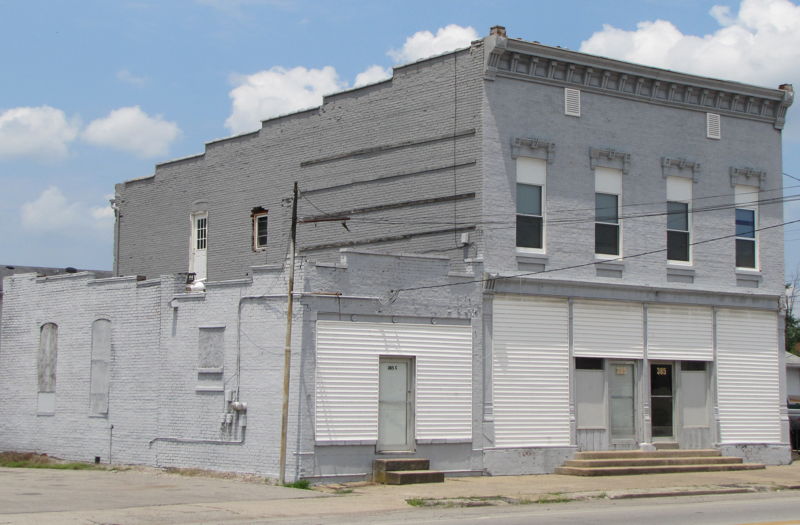 Maraman building today, viewed from the southeast side.
---
Geo. W. Maraman & Sons Store Sold
The Geo. W. Maraman and Sons Store that has been operated by Conrad and Roy Maraman was sold this week to Mr. and Mrs. Claud Hill. Mr. and Mrs. Hill will take possession immediately. They will open the store Monday morning under the name of the new firm.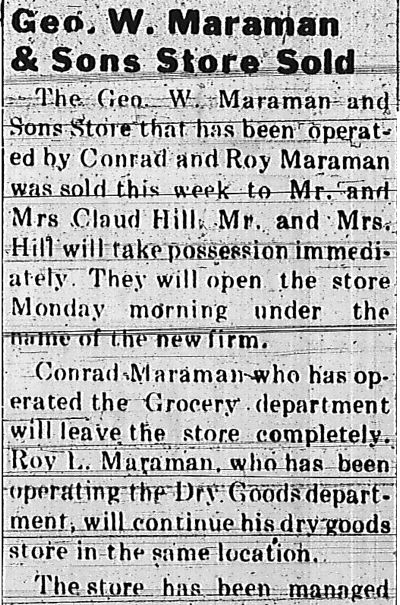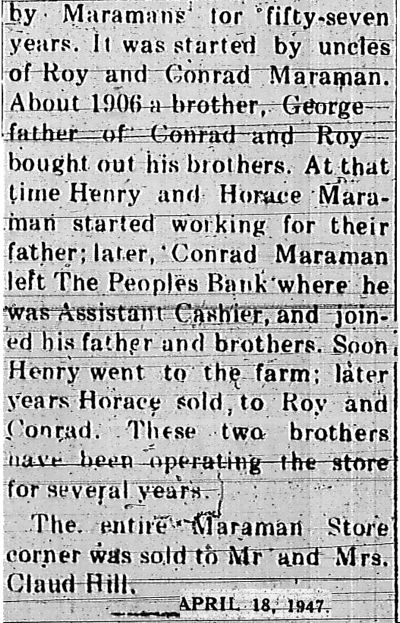 This article was published in
The Pioneer News
in April 1947.
Conrad Maraman who has operated the Grocery department will leave the store completely. Roy L. Maraman, who has been operating the Dry Goods department will continue his dry goods store in the same location.
The store has been managed by Maramans for fifty-seven years. It was started by uncles of Roy and Conrad Maraman. About 1906 a brother, George, father of Conrad and Roy bought out his brothers. At that time Henry and Horace Maraman started working for their father; later, Conrad Maraman left The Peoples Bank where he was Assistant Cashier, and joined his father and brothers. Soon Henry went to the farm; later years Horace sold to Roy and Conrad. These two brothers have been operating the store for several years.
The entire Maraman Store corner was sold to Mr. and Mrs. Claud Hill.
The Pioneer News, 18 Apr 1947.
---
Copyright 2017 by Charles Hartley, Shepherdsville KY. All rights are reserved. No part of the content of this page may be included in any format in any place without the written permission of the copyright holder.
---