Troutman's Dry Goods Store
The following article by Charles Hartley originally appeared in The Courier-Journal on 24 July 2013. It is archived here with additional information for your reading enjoyment.
---
When we moved to Shepherdsville in the mid 1960's, almost all local businesses were located either on or just off Buckman Street, the town's main thoroughfare.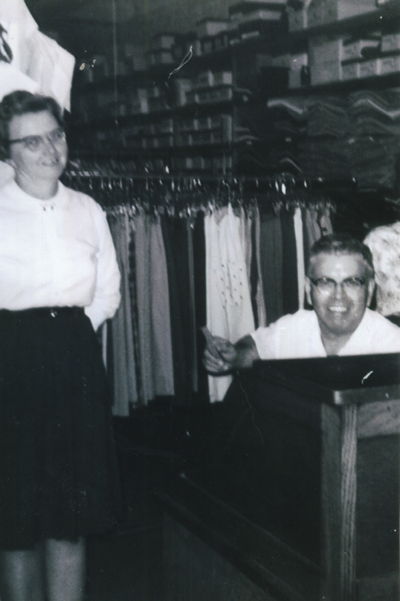 Roy and Ida Troutman
This included Troutman's Dry Goods store located next to the county courthouse. Roy and Ida Troutman stocked everything from the hat on your head to the shoes on your feet, and while the store was fairly small, they always had a nice selection of goods.
While some may confuse this store with the Troutman Bros Mammoth Store of earlier days, it was a different business altogether. Such confusion is understandable, especially given that Roy Troutman was a distant cousin of the earlier Troutmans. But, in fact, his business was more closely related to that of the Maramans.
As we mentioned last week, Roy Maraman moved his dry goods business to that building next to the courthouse in 1958. Not long after that, Roy Troutman expressed interest in buying the place, but Maraman didn't want to sell. He said it gave him a place to be each day. By that time the store was doing little business. Then when Maraman died in 1962, his widow signed a contract with Roy and Ida Troutman and the business became theirs.
Roy Troutman grew up on the family farm down Pitts Point Road. This farm had been in the family for several generations, including his father Bennie, grandfather Archie, and great-grandfather Levi Troutman. Then the government bought it to extend the size of Fort Knox.
Roy married Ida Maraman in the late 1930's, and they had two children: Peggy and Roy Gene. Ida was a daughter of David and Minnie Maraman. David Maraman, son of Charlie Mike Maraman and grandson of Henry and Elmira (Troutman) Maraman, was Roy Maraman's first cousin. He was also one of the victims of the 1917 Shepherdsville train wreck.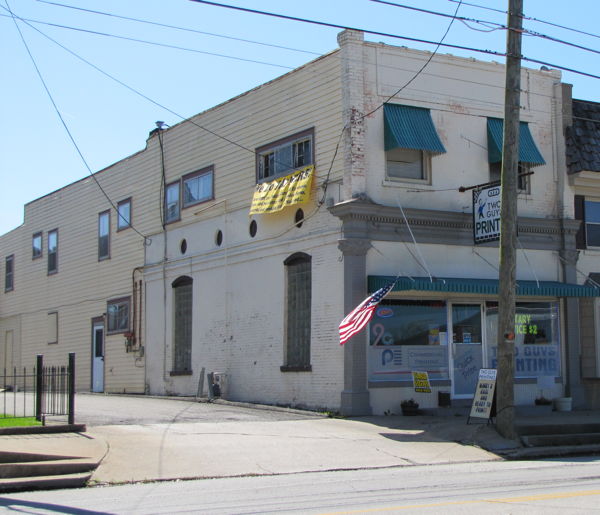 Original Store
Roy Troutman worked for a while at International Harvester in Louisville, but after one of their frequent strikes, he settled in at Henderson-Hardy in Shepherdsville, working in their hardware department. It was after the 1961 flood that Henderson-Hardy decided to focus on the furniture business, and Roy Troutman started trying to buy Maraman's store.
Roy and Ida slowly built up the store's trade, although the 1964 flood made things difficult for a time. Their son, Roy Gene joined them in the business, and the three of them did a respectable amount of business in their little town for a decade or so.
By 1975, Roy Troutman was ready to retire, so Roy Gene and his mother took over the business. Roy enjoyed his retirement until cancer took his life in 1988.
Business continued to prosper, and they really needed more space. When the Taylorsville dam was constructed, the danger of flooding was thought to be lessened, and they decided to move the business to the corner of Second and Plumb Streets where a larger building was available.

Second Location
Unfortunately the 1997 flood proved that flooding in that part of town was still an issue. But like true flood veterans, they cleaned up and kept on serving their customers.
Ida Troutman died in 2005, and Roy Gene continued the business for a couple of years, and then decided to retire himself and the doors were closed and stayed closed for a year. But then the next generation of Troutmans decided to make it his own.
Roy Gene's son, Kyle Troutman talked him out of retirement, and together they re-opened the store with Kyle in charge. With Roy Gene's steady influence, Kyle built the business to the point where they began to have thoughts of expansion, and to getting the store out of the flood zone.
Recently they have purchased the former Gaston Furniture Store building located just north of Highway 44 on Buckman Street, and are busy making the transition to that location. They hope to have the move completed by the end of July.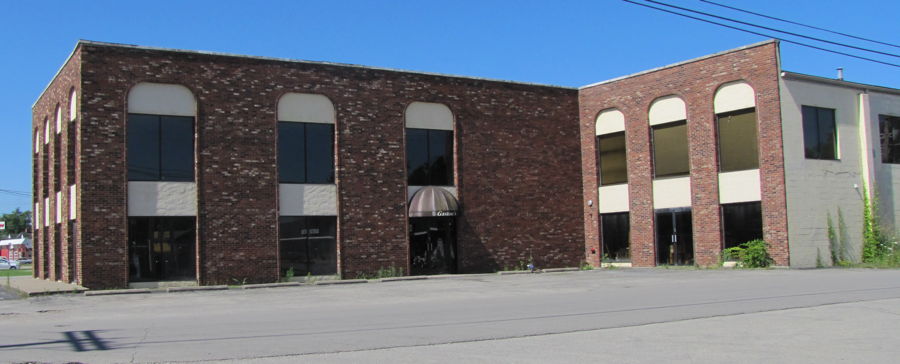 Newest Location
So a dry goods business that began over a hundred years ago as George W. Maraman and Sons, has for the last half century been run by three generations of the Troutman family; and looks to prosper for many years to come.
---
Copyright 2013 by Charles Hartley, Shepherdsville KY. All rights are reserved. No part of the content of this page may be included in any format in any place without the written permission of the copyright holder.
---