Museum Newsletter - 31 October 2012
Friends of the Bullitt County History Museum
E-Newsletter
October 31, 2012 (Volume 8, Number 10)
Dear Friends,
Announcements...
>>Holiday Closings this month. The museum will be closed in November for the following holidays: Election Day, November 6; and Thanksgiving, November 22 and 23.
>>Bullitt County Genealogical Society meeting November 17. The Bullitt County Genealogical Society (the parent organization of our museum) will have its next monthly meeting on Saturday, November 17. Regular meeting time and place: 10:00 a.m. at the Ridgway Memorial Public Library Meeting Room, 127 North Walnut Street, in Shepherdsville. Rae Ann Sauer - Archivist for the National Society of the Sons of the American Revolution, and who works at their library in downtown Louisville, will be speaking on what resources are available for research there. Society members will also be nominating and electing officers for the coming year.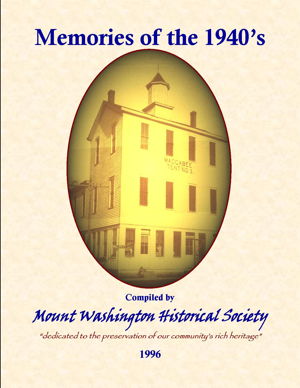 New Book
>>New Book by Mount Washington Historical Society. The Mt. Washington Historical Society is proud to offer "Memories of the 1940s", a remarkable collection of experiences and anecdotes describing life in northeast Bullitt County in the early half of the last century. This 86-page, handsomely bound reprinting of a collection originally published in 1996, shares the memories of 52 local contributors, and includes a large collection of enhanced photos added for this edition. It makes for a treasured Christmas gift for anyone on your list with an interest in local history. Copies are available for just $10 at the Bullitt County History Museum in Shepherdsville, or you can order by mail by sending a check for $10 (plus $3 P&H) to the "Mt. Washington Historical Society", P.O. Box 303, Mt. Washington, KY 40047, or call Dale Salmon at (502)538-0515.
Activity...
>>Jim Hatley Chair Repair. Many thanks to Mr. James Hatley for doing some serious chair repair for the museum. The museum had a nice old wooden chair that was once used in the old courtroom many years ago. Its historical significance and its style was important to us at the museum, but three pieces of the back were either broken or missing. Jim, a much respected retiree from our school system, is also a highly skilled craftsman, and offered to fix the chair for free. Repair was no easy task. The missing pieces were fairly elaborate shapes. But Jim took out a similar part, found the right wood for the replacements, and made it all look like original.
Great work Jim! Thank you so much!
>>Society 25th Anniversary Coming Next Year. Late 2013 will mark the 25th anniversary of the Bullitt County Genealogical Society, the parent organization of our museum. President Daniel Buxton and officers are starting to plan to make that a special year. More information will be coming as the year goes along. Be sure to let us know if you have any thoughts about this occasion.
>>Web Site Additions. Some interesting additions to our web site this month, as always. Be sure to click on some of these and check them out.
>>Old Stone Jail Photo? Or Not? The museum has had this mystery photo for years and I have always wondered just what it might be. Now I might, maybe, sort-of, possibly will soon know what it is, and that MIGHT be an 1891 photo of the Old Stone Jail under construction.

Old Stone Jail Under Construction?
The key will be some enhancement of the old photo that more clearly shows the hills in the background. A hint is also what looks like a railroad sign, and railroad, in the distance, as well as a town map of the time that shows that almost no other buildings would have been in this shot at the time. That is, if the photo is looking northeast, and the hills in the photo match the hills of today. The problem is that TODAY, there ARE buildings, large buildings all around the jail, so it is hard to see the hills at the same angle. I'll let you know next month how this checks out.
>>1961 Death Certificates. The museum has added the most recent available year (1961) to our microfilm collection of all Kentucky death certificates. With that purchase, we continue having all available Kentucky death certificates from 1911 (the beginning of Kentucky death record keeping) until '61.
By the way, I learned something the other day on researching death certificate records. We had a researcher at the museum who was having a problem finding a certificate. She correctly knew that the person had died in 1935, but we could not find the record. On checking more broadly, we found a listing of the same name in 1941. We looked that one up, even though it was for sure the wrong year. It turned out that the death certificate had been turned in years late and indeed was the correct one. A "delayed" death certificate. The certificate itself stated that the person had died in '35, even though it was not recorded until years later.
So, my friends, if you are having problems finding a death certificate, it might be worth checking a wider span of later years.
>>175th Anniversary of First Baptist Church of Shepherdsville. Charles Hartley wrote about this at our web site. The church has activities all this week, including a "Family Block Party" outside the church on November 2nd, Homecoming service and reception on November 3rd, and Anniversary Celebration Service on Sunday November 4th. Call the church for details. And...Happy Anniversary!
Donations...
>>Doris Owen recently donated several books and family genealogies to the museum. They are: American Marriage Records Before 1699 compiled by William Clemens; Clement/Spaulding and Allied Families genealogy; A Transcript of the Rogers Family Bible and of the Breckenridge County Cemetery, Hodges/Carmen Cemetery, and Mammoth Cave Cemetery; A Hough/Rupe/Rogers/Dowdall/Biggs genealogy; Kentucky Genealogical Records Volume II 1781-1839; Index of Confederate Pension Applications by the Dept. of Library and Archives; a very nice Capital on the Kentucky, A Two Hundred Year History of Frankfort and Franklin County by Carl E. Kramer; a Stovall genealogy; and several more items. Thank you Doris!
For Your Information...
>>Good Training for Genealogy and History Leaders. It's a ways off yet, but worth planning for. The Louisville Free Public Library will be offering some great training to leaders of genealogical societies and small museums like ours. The date is March 23 and includes such sessions on fundraising. I know we'll be sending someone! For information, check out https://www.lfpl.org/pdf/Genealogy-Day-2013-Schedule.pdf.
Finally... 8 years as director, and museum, and a Poem
Well Friends, this week marks the eighth year of my being given the position of Executive Director of our little museum.
When I started, I planned to be here for maybe two or three years.
But here I am. And its been great. Who knows what the future holds, but the past has sure been fun!
Now, I am finishing this edition of the newsletter (also the eighth year) very late at night, and deadline approaches. So please, as always, forgive my errors, and allow me to part with a poor attempt at a poem that I recently jotted down while sitting on my porch on a rainy Fall day.
Fall's golden leaves come tumbling to the ground.
Then lie there resting,
waiting,
for what next comes around.
A small breeze,
A sprinkle of rain,
patters on dry leaves now turning brown.
Pattering like taps on paper.

A story to tell, of gloried life.
Yet comes another sound.....
Of rain more intense
than the sprinkle that had been,
You can hear it before you see it,
The rain coming down.
Then off in the distance,
a rumble can be heard,
Somewhat threatening,
Warns of storms to be found.
"Must find shelter"
I mumble with a frown.
And the rain more intensely
now pours upon the ground,
And the golden leaves of Autumn
fade away for the Winter
No more to make a sound.
Happy Thanksgiving Everyone.
Thank you for being a Friend of the Bullitt County History Museum.
David Strange
Bullitt County History Museum
Executive Director
Museum Phone: 502-921-0161
E-Mail address: David.Strange@BullittCountyHistory.org