Airplanes and Airfields
The following article by David Strange originally appeared in The Courier-Journal on 17 Oct 2012. It is archived here with additional information and photos.
---
Most people don't think about it anymore. But have you ever noticed that there is an "Airport Road" in Lebanon Junction?
The road is located across from Lebanon Junction Elementary School. And yes, there used to be an airport on Airport Road. But alas, the little airport that once was located near the end of that road now exists only in memory.
There once was also an airport in Mt. Washington, and an impromptu one in Shepherdsville.
All of those are long gone. Only a small airport on Blue Lick Road in the north of Bullitt County still operates publicly today.
But there are some good memories, and exciting stories related to those almost-forgotten airports, and the pilots who used them in the earliest days of flying.
Dick Hocker was the most locally well known of the pilots. He was introduced to cars at an early age by his father, R.M. Hocker, Sr., who owned the Hocker-Samuels garage in LJ. In 1923, Dick went to Detroit to work at the Rickenbacker Automobile Plant; started building race cars; and raced them for a living for fifteen years. In those early adventurous days of mechanics, there was almost no line between automobiles and airplanes. Indeed, you might remember that the famous Wright Brothers were simple bicycle mechanics.
Well, Dick took to flying airplanes from his Detroit workplace back to his family home in Bullitt County. When he eventually moved back home in 1939 and settled down, he established his own car dealership, Hocker Chevrolet, in Lebanon Junction, and kept his airplane.
If I recall one story correctly, Dick was a hero of sorts during the Great Flood of 1937, when he used his plane to fly much-needed medicines to the beleaguered city of Louisville from up North.
A few years before, he created quite a stir one day when he flew over Shepherdsville and circled the little schoolhouse there. At that time, most people, especially the children, had never seen a real airplane. Can you just imagine that? It must have been almost like seeing a spaceship land. One student from that time, who later became a teacher, told me that the children literally jumped out the open windows of the school to better see this miraculous machine.
From 1944 through 1946, Dick was hired by the government to recruit and train pilots for war.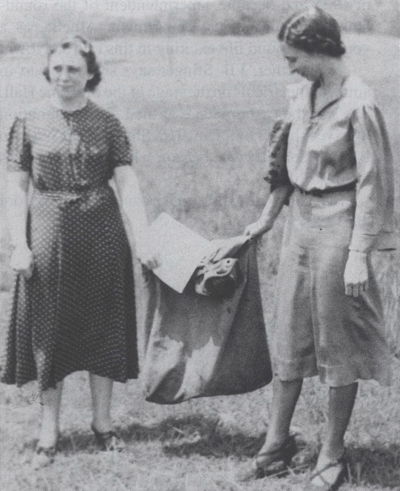 Airmail Delivery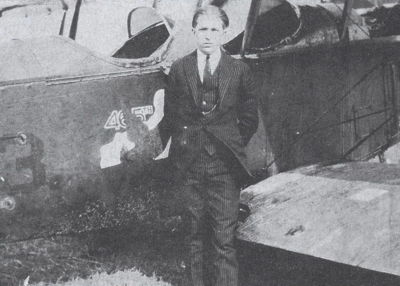 Dick Hocker with his airplane
In 1938, before that awful world war had engulfed the nation, and with the Great Depression still gnawing at peoples' lives, Lebanon Junction Postmistress Amelia Samuels and Shepherdsville Postmistress Consuela Bush took a special sack of mail to the LJ airport in a stunt intended to promote the then-radical new idea of "airmail." Amelia's husband, W. B. Samuels, flew the sack to Louisville, helping to show the reliability and usefulness of airplanes. It is hard today to imagine a world without airplanes, but in those days many people still considered them as little more than novelty toys.
Speaking of toys, though, Bullitt County Christmas letters from children, especially boys, from 1920's and 1930's almost universally included a toy plane on the wish list.
But real airplane flying was dangerous business, with fiery and gruesome wrecks fairly common. In 1924, twenty-eight year old Irving Aspol, a pilot in the United States Army Flying Squad, burned to death in Kansas when his plane burst into flames on takeoff. Lieutenant Aspol was an immigrant from Sweden (some say Germany). He came to America at age eighteen, joined the air service and fought in World War One. In America, he married Bullitt Countian Emma Mumford. Upon his death, he was brought to Bullitt County and buried with honors in the Levi Troutman Cemetery, about three miles south of Shepherdsville in what is today the Fort Knox Military Reservation.
Back at Lebanon Junction, Charlie Redman tells me about hunting in the area of the old LJ airfield. The airfield was for a long time literally just a field. Then it was improved to a leveled dirt path. And finally it was paved. In Charlie's youth, he remembers teenagers drag racing on the remains of the old closed airfield. The last of the runway was removed probably twenty-five years ago. Today, even careful walking of the still-open field finds nothing to tell the story of what was once there. Only corn and grass keep vigil there now.
In Shepherdsville, I am told, there once was a field where Roby Elementary School now stands. But I think it was never actually an airport, but rather just used a few times by a local mechanic who is said to have used a Model A car engine to power a plane that he built himself. There are varying stories about the success of that endeavor. Some stories say he built several such planes, even flying under the Shepherdsville Railroad Bridge one time, a stunt that was probably, but barely, possible considering the different structure of the bridge at the time, and the near kite-like "barnstorming" qualities of the old bi-planes. But the memory that seems most trustworthy says that he indeed built the plane and managed to briefly fly it, but that it was something no one else wanted to, or dared to, ride in!
I'll tell you that story in detail another time.
In Mt. Washington, there was a real airport, with runway and even a pretty substantial building. Betty Couch remembers it as being centered about where the ValueMarket grocery store is today. Her father used to fly there when she was a child. Gayle Troutman tells me that the field stretched from near Main Street to past the new Bardstown Road bypass. There is a photo of a large old bi-plane there that was the first airplane to land at the airport.
Those old air fields and airplanes must have been a source of such exciting, adventurous times for our gallant young men and women!
And to think Bullitt County was a significant part of those times, well worth remembering.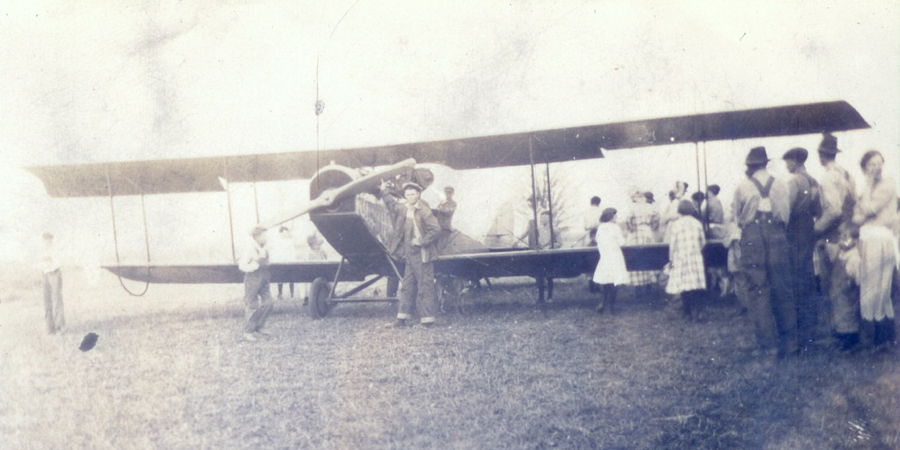 First Airplane in Mt. Washington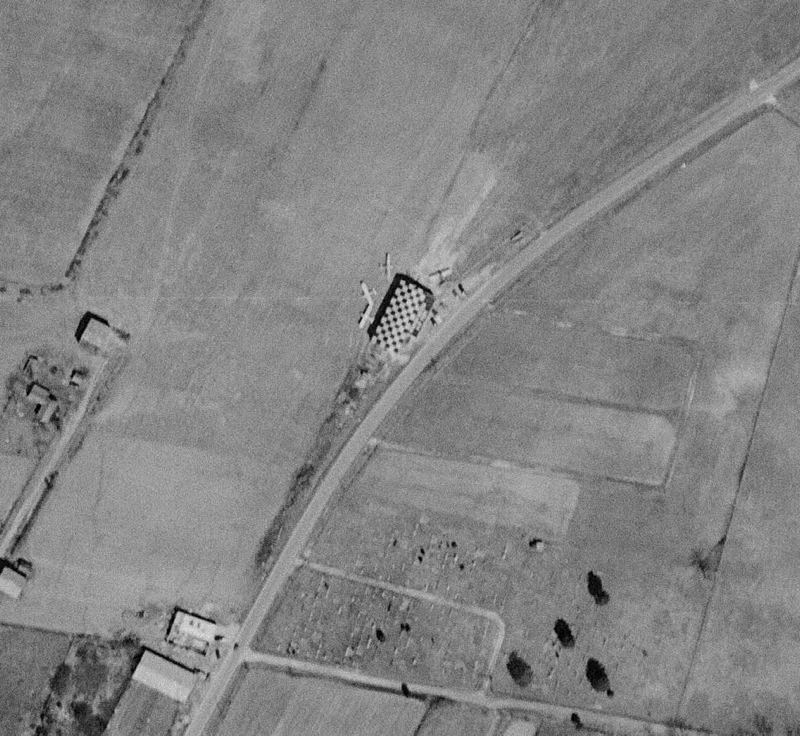 Mt. Washington Airport in 1949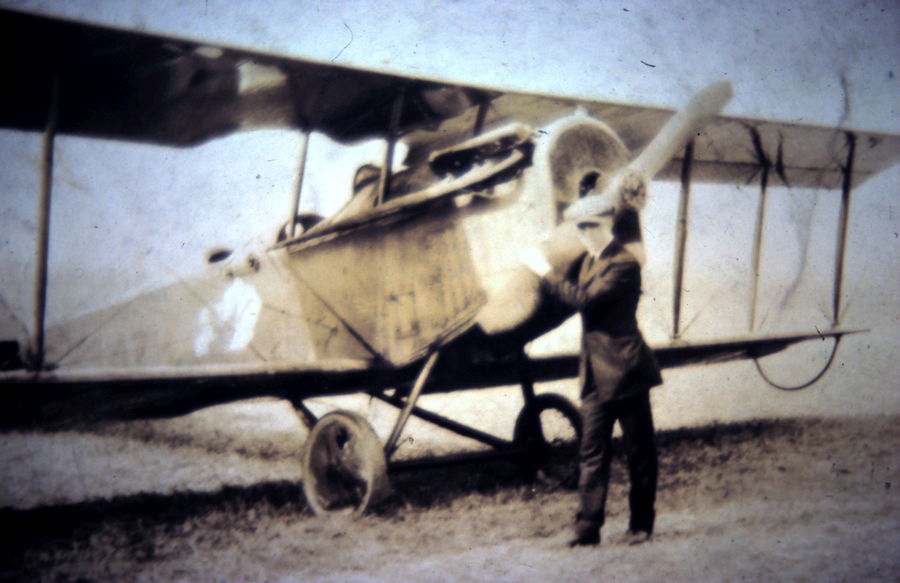 Dick Hocker with his airplane
---
The following photos show the old airport building in Mt. Washington.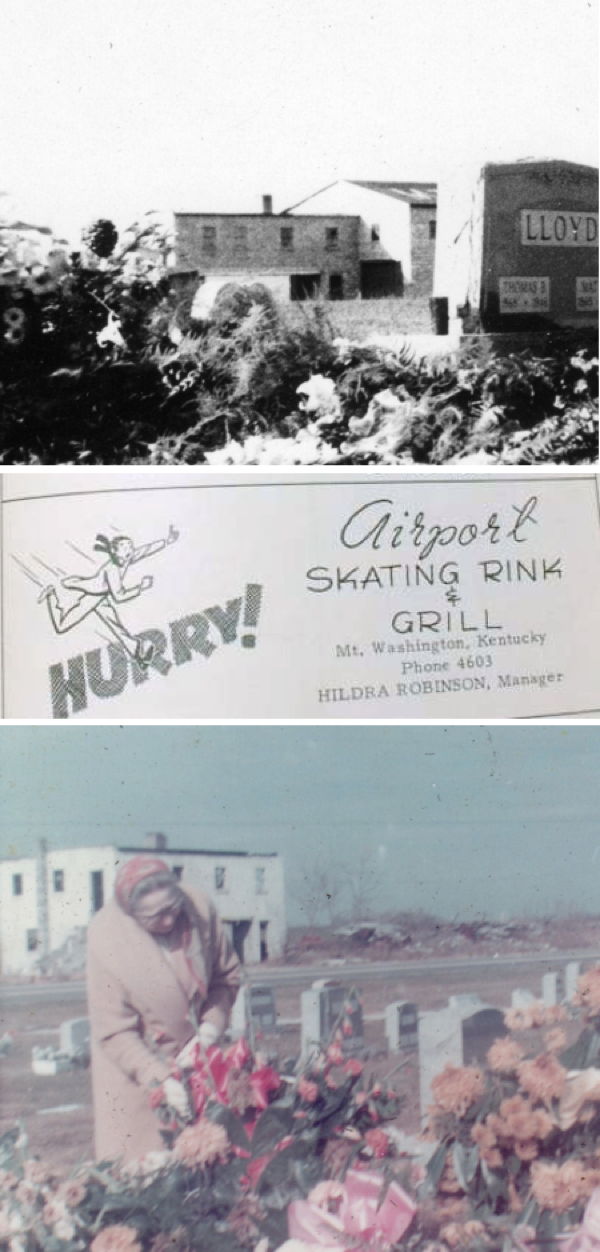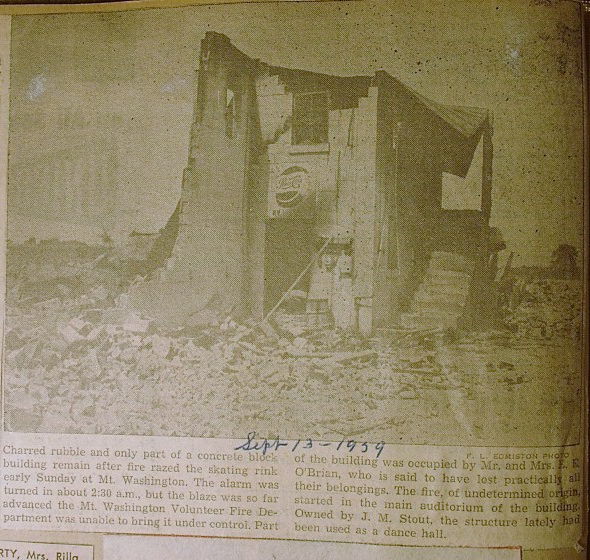 ---
Copyright 2018 by David Strange, Shepherdsville KY. All rights are reserved. No part of the content of this page may be included in any format in any place without the written permission of the copyright holder.
---