Art Stamper and His Music
The following article by David Strange originally appeared in The Courier-Journal on 31 Oct 2012. It is archived here with additional information for your reading enjoyment.
---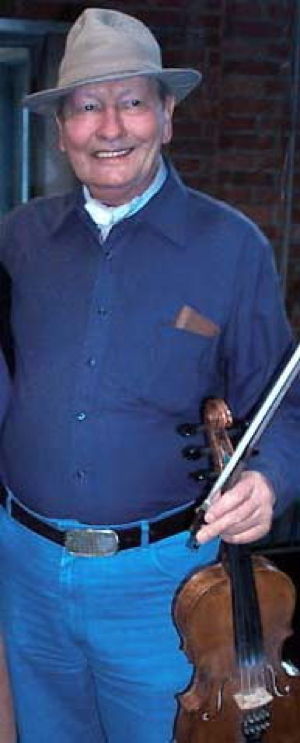 Art Stamper
He was born on the first day of November, 1933.
He moved to Bullitt County in 1960 and lived here until his death from cancer in 2005.
His memory is enshrined in the Bluegrass Music Hall of Fame, recognized by that international museum as a "First Generation Pioneer of Bluegrass." Three time recipient of the International Bluegrass Music Association "Old Time Fiddler of the Year" award, and the "Distinguished Achievement Award" in 2004 at the International Bluegrass Festival.
Art Stamper. American man. American musician.
Art Stamper and his music is so well known and so loved in Kentucky music circles that part of State Route 550, in Knott County is named after him, and he is in a mural on the side of the Appalachian Artisan Center in his hometown of Hindman. He was very well liked and respected in the music community, working with such greats as Bill Monroe, the Stanley Brothers, Jim & Jesse, The Osborne Brothers, and doing studio work with George Jones, Emmy Lou Harris, Dwight Yokum, Patty Loveless, Vince Gill & many more throughout his long, energetic career.
But you might not know of his Bullitt County connection. That he and his wife Kay lived quietly for some forty-five years on their farm on Proctor Lane, between Shepherdsville and Mount Washington, and that Kay still does.
Like many artists over the years, Art Stamper found peace in the rural charm of the area, and enjoying the country lifestyle in which he had been raised.
Art, like his father Hiram before him who was an accomplished musician in his own right, was mostly known for his "Old Timey" or "Appalachian Fiddler" style of play. But he also was an important part of the development of the Bluegrass style of music. He first started playing the fiddle around age nine. He did his first recordings, and some of the first of any Bluegrass recordings, at Mercury Records with the Stanley Brothers in the 1950s.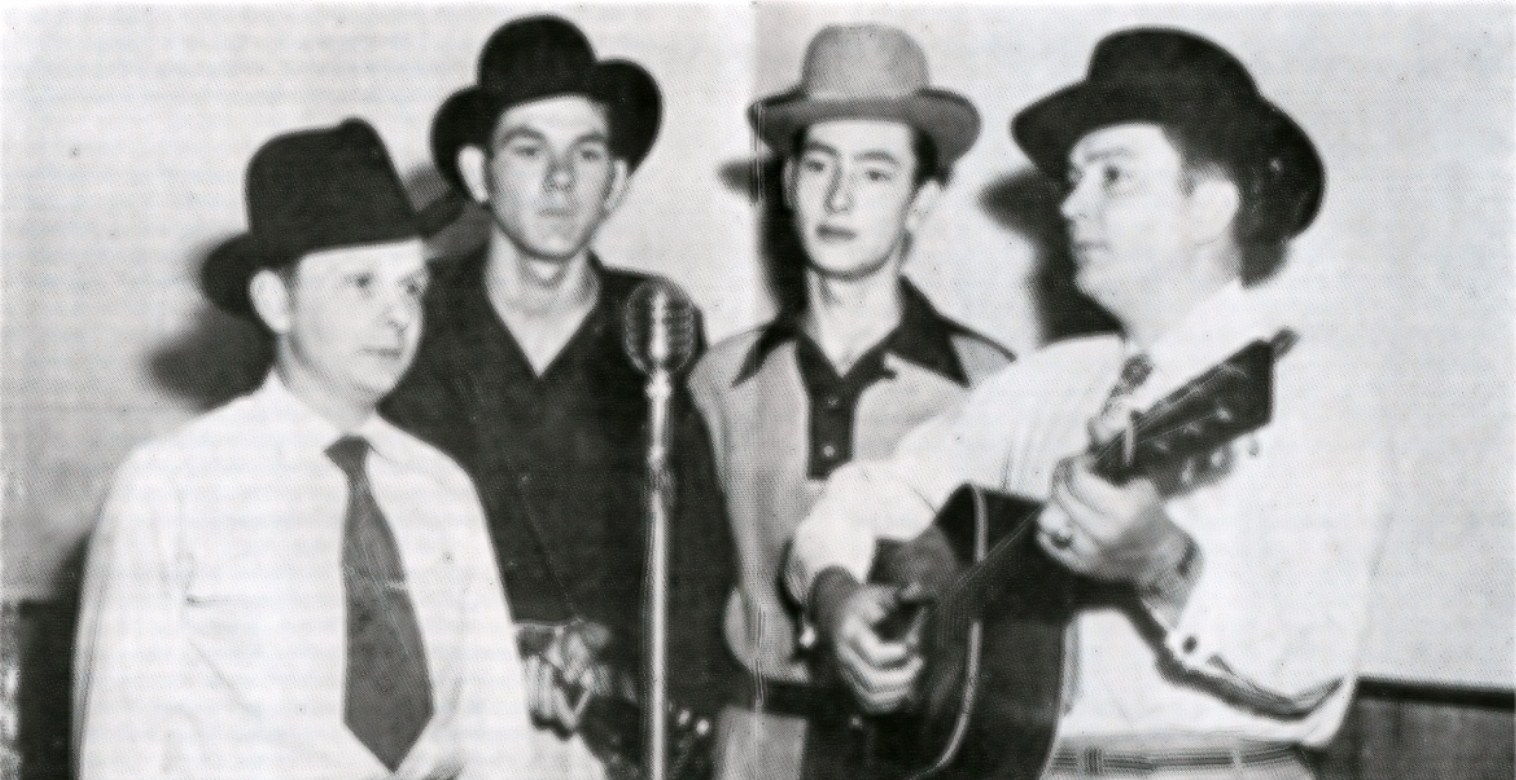 Ralph Stanley, Jim Williams, Art Stamper, and Carter Stanley
Art traveled a lot from show to show and teaching others; a demanding requirement of most musicians that few of the rest of us can truly appreciate. He even traveled in Europe. Kay, who liked the old-style music, had come to America from Japan in 1981. She was in Arkansas in 1983 and decided to go over to a Bluegrass concert there. One of the players was Art Stamper. They met and were together from that time until his death.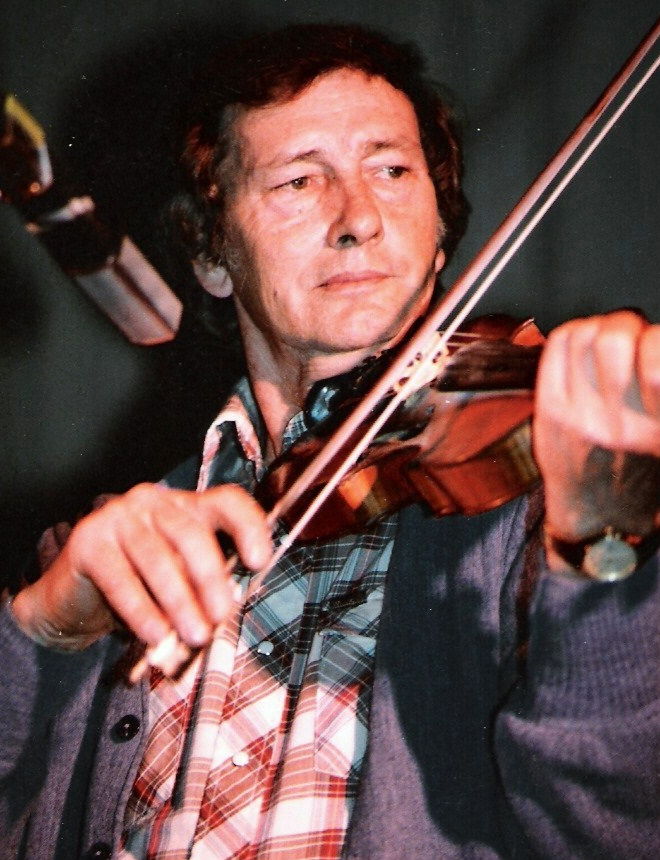 Art Stamper in Germany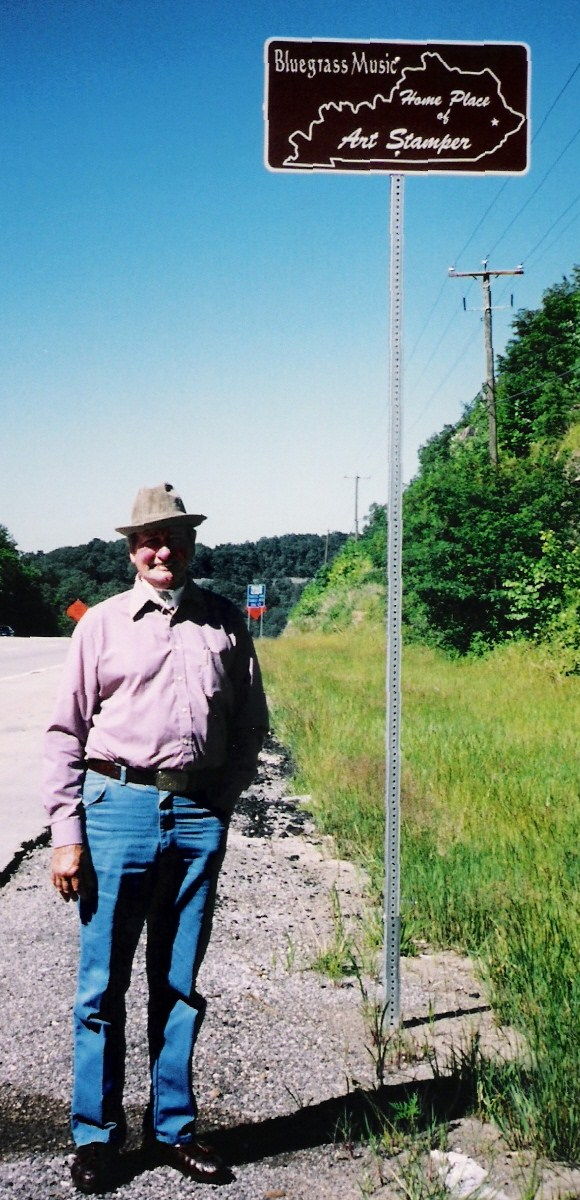 Sign reads
"Bluegrass Music
Home Place of Art Stamper"
In the early years, Country and Bluegrass music was not widely popular, but over time that began to change.
And the Stamper family did a lot to make that happen. Even today, one of Art's three children, Blake Stamper, continues the family music tradition, entertaining and recording successfully in his own right around the nation and five other countries including Kuwait and Iraq, while he and Kay still live on the family farm here in the county.
They would love to see some local remembrance of Art's work; some local place in Bullitt County to display mementoes of Art's music career.
Today, great music still flourishes all over the county in the form of Country, Bluegrass, Gospel, and even "Old Timey" and rock. Just some of the local shows include the Mount Washington Opry (held once a month; the next one is November 17); The Junction Jamboree near Lebanon Junction (1st and 3rd Saturday nights); The Shepherdsville Country Music Show (every Saturday night); and The Shepherdsville Bluegrass Music Barn (every Friday night). There are also some impressively good free shows on Thursday nights at the Hillview Community and Government Center, and sometimes on Tuesday evenings at the Shepherdsville riverside park, next to the Salt River on First Street.
Most musicians I know, like the great ones who play at Hillview, play for the pure joy of it, not expecting to gain a lot of money or fame. And that's good, because most musicians will tell you that, contrary to popular opinion, there is little money and lots of expense in the musical life.
Even Art Stamper had a "day job." For much of his life, after serving in the Army during the Korean conflict, and using the GI Bill to learn to be a hairdresser, he worked at his own shop in Louisville called "The Way of Art." It is said that there were some fine days there, when musicians would all come in and take turns getting a haircut while the others played their music, and Art himself would play between haircuts. I can imagine that as quite a place of music.
The Bullitt County area is itself a place of music, made more so by the talents of people like the cherished "fiddle player" Art Stamper. A Kentucky Educational Television program called Art Stamper "a classic Kentucky fiddler and a giant in traditional mountain music and the bluegrass style that evolved from it."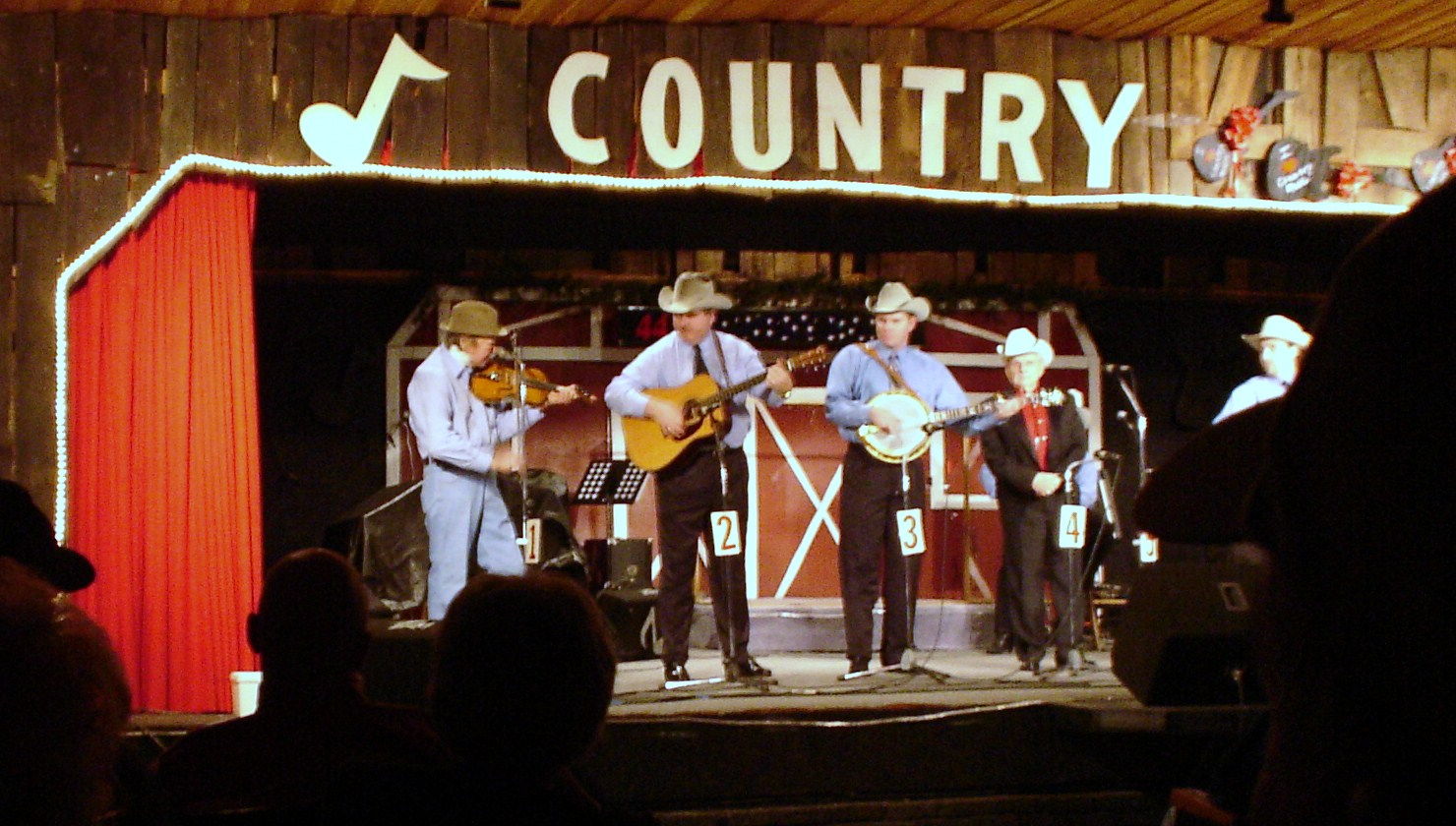 Last Concert
Kay tells me that on January 8, 2005, the legendary Ralph Stanley, who Art had worked with in the beginning, was playing with his band in Shepherdsville. Art was very ill, but wanted to go to the show to say goodbye to them. And so they went, even though it was in stormy weather. Kay told Ralph that Art was there and he asked Art to play. Kay says that he did a great job.
Art Stamper died from his illness two weeks later.
After a funeral in Bullitt County, Art was buried in Knott County in the Stamper family cemetery.
You can find out more about Art Stamper at his web site.
And maybe you should make a few memories of your own at the many music venues around the Bullitt County area.
I think Art would like that.
---
Copyright 2012 by David Strange, Shepherdsville KY. All rights are reserved. No part of the content of this page may be included in any format in any place without the written permission of the copyright holder.
---