Letter of Memoriam for the Old Hebron School
Martha Volindah Balee wrote the following as a memoriam for the old Hebron school which had been built by John Beckwith, her great-great grandfather. Her parents were Joe and Martha (Summers) Balee; and her mother's parents were Rufus K. and Erastes (Carpenter) Summers. Rufus' parents were Benjamin and Volinda (Beckwith) Summers; and Volinda's parents were John and Martha (Williams) Beckwith. She died in 1947 at the age of 80.
[page 1]
In Memoriam. In the month of May 1938 an honored landmark was swept away by the ruthless march of time, when in accordance with a mandate of the School Board, the Shepherdsville and Hebron Schools were merged, and the Hebron school building sold. This school was the brain-child of John Beckwith, conceived in his mind and made by his hands. John Beckwith was a worthy descendent of a long line of honorable ancestors. The progenitor of the American branch, George Beckwith, his great-grandfather, left his home in Featherstone Castle, Yorkshire, England in 1648, and established his Manor of St. Joseph in Calvert County on the Patuxent river in Maryland, John Beckwith was born in Prince George Co., Md. Oct 7th 1752, died Aug. 8th 1825.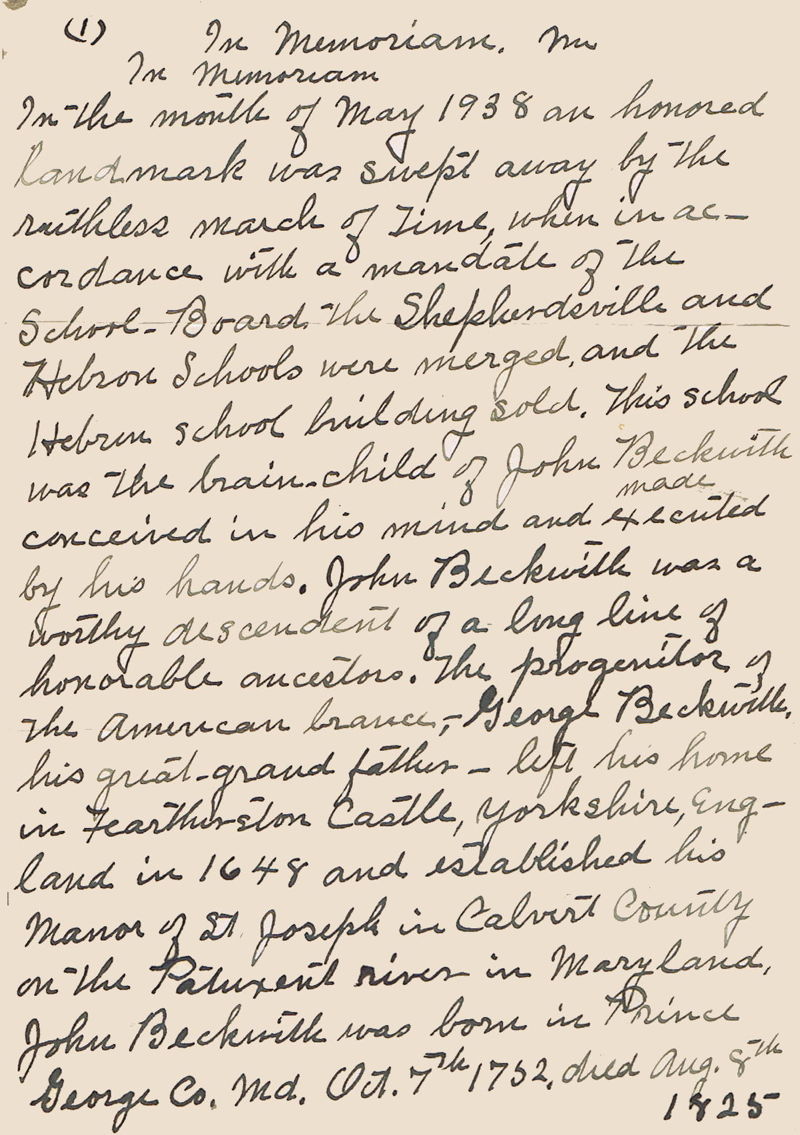 [page 2]
He married Martha Williams August 18th 1773 and settled in Bullitt Co. in 1800, on 1,765 acres of land granted his wife's brothers Charles & William Williams in 1745. He lived & died in the quaint old house which stands back a short distance from Highway No. 61, and is now owned by Mr. Howard Maraman. He was accompanied to Kentucky by his son-in-law, Hon. Benjamin Summers (Born Jan. 12th 1771 in Montgomery Co. Md.) who married Volindale Beckwith, born in Prince George Co. Md., July 4th 1774. They lived & died in the house which now belongs to the Frick family, where they reared a large family - ten children. In those days there were no "Deestrick" schools in this section and John Beckwith, being an educated gentleman, realized the necessity of his grandchildren being initiated into the mysteries of the three "R's," accordingly he took his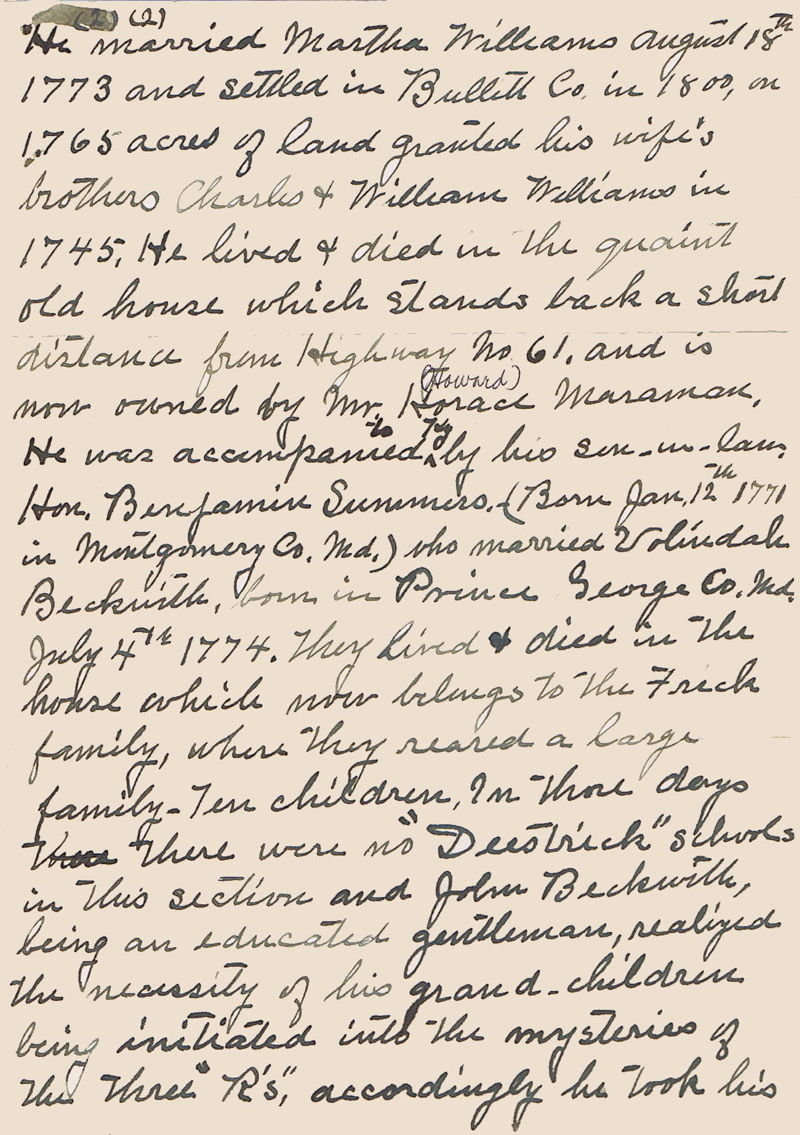 [page 3]
slaves, made the bricks & built a school-house on a triangular parcel of his land, bound on the east by what is now highway No. 61 and on the south by Hebron Lane and including a spring across the pike from George Bailey's, & running back the Hebron Lane for some distance. The "Brick School House" as it was called, has been replaced by two later frame buildings where five generations of John Beckwith's descendents have responded to the call of "Books"! It was not until many years later that the name was changed to Hebron School for the old Brick School house antedated the Hebron Church by a quarter of a century. In common with other descendents of John Beckwith, I feel a deep regret that the old historic building has been diverted from the purpose for which it was built, but even though it may be completely razed, John Beckwith's influence will still go on in the lives of his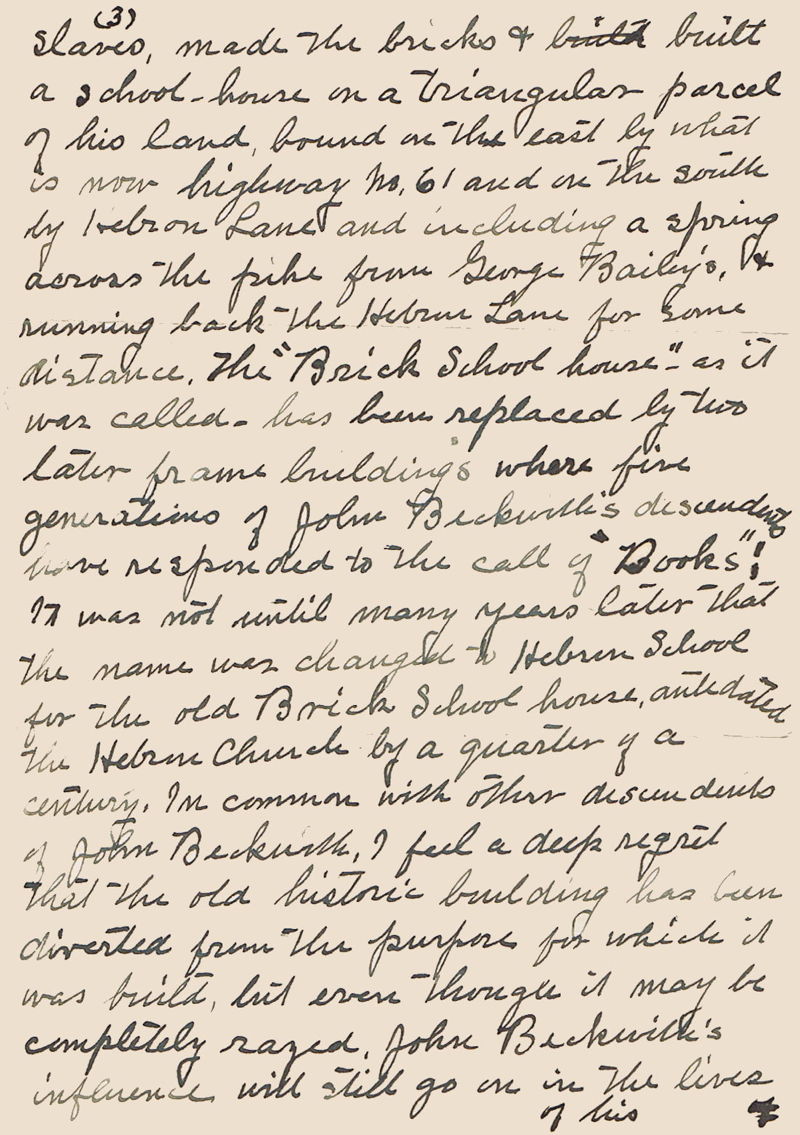 [page 4]
grateful descendents and countless others not bound to him by ties of consanguinity whose minds have been enlightened and whose characters have been molded by the instruction gained in the little old Brick School house and its successor the Hebron School. Truly John Beckwith built for himself a monument more enduring than brass.
M. V. Balee
Jimmie Williams, who recently graduated with honors from the Shepherdsville High School, passed from the eighth grade at Hebron School and is a lineal descendent of John Beckwith five generations removed. He is the son of Herman (Dick) Williams who is a son of Samuel Williams, a son of Mary Volendah Summers Williams. She was the daughter of Volindah Beckwith Summers, who was the oldest daughter of John Beckwith & Martha Williams Beckwith.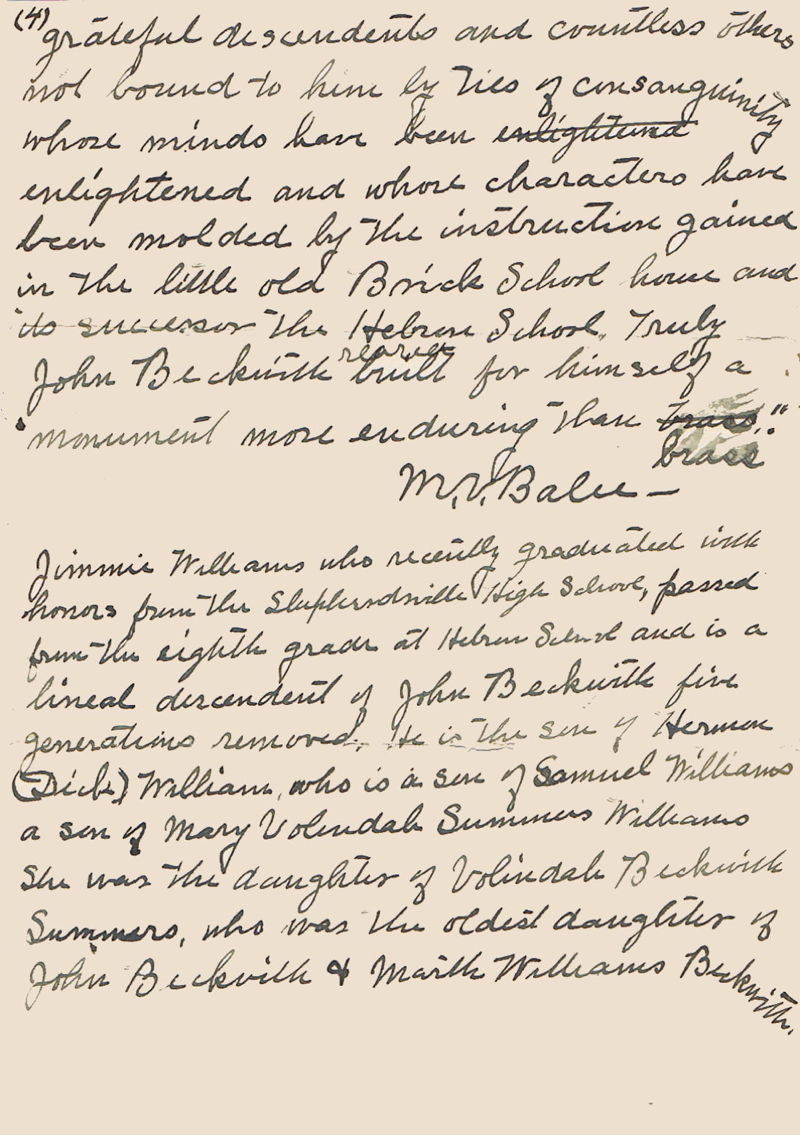 ---
To learn more about the Beckwith family, read this "Beckwith Saga," one of our "Bullitt Memories" articles.
---
This is a work in progress. This webpage and its contents are copyright 2017 by the Bullitt County History Musuem, Shepherdsville KY. All rights are reserved. No part of the content of this page may be included in any format in any place without the written permission of the copyright holders.
---
If you, the reader, have an interest in any particular part of our county history, and wish to contribute to this effort, use the form on our Contact Us page to send us your comments about this, or any Bullitt County History page. We welcome your comments and suggestions. If you feel that we have misspoken at any point, please feel free to point this out to us.