Museum Newsletter - 29 November 2012
Friends of the Bullitt County History Museum
E-Newsletter
November 29, 2012 (Volume 8, Number 11)
Dear Friends,
Announcements....(several this month)
>>Holiday Closings this month. The museum will be closed December 24 and 25 for the Christmas holidays.
>>Bullitt County Genealogical Society meeting/luncheon December 15. The Bullitt County Genealogical Society (the parent organization of our museum) will have its next monthly meeting on Saturday, December 15. This special social meeting will be a holiday get-together luncheon. Regular meeting time and place, but special hours, setting up at 9:00 a.m. and lasting until 2:00 p.m. It is a pot-luck, pitch-in dinner. Location is our regular meeting place at the Ridgway Memorial Public Library Meeting Room, 127 North Walnut Street, in Shepherdsville. Everybody who can, please come and visit with one another!
>>Special Event at Shaker Village, December 8. Join Preservation Kentucky for an evening of music and merriment to ring in the holiday season, and promote preservation of our Kentucky heritage at Shaker Village of Pleasant Hill in rural Mercer County on Saturday, December 8, 2012, 5-7 pm. The PK reception will be held at the lovely Winter Kitchen in the West Family Dwelling. Enjoy holiday cocktails and hors d'oeuvres by a roaring fireplace or making delicious s'mores by an outdoor bonfire. There will be a horse-drawn jingle bell shuttle and special candlelight tours of the grounds.
Free admission to Shaker Village is included with your reception ticket. Take part in the full day's events, including holiday teas, buffet lunch, and evening fare with reservations. There will be additional candlelight tours of the Centre Family Dwelling, Mrs. Claus' ornament making children's workshop, live music by University of Kentucky Black Voices and the Second Presbyterian Church Carillion Hand bell Choir, and so much more. For more information and ticket costs, visit: www.shakervillageky.org/holidays/.
>>Bernheim Forest Open House December 1. This Saturday from 11:00 a.m. - 4:00 p.m. Special activities include:
Demonstrations by Kentucky Craft Artists
Nature-related toys, books, home decor, clothing
Handcrafted Jewelry
Gift Memberships - the Greenest Gift!
Door Prizes
PLUS, Bernheim Members Receive a 20% Discount All Through December! (Regularly 10%)
>>A Second New Book by Mount Washington Historical Society. First, the Mt. Washington Historical Society recently reproduced (at much better quality than the original) their 1996 booklet "Memories of the 1940s." As I reported in last month's newsletter, this 86-page collection shares the memories of 52 local contributors, and includes a large collection of enhanced photos added for this edition. Copies are available for just $10 at the Bullitt County History Museum in Shepherdsville, or you can order by mail by sending a check for $10 (plus $3 P&H) to the "Mt. Washington Historical Society", P.O. Box 303, Mt. Washington, KY 40047, or call Dale Salmon at (502)538-0515.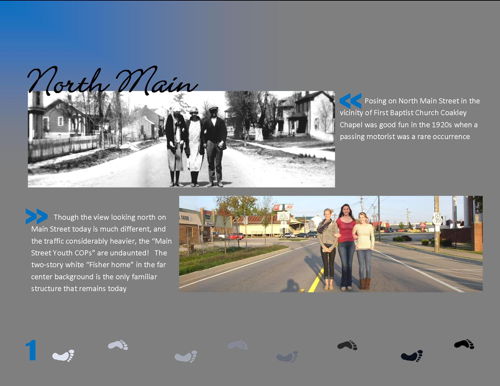 North Main
And now there is a second book, coming right on the heels of that one:
The Mt. Washington Main Street Youth "Chamber of Preservationists" (COPs), the youth element of the Mt. Washington Main Street Program, have completed the final touches on an exciting historical education project. Applying a "historic preservation" mission as their contribution to the goals of the Main Street Program and calling themselves the Youth Chamber of Preservationists (aka "Youth COPs"), Bullitt East High School juniors Abby Shelton and Shelby Crum, and senior Hannah Miles have produced a remarkable "then and now" photo essay depicting the historical evolution of downtown Mt. Washington. The project, entitled "Footprints of the Past… Footsteps to the Future", is being published in collectible book form as well as an e-version for sharing as a presentation with interested community organizations.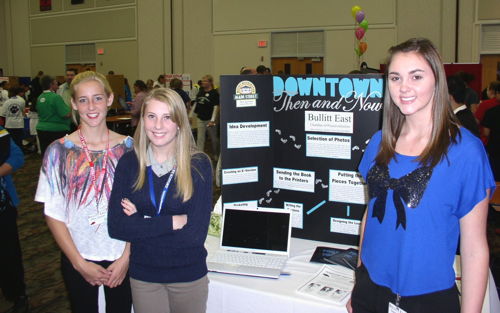 All of the research and applied technologies that went into this project presented an opportunity for these talented students to showcase their work as a "community service" entry in the Kentucky Department of Education Student Technology Leadership Program (STLP) regional showcase event on Tuesday, Nov 13th at the University of Louisville. In Bullitt East's first ever entry into the STLP competition, the Youth COPs project achieved a high enough score from the judging to advance to the State Championship to be held in Lexington in March!
This remarkably well-researched and well-designed collectible book will be available at the end of November and will make for a much-treasured gift for anyone on your Christmas list! For more information, or to reserve your copy, contact Mt. Washington Main Street Program manager, Dale Salmon at (502) 538-0515. We also hope to have some available at the museum.
>>Mt. Washington Christmas Open House November 30. This one last announcement about Mt. Washington (They are doing so many good things there!): The Mt. Washington Historical Society will host an "Old Tyme Christmas Open House" at the Lloyd House museum located at 103 S. Bardstown Road (one block South of Highway 44) from 3pm – 8pm on Friday, November 30th. This year's open house event will coincide with the "Light Up Mt. Washington" celebration at the City Plaza park and the old Methodist Church building on north Bardstown Road. Beginning at 5pm, visitors can enjoy a carriage ride between the "Light Up" and Lloyd House venues. Bring the whole family and enjoy the decorations, refreshments, music, door prizes and stories of days gone by.
>>Winter Hours reduced for the Kentucky History Museum. Be aware if you plan to visit the Kentucky History Museum. Effective December 9 through March 8, the Kentucky Historical Society Campus in Frankfort will be operating under its winter schedule. This means that it will not be open, including the Thomas D. Clark Center for Kentucky History, and the Old State Capitol, except for reserved groups of ten or more, and for special events. To find out more about KHS and its programs, visit www.history.ky.gov.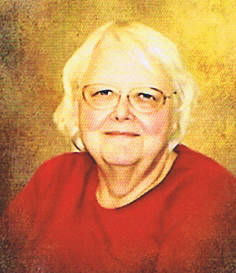 Edith Blissett
>> A Very Sad Announcement: The Passing of Edith Blissett. I am sorry to report the passing of Edith Blissett. Edith's prolific works in local genealogy and research include the transcription and indexing of the local newspapers, the Bullitt Pioneer and The Pioneer News, from 1901 to 1927. This work alone created books that nearly fill an entire shelf at the museum. In addition, she created two books of the Bullitt County Death Index, one for 1911-1929 and the second for 1930-56.
That alone is more work than hardly anyone else does in a lifetime. But she was also and always, a fantastic resource of history and genealogy, generously giving of her time and knowledge whenever anyone would ask.
And she was a dear friend. May God bless her and her grieving family.
Activity...
>>Lots of visitors. We have had LOTS of visitors at the museum this month. We have had a couple of school groups come by, and many individual researchers. Sometimes it gets a little crazy in our museum office/research room. The small room works pretty well with 3-5 people, but we had people lined up the other day. That one day we helped about twenty people with detailed research and other help. Thank goodness we had three Volunteers that day, and I think we helped every one of the visitors.
Two recent visitors were Mary Curtis Smith Taylor and her husband, who were visiting from Conroe, Texas. Mary brought us several items for our museum, including framed Shepherdsville HS diplomas of her parents, Curtis Waldo Smith (1922) and Hazel Dell Trunnell (1925). Gosh, they knew how to make diplomas back then. Very large and high quality.
Ms. Taylor also gave us two very old books ("McGuffey's Reader" and "Well's Illustrated National Handbook 1857") and an original ad about a local farm being auctioned off during the Great Depression.
>>Tuesdays are Goody Day. Tuesdays are getting to be especially busy days and we love it. But I sometimes think that it has less to do with our good resources, and more to do with our "goodies." Museum Volunteers Sherry Lee and Nancy Blakeman volunteer that day, along with Ed Lee, and most always bring in homemade cookies and cakes. Chocolate Peanut Butter Balls; Monkey Bread; Spice Cake; Cookies of all sorts. You never know what delights they might bring. Mmmm. Come on Tuesday! [smile]
>>Society 25th Anniversary Coming Next Year. Late 2013 will mark the 25th anniversary of the Bullitt County Genealogical Society, the parent organization of our museum. President Daniel Buxton and officers are starting to plan to make that a special year. More information will be coming as the year goes along. Be sure to let us know if you have any thoughts about this occasion.
>>Web Site Additions. Some interesting additions to our web site this month, as always. Be sure to click on some of these and check them out. There are some really good stories there from our weekly newspaper column titled "Bullitt County Memories."
>>Old Stone Jail Photo? Or Not? In last month's newsletter, I wrote about an old photo that I hope is of the Old Stone Jail being built in 1891. Well I am still not sure about it and waiting for a couple of other sources to check it out. I'll let you know when/if I find out anything for sure. You can find the photo in the October newsletter. I am currently thinking/hoping it is a view of the jail looking South, but we'll see.
>>A Few of the Recent Volunteer activities. Our fantastic Museum Volunteers continue their good work. Besides helping researchers and other visitors to the museum, and helping answer queries, they do ongoing work to make the museum resources, and Bullitt County, even better.
For example,Wilma Lemons has taken on a project with Nichols Elementary School to preserve a large volume of work done there a couple of years ago. At that time, the school and its alumni created a large number of individual memory albums about the school and community. Wilma, on top of a number of other projects she is doing, has taken on the task to scan these hundreds of pages of news clippings, photos, and written memories to computer.
Beverly Owen recently transcribed what we call the "Eliza Craven letter." This letter, which relates a personal account of the 1917 Train Wreck, can be found on our museum web site, but is difficult to read. Beverly is also a great and pleasant (and patient) worker with visitors who need extra help. Beverly adds such a light of friendliness at the museum that we always strive for.
One of our newest Volunteers, Lilly Lamont, is a student at the University of Louisville, and works at the university library. But she finds time to come in to the museum each week. Her project has been to compare our family files with those of our fine local public library archives, and then add to our files as needed. She has added files to our collection of 459 (and growing) family name files. As part of that work, she has discovered that the library has information on an additional 555 family names. She has typed up a list of those, and now she is using a museum laptop computer and portable scanner to scan in those additional pages to computer. Great work!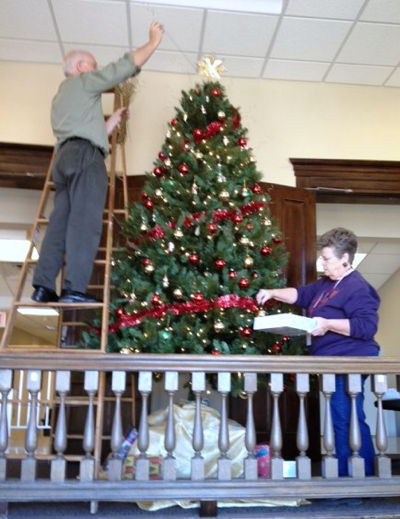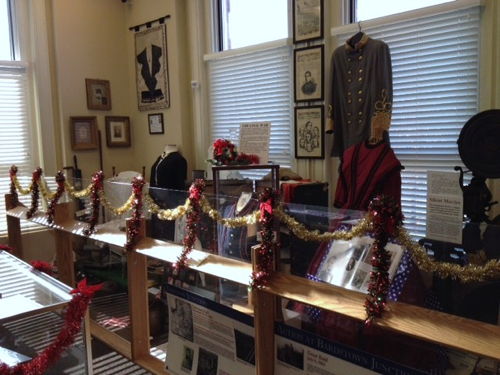 Also new Volunteer Nancy Blakeman is working around the Museum and finding her interests to work on for us. Meanwhile, Nancy doesn't hesitate to jump in and work wherever there is a need. Just this week, she personally took on the task of decorating the museum for the Christmastime holidays. She is even making a series of small stockings to hang, each with the name of one of our 24-odd Volunteers. It all looks fantastic too!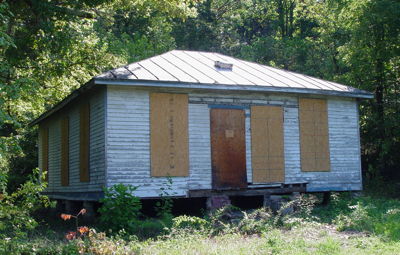 Bowman Valley School
>>Bowman Valley Schoolhouse Preservation Project. The effort to save, move, and preserve the old Bowman Valley Two-Room schoolhouse is moving along, but we still need much help. As you can see in this photo, it has been cleaned up and secured and is ready for moving.
But the big hurdle for saving this great historic frame structure is moving it to its new location a few miles down the road next to the Woodsdale School. This move will save the building and make it useful again as a new school vocational program that is being planned. But the cost of the move is estimated at $15,000. So money needs to be raised quickly or a mover found that is willing to donate the job (or some of both). The project was recently reported on TV news, and some schools are launching fund drives to save this sample of school heritage. The Beta Club of Zoneton School raised $250 for the project just this week! But the project needs you help. You can donate to the project by mailing a check, made to "Bowman Valley Project" to the project's address at P.O. Box 1714, Shepherdsville, Kentucky, 40165.
The biggest hurdle is to somehow get the building moved to its new site.
Time is beginning to run out on this historic building. We really need to get it moved and in place this winter.
Please help if you can.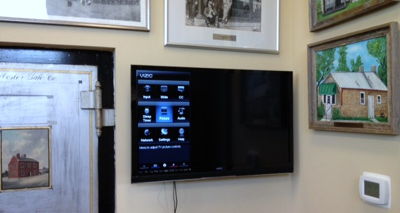 >>New TV at Museum, and it's Awesome! Thanks to a Technology grant we received, the Museum now has a high quality "smart" 42" TV in its display room. BC Genealogy President Daniel Buxton and I installed it today. (The cables in the photo won't be showing in the final installation). Next week, photographer Charles Myers is planning to come by with a special new nature video about Bullitt County that will be our first feature. The plan is to have roughly five-minute videos and slide shows playing for museum visitors to see about the wonderful things of Bullitt County.
For Your Information.....
>>West Point Museum Facebook Page. If you are on Facebook, you should visit the nice new site that our neighbor museum in West Point, Kentucky, has developed. The page can be found here.
>>Three million freely downloadable texts on many topics, such as genealogy, can be found at www.Archive.org.
>>A new art page for a couple of local artists. Allow me to promote a couple of Bullitt County artists currently living in Lexington, Kentucky. Nathan Strange (full disclosure: that's my boy!), and Renee Shaw have developed a web page showing some of their work. The page can be found at https://www.etsy.com/shop/OuroborosCreative. They also have a FaceBook page.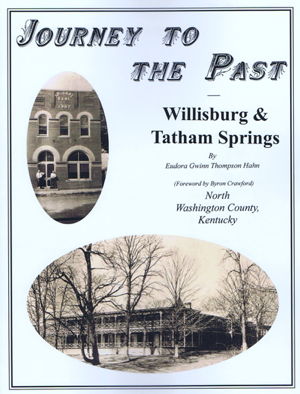 >>New Book on Washington County, by Gwinn Hahn. A new book, "Journey to the Past. Tatham Springs and Willisburg, North Washington County, Kentucky" by long-time Bullitt County teacher Gwinn Hahn is a 483 page collection of oral history and personal remembrances of individuals from the early to mid 1900's and beyond. Though not directly about Bullitt County, this collection of stories can be interesting to anyone, and particularly useful to those who have family roots in the Washington County area as does Ms. Hahn.
Price is $35 plus tax and shipping. Gwinn tells me that she is already about to sell out of the first edition, so hurry if you want one. E-Mail her at gwinnhahn@yahoo.com or call at 502-836-8820. Her FaceBook page is www.facebook.com/TathamSprings.
Finally....
"The Last of the Summer Spiders"
Well Friends, Summer has ended and Fall is nearly spent.
As I drove past a neighbor's house the other day, I saw him waving at me frantically from his porch.
It turned out that he was not waving. He had instead walked into a bunch of spider webs!
These last summer spider webs in Kentucky are of a special kind.
They are not the usual fancy nets that we all have come to "love."
Instead, these are a multitude of single, almost invisible, strands going straight down and flowing in the breeze.
Most of the time, you don't see them so much as "discover" them as you walk along.
It seems like all the spiders in all the trees, and on every high thing, are bungee jumping to the ground like military special forces rappelling down ropes from a helicopter. I can only guess that all the spiders are heading to ground for the winter.
Whatever the reason, they have little care for where people tend to walk.
I looked out on my yard during one of the last warm sunny days of the season.
Strands of web reflected in the evening sun, seemingly hanging from every limb of every tree that I could see.
Some reached to the ground.
Many still hung in the air, each with its tiny paratrooper dangling at the end.
Cold is now settling in on Bullitt County and Winter will soon be here.
And the spiders are now gone for a season.
I look forward to the coming Spring.
But I think I will not miss the last of the summer spiders.
Thank you for being a Friend of the Bullitt County History Museum.
David Strange
Bullitt County History Museum
Executive Director
Museum Phone: 502-921-0161
E-Mail address: David.Strange@BullittCountyHistory.org