Bullitt Memories: Ridgway Memorial Library
The following article by Charles Hartley originally appeared in The Courier-Journal on 14 Nov 2012. It is archived here with additional information for your reading enjoyment.
---
Today the Bullitt County Public Library system has libraries in Shepherdsville, Lebanon Junction, Mt. Washington, and Hillview, with service extended to the Nichols area with a delivery system, and a new facility planned for that community, as well as plans for a new main library in Shepherdsville; but it all began in 1924 when William Troll donated 500 books to the Bullitt County Women's Club to form the basis of a library.
For over 30 years the Bullitt County Woman's Club bore the entire expense of the library. In those early years the members took turns serving as the librarian.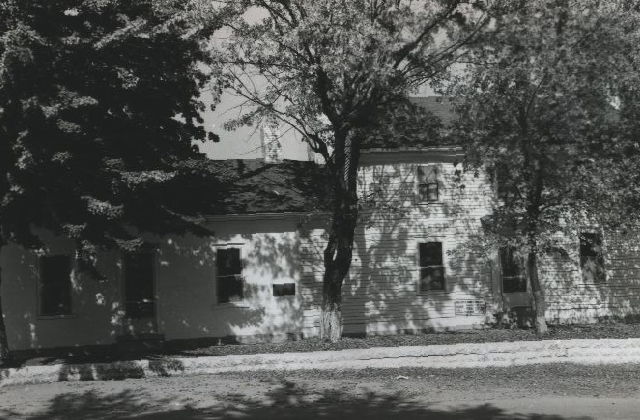 Ridgway Home and Doctor's Office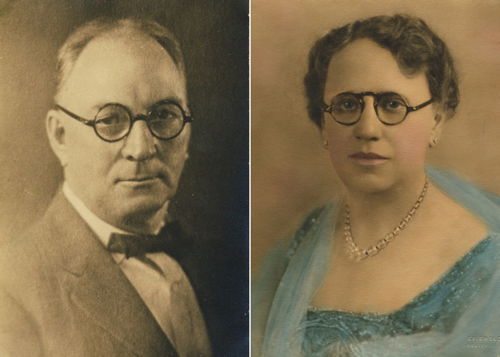 Samuel Howard and Margaret Hardy Ridgway
For many years the library was housed in a room provided by the St. Aloysius Catholic Church. Later it was housed at the courthouse, First Baptist Church, the home of Verna Jones, and later the home of Judge Morrows. Dorothea Stottman became the librarian in 1955, serving until 1984.
Then in 1963, with the library facilities in poor condition and a new home desperately needed, the heirs of Dr. and Mrs. Samuel Howard Ridgway donated the family home property as a future site for the library which would become known as Ridgway Memorial Library.
Samuel Howard Ridgway was born in 1872 on the family farm in Bullitt County not far from Cupio. His parents, James W. and Margaret (Brashear) Ridgway, were the parents of nine children including Lindsey Ridgway, one of the subjects of last week's article.
Howard Ridgway, as he was known to the older generation, knew early on that he wanted to be a doctor. In 1893 he graduated from the Kentucky Medical College in Louisville, and began his practice at Bardstown Junction. In 1895, he married Margaret Hardy, a daughter of Frank and Malinda Hardy. He also practiced at Brooks and Pitts Point before moving his office to Shepherdsville where in 1905 he purchased a place to live and work from Charles Carroll. This would be their home and his office for the remainder of their lives.
Over the years, in addition to serving the community as a physician, Dr. Ridgway was active in community affairs. He was a member of the local Masonic Lodge, and for a time was president of The Peoples Bank. He also served as an official of the Red Cross Chapter, and was described as a "very charitable citizen."
The Ridgways had two children: Willie May and Samuel Jr. As a young lady, Willie May Ridgway taught school here in Bullitt County. She married Isaac Smith of Winchester in 1931, and they had a son they named Billy Howard. Then tragically she died of an infection on Christmas Eve, 1938. Young Billy Howard would come to live with his grandparents.
Samuel Howard Ridgway, Jr. was a major in the United States Army when his father died in June 1943, after giving a half century's devotion to his patients, many of whom he had delivered as babies.
Mrs. Ridgway continued to live in that white house on the corner until her death in 1962.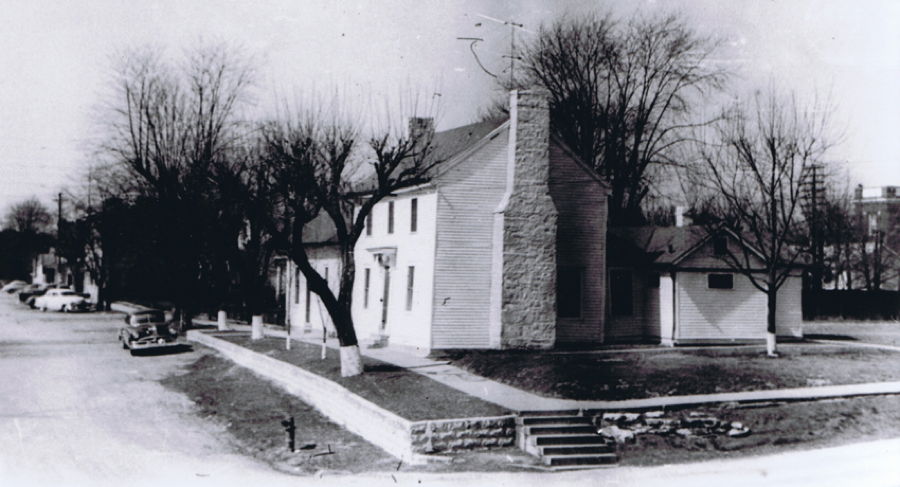 Recently discovered picture of Ridgway home.
The following year, Samuel Ridgway, Jr. and Billy Howard Smith, heirs to the estate, made it possible for the library to have a home of its own for the first time since it was established in 1924, by donating the house and lot. In return the library was to be known as the Ridgway Memorial Library.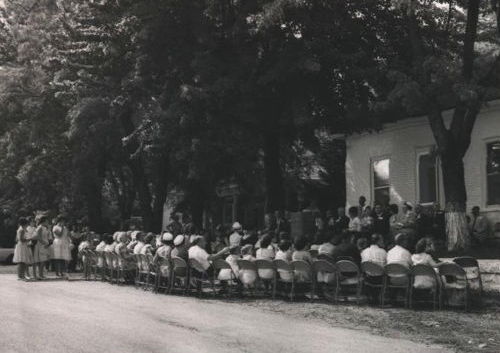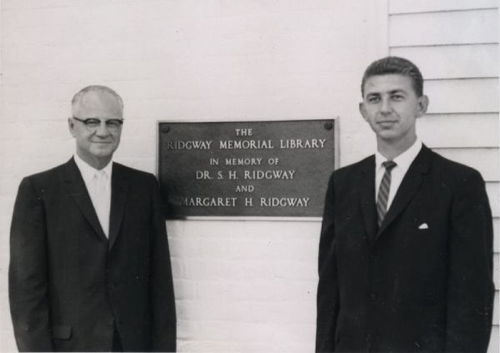 1963 Library Dedication - Samuel Ridgway, Jr. and Billy Howard Smith
In July 1963 the new library was formally dedicated. Howard Hardaway wrote about it: "The move from the library's old quarters to the new, a distance of about 200 feet, was handled by a line of about 50 young workers passing the books hand to hand all along the way like an old-fashioned bucket brigade."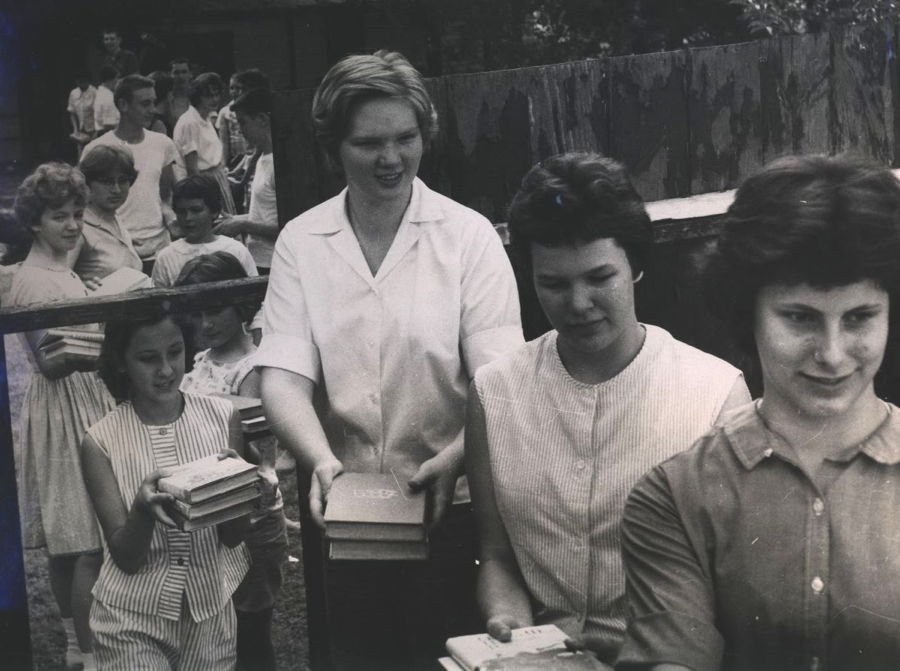 Book Passing Line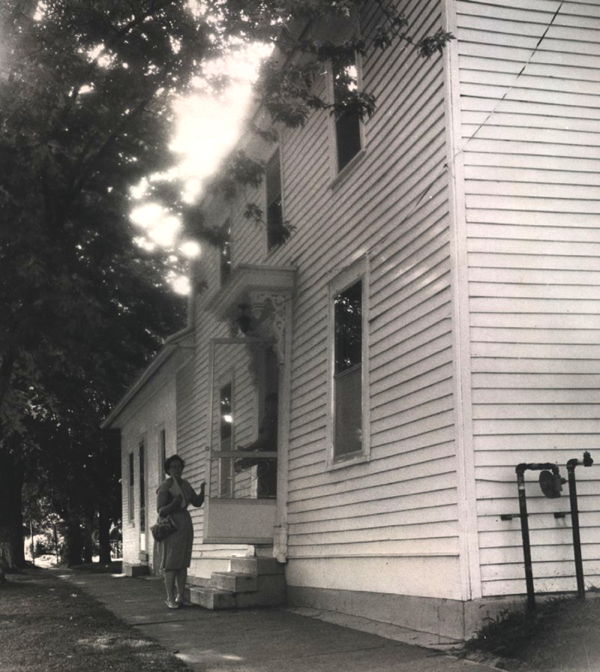 Mrs. Stottman at the Ridgway Library door.
By 1965, when I first arrived in Shepherdsville, the house had been refurbished and shelves were filled with books. But it wasn't long before the library had overflowed its space, and in 1972 construction began on a new facility located behind the Ridgway house. It was dedicated in January 1973.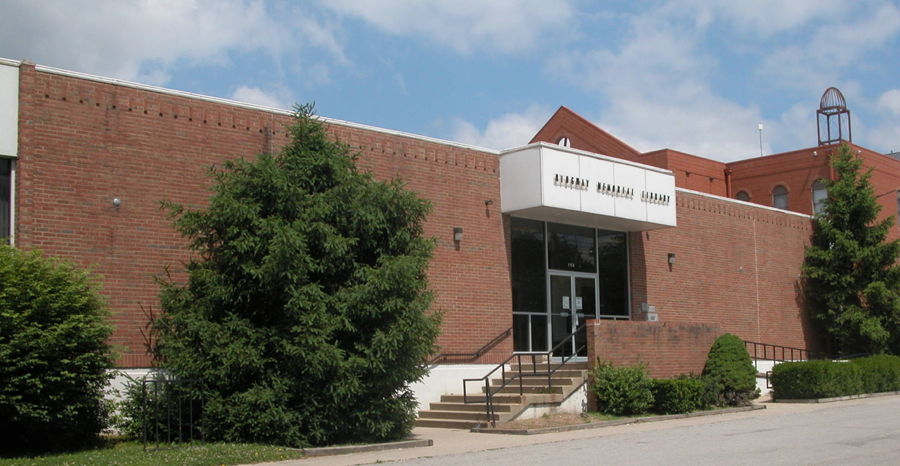 Ridgway Memorial Library, constructed in 1972-73.
In 2007 that facility was expanded into the current space, covering nearly the entire property from the Ridgway estate.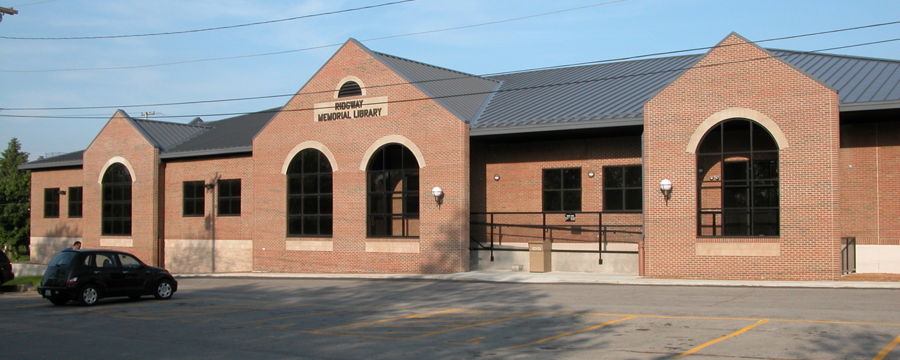 Ridgway Memorial Library, expanded in 2007.
In the last fifty years the Ridgway Memorial Library has grown into a facility that the community can take pride in. The Ridgways would be proud.
---
Copyright 2018 by Charles Hartley, Shepherdsville KY. All rights are reserved. No part of the content of this page may be included in any format in any place without the written permission of the copyright holder.
---