Four Long-Term Bullitt County Clerks
The following article by Charles Hartley was first published on 7 Nov 2012. We've updated it recently and adding some additional information.
---
The election is over, although the counting may continue for awhile; but one group of Kentuckians should be able to relax just a bit: the 120 county clerks who are responsible for seeing that election day runs as smoothly as possible.
Bullitt County's clerk, Kevin Mooney, is the twentieth clerk to serve Bullitt County over its 222 year history; but 96 of those years belonged to just four clerks: Noah C. Summers, Lindsay Ridgway, Theodore L. Cook, and Nina Mooney, Kevin's mother. Today we will take a brief look at the careers of these four; as well as mention some of the others who served.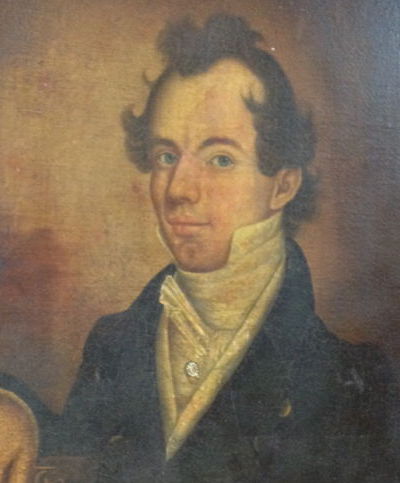 Noah C. Summers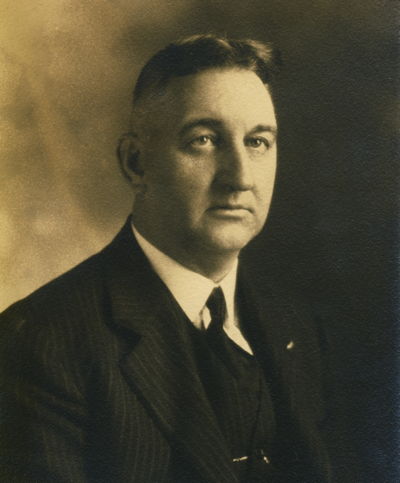 Lindsay Ridgway
Noah C. Summers, April 1826 - October 1850
Noah Summers was born in March 1801 to William and Mary Summers. Shortly after his 25th birthday in 1826 he was elected clerk of the Bullitt County Court. The following December he married Margaret C. Harrison of Jessamine County, and in September 1827, their son Edwin was born.
Little more is known about Noah other than he must have been a competent clerk, well liked by his community, for he served in that capacity for 24 years; finally leaving office in October 1850.
The 1850 census shows him with Edwin and Sophronia Summers, his son and daughter-in-law. He was a widower by that time. His death is recorded in Jefferson County in April 1856.
Lindsay Ridgway, January 1910 - December 1929
Lindsay Ridgway, the youngest of eight children born to James W. and Margaret (Brashear) Ridgway, attended Lynnland College, situated on the railroad south of Glendale, and graduated in 1898. He then attended law school, earning his law degree in 1902. He began teaching school in Shepherdsville, and in 1904 he was elected school superintendent. Five years later he was elected county court clerk, a position he would hold for the next twenty years.
Ridgway married Ada Jones in 1906, and they had two children. Regrettably, both died as infants. However, Lindsay and Ada raised their nephews, Lindsay and Robert Jones, as their own.
After spending time as a clerk for the Kentucky General Assembly in 1930, Lindsay was elected county attorney for Bullitt County, a post he held until a few months before his death in January 1952. At the time of his death, the local newspaper, The Pioneer News, wrote that Lindsay Ridgway was "regarded as the most popular man in Bullitt County."
The Ridgway family served their community faithfully. Lindsay's brother, Dr. Samuel Howard Ridgway was a long-time physician here, and at the death of Dr. Ridgway's widow, the family's property in Shepherdsville was donated to the library named in their honor.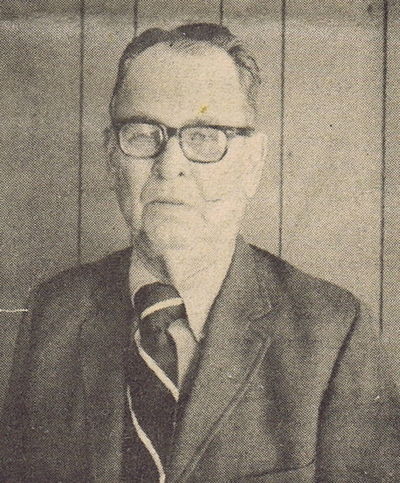 Theodore L. Cook
Theodore L. Cook, 1941-1973
Theodore L. Cook was born in Bullitt County in 1901 to William and Loula Cook. After he graduated from Shepherdsville High School in 1919, he went to work for the railroad where he worked for twelve years. He married Mary Buckman in 1929, and their son Donald was born three years later.
At about that time, Mr. Cook went to work as a deputy court clerk in Tommy Wilson's office, where he served for eight years. When he ran in 1940 for the clerk's job he was unopposed, and remained without an opponent for every election over the next 32 years.
When he retired in 1973, a special state-wide day was set apart as "T. L. Cook Day" to honor him.
Mr. Cook was meticulous in keeping county records, and took pride in doing his job well. A two-finger typist, it is said that he could type faster than most folks using all of their fingers.
He never owned an automobile, and walked to work each day, living most of his life inside Bullitt County. However, he was out of the county, visiting his wife's brother, when he died on Christmas Day 1977, a man sorely missed by his many friends and neighbors.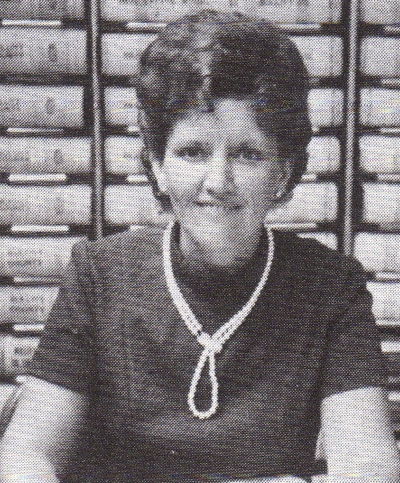 Nina L. Mooney
Nina L. Mooney, 1973-1997
Nina Louise Troutman was born in Bullitt County in 1939 to Henry and Nora (Sadler) Troutman. She went to work for T. L. Cook as a deputy clerk in 1957. After she married Joe Tom Mooney in 1963, Nina Mooney continued as deputy clerk until 1973 when Mr. Cook retired. That Fall's election would be the first of six in a row that saw her victorious in the clerk's race.
By the mid-1980's the courthouse was running out of space, and Nina worked with Fiscal Court to see that the three-story annex building was constructed. This building, which houses the clerk's office on the ground floor, was renamed in honor of her when she retired in 1997.
Nina Mooney loved her job, and loved working with people. More than a few people have said that their favorite memory of her is when she stood on the courthouse steps reading election results. At the time of her death in 2003, Tom Barr of The Pioneer News wrote that "She never met a stranger." He also wrote that "In fiscal court, Nina was called the 'fifth magistrate' by many because the four elected magistrates and the county judge relied upon her so many times for her knowledge and expertise."
These four clerks represent the best of those who have served the county down through the years; men and women who care about serving well. It's good to know we have good people who are willing to serve.
Among the earliest to serve as clerk was Frederick William Spence Grayson, our second clerk, who served for a dozen years. He would go on to become a successful businessman. We wrote a "Bullitt Memores" article about him in 2015.
Robert F. Samuels and his son Charles R. Samuels together served as clerk for almost sixteen years from 1850 to 1866. Both are buried in the Pioneer Cemetery in Shepherdsville next to the City Park.
One other interesting office holder was R. J. Meyler who was clerk for two terms beginning in 1866.
Romanzo Jerome Meyler was born in Conneautville, Pennsylvania, east of Cleveland in 1839. By 1860 he was a school teacher there. Then he moved to Bullitt County as a school teacher before turning to the law, and being elected both County Attorney and County School Superintendent. By 1866 he was serving as Bullitt County Court Clerk, a position he held for two terms.
R. J. married Josephine Swearingen in 1871. She was a daughter of William Wallace Swearingen. They were still in Bullitt County, along with their three daughters, in the 1880 census. But they moved to near Bowling Green where R. J. ran the Springwater Distillery at Memphis Junction.
You can see a full list of the County Clerks on this page.
---
Copyright 2018 by Charles Hartley, Shepherdsville KY. All rights are reserved. No part of the content of this page may be included in any format in any place without the written permission of the copyright holder.
---