Plat Drawing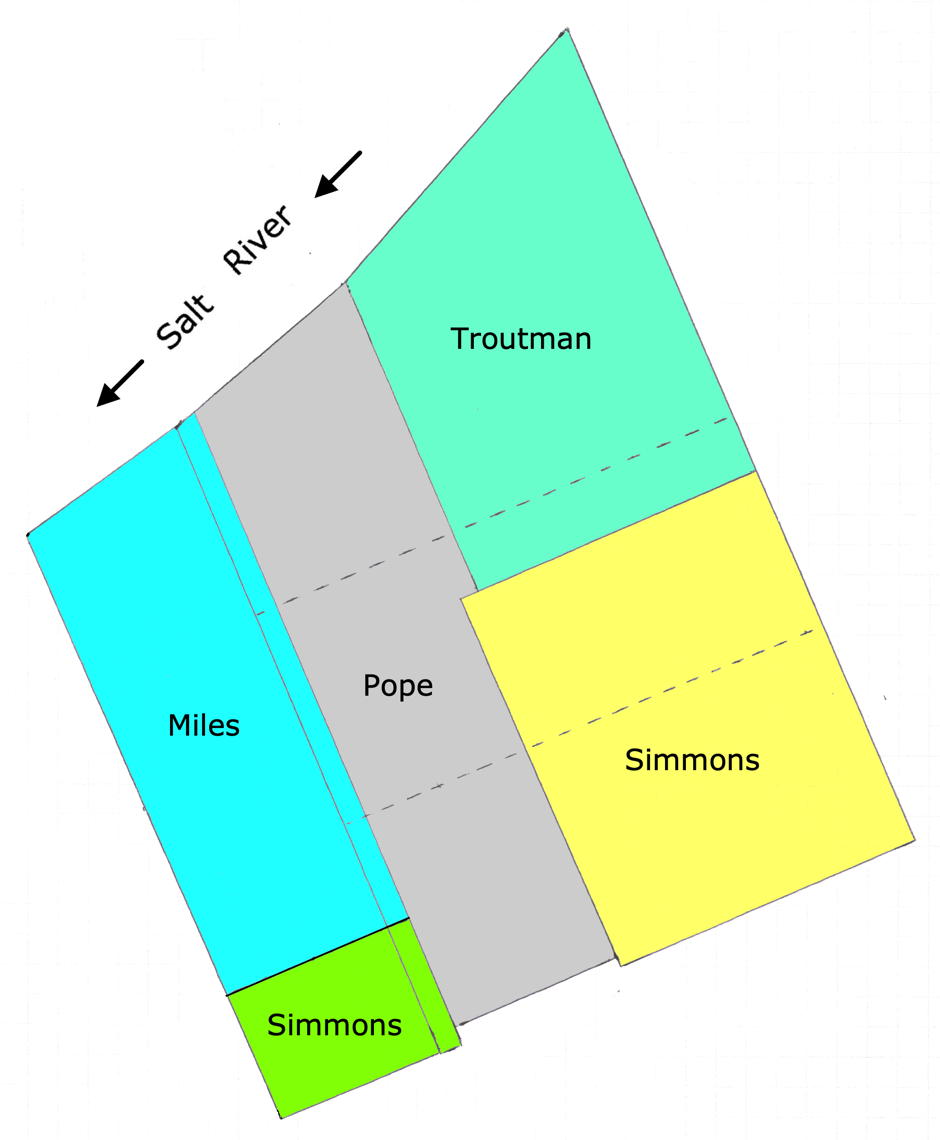 This plat drawing includes the initial patents of 1400 acres by John Edwards, and 400 acres for William Pope and Paul Froman. Together, these plats lay south of the Salt River along Buffalo Run, just upstream from Shepherdsville.
Edwards sold his 1400 acres to Patrick McGee in June 1789. McGee transfered ownership of 450 acres to Ben Pope Jr. in the summer of 1800 following an arrangement he had with Pope's father, Ben Sr., dating back to 1786. McGee next sold 450 acres to Richard Simmons on 9 Apr 1790 that adjoined Pope's land on the east. Another 450 acres went to Michael Troutman 27 Mar 1800; and the remaining 50 acre strip on the west side went to Jacob Ambrose in 1805.
Meanwhile, John Edwards purchased William Pope's half-share of the 400 acre tract patented to Pope and Paul Froman. Edwards then sold it to Jacob Ambrose on 29 Oct 1797. Ambrose gained control of the other half share when he purchased it from Paul Froman the next year, adding it to the 50 acres strip he obtained from Patrick McGee. Then, sometime between this time and 1805, Michael Troutman obtained a share of the property, and in that year Ambrose and Troutman divided the combined 450 acres, and sold it to Nathan Miles and William Simmons.
---
If you, the reader, have an interest in any particular part of our county history, and wish to contribute to this effort, use the form on our Contact Us page to send us your comments about this, or any Bullitt County History page. We welcome your comments and suggestions. If you feel that we have misspoken at any point, please feel free to point this out to us.