Museum Newsletter - 28 June 2014
Friends of the Bullitt County History Museum
E-Newsletter
June 28, 2014 (Volume 10, Number 6)
Dear Friends,
Announcements...
>> Museum Closed June 30 & July 4.
Nearly all of our staff volunteers have worked very long hours producing the Maryland-To-Kentucky Reunion event this weekend (more about that below), so we are declaring a special holiday for Monday, June 30, so we all can rest. We will also open a bit late (about 9:30) on Tuesday, July 1. On Friday, July 4th, the courthouse, and thus the Museum, will be closed for that holiday, though several volunteers will staff a museum/genealogy booth at the annual 4th of July "Bullitt Blast" holiday event.
>> Bullitt County Genealogical Society meeting "Family Tree Day" July 19.
This July meeting will be a special one. We will be focused on Family Trees. Bring a display about your family tree and maybe be awarded a trophy. Trophies are prepared and waiting for the best ones! Our meeting is at the Ridgway Memorial Library meeting room in Shepherdsville at 11:00am. Refreshments are always provided.
>> Snellen Reunion August 2nd.
Jim Snellen tells me that there will be a Snellen family reunion on August 2nd, from 11:00 am to 8:00 pm at the Nelson County Fairgrounds in Samuels Hall. These are primarily the descendants/ancestors of John, David, and Zachariah Snellen. For more information, contact David Snellen at 571-705-9648 or 954-302-3628.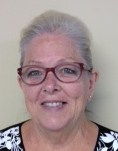 Juanita
Activity & News...
>> New Volunteer Juanita McCauley started with us this month at the museum. Welcome, Juanita!!
>> Maryland to Kentucky Reunion.
A large part of the early pioneer immigration to Kentucky came from Maryland. After nearly two years of preparation, over 400 people came from several states to a genealogy "reunion" on June 27-29 at St. Catharine College. As I write this, I have just arrived home from the Saturday portion. Our museum hosted a booth, selling some books and talking with a lot of old and new friends. Several of our museum volunteers have been working to make this event happen. Here's a few photos from today.

>> We have created a loaned-item sign-out sheet at the museum. The museum doesn't generally loan items or books; Our policy mostly allows it only to volunteers as they work on our research and documentation. But we are getting active enough that we are losing track of what is loaned out. So, we now have a special sheet for that purpose.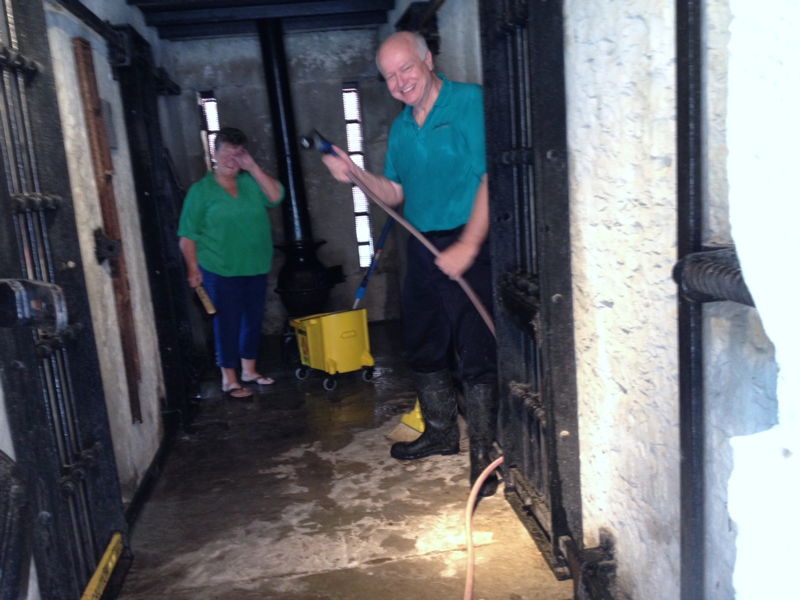 Scrubbing the Jail
>> We have received several thank-you notes and letters lately for work well done and stories written. We of course appreciate such appreciation. :)
>> We received a $50 donation from Pat Montgomery, for example, in gratitude for the Dean Rouse story that was recently published.
>> Volunteer Nancy Blakeman swept out the entire Old Stone Jail a couple of weeks ago. She declared in no uncertain terms that it was going to be washed out the next week. It hadn't been cleaned well for 2-3 years. And so she and I did just that; taking a water hose to the entire inside, from ceiling to floor. I now call Nancy my drill sergeant. :)
>> Brenda Rittman continues scanning obituaries to computer. She has done 1593 so far. I hope for new volunteer Juanita McCauley to start helping with that next Thursday.
>> I am having some difficulty getting ink cartridges for our Canon M90 Microfilm reader. The cartridges are 20N and 20P. They have been discontinued, but I am working on the problem.
>> Beverly Owen, our new museum treasurer, has been working hard, in addition to working on the Maryland-to-Kentucky Reunion, to learn the Museum's new bookkeeping software. She stayed at the museum until 6:00 Monday night, preparing the report. Many thanks to Doris Owen, who had been the Museum treasurer since we opened.
>> The Bowman Valley schoolhouse preservation project is on the move, with plans to move the building during the last week of July.
>> We continue to serve many visitors and researchers every day, including such people as William Burnett, from Utah, who was recently doing some photography.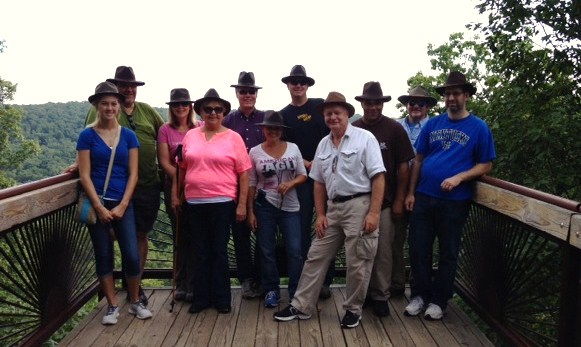 >> I led the Chamber of Commerce "Leadership Bullitt County" Indiana Jones Adventure Day (complete with "Indy" hats), last Thursday, June 26. This is an all-day adventure day designed to be fun while introducing students to facets of Bullitt County of which they might not have known. We walked the Bernheim Forest Tree-top walk; visited the Lebanon Junction Cemetery, discussing history & preservation; ate lunch and toured Lions Camp Crescendo, which hosts free camps for several special needs groups; visited the beautiful Camp Crooked Creek Boy Scout Camp; studied county history up close and personal at the Belmont Iron Furnace with owner Greg Kuhnz; and even squeezed our way through a pretty awesome cave. I think my body plans on being sore for several more days. :)
>> Charles Hartley and I continue writing a column for The Courier-Journal. Sherry Lee has written a couple stories now for The Pioneer News and for the Kentucky Explorer Magazine.
>> Web Site Additions. As we do every month, we have added quite a bit of new information and stories to our web site. Be sure to click on these links to take a look.
For Your Information...
>> A word of the month: "cenotaph" A tomb or monument erected in honor of a person whose body is buried elsewhere. Be aware that a tombstone you see at a cemetery might not actually mean the person is buried there. For example, I have seen several such stones in cemeteries for people who were lost at sea.
>> www.kygeonet.ky.gov/metadataexplorer can sometimes be difficult to use, but it can offer some marvelous data and maps such as an interactive map covering the historic Wilderness Road. (Use keyword "Frontier trails")
>> The state of Kentucky is offering some helpful smartphone aps for business owners and prospective business owners in the state. Check out https://www.thinkkentucky.com/SelectKentucky/ for more info.
Thank you for being a friend of the Bullitt County History Museum.
David Strange
Bullitt County History Museum
Executive Director
Museum Phone: 502-921-0161
E-Mail address: David.Strange@BullittCountyHistory.org