Dr. Woodford Bates Troutman
The following article by David Strange appeared in The Courier-Journal on 15 Jun 2014. It is archived here with additional information for your reading enjoyment.
---
The Troutman family name is well-known in the Bullitt County area. The name has been prominent in business since nearly the beginning of the county to this day.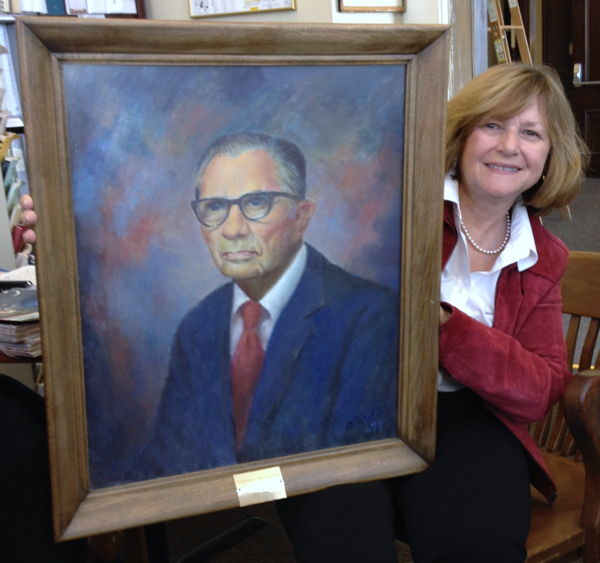 Shela Bolus with a portrait of Dr. Woodford Bates Troutman
Shela Bolus recently brought my attention to one member of that family who became a groundbreaking medical doctor.
Born on January 15, 1897, Woodford "Woody" Bates Troutman spent his childhood in Bullitt County. His family heritage pointed naturally to success. His father, Charles Filmore Troutman, was part of a long line of successful businessmen. His mother, Ada Maud Bates, was from a family that included an equally impressive line of physicians.
The "Woodford Bates" in his name originated from his mother's family. Relative, Samuel Woodford Bates, had obtained his medical certificate the same year as Woodford Troutman's birth. Also in that same year, in the same month, his grandfather, Dr. David Milton Bates, died.
So perhaps it was inevitable that the young Woodford Bates Troutman would also go into the medical field.
Oh, but he did much more!
In 1920, when "Woody" was 23 years old, his father died, leaving him a significant inheritance of 60 shares of stock in the Bullitt County Bank, and $20,000 cash. Woodford continued his education, graduating from the University of Louisville in 1921.
Around this time, Woody apparently met Ann Christianson, a talented artist from Minnesota who had traveled extensively studying art. They married 19 Jul 1924 according to this New York Times article.
Then Woodford Troutman made a fateful decision by cashing in his bank stock and going to Europe for advanced medical study. "Fateful", according to Shela. Bolus's research, because the stock market crashed soon afterward.
Doctor Troutman completed those studies at the University of Vienna in 1930, and headed back home to Kentucky to begin his medical practice as one of the first cardiologists in the state and only a few in the nation. Dr. Troutman is cited as a pioneer in the specialty of cardiology. Interestingly, another was Dr. Emmet Field Horine, who was also from Bullitt County.
When WWII began, Dr. Troutman joined the Army, serving from August 11, 1942 to December 2, 1945. I wonder what thoughts he might have had in those times of his older brother, Millard, who had died in WWI.
When the war was over he returned to his solo practice in cardiology. In 1951, Dr. Ralph Denham joined the practice, thus founding Cardiovascular Associates, which later grew to 25 physicians. In 1954, as Chairman of the Board of the Kentucky Heart Association, Dr. Troutman was an early advocate against smoking, along with Dr. Morris Weiss. For a while, Dr. Troutman served as President of the medical staff at the old St. Joseph's Hospital.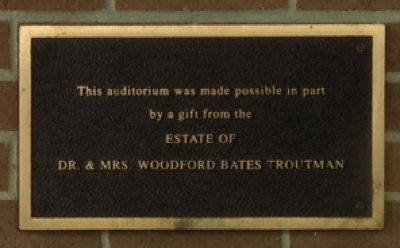 Recognition Plaque on Auditorium
Dr. Troutman traveled widely in his work, but there was also time for pleasure. He and Ann took three world cruises over the years.
The Troutmans owned several properties in Bullitt County. In 1969, they sold some of that land to the Bullitt County Public Schools for a new high school that would become Bullitt Central. Years later, the estate of Woodford and Ann Troutman funded the major portion of a new theater building constructed at that school. They also helped create the Woodford B. Troutman Memorial Fund at U of L, which supports a fellowship program for research in heart disease.
Woodford B. Troutman retired from medical practice in 1973.
He died April 14, 1980, of lung cancer. Wife, Ann, died in 1985, and is buried beside him at Cave Hill Cemetery in Louisville.
Ann has quite a colorful history in her own right. I'll tell you about her next week in this column.
---
Copyright 2014 by David Strange, Shepherdsville KY. All rights are reserved. No part of the content of this page may be included in any format in any place without the written permission of the copyright holder.
---