Cliffa Foster, Title IX, and Girls' Basketball
The following article by Charles Hartley originally appeared in The Courier-Journal on 8 Jun 2014. It is archived here with additional information for your reading enjoyment.
---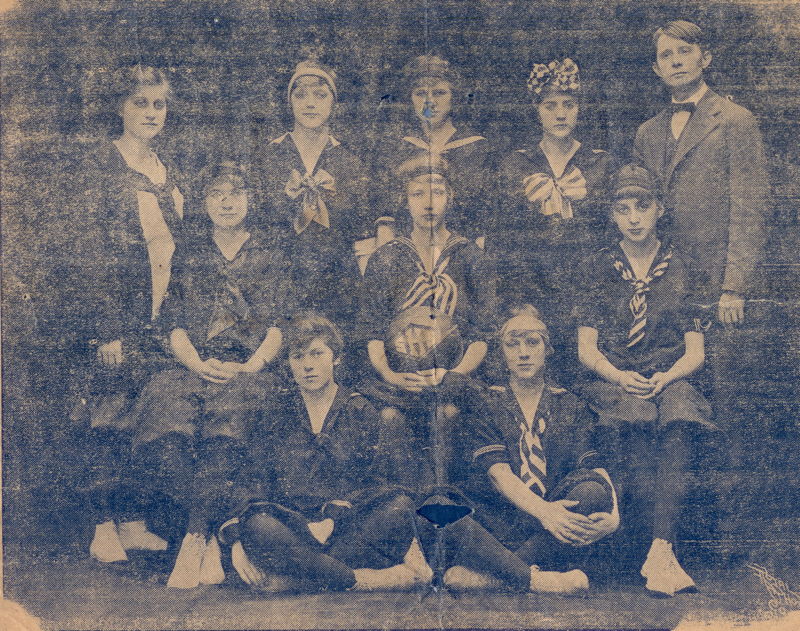 S.H.S. Team (1915): bottom row (left to right) Sara Jane Buckman and Clara Linn Funk (Crain);
middle row (left to right) Lucille Wooldridge (Albright), Mary Elizabeth Bell (Gilpin), and
Willie Mae Ridgway (Smith); top row (left to right) Miss Bessie White, Coach, Ida Ursa Funk (Back),
Laura Daniel (Smith), Nancye Trunnell (Strange) and Jack Sanders, Manager and School Principal.
When Professor Jack Sanders arrived in Shepherdsville in 1912, he soon organized basketball teams for both boys and girls. The local newspaper reported that the girls' team claimed an unofficial state championship in 1915.
Girls' basketball continued to be popular in Bullitt County at least into the late 1920's. However, opposition to interscholastic basketball for girls was growing, and in 1932 the KHSAA discontinued the girls' state basketball tournament which had begun in 1921. It wasn't long before most schools in the state disbanded their girls' teams, and decades would pass in which girls who loved the game of basketball could find no school teams to join.
Then in 1972, Congresswoman Patsy Mink of Hawaii and Senator Birch Bayh of Indiana co-sponsored legislation including what has become known as Title IX which states in part,
"No person in the United States shall, on the basis of sex, be excluded from participation in, be denied the benefits of, or be subjected to discrimination under any education program or activity receiving federal financial assistance."
Once again girls' teams were organized, tournaments were held, and champions were crowned. In the last forty plus years, many Bullitt County girls have enjoyed the thrill of competition, and we could spend the rest of this article identifying them by name and accomplishments. Instead I want to focus on just one; one whose life story can stand for all the others.
Cliffa Foster has always loved basketball. She remembers her sixth Christmas when her parents gave her a ball and basket, and her Dad nailed the basket to an old Mulberry tree. For several years that hard-packed dirt was her basketball court. She recently told me, "I'm not sure where my love for sports came from. Neither one of my parents had much interest in such activities. I was glued to the old black and white television every time that UK men's basketball was televised. My idol was Kyle Macy. I was sure I could play as well as he did with extra practice." And practice she did!
Her basketball career might have ended on that dirt floor, but Title IX opened the door to her first organized basketball experience in the sixth grade at Roby Elementary where Diana Nevin was her coach. Then, in junior high at Shepherdsville, Barbara Jo Firkins and Betty Hartley were her coaches. She remembers, "I'll always remember Coach Hartley and Coach Firkins. I wanted to be like them. I wanted to wear shorts and a t-shirt with a whistle around my neck and live in the gym!"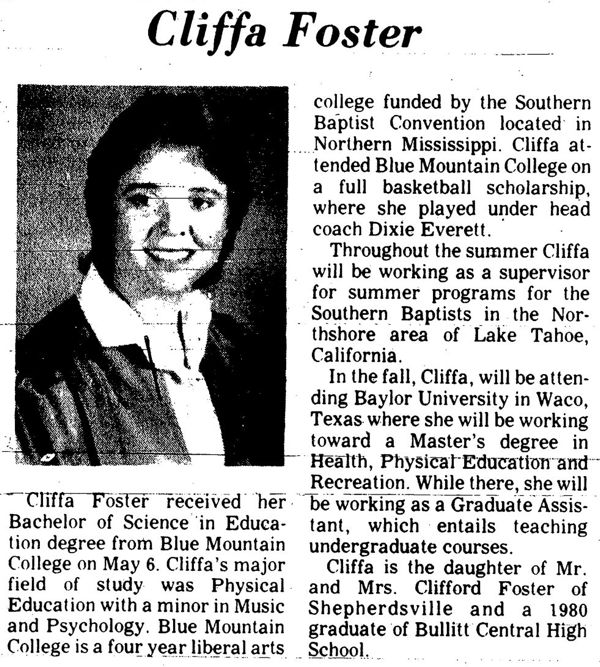 College Graduation Announcement in
The Pioneer News
, 21 Jun 1984
At Bullitt Central, Coach Mary Ann Elam Smith helped Cliffa develop her skills even more; and Cliffa recalls "many late nights, weekends and snow days that Coach Elam would open the gym for me to practice on individual skills." From the sixth grade on through high school, she was part of a winning tradition that, in high school, resulted in two district championships and trips to the regional finals.
Cliffa told me, "As I entered my senior year at Bullitt Central, the realization sunk in that the love of my life (basketball) was quickly coming to an end. Coach Elam and Coach Tom Martin encouraged me to consider playing college basketball. They helped get my name and statistics out to some colleges that offered scholarships."
She was offered a four-year basketball scholarship at Blue Mountain College in Mississippi, a small Baptist school, where she initially set out to major in piano, following her mother's dream for her.
Cliffa said, "Playing college basketball at Blue Mountain College was the best thing that could have happened to me. The school was small and I was given many opportunities in education, athletics and leadership that may not have been available at a large university. After taking some classes in the education department, I knew that I wanted to teach and coach. All of the major influences in my life had been coaches and teachers, so I set my course to follow in their footsteps."
She was an Academic All-American at Blue Mountain, and following graduation, she moved to Baylor University on an assistantship while working on her Master's Degree. She began her coaching and teaching career at a large Texas high school and was quite successful, but her heart was set on coaching a college team.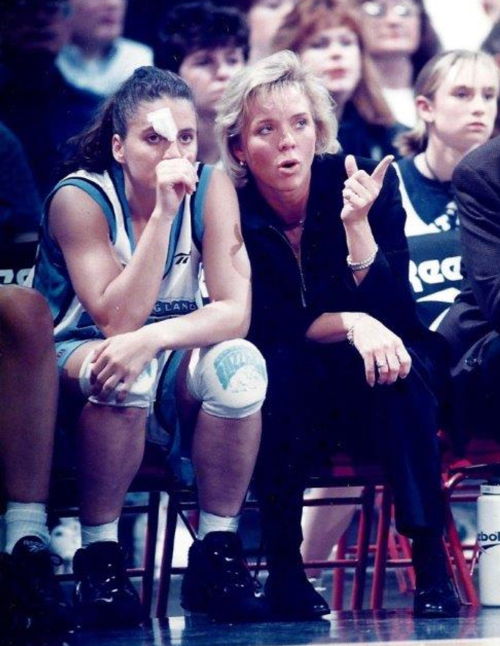 Coach Foster giving instructions to Jennifer Rizzotti in
a pro game. (Rizzotti had taken an elbow requiring
stitches, but came back to help get the win.)
Her opportunity came in 1989 when she was named the head coach at the University of Mary Hardin-Baylor in Belton, Texas. Three years earlier she had helped one of her high school athletes get an athletic scholarship at the University and, when the coaching vacancy opened, that athlete encouraged the Athletic Director to consider her former coach.
Cliffa coached at Mary Hardin-Baylor for seven years. During that time she also coached and played in Brazil for Athletes in Action in 1991 where she signed several Brazilian athletes. She proudly told me, "For the next four years we won conference and qualified for the national tournament. We made it to the Sweet 16 and the Elite 8 two of the four years."
In 1996, Cliffa was selected to coach the New England Blizzard in a professional league where she had the opportunity to be the head coach of the first game of professional women's basketball in the United States. However, after one year of coaching professionally and living in New England, she missed the South, teaching and coaching on the college level.
She returned to Baylor University to work on her PhD, and also returned to Mary-Hardin where she is currently the Chairperson of the Exercise and Sport Science Department.
Cliffa told me, "Teaching is my passion. I still love basketball and Bullitt County will always be my home. What turned into a career of teaching and coaching across the United States and internationally began in the hallway of an elementary school in Shepherdsville, and was nurtured in the Shepherdsville Junior High gym and the Bullitt Central gym by my all-time favorite coaches. What an influence they had on my life!"
Like so many other women today, Dr. Cliffa Foster largely owes her career and successes to Title IX, and to the many coaches and teachers who helped her along the way.
---
Copyright 2014 by Charles Hartley, Shepherdsville KY. All rights are reserved. No part of the content of this page may be included in any format in any place without the written permission of the copyright holder.
---