Robert Shanklin's 1400 Acres
Robert Shanklin claimed 1400 acres which eventually included most of George Clear's claim. The annotated plot of his land is shown below. A Google map showing the suspected location of this survey is available on another page here.
This survey was #7, #8 and #9 on the 1811 plat drawing by James Shanks, Bullitt County Surveyor, which is described on another page.
The numbers on the plat shown below are used to identify the points on the plat referenced by the plat description below.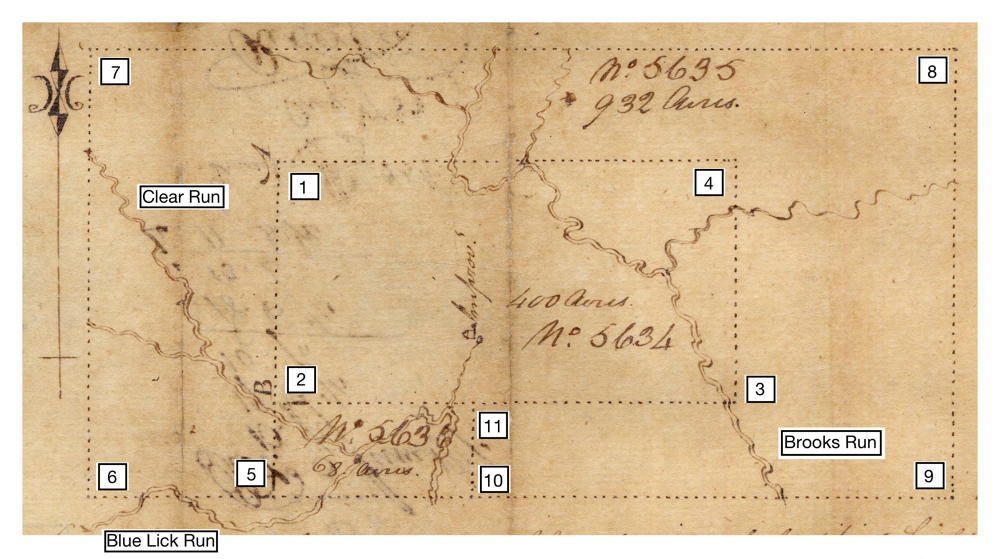 For reference, a pole was 16.5 feet long. Shanklin's three surveys totaled a bit more than two square miles.
Surveyed for Robert Shanklin 400 acres of land by virtue of a certificate for settlement lying in Jefferson County on the waters of Floyds Fork about 3 or 4 miles from Bullitt's Lick & one mile East of the road leading from Beargrass to said lick - Beginning at A [1] an Ironwood and white oak 198 poles on the course N 19 W from said Shanklin's improvement & running South 183 poles to a sugartree and beech [2] on the No. side of Clares Run, East 350 poles crossing Brooks Run to an ash & red oak [3] on the East side thereof under the clifts, North 183 poles to an ash & two beeches [4], West 350 poles crossing Brooks Run to the Beginning.
Also 1000 acres by virtue of a preemption warrant No. 732 adjoining round the settlement made in two surveys, the first of which is for 932 acres. Beginning [1] at an ironwood & white oak, N West corner of the said settlement & running South with the line thence of passing a corner 256 poles to a sugar tree [5], W 143 poles crossing the Blue Lick Run to a Sugar tree [6], red oak & buckeye in the low grounds of said run, North 340 poles crossing two forks of Clares run to a large poplar & black oak [7] corner of Edward Williams' land & with his line East 660 poles crossing Brooks Run and passing Williams' corner to a white oak, small sugar tree, & dogwood [8], South 340 poles crossing a small branch to a beech [9], West 367 poles crossing Brooks Run to a white oak [10], North 73 poles to a beech [11] in a line of the settlement & with the same East 200 poles to an ash & red oak [3], North 183 poles to an ash and two beeches [2], West 350 poles to the Beginning [1].
Also 68 acres the residue of said entry, Beginning at B, a sugar tree and beech [4], S West corner of the settlement & running East with a line thereof 150 poles to a Beech [11] corner of the survey of 932 acres, South 73 poles with a line thereof to a white oak [10], West 150 poles crossing the Blue Lick Run to a sugar tree [5], corner of the said 932 acre survey, North with a line thereof 73 poles to the Beginning [4].
Information about Edward Williams' plats may be found on another page.
Below is a clipping from a 1907 topographical map showing the area. It should help you get an idea of where Shanklin's land was.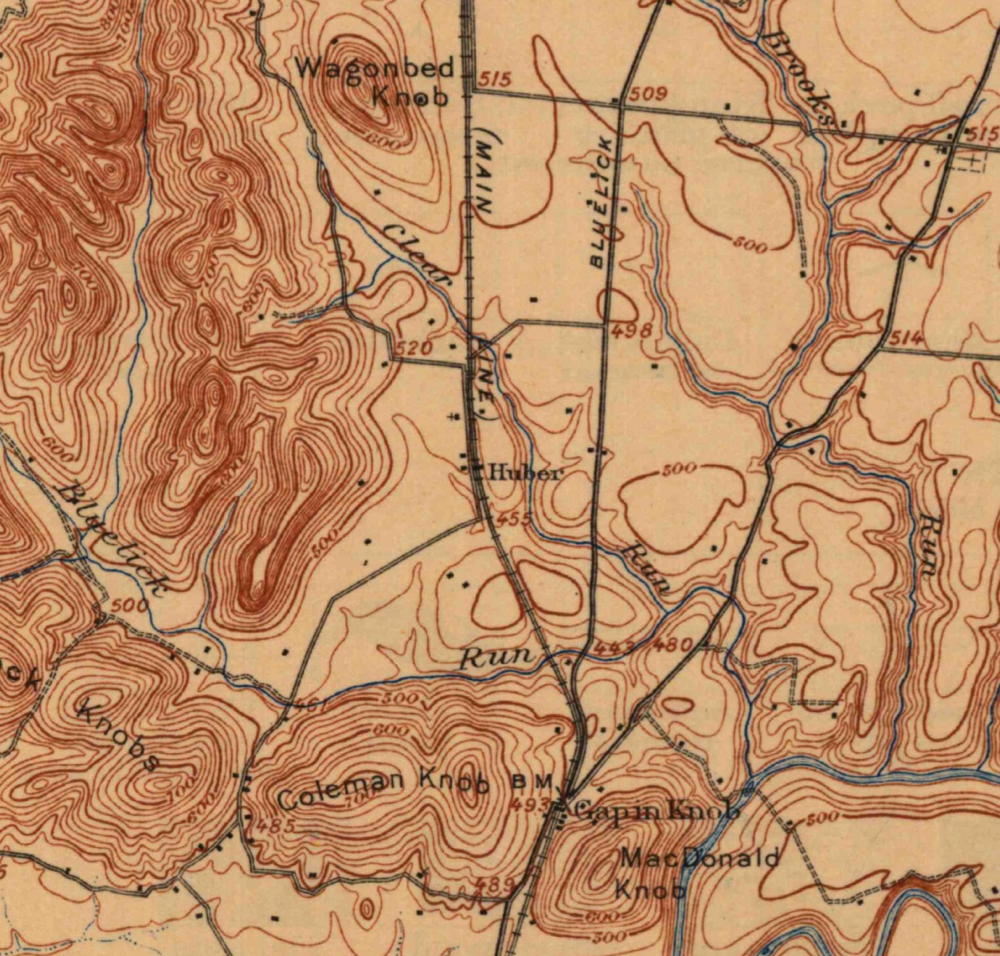 Deeds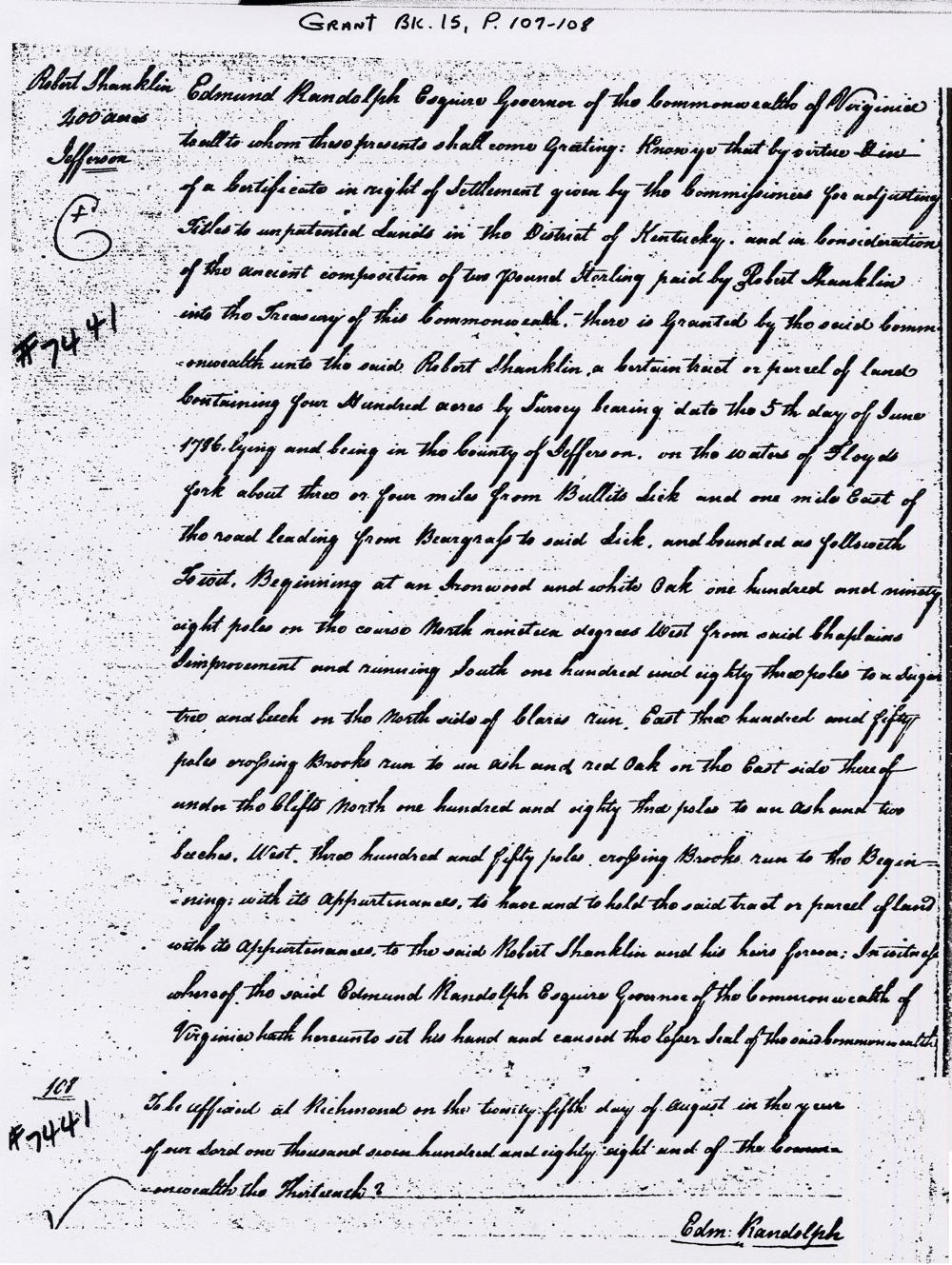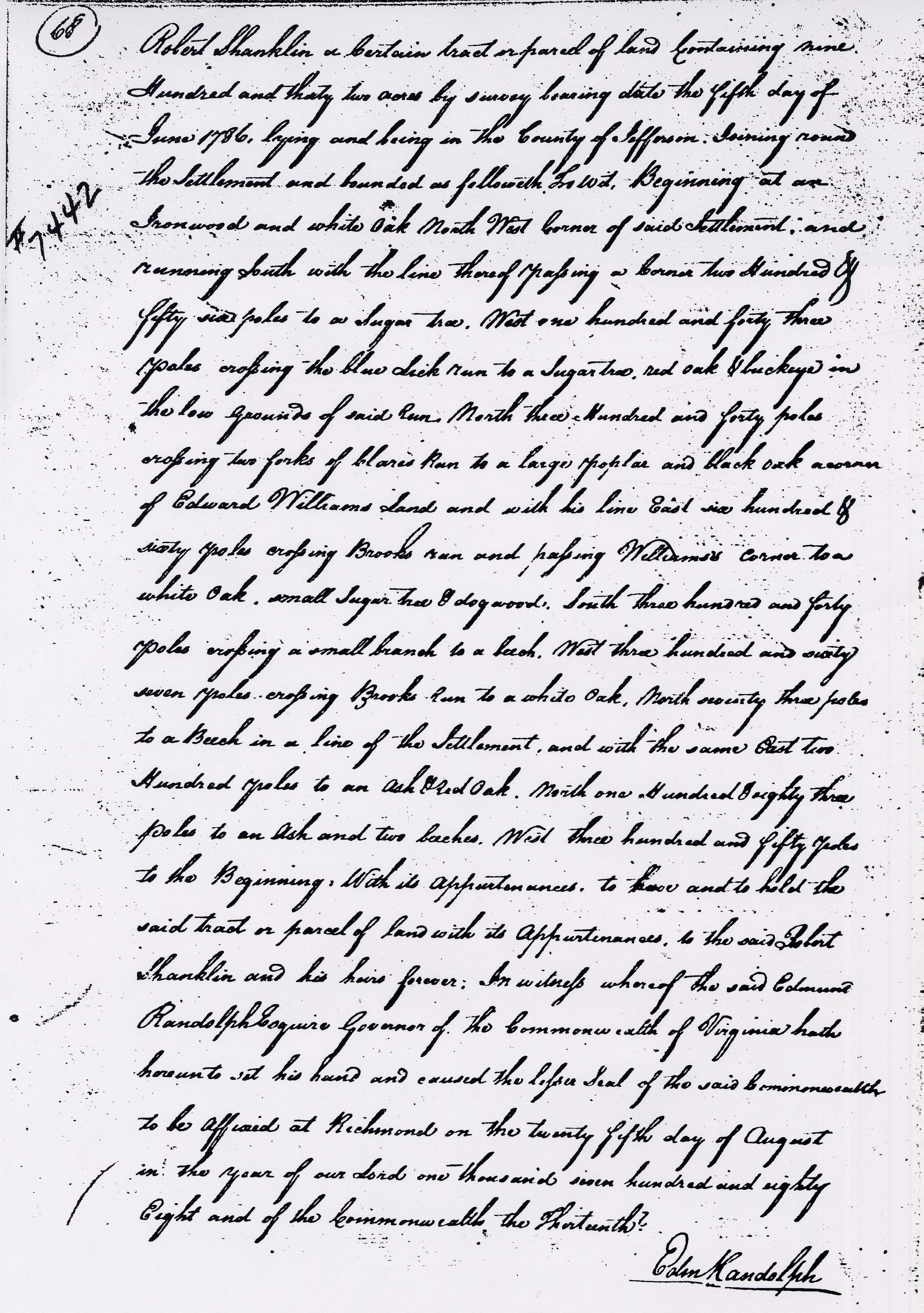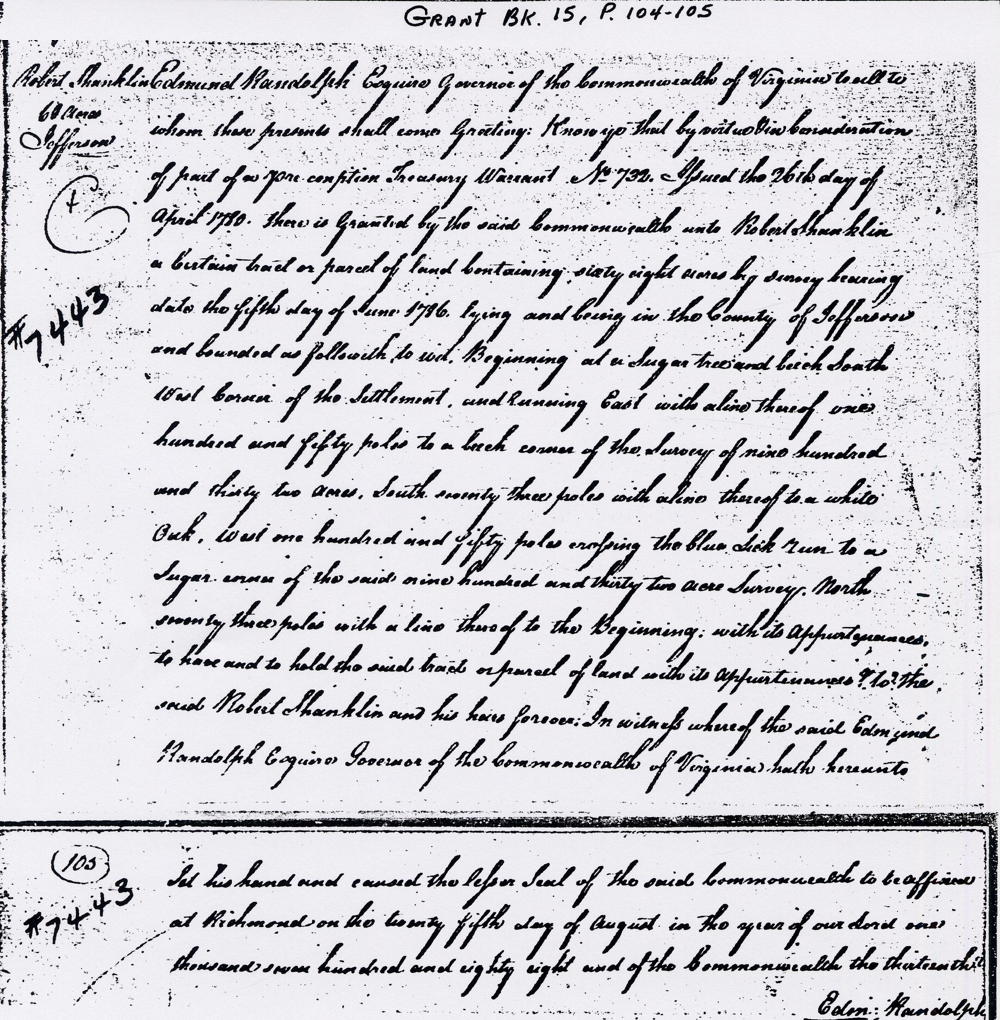 Below, outlined in green, is a very rough estimate of where Shanklin's survey would have been, as shown on a modern Google map. The size and shape of the plot should be about right; the location is largely a guess at this time. Also, outlined in blue is where we think George Clear's combined three surveys might have been located. Again, we are guessing about some of this.
---
If you, the reader, have an interest in any particular part of our county history, and wish to contribute to this effort, use the form on our Contact Us page to send us your comments about this, or any Bullitt County History page. We welcome your comments and suggestions. If you feel that we have misspoken at any point, please feel free to point this out to us.