Edward Williams' 1400 Acres
Edward Williams' plats were surveyed in 1784, prior to the survey of Robert Shanklin, but after that of Thomas Philips to the northwest of him. One of the interesting things about Williams' survey is that the southwest corner of his settlement plat is said to be "standing near Clear's Station."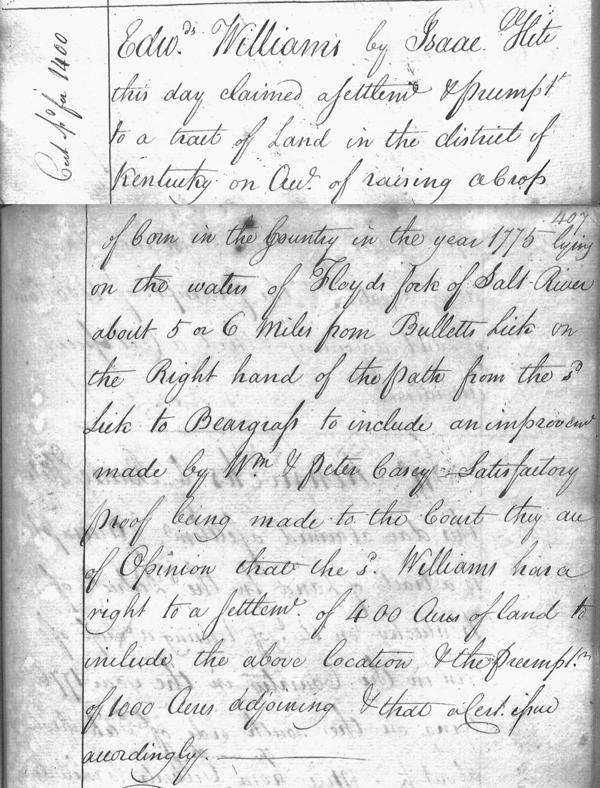 This survey was #5 and #6 on the 1811 plat drawing by James Shanks, Bullitt County Surveyor, which is described on another page. A Google map showing the suspected location of this survey is available on another page here.
As noted in the survey transcription shown below, Williams was granted a 400 acre settlement and permission to add an additional 1000 acres by the Kentucky District Commissioners, as shown here.
"24 Feb 1780. Edward Williams by Isaac Hite this day claimed a settlement and preemption to a tract of land in the district of Kentucky on account of raising a crop of corn in the Country in the year 1775, lying on the waters of Floyd's Fork of Salt River about 5 or 6 miles from Bullitt's Lick on the right hand of the path from the said lick to Beargrass to include an improvement made by William and Peter Casey. Satisfactory proof being made to the court, they are of opinion that the said Williams has a right to a settlement of 400 acres of land to include the above location and the preemption of 1000 acres adjoining, and that a certificate issue accordingly."
On 24 Apr 1794, Williams deeded the southern part of his settlement and preemption to Isaac Hornbeck. Then on 18 Dec 1802, he sold the northern part to George Reed, a resident of Bourbon County, Kentucky. The dashed line on the drawing shows the division.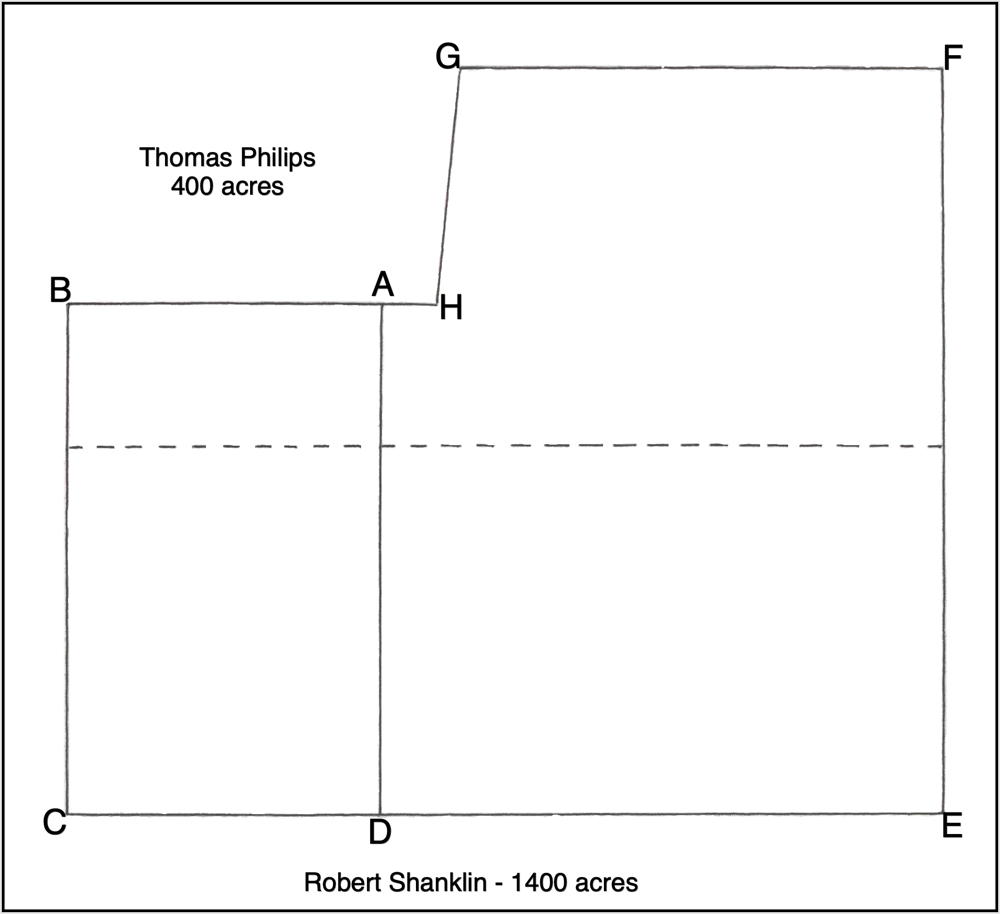 Surveyed for Edward Williams 400 acres of land in Jefferson County by virtue of a certificate for settlement from the Commissioners of Kentucky District, lying on the waters of Floyd's Fork about four or five miles from Bullitt's Lick on the road from said lick to Beargrass, adjoining Thomas Phillips' survey of 400 acres on the south. Beginning at [A] a white oak, elm and ash standing in a line of said survey and running thence West with said line 198 1/2 poles to [B] a white oak, elm and beech, thence South 323 poles to [C] a large poplar and black oak standing near Clear's Station, thence East 198 1/2 poles to [D] a white oak, ash and walnut tree crossing a branch at 155 poles, thence North 323 poles to [A] the beginning.
Also 1000 acres by virtue of a preemption warrant No. 784 adjoining his settlement on the east, Thomas Phillips' 400 acres on the south and east. Beginning at [D] a white oak, ash and walnut tree, southeast corner to his settlement and running thence East 355 poles to [E] two sugar trees and black oak, crossing a branch at 110 poles, thence North 470 poles to [F] a sugar tree, mulberry and elm, thence West 303 1/2 poles to [G] a black oak, elm and white oak standing in the line of Thomas Phillips' 400 acre survey, thence with said line S 6° W 160 poles to [H] three sugar trees and walnut, crossing a branch at 130 poles, thence West 33 1/2 poles with another of his lines to [A] a white oak, elm and ash, northeast corner to his settlement, thence South with a line thereof 324 poles to [D] the beginning. 27th June 1784. Benjamin Patton, surveyor.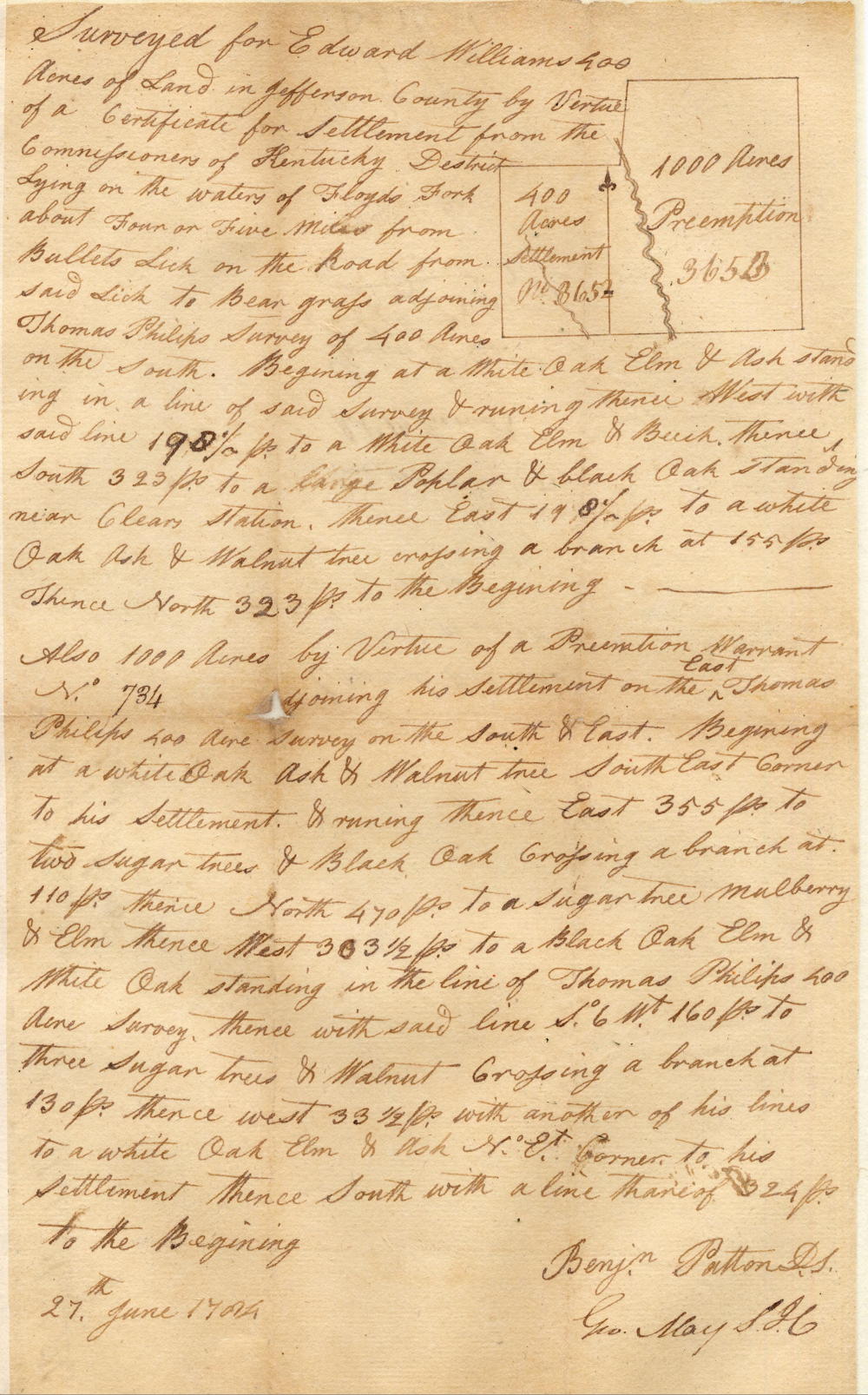 Deeds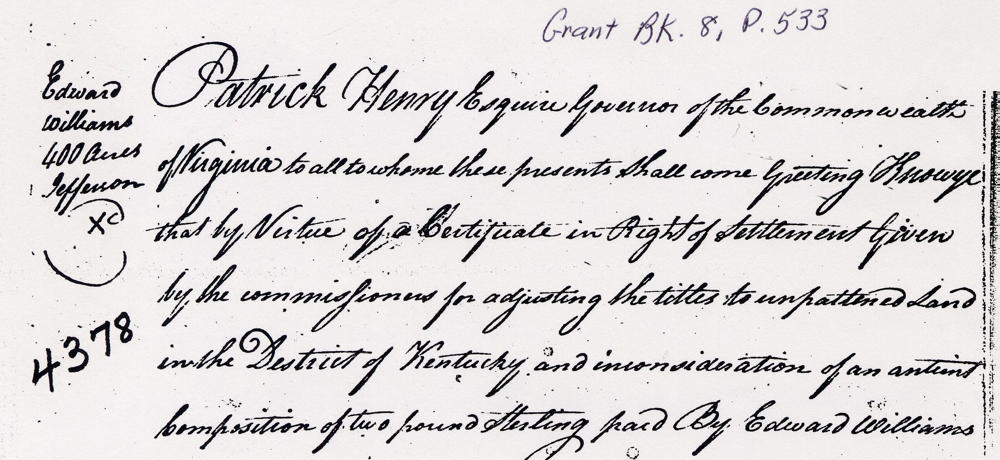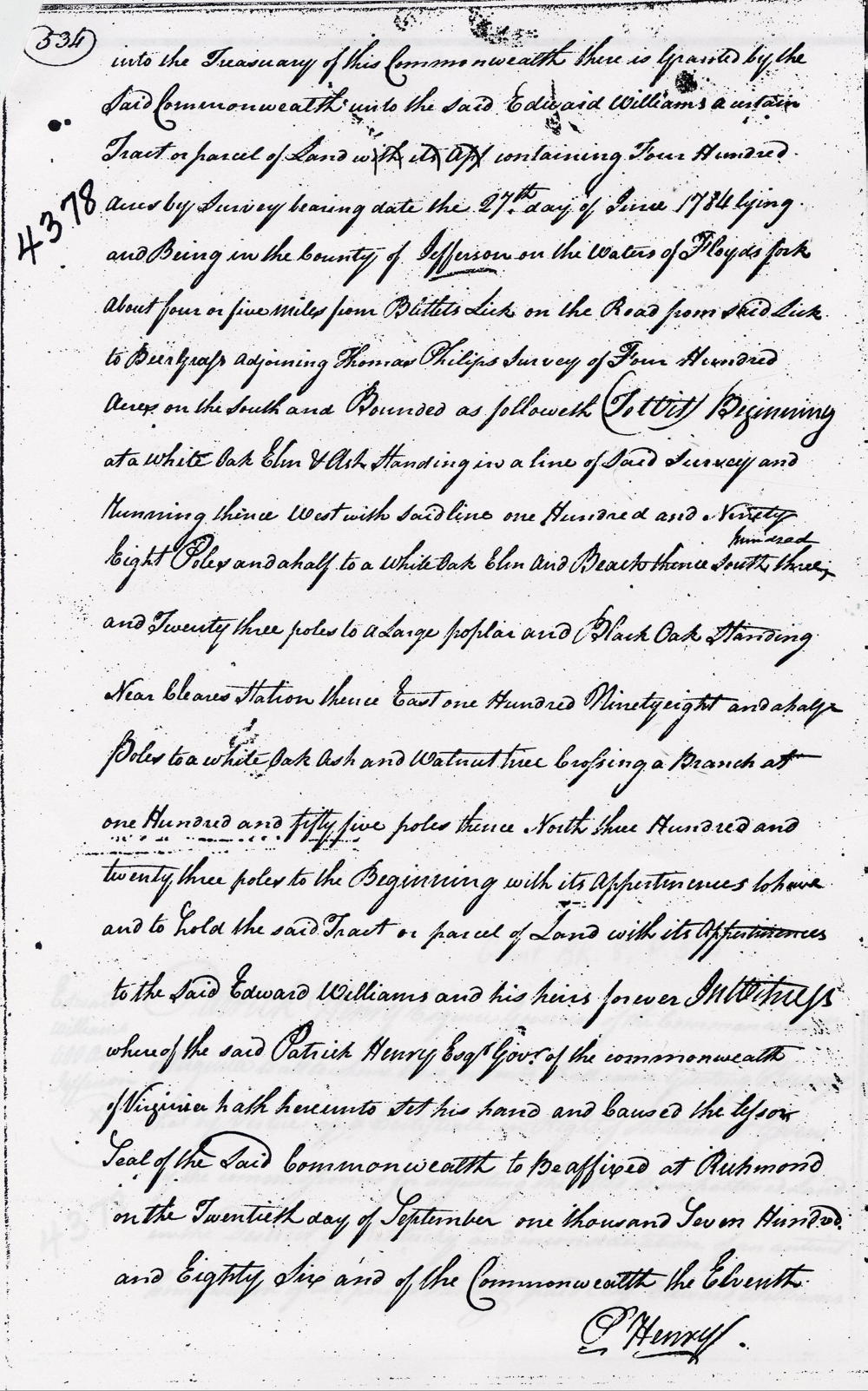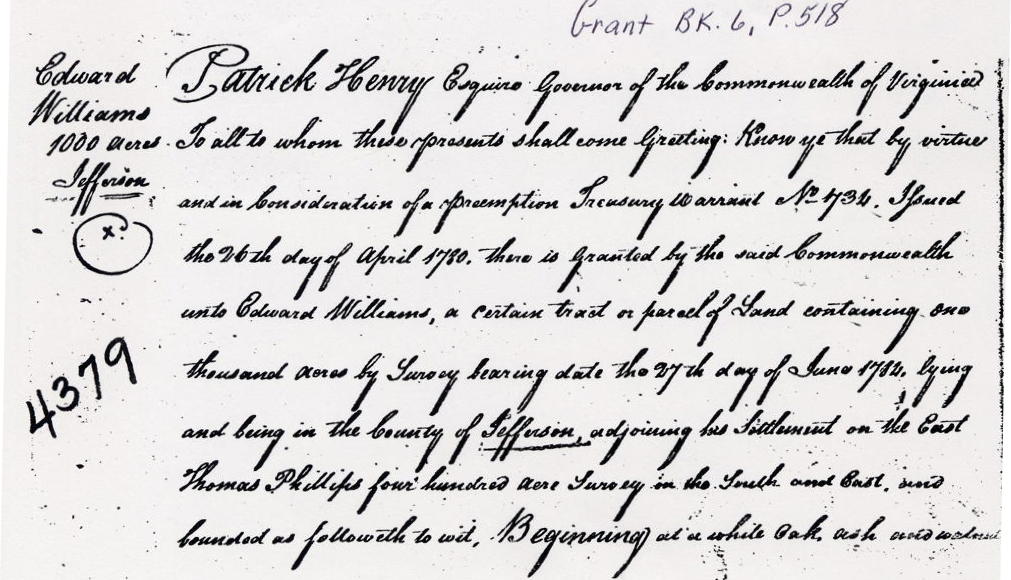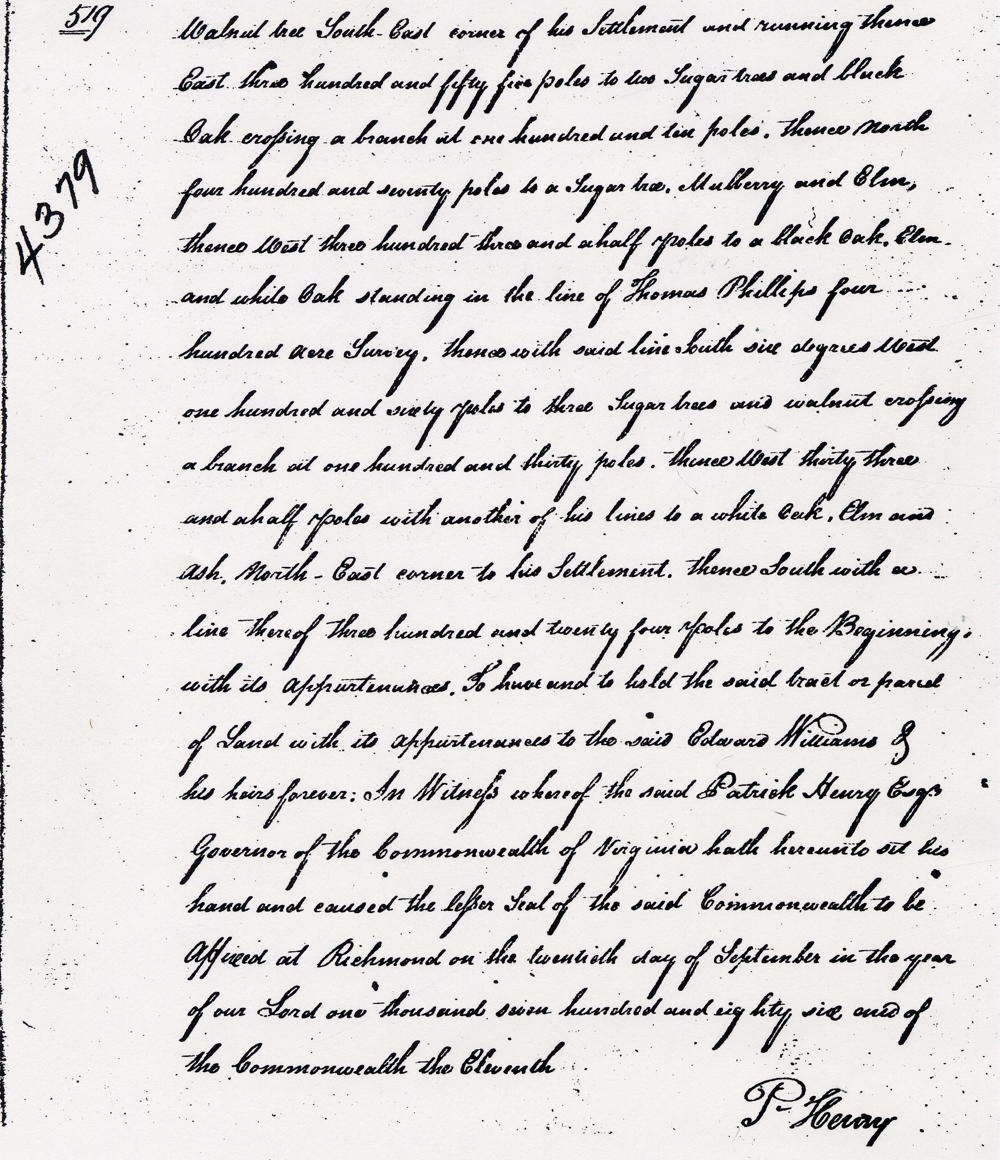 ---
If you, the reader, have an interest in any particular part of our county history, and wish to contribute to this effort, use the form on our Contact Us page to send us your comments about this, or any Bullitt County History page. We welcome your comments and suggestions. If you feel that we have misspoken at any point, please feel free to point this out to us.