John Edwards to Jacob Ambrose
John Edwards purchased William Pope's half-share of the 400 acre tract patented to Pope and Paul Froman. Edwards then sold it to Jacob Ambrose on 29 Oct 1797. This deed is transcribed below followed by an image of the deed. Ambrose gained control of the other half share when he purchased it from Paul Froman the next year. Then, sometime between this time and 1805, Michael Troutman obtained a share of the property, and in that year Ambrose and Troutman sold it to Nathan Miles and William Simmons. For more information regarding this tract, see the plat drawing on another page.
---
Nelson County Deed Book 7, pages 251-2
This indenture made the 29th day of October in the year of our Lord one thousand seven hundred and ninety seven between John Edward Sr. of the County of Bourbon and State of Kentucky of the one part and Jacob Ambrose of the County of Nelson and State aforesaid of the other part. Witnesseth that for and in consideration of the sum of four hundred dollars by the said Ambrose to the said John in hand paid at or before the sealing & delivery of these presents, the receipt whereof the said John doth hereby acknowledge, he the said John hath granted, bargained, sold, aliened enfeoffed & confirmed & by these presents doth grant, bargain, sell, alien, enfeoff and confirm unto the said Jacob Ambrose and his heirs forever one undivided moiety or half part of a certain tract or parcel of land containing in the whole four hundred acres by survey bearing date the twenty fourth day of February 1784 lying and being in the County of Nelson (formerly Jefferson) on the south side of Salt River including Buffalo Run on the bank of Salt River and adjoining Tillins and Edwards' five hundred and sixty acre survey and bounded as followeth, to wit. Beginning at a large hickory, two beeches and a small walnut, thence South twenty three degrees East five hundred and six poles to two white oaks on the east side of a hill, thence South sixty seven degrees West one hundred and thirty poles to a Spanish oak and small elm in a flat, thence North twenty three degrees West four hundred & seventy five poles to a beech & two sugar trees on the bank of Salt River, thence binding on Salt River up the meanders thereof one hundred and forty two poles to the Beginning which said four hundred acres of land (of which the said undivided moiety is hereby meant to be conveyed to the said Jacob Ambrose was first granted to William Pope and Paul Froman by patient bearing date at Richmond on the seventeenth day of November in the year of our Lord one thousand seven hundred and eighty five and signed by Patrick Henry then Governor of Virginia, the one moiety or one half have been conveyed to said John Edward, by said William Pope by deed bearing date the fourth day of September 1793 and recorded in the office of Nelson County. To have and to hold the said undivided moiety or half part of the said four hundred acres of land with its appurtenances and all the estate right title and interest of the said John Edwards therein to the said Jacob Ambrose & his heirs forever to the only proper use behoof and benefit of him the said Jacob Ambrose & his heirs forever and the said John Edwards doth hereby grant for himself & his heirs that he the said John Edwards & his heirs the said undivided moiety or half part of the said four hundred acres of land with its appurtenances to the said Jacob Ambrose and his heirs against him the said John Edwards and his heirs and against all & every person or persons claiming by through from or under them or any of them shall & will warrant and forever defend by these presents. In witness whereof the said John Edwards hath hereunto set his hand and affixed his seal the day and year first above written. (signed) John Edwards. Signed, sealed and delivered in presence of us: Wm W. Whitaker, Benjamin Frye, John Weller Sr.
Bardstown District, to wit.
To all whom it may concern. I Benjamin Grayson, Clerk of the Supreme Court for the district aforesaid do hereby certify and make known that on the third instant W. W. Whitaker, Benjamin Frye, and John Weller Sr., subscribing witnesses to this indenture personally appeared before me at my office and made oath that John Edwards party thereto did in their presence in due form of law acknowledge and deliver the said indenture for the purposes therein expressed, and that I have recorded the same as required by the laws of this state. Given under my hand this 16th day of November 1797. (signed) Ben Grayson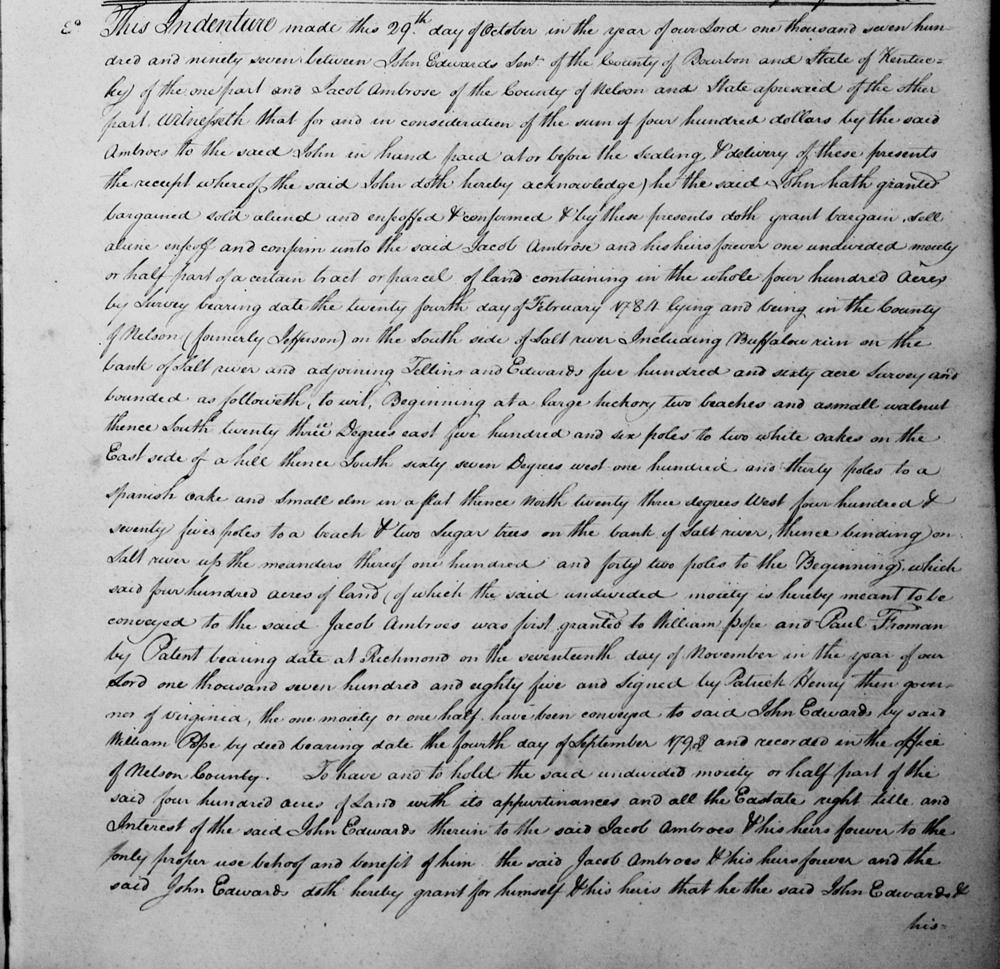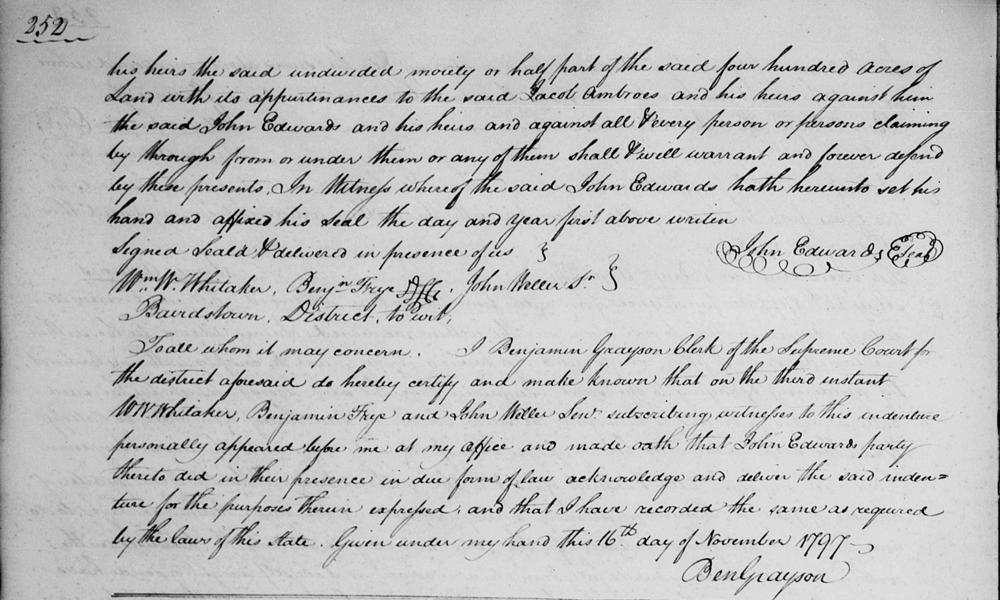 ---
If you, the reader, have an interest in any particular part of our county history, and wish to contribute to this effort, use the form on our Contact Us page to send us your comments about this, or any Bullitt County History page. We welcome your comments and suggestions. If you feel that we have misspoken at any point, please feel free to point this out to us.