Museum Newsletter - 29 Apr 2012
Friends of the Bullitt County History Museum
E-Newsletter
April 29, 2012 (Volume 8, Number 4)
Dear Friends,
Announcements....
>>New Poster/Map For Sale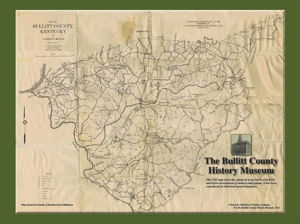 New Poster
The Bullitt County History Museum now has its first suitable-for-framing poster available for sale. This 18 by 24 inch poster is not only attractive for any office, business, or den; the 1925 map is an interesting look at Bullitt County in a time before there was a Fort Knox, before there was a Bardstown Road, Preston Highway, or Highway 245.
Think our roads are bad now? Look closely at these old roads, and you'll see that some of them simply followed the bed of a stream! There was hardly a paved road in the county at the time. But gravel roads and churches and one-room schools and communities such as Pitts Point were.
Pretty darn neat!
Thanks to the Lynn Eddington family for the map, and especially to Bob Cline for pressing the idea, and also to Publishers Printing Company for printing it.
The poster is available at the Bullitt County History Museum research room for only five dollars. If mailed, shipping cost is an additional five dollars.
There is one interesting error in this map. For some reason, the 1925 map maker mis-stated "Mt. Carmel" as "Mt. Cromwell". Most flaws were left in the map to add character.
>>Genealogical Society meeting May 19.
Alison White will present one of her Finding Your Roots Workshop Presentations. This one will focus on publishing your family history.
The meeting is at its usual place, in the meeting room of the Ridgway Memorial Library in Shepherdsville, at 10:00 a.m. Refreshments will be served. These meetings are also great for sharing information and questions with the attendees. It's often amazing what can be learned! Come be with us.
>>Genealogy Day at Public Library April 28.
New to family history research? Having trouble finding that elusive ancestor? Need help organizing your records? The Bullitt County Public Library presents Genealogy Day. Morning session 9 a.m. to noon, with a followup deeper session from 1 p.m. to 4. For more information, or to register for this FREE program, visit the library web site at www.bcplib.org. Or call Allison White at 502-543-7675, ex.5.
>>Mt. Washington Spring Festival May 11-12.
This is a nice festival. If you make it, be sure to look up the Mt. Washington Historical Society booth for prizes, information, and to meet some real nice folks.
>>Civil War Living History July 27-29.
More details will be coming, but mark the date on your calendars. This year's event is to mark the 150th anniversary of three Civil War attacks on the railroad bridge at Shepherdsville. Re-enactor Tony Schlatter and the Second Kentucky Infantry Regiment re-enacting group are leading this event. Food and ice cream will be available. Some fun "civilian" living history events are being developed.
>>1940 Census now available.
The much anticipated 1940 census is now available on Ancestry.com and on our museum computers. Researchers know that censuses are important tools in genealogical work. There is much indexing of the 1940 census yet to be completed for Kentucky, but the raw images are here, and some states are already fully indexed. Volunteer Charles Hartley has also created an index for the town of Shepherdsville and the County Jail; that hard-copy index is at the museum for help doing research there.
Activity...
>>Cemetery Cleaned.
Terri Stewart and her "HIS 261 African-American History 1865-Present" students recently cleaned up an old slave cemetery at Bernheim Forest. Several members of the class also came to our museum research room doing, well, research. The assignment was apparently to learn about the Magruder Slave Cemetery and find the will of Archibald Magruder. The museum was able to provide information and documents.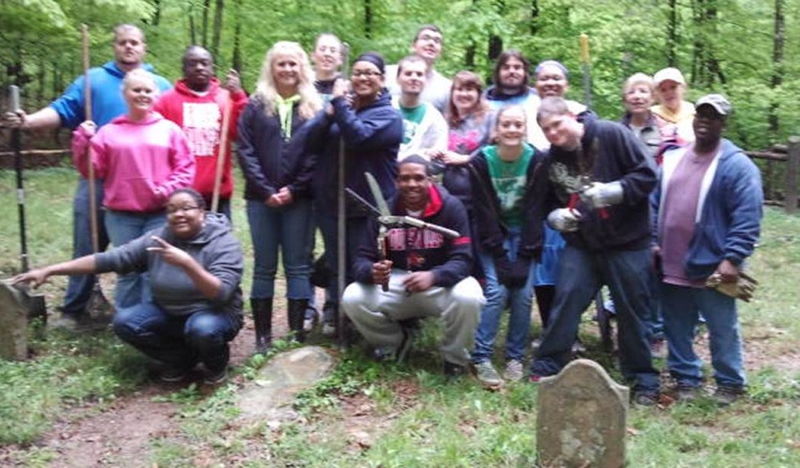 History Class Students Clean Cemetery.
>>CJ "Bullitt County Memories" Articles Continue.
Charles Hartley and I continue our weekly column in the Wednesday Neighborhoods section of The Courier-Journal newspaper. See past articles with added photos and updated text by following this link. The coming week features a "Then & Now" type of story about the grand old trees that once lined the streets of Shepherdsville. Then there will be a couple of articles about the Old Stone Jail and its builder, J. R. Zimmerman.
>>Speaking of "Then & Now" stories:
The youth element of the Mt. Washington Main Street Program has adopted a historic preservation mission as their contribution. Bullitt East High School sophomores Abby Shelton and Shelby Crum, and junior Hannah Miles make up the Youth "Chamber of Preservationists (COPs)" and are working with the Main Street Organization committee and the Mt. Washington Historical Society on a multimedia "then and now" photo essay of Mt. Washington, focusing primarily on the downtown area. After sorting through hundreds of old photos of various vintage, they've narrowed it down to about 30. They plan to present the work in collectible book form and then apply it to a web-viewable, PowerPoint presentation and who knows what else! While earning service learning credit toward graduation, they've been learning a lot more about the history of our community than they thought they ever would and having fun putting this together. Great work ladies! Welcome to our history.
>>Museum in the Public Eye.
The Museum and the Bullitt County Genealogical Society hosted a booth last week at the Elizabethtown Genealogy Book Fair, selling a number of our books and sharing information. Staffing the booth were Daniel Buxton, Sherry and Ed Lee, Beverly Owen, Barbara Bailey, and Lola Fisher. We are planning booths at the Hillview Festival in June and "Bullitt Blast" in Shepherdsville on July 4th. Stop by and visit!
>>Web Site Additions.
Additions to our web site have grown since last time. To see what is new, visit our Latest Additions page.
>>Burlyn Pike Photos Being Scanned to Computer.
Several months ago, three boxes of photographs from Burlyn Pike's collection were given to the museum by his widow. Daniel Buxton has taken on the task of scanning those photo to computer. That's quite a job and will be very helpful for future research work.
Donations...
Lots of books!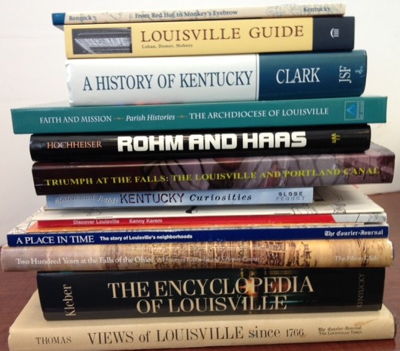 Donated Books
We were very fortunate to receive donations of several items and books this month. Donna Peak very generously gave us this stack of like-new books. Some very nice books, mostly on Louisville history, a couple on the Catholic Church in Kentucky, and several others. Donna also gave us several items that will be of use as accent pieces in future displays. Items such as old tools of her father's, a sock-darning tool, a 1950's flashlight, and even a ten inch floppy disk (remember those?).
Mark Douglas Browning gave us five copies of his fine new hard-bound genealogy book, The Descendants of John Muss & Elizabeth Ceise, Exploring Four Generations, 1824 to Present. Our Volunteers Lynn Eddington, Bob Cline, & Wilma Lemons helped on this book and Mr. Browning expressed his gratitude with a letter and four signed books for us to sell for our benefit (Book cost is $40).
Monita Young donated a binder of information on the Cundiff Family, "Family & Ancestors of James Washington Cundiff 1888-1977".
And 330 photos of Shepherdsville in the 1980's were loaned to us by Donald Crowe to scan to our computers. It's amazing how much the town has changed in just that amount of time and these photos will be a great addition for future historians. We have scanned all the photos, and I am working on adding information text to the photos.
Thank you everyone for your donations to our museum collection.
For Your Information...
>>"Who Do You Think You Are" TV Show. Reba!
Reba McEntire was recently featured on this fascinating genealogy show. Something I like about recent segments like this one is that Reba asks more intelligent questions about HOW the research was done. A genealogist criticism of this show in the past has been that viewers could easily think that all one's genealogy is readily available for the asking. Of course, genealogists know that it can take countless hours of research to achieve what is presented in the show in an hour. Nevertheless, "Who Do You Think You Are" brings a positive and exciting new image the field of genealogy. Videos of the series can be found at this site.
>>More 1937 Flood Info.
Tom Reaugh, Senior Meteorologist at the National Weather Service in Louisville, recently wrote me saying, "I happened to run across the picture of the Bullitt County Courthouse's Flood of '37 marker in the January 30, 2012 edition of the Bullitt County Historical Museum newsletter. May we use that image on our web site? We have a section of our site dedicated to the Great Flood. Would it also be possible to include the newsletter's story with the photo as well?"
Of course, we granted permission and appreciate the recognition of our work. Check out Mr. Reaugh's web page for a great deal of info about the '37 flood.
Finally...
"Peace and the Clock Tower"
I recently wrote a column about a courthouse bell mystery. In that story, I wrote about the clock tower clock, and I mentioned how, when the county added electric megaphones to the chimes, how it caused a stir in the neighborhood.
Long time Bullitt Countian and attorney Tom Givhan wrote to me about that column and added these interesting details:
Tom wrote in part (edited for this newsletter): "I think that former Bullitt County Judge Clarence Dawson provided in his will that the clock in the Courthouse tower be purchased and dedicated to the People of Bullitt County. He left money to maintain it. There was once a bronze plaque on the wall as you enter the front door.
The first day it was installed, it struck on the hour and the half hour. People lived on what was then called Main Street and in "Slab Town" and Salt River. Abbot and Lee Street were in range of the Clock sound. The clock struck about noon continuing the day until dark. All was well. At nine, bedtime, we got the big nine sound, a ding at 9:30, full blasts at 10, 11 and magnificent midnight with dings in between. The dwindle from 1 and 1:30 accelerated into the next morning and mayhem happened when the Courthouse door opened.
It wasn't going to work. Judge Dawson was not here to defend his position, and Arson Moore, County Judge, was summoned from his uneasy slumber in Mt. Washington to account for the disaster of a sleepless or an often interrupted night of sleep in the name of remembrance of Judge Dawson and all of his deeds.
It had worked. Everybody remembered Judge Dawson. Coming from the Courthouse made it Judge Moore's responsibility and fault.
The Fiscal Court met and accepted petitions, ...there was much hand wringing... and finally somebody pulled the plug on the clock (no body local knew how to disconnect the chime.)
I think they used up most of the maintenance money to start the clock without a ringer involved.
Peace returned to the Courthouse for a day and a half, the last time since then." Thanks, Tom, for another one of your colorful remembrances
Thank you for being a Friend of the Bullitt County History Museum.
David Strange
Bullitt County History Museum
Executive Director
Museum Phone: 502-921-0161
E-Mail address: David.Strange@BullittCountyHistory.org