The Courthouse Bell Mystery
The following article by David Strange originally appeared in The Courier-Journal on 18 Apr 2012. It is archived here with additional information for your reading enjoyment.
---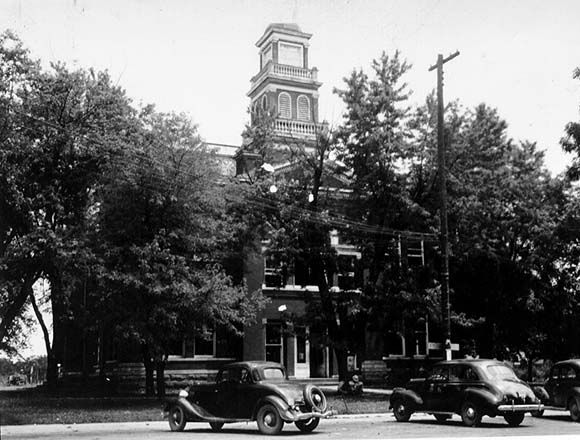 Courthouse in 1941
Pay attention to the old photos of the Bullitt County Courthouse and you will notice that there was no clock in the tower back then. Even though the courthouse was built about 1900, to the best of my knowledge a clock was not installed in the bell tower until the mid 1970's.
But there has always been a bell, and the mystery of the bell is our story for today.
Back in 2004, an intriguing question was forwarded to me by Bullitt Countian Doris Owen. The inquiry was from a man in Nottingham, England, asking about our very own Bullitt County courthouse bell.
"I am researching Philadelphia bell founders and I understand your courthouse has a bell from Philadelphia in 1804."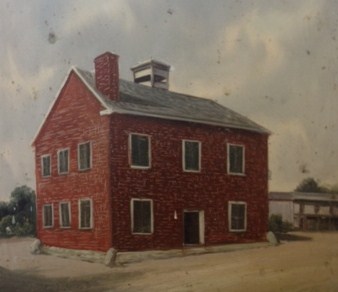 Painting of Original Courthouse
It seems that in our original courthouse that had been built in 1804, the bell for that courthouse had been cast in Philadelphia and might have had some connection to the famous Liberty Bell. If so, our bell would be of particular historical importance, if that bell had been transferred to the "new" courthouse that was built a century later.
So, with that, another of our Bullitt County history adventures began.
But first, a little background.
Construction of Bullitt County's first courthouse was begun in 1803 and completed in July, 1804 by famous resident Henry Crist. It was a relatively small structure by today's standards; a modest twenty-eight by forty-six feet, built in the center of the intersection of what is today Second and Buckman Streets. But it was reported as well built, "with a bell cast in Philadelphia".
Interestingly, almost exactly one hundred years later our familiar courthouse was built, and then another century after that, in 2004, most of that courthouse except for the front bell tower section, was torn down and replaced.
But the bell tower, and the bell within it, remains to this day.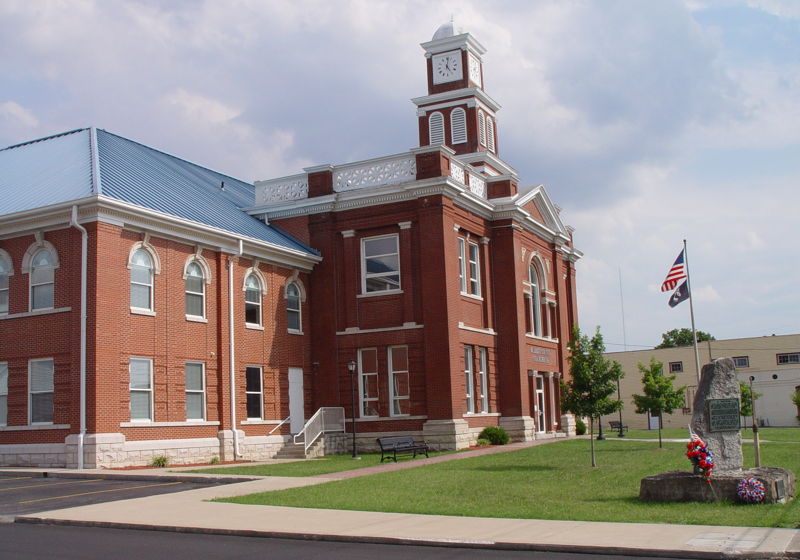 Courthouse Today
And so, in the winter of 2004, it was time for another of our museum adventures. I say "adventure" because the inside of the courthouse tower, especially where the bell hangs, remains in fairly poor structural condition, and is seldom entered because of its narrow and steep attic entryway. But that winter, when the bats, wasps, and pigeons would be gone, up three of us went up the tortuous ladder to see what we could see.
Comments were made about "having bats in our belfry."
As you can see in the photos below of the inside of the tower, a bell is indeed still there, along with the megaphones that had been added many years later as an electronic replacement. The clock is actually up above the bell. I have no idea how the clock installer got up there. All of us wanted to ring the bell, but thought better of it after studying the old wood supporting it, and the rusty condition of the hinges. The last thing we wanted to see was a bell falling down through the ceiling!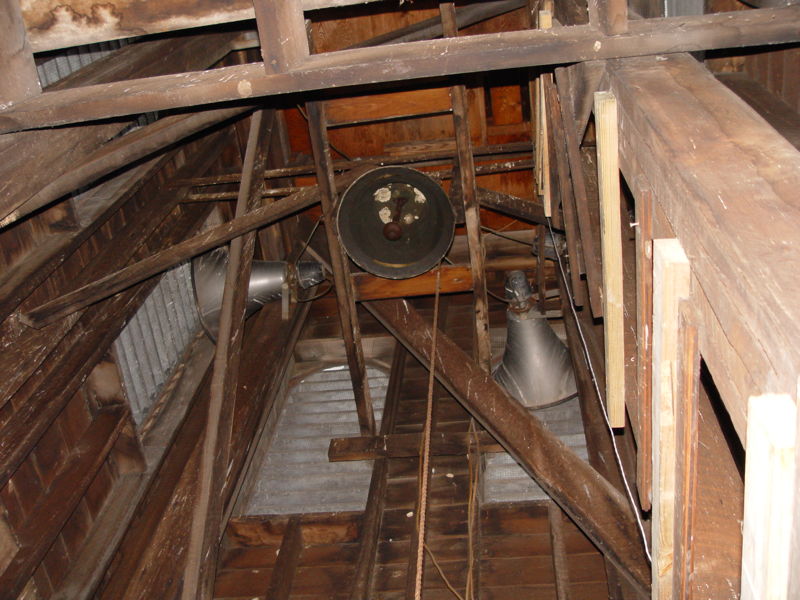 Inside the Bell Tower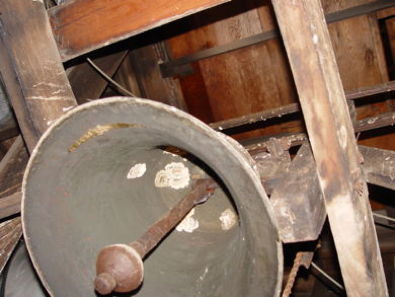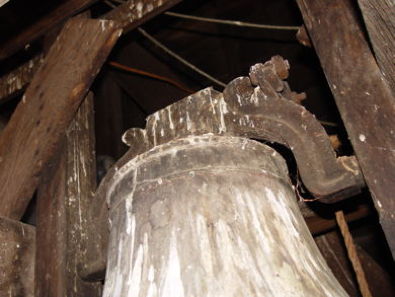 By the way, I am told that those huge horn-shaped speakers that were installed in the 1970's created quite stir at the time. People in the neighborhood complained so loudly about the loudness, that the chimes were turned off and seldom heard from again.
But the old bell itself turned out to be something of a disappointment. First, it is not very large; only about twenty inches in diameter. And second, the ring markings on the bell indicated that it was probably cast in 1900, not 1804 as was hoped. This bell was probably bought new when the 1900 courthouse was built.
So a mystery remains. Whatever happened to the original 1804 Philadelphia bell? Maybe it is still hanging somewhere in Bullitt County. Maybe it has long since been sold as scrap or sets in someone's yard. But if it still exists, someone might indeed have a small historical treasure in their hands. I know I would certainly love to have it at the museum!
One funny story on the current courthouse bell: When we opened the museum in 2004 in the courthouse, I started getting stories from older men saying something like, "You know they used to hang people to death over this staircase."
When I expressed doubt about that, the men would always be quite insistent that it was true.
Well, it's not true. But here is what was going on: Years ago, "court day" was quite an event in our rural county, and fathers would often bring their sons to "see all the goings on". I remember the old bell being rung from time to time myself. The bell-ringing rope hung from the ceiling, out past the stair rail that still exists today on the second floor (the rope has now long been curled up inside the ceiling, out of sight). That rope had sort of a "hanging-noose" handle on the end of it, the better to grab hold of it. Turns out that a lot of Dads told a lot of sons, "Son, you see that rope? If you don't behave they'll hang you right there."
Ah Dads. Don't you just love 'em?
---
Copyright 2012 by David Strange, Shepherdsville KY. All rights are reserved. No part of the content of this page may be included in any format in any place without the written permission of the copyright holder.
---