The Legacy of Dr. Emmet Field Horine
The following article by Charles Hartley was published on 19 July 2015. It is archived here for your reading enjoyment.
---
Dr. Emmet Field Horine and his wife Helen left us a legacy that many can enjoy, especially those who enjoy a good walk in the woods.
Emmet Horine was born in Bullitt County in 1885 to Dr. George and Elizabeth (Barrall) Horine. His mother's parents were Silas Field and Maria (Samuels) Barrall. Silas was a son of Christian and Elizabeth (Harshfield) Barrall whose family I wrote about recently.
The Horines had a long history in Bullitt County, starting with Emmet's great-great grandparents Jacob and Barbara (Schwartz) Horine who owned land here as early as 1784. Jacob was born in Germany about 1750, and emigrated to America as a young man. He located in western Pennsylvania where he served in the militia against the Indians. During the Revolution, he served in the Continental line.
He and his wife moved to Mercer County before coming to Bullitt County where they established their home about one and a half miles from the Jefferson county line.
Their line continued with their son George who married Margaret Kennedy in 1817. Captain George Horine, as he was later known, was born in 1890 while the family was still in western Pennsylvania. His military title came from his service as a captain in the Thirty-second Regiment, First Brigade of the Kentucky Militia called out by Governor Metcalfe in 1829 to support General Gaines along the Louisiana-Texas border.
George and Margaret had a son they named Jacob for his grandfather. This Jacob married Emily Ann Foster in 1855, and two years later Emmet's father was born.
Dr. George Horine graduated from the Kentucky School of Medicine, in 1879, and secured first honors of his class. After graduation he began his practice in Bullitt county, and eventually he turned his attention to the treatment of the diseases of the eye, ear, nose and throat. He continued in Bullitt County until 1892 when he moved his family to Americus, Georgia. However, his own health suffered, and he suffered a stroke and died a month later in December 1903.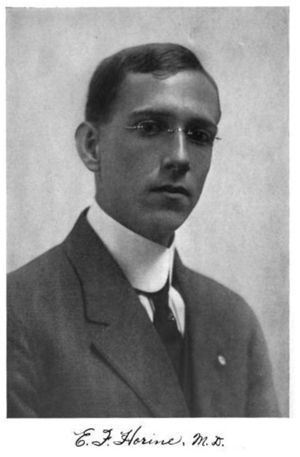 Elizabeth brought her children, Emmet and his sister Nina, back to Louisville to live. Here Emmet entered the Kentucky School of Medicine and graduated in 1907. In his junior year he received a gold medal for the highest average in scholarship. In his senior year he was appointed as an intern at St. Anthony's Hospital, in Louisville, for fifteen months. Here he gained valuable clinical experience.
During World War I he served as an Army major in Europe. Then he located his practice in Louisville for several years before determining to specialize in cardiology. He travelled to England following the war, and studied there with two famous cardiologists, Sir. James MacKenzie and Sir. Thomas Lewis. Upon his return to Louisville in 1920, he befriended Morris M. Weiss, Sr., and later they went into practice as cardiovascular specialists at a time before it was a recognized subspecialty.
Emmet had married Helen Ruthenburg in 1914. She was a graduate of DePauw University in Greencastle, Indiana, and a school teacher when they met. Over the next nine years, their family increased to include four children, including a son, Emmet Jr., and three daughters, Helen Ruth, Elizabeth, and Dorothy.
These four would make their own marks in the years to come. Among other things, Emmet Jr. was public information director of the World Health Organization in the late 1950's, and was at the U.S. Consulate in Frankfurt, Germany late in life; Ruth married Dr. Carleton Burke Chapman, a distinguished cardiologist; Elizabeth, better known as "Libby," married John D. "Jack" Armstrong who served in numerous capacities with the boy scouts including as a member of the national staff; and Dorothy married Herbert E. Arntson, a writer and professor of Washington State University. She had been a college English teacher, and published a textbook on writing. All in all, they were children to make a parent proud.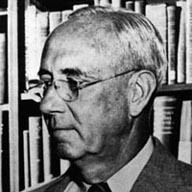 Dr. E. F. Horine, later in life.
Meanwhile, in the 1920's, Emmet and Helen began to acquire property that had once belonged to his pioneer ancestors and relatives; and in 1946 the family moved to their new High Acres Farm on Holsclaw Hill amid the knobs of northern Bullitt County where they had built a new house and started a tree farm. Over the years they accumulated more than 1200 acres.
Dr. Horine was an avid bibliophile and collected over 20,000 books during his lifetime. He also published over 150 medical and historical articles and books. He donated a collection of 670 rare medical books and historical documents to the Transylvania University in 1963. Earlier He compiled a biographical sketch and guide to the published works of Charles Caldwell, a controversial professor in Transylvania's early Medical Department. And in 1961 he published the definitive biography of Daniel Drake, who founded the University of Cincinnati Medical School. Before his death he donated much of his collection to various libraries and universities.
In 1961, Emmet and Helen made a trust agreement with the local boy scout council in which their lands became available for "the perpetual preservation of its natural resources; for a perpetual natural refuge for birds and animals; for the protection of the timber presently on said lands and the further planting and cultivation, in good forestry-like manner, of other and additional trees and the proper harvesting of ripe timber therefrom; for the promotion of the ability of boys to be useful citizens, to train them in Scoutcraft and to teach them patriotism, courage, tolerance (both locally and worldwide), self-reliance and kindred virtues."
When the boy scouts elected to open the Harry S. Frazier Jr. Scout Reservation (known to many for its Camp Crooked Creek summer program) in Clermont, Bullitt County in 1989, Emmet's descendants generously donated their property to become part of the Jefferson Memorial Forest in an effort to forever ensure the preservation of the land the Horines so loved.
Dr. Emmet Field Horine passed away in 1964 and his wife Helen in 1965. They are buried in the family cemetery along one of the back ridges not far from their old home which is now the Horine Conference Center. For the adventurous, numerous trails criss-cross the land, inviting you to share what Emmet and Helen enjoyed so much.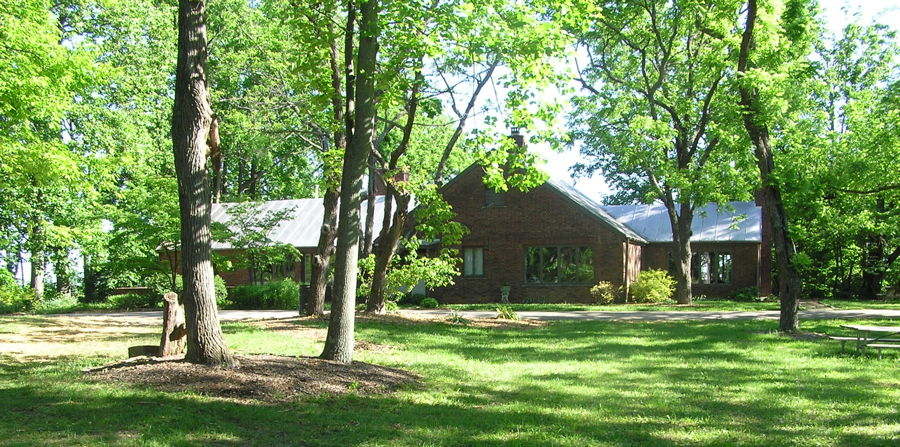 Horine Conference Center
---
Much of the information about the Horine family came from A History of Kentucky and Kentuckians - The Leaders and Representative Men in Commerce, Industry and Modern Activities by E. Polk Johnson, and can be found here. Also, information on Jacob Horine's original 500 acre survey is located on this page.
---
Copyright 2015 by Charles Hartley, Shepherdsville KY. All rights are reserved. No part of the content of this page may be included in any format in any place without the written permission of the copyright holder.
---