Emmet F. Horine, M.D.
In 1912, E. Polk Johnson published A History of Kentucky and Kentuckians - The Leaders and Representative Men in Commerce, Industry and Modern Activities. In Volume III, on pages 1203-4, he provided a biographical sketch of Dr. Emmet F. Horine, and his ancestors. That sketch is transcribed below.
---
As one of the representative physicians and surgeons of the younger generation in the city of Louisville, Dr. Horine is especially entitled to recognition in this publication, while further interest attaches to his career from the fact that he is a native son of Kentucky.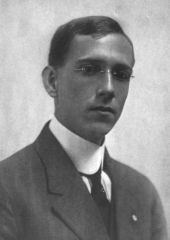 Dr. Emmet Field Horine was born in Brooks, Bullitt county, Kentucky, on the 3rd of August, 1885, and is a son of Dr. George and Elizabeth B. (Barrall) Horine. Dr. George Horine was born in Bullitt county on the 10th of April, 1857, and was a son of Jacob Horine, who was likewise a native of the same county, where he was born on the 27th of February, 1824, and where his death occurred on the 10th of December, 1876. Jacob Horine married Emily Ann Foster, who was born in Bullitt county on the 9th of April, 1835, and who died December 7th, 1865. Jacob Horine was a son of Captain George Horine, who was born in a German settlement in western Pennsylvania, on the 25th of April, 1790, and whose death occurred January 30, 1877. He married Margaret Kennedy and became one of the influential and honored citizens of Bullitt county, Kentucky, where he owned a valuable landed estate on Knob Creek. On the 27th of January, 1829. Governor Thomas Metcalfe commissioned him a captain in the Thirty-second Regiment, First Brigade of the Kentucky Militia, and this commission is treasured as a valuable heirloom by Dr. Emmet F. Horine, whose name introduces this review. Captain Horine was requested to recruit men in Bullitt county and with them to assist in the defense of General Gaines, who was then operating on the Sabine river in Louisiana. Captain Horine was a son of Jacob Horine, who was born in one of the Rhenish provinces of Germany, about 1750. This worthy ancestor emigrated to America about 1770 and located in the western part of Pennsylvania. He became a member of the Pennsylvania militia and assisted in subduing the Indians at the time of the memorable Wyoming massacre. In the war of the Revolution he was found enrolled as a valiant soldier in the Continental line. He married Barbara Schwartz, in 1780, and in 1795 they removed to Mercer county, Kentucky, where they remained until 1798, when they established their home in Bullitt county, about one and a half miles distant from the Jefferson county line. There Jacob Horine secured several hundred acres of land and reclaimed a valuable farm, thus being the founder of the family in Kentucky. Jacob Horine was a son of Frederick Horine, who was born in Germany, in 1715, and who served as a soldier in the German army, in the reign of Frederick the Great.
Elizabeth B. (Barrall) Horine, mother of Dr. Horine, was born in Bullitt county, Kentucky, and is a daughter of Silas F. Barrall, who was likewise a native of that county and who died in January, 1910, at the age of seventy-six years. The lineage of the Barrall family is traced back to staunch French lineage, and Christian Barrall, grandfather of Mrs. Elizabeth B. Horine, was a native of France, whence he came to America as a young man, becoming one of the early settlers of Louisville, Kentucky.
Dr. George Horine was graduated in the Kentucky School of Medicine, in 1879, and secured first honors of his class, being awarded a medal for the highest class averages in surgery and materia medica. After his graduation he began the practice of his profession at Brooks, Bullitt county, and eventually he turned his attention more particularly to the treatment of the diseases of the eye, ear, nose and throat, in connection with which he completed a thorough post-graduate course. He continued in practice in his native county until 1892, when he removed to Americus, Georgia, where he was engaged in the work of his profession along the special lines noted until his death, which occurred on the 8th of December, 1903. He was survived by his wife, one son and one daughter, and after his death they returned to Kentucky and established their home in Louisville.
Dr. Emmet F. Horine was about seven years of age at the time of the family removal to Americus, Georgia, to whose public schools he is indebted for his early educational training. Thereafter he entered Emory College, at Oxford, Georgia, where he was a student in 1902-3, but he withdrew from this institution while an undergraduate by reason of the death of his father. After the removal of the family to Louisville, where his mother still maintains her home, he entered the Kentucky School of Medicine, in which he was graduated as a member of the class of 1907, and from which he received his well earned degree of Doctor of Medicine. In his junior year he received a gold medal for the highest average in scholarship, and in reward for having achieved the highest average in his senior year he was appointed to the position of interne in St. Anthony's Hospital, in Louisville, where he retained this incumbency for fifteen months and where he gained most valuable clinical experience. At the expiration of the period noted the Doctor engaged in the general practice of his profession in Louisville, and here he is proving very successful in the vocation that was likewise dignified and honored by the services of his father. He is a close and appreciative student, and in the medical department of the University of Louisville he is assistant to the chairs of surgery, abdominal surgery and gynecology. He is a member of the Jefferson County Medical Society, the Kentucky State Medical Society and the American Medical Association and is a close observer of the ethics of his profession, so that he has gained the unqualified confidence and esteem of his confreres, both of his own and the younger generations.
---
If you, the reader, have an interest in any particular part of our county history, and wish to contribute to this effort, use the form on our Contact Us page to send us your comments about this, or any Bullitt County History page. We welcome your comments and suggestions. If you feel that we have misspoken at any point, please feel free to point this out to us.