The Barralls of Knob Creek
The following article by Charles Hartley was published on 5 July 2015. It is archived here for your reading enjoyment.
---
For more than a century the Barrall name was prominent in Bullitt County. It began when Christian Barrall married Elizabeth, a daughter of Martin Harshfield, and settled next to the Harshfields along Knob Creek.
Some later descendants claimed that Christian Barrall was born in France, but according to at least one source, he grew up in Lancaster County, Pennsylvania; his parents being the immigrants from France. As a young man he served three years in the army under General St. Clair, and participated in a number of skirmishes with the Indians. Leaving the army, likely at Fort Washington in what is today Cincinnati, he made his way downriver to Louisville where he married Teresa Whitehead in 1796. Christian was about 24 when they married.
Census records indicate that they lived in Louisville until at least 1820, but there is no indication that they had any children. Teresa apparently died for Christian is said to have married Elizabeth Harshfield in 1824. He was about 52 at the time; she was 18.
Over the next 20 years Elizabeth gave birth to ten children in their Knob Creek home. Their first, Mary married Joseph Pauley in 1839, and the couple had 14 children: Elizabeth (married William Ryan), Mary Ann (married Thomas Jackson Quick), Dianna (married Lewis Moore), John, Christian, Fayette (married Joseph William Augustus), Ruah, Josetta, Edna (married John W. Watson), Singleton, Henry, William, Charles, and Gertrude (married William Rowland). The Pauleys lived close by the Barralls in that green valley between the knobs.
The next four Barrall children were all sons: Christian Harshfield, General Jackson, John M., and Silas Field Barrall. General Jackson Barrall's life was cut short when he died in 1854, possibly of typhoid fever.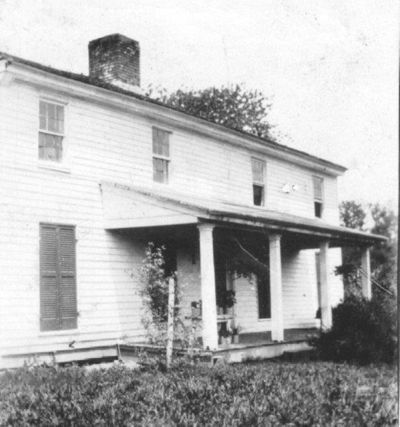 Barrall Home
Next was Barbara Ellen Barrall who married Franklin Samuels in 1856, and delivered him six children: Jeanetta (married William T. Foster), Corda (married Alexander Samuels), Molise, Joseph, Robert, and James. Barbara Ellen was a remarkable lady who lacked only 16 days of reaching the age of 101.
Elizabeth Barrall's next two sons both died young. Marion Barrall was but 13 when a case of flux cut short his life in 1853; and Martin V. Barrall was 17 when he died in 1855 of typhoid fever.
The next Barrall child was a daughter named Amanda. She married Nelson Vaughn in 1858, and they had two sons (John and Burk) before both she and Nelson died. I'm not sure when they died, but they were gone by September 1862 when both of the boys were made wards of their Uncle John Barrall.
Christian and Elizabeth's final child, Joseph Alden Barrall was born in 1844 when his mother was approaching her 39th birthday. Surprisingly enough, although Christian Barrall was now in his early seventies, it was Elizabeth who died first, passing in August 1858. Christian Barrall would live another five years before dying in 1863.
Their four remaining sons lived their lives along the waters of Knob Creek and amongst the knobs that surrounded it. Together and individually they farmed the bottom land, tended orchards along the hillsides, and harvested lumber for their sawmills.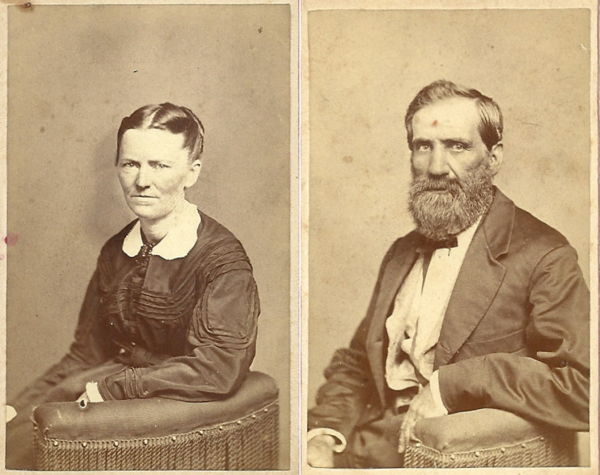 Ravia Jane and Christian Harshfield Barrall
In 1932, J. R. Zimmerman wrote, "There is not a prettier place on earth than the Knob Creek Valley. The creek itself is usually clear and blue as indigo, as it mirrors the arching skies, and the symmetrical hills which push their rock embattled summits skyward, are as blue as the waters of the murmuring creek which fights its way westward over thousands of stones great and small. When June spreads her green banners over the valley, and hundreds of thousands of beautiful fragrant flowers bloom on the fertile hillsides and in the valley, and a grand chorus of vocal music is sent heavenward by the brilliantly colored songsters from hedge and forest, it really seems more like heaven than Knob Creek." There is no wonder that the Barralls loved their valley.
The eldest, Christian Harshfield Barrall married Ravia Jane Martin in 1848, and they had five children: Francis Marion, Lewis Martin, Thomas J., Joseph A., and Mary E. Barrall, the last two who died young. Ravia Jane died in 1876, and Christian then married Mary Ellen (Magruder) Samuels a year later. Mary Ellen was the widow of Charles R. Samuels, clerk of the Bullitt county court, and brought with her two daughters and a son by him. Within a month her daughter Josie was married to Christian's son Francis Marion; and a bit more than a year later her daughter Kate was married to Lewis Martin Barrall. Francis Marion died in 1885, leaving Josie a widow with two small sons. She lived with her father-in-law for a time before marrying his other son, Thomas.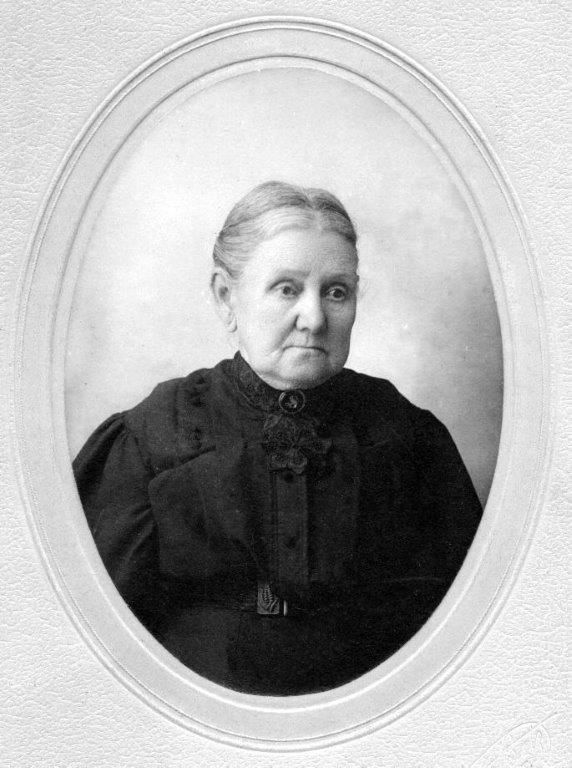 Mary Ellen (Magruder/Samuels) Barrall
Christian H. Barrall was elected Assessor of Bullitt County for several terms. At one time his farm boasted large peach orchards. He was described as a man who "believed it was all right to take a dram if you wanted it, attended to his own business, and was liked by everyone, as a rule." His heart gave out in 1904, leaving Mary Ellen a widow for the second time. She lived more than twenty years longer, before passing in 1925.
John M. Barrall married Mildred Miller in 1856, and they had three daughters; but only one, Martha Elizabeth survived to adulthood. She married Henry Able. J. M. Barrall was described as "quiet and unassuming in his manners, generous and magnanimous in every way." Another described him as "a thrifty and enterprising farmer, and a good citizen." When his nephews became orphans, he took them in and raised them as his own; and he was truly missed when passing in 1918, just a bit more than a month after Mildred died.
Silas Field Barrall married Maria Samuels in 1855, and they had ten children: eight girls and two boys. During the Civil War he served in the 28th Kentucky (Union) Volunteer Regiment for four years. After the war he tended his fruit orchards, producing fine fruit for the Louisville market. He also operated a sawmill for a time. As a magistrate for the Shepherdsville district, he was instrumental in having the road bridge over Salt River erected.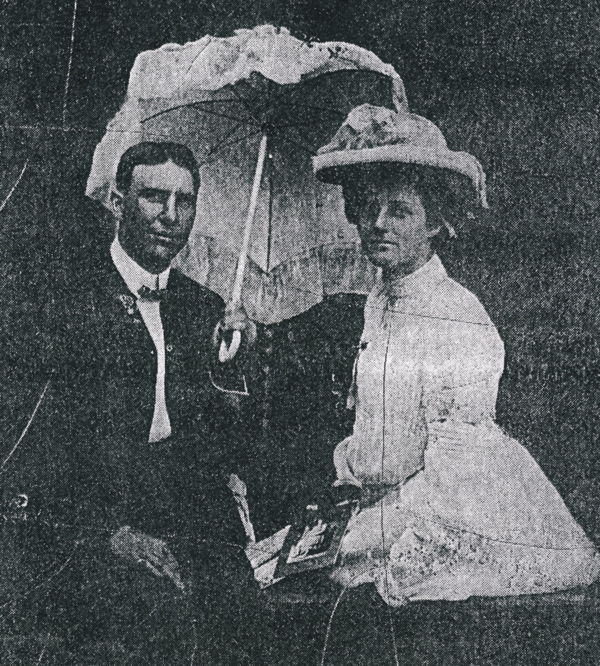 James W. and Myrtle Barrall
His son, James Wise Barrall married Myrtle Greenwell, and they had two daughters: Beulah and Anna. James was the editor of The Pioneer News for years, and his daughter Anna Barrall Hawkins followed in his footsteps.
Zimmerman, who had a way with words, once wrote, "Out on the symmetrical, tree clad hills, just above Brooks, Ky., where the beautiful blue peaks almost claim companionship with the lower strata of clouds which float lazily over, and where in olden days the proud, antlered monarch of the wooded wastes gazed down upon the lowlands, surrounded by peach and apple orchards, and known to all the country round, the hospitable home of Silas F. Barrall, stood, serving with unstinted hospitality every one who became a guest there, and inviting all who would, to seek the restful shades of its lordly trees in summer, and the comfort of its warm halls in the colder seasons."
He continued, "About once every year, Mr. and Mrs. Barrall gave a dance and dinner. They became famous in Bullitt and Jefferson, and many came from Louisville. The dining room was of proportions which few small hotels can boast of. The table was in proportion to the room, and it was a conceded fact that it had on it, everything which was pleasing to the palate of man."
He sadly later wrote that fire had consumed that fine house, leaving only memories.
Silas and Maria were together nearly 55 years. They both passed in their great house with family surrounding them. He died in 1910; she followed four years later.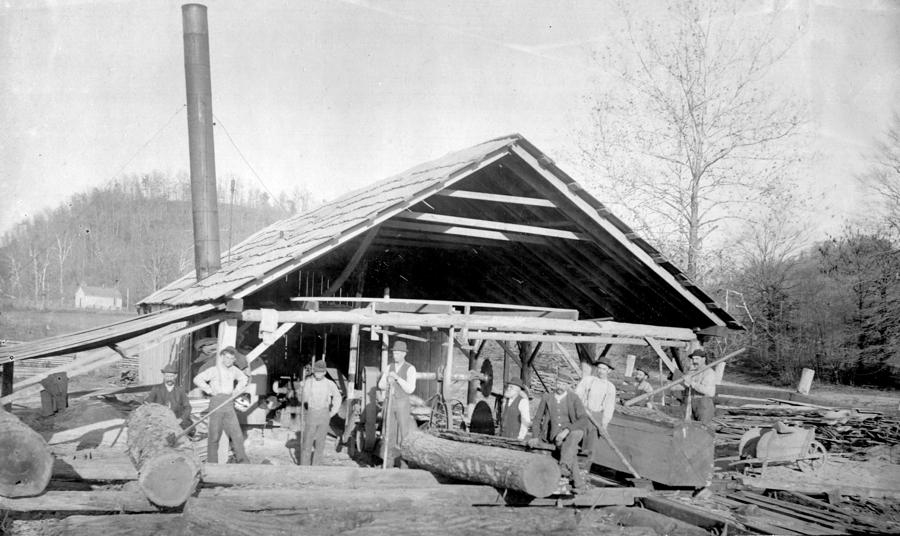 Barrall Sawmill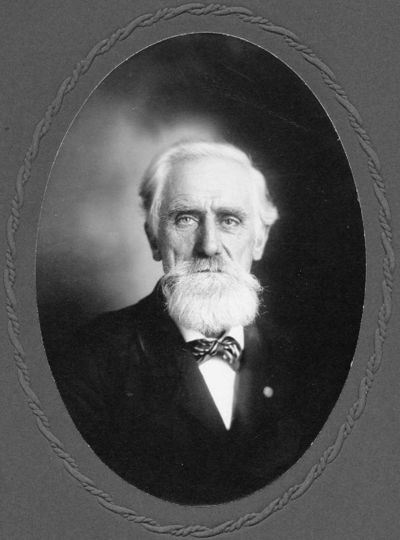 Joseph Alden Barrall
The last of the sons of the elder Christian Barrall, Joseph Alden Barrall, was described as "big of frame, clear of brain and strong hearted and very courageous." He was a farmer and sawmill operator "with large numbers of men on his pay roll." Zimmerman, who later married into the Barrall family, described Alden as "a man of affairs and a money maker, and always ready to assist those who needed assistance."
As soon as his service in the Union army was concluded, Alden returned home and married Elmira Martin. They were the parents of six children, four of whom survived them. They were Edith who married Squire Brooks, Ollie who married Rev. Wiley Alford and moved to Mississippi, J. M. who married Evelyn Ramsey, and Claude who married Thyrza Ann Samuels.
Alden and Elmira were the last of their generation. He lived until 1932, she died in 1939.
The Barrall name continued in Bullitt County for a time, before the various branches scattered as far away as California. But there are still folks along the waters of Knob Creek who can tell you good stories about the Barrall family, and people like Ed Barrall II and Christie Barrall Hora who hold these memories dear.
---
Notes: In 1871, Christian Barrall's land was divided up among his remaining children or their heirs. The court document for this division is transcribed on another page. In 1910, The Pioneer News published Silas F. Barrall's obituary. It is transcribed on this page. And in 1925 the paper published Mary Ellen Magruder Barrall's obituary which you may read on this page.
---
Copyright 2015 by Charles Hartley, Shepherdsville KY. All rights are reserved. No part of the content of this page may be included in any format in any place without the written permission of the copyright holder.
---