H. H. C. Q. James wrote this campaign song for "Uncle Vard" Crenshaw in 1894. James was an accomplished violinist. We wrote about him earlier, and you can find our article on this page. To read our article about J. V. Crenshaw, visit this page.
If your browser supports the latest audio code, an audio player will appear below. To begin the song, select the arrow pointer to begin. The music will repeat for each stanza and chorus after a brief pause to allow you to return to the top of the page. You may stop it by clicking on the same spot again.

Sound file compliments of Phil Bright, Louisville Recording Co
Our Representative
J. V. Crenshaw
1894.
By H. H. C. Q. James
(May be sung as a Solo and Chorus)
O hand me down my violin, And let us sing and play for him;
For Uncle Vard's a man of fame, and he deserves the highest name.
Friend Vard opposed the courthouse scheme, With arguments sound and serene;
All their reply against his rule, His style is old, he rides a mule.
Some people think it's very strange, And say all such are near deranged;
But Vard had better ride a mule, Than act a fancy dandy dude.
The Spencer County boys were shrewd In voting for our Uncle Vard;
The boys in Bullitt voted right, To give him such a chance to ride.
He rode his mule in Shepherdsville, Friends trimm'd it in blue ribbon frill;
This was the proper thing to do, For farmer Vard had been so true.
The dudes made fun of Uncle Vard, In the days when their hearts were hard;
We need a man they cannot buy, No matter how hard they try.
And such a man is farmer Vard, In whom we trust and will reward;
And this is why we have a mind, To send him back a second time.
CHORUS:
Hurrah! Hurrah for Uncle Vard, O, let ev'ry body sing;
He would not sell to the dandy dudes, and we'll send him back again.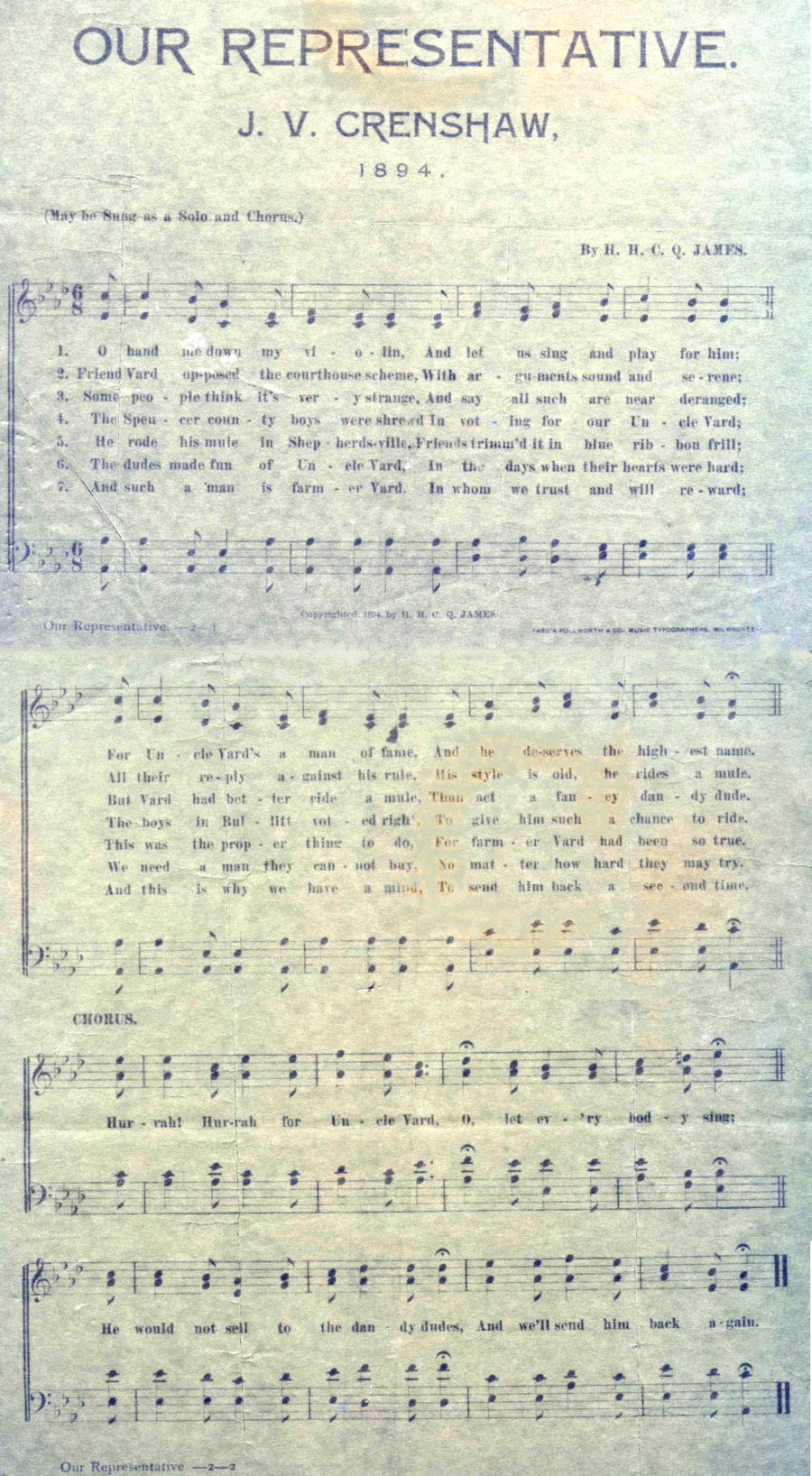 Copyright 2015 by David Strange, Shepherdsville KY. All rights are reserved. No part of the content of this page may be included in any format in any place without the written permission of the copyright holder.