The Legacy of Hardin Harrison Columbus Quincy James
The following article by Charles Hartley originally appeared in The Courier-Journal on 19 Oct 2014. It is archived here with additional information for your reading enjoyment.
---
Horace Walpole coined the word "serendipity" in the the 1700's to describe a "fortunate happenstance" or "pleasant surprise." It certainly applies to Don and Margie Jones' good fortune when they learned, after they had already purchased their house, that it had belonged to her great-great-great uncle, Hardin James.
Hardin, whose full name was Hardin Harrison Columbus Quincy James, was an accomplished amateur musician in his day. An article written in the Salt River Tiger newspaper in 1905 described him as "an expert performer on the violin." He was also a craftsman, for the article described a violin he had just finished making, using fine red cedar for the top and maple for the back and ribs.
Hardin James was born in 1840 to Richard and Mary (Brashear) James, the last of their eight children. It appears that he inherited his folks' home, and lived there most of his life.
Among other things, Hardin was a successful beekeeper. In a letter he wrote to a beekeeper's magazine in 1878, he mentioned in passing that he started the season with 21 colonies of bees in the spring, and now had 41 colonies from which he obtained over 100 gallons of extracted honey.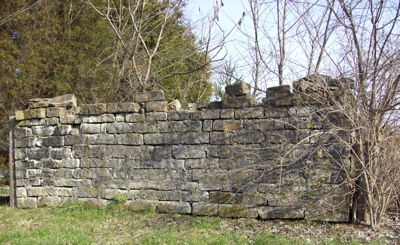 James Family Cemetery
Hardin married Eliza Stallings, daughter of Jerry and Anne (Bishop) Stallings, and they had one child, a son named for his father. Regrettably, the boy was crippled and never in good health, and died young.
Near the end of their lives, Hardin and Eliza made their wills, and his in particular is very interesting. The land and house went to his church organization. A plot of land was set aside as a graveyard for him, Eliza, and their son; and it was to be enclosed by "a good cut stone fence twenty inches thick and five feet high." Finally, he designated who would get his musical instruments.
He had five violins, and they were to be given to some of his young nephews. Apparently the violin he had recently made was given to Gene Hall, son of Rufus K. Hall. Other youngsters received violins including Gene's brother Earl, Amos Hall, and Vernon Dickey.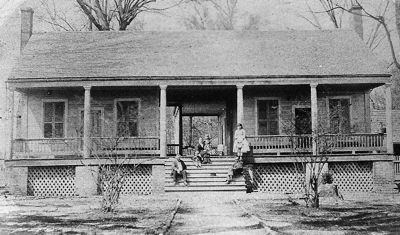 This old picture of a dogtrot house
will give you an idea of what the James house might
have looked like before it was modernized.
The Dickey violin is still in the family in the possession of Vernon's granddaughter, Elizabeth Dickey Durden, and is pictured below.
Getting back to the house, it was originally designed in a dogtrot layout, that is two separate rooms separated by a breezeway with all of it covered with a single roof. It was constructed with walnut logs.
Over the years, Hardin added on to the house, adding a music room in the back as well. Gradually the house was modernized. The log walls were covered inside and out, and the breezeway enclosed.
When Phillip Leigh and Benny Hadley began developing the Lazy River North subdivision, the house became their office. They decided to restore one room by removing the added walls to display the walnut logs, and did several other projects to insure that the house would continue as a home.
In the early 1970's, after Bullitt Central opened, Phillip Leigh purchased the old Lebanon Junction school building. Near the end of that decade frozen pipes and vandalism made the building unusable and it was torn down. Among other projects Mr. Leigh used bricks from the building to brick this home, and also to build the entrance to the subdivision. He also used planks from the gym floor to restore the floor in the log room.
Today, Don and Margie Jones are happy to live in and maintain the old family place. I have an idea Uncle Hardin would be pleased too.
---
Hardin James is pictured below with one of his violins. The top-right picture shows the walnut log walls of the original home. The violin, pictured bottom-center, was given to Vernon Dickey. Bottom-right is the exterior of the home today. Imagine it with a breezeway where the front door is, and separate doors where the downstairs windows are. Pictures are courtesy of Margie Jones, Elizabeth Dickey Durden, and Betty Hartley.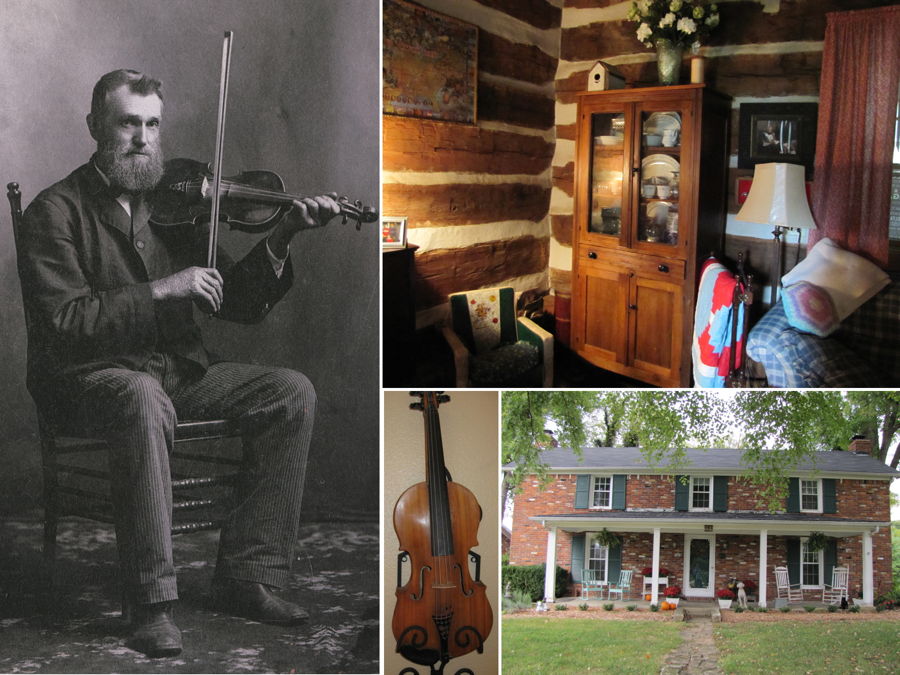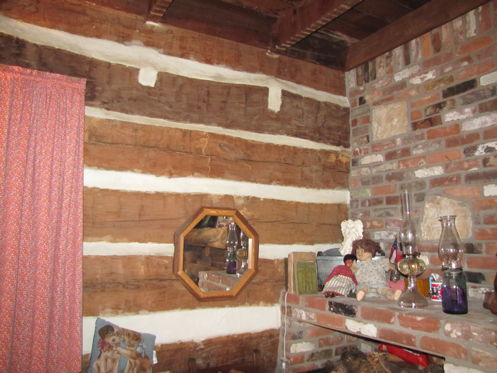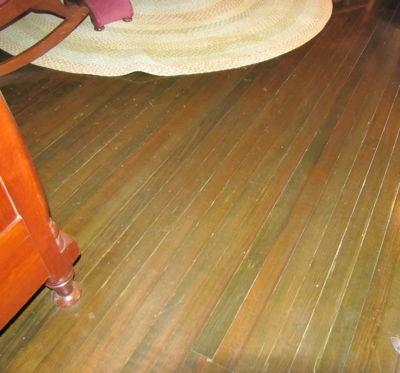 Above are pictured to the left another section of wall together with a wall of brick that contains the fireplace. To the right is a picture showing a section of the floor planks that were taken from the Lebanon Junction High School gym.
---
Copyright 2014 by Charles Hartley, Shepherdsville KY. All rights are reserved. No part of the content of this page may be included in any format in any place without the written permission of the copyright holder.
---