Thomas Whitledge to Benjamin Stansbury - 100 Acres
Thomas Whitledge of Bourbon County sold 100 acres off his 500 acre tract on the south side of Salt River to Benjamin Stansbury on 11 Jun 1792. This 100 acres lay on the upstream side of the 500 acre tract.
---
Nelson County Deed Book 4, pages 502-503
This indenture made this 11th day of June in the year of our Lord 1792 between Thomas Whitledge of the county of Bourbon and state of Kentucky of the one part and Benjamin Stansbury of Nelson County in said state of the other part. Witnesseth that for and in consideration of the sum of 10 pounds current money of the said state to him in hand paid by the said Benjamin Stansbury, the receipt whereof he doth hereby acknowledge he the said Thomas Whitledge hath granted, bargained, sold, aliened and confirmed and by these presents doth grant, bargain, sell, alien and confirm unto the said Benjamin Stansbury and his heirs forever a certain tract or parcel of land containing 100 acres of land, lying and being in the said county of Nelson, being part of a tract of 500 acres on Salt River in said state of Kentucky and bounded as followeth, (viz) Beginning at three elms, buckeye and hoop ash on the bank of Salt River, it being the last corner of the original survey on the upper side up Salt River and runs as follows to wit, South 24° East with the last line 220 poles to three dogwood trees and an elm, thence South 66° West 73 poles to dogwood, beech and sugar tree, thence North 24° West 224 poles to a maple, beech and elm on the bank of Salt River, thence with the meanders of Salt River about 85 poles to the beginning and all the estate, right, title and interest of him the said Thomas Whitledge in and to the said premises to have and to hold the said 100 acres of land with the appurtenances unto him the said Benjamin Stansbury, his heirs and assigns forever and the said Thomas Whitledge for himself and his heirs doth hereby warrant and defend the said 100 acres of land with every of its appurtenances unto him the said Benjamin Stansbury, his heirs, executors, administrators or assigns against himself, his heirs and all person or persons claiming by or under him. In witness whereof the said Thomas Whitledge hath set his hand and seal the day and year above written. (signed) Thomas Whitledge.
At a court held for Nelson county on Tuesday, the 12th day of June 1792, this deed from Thomas Whitledge to Benjamin Stansbury was acknowledged and ordered to be recorded. Teste. Ben Grayson, Clerk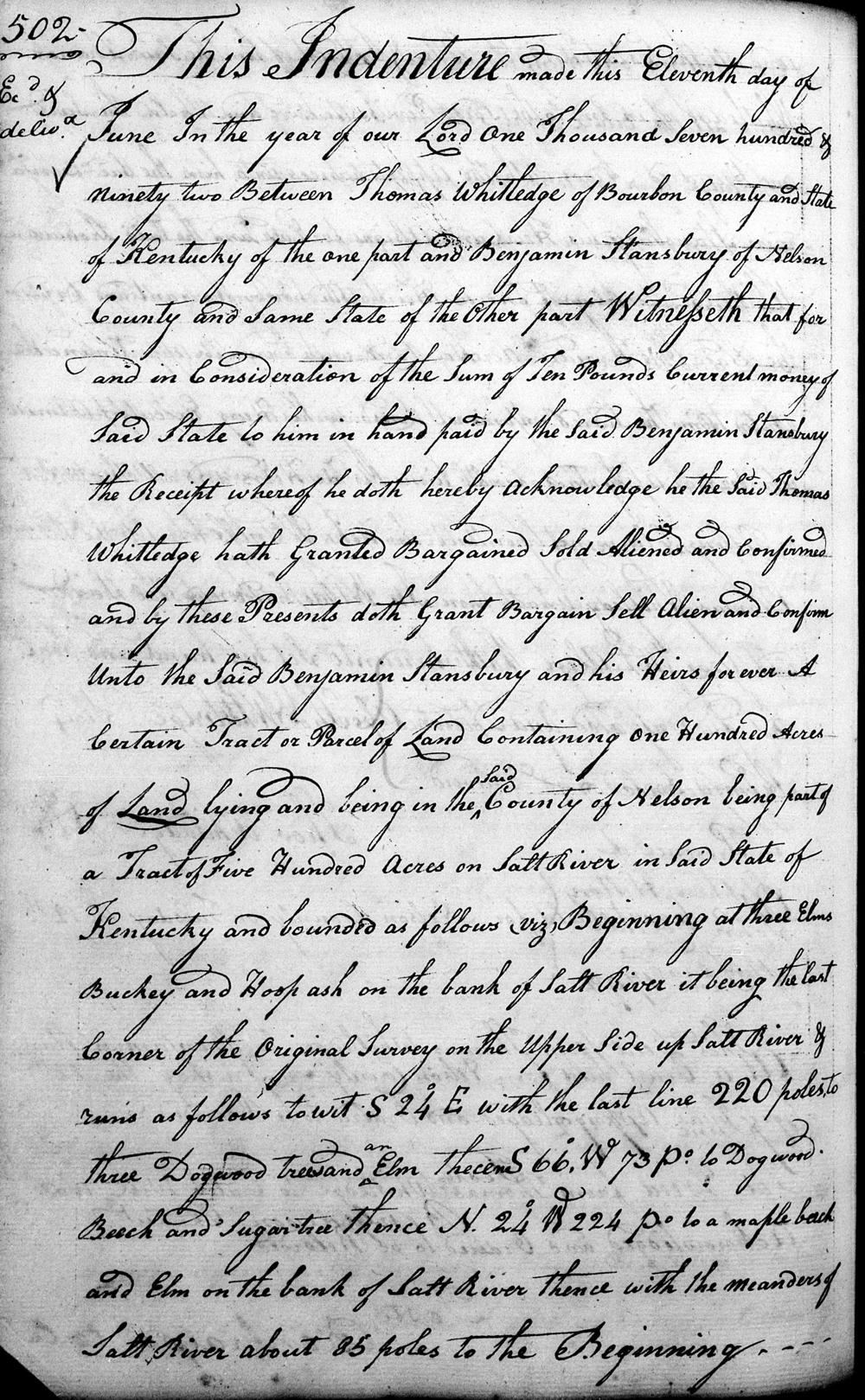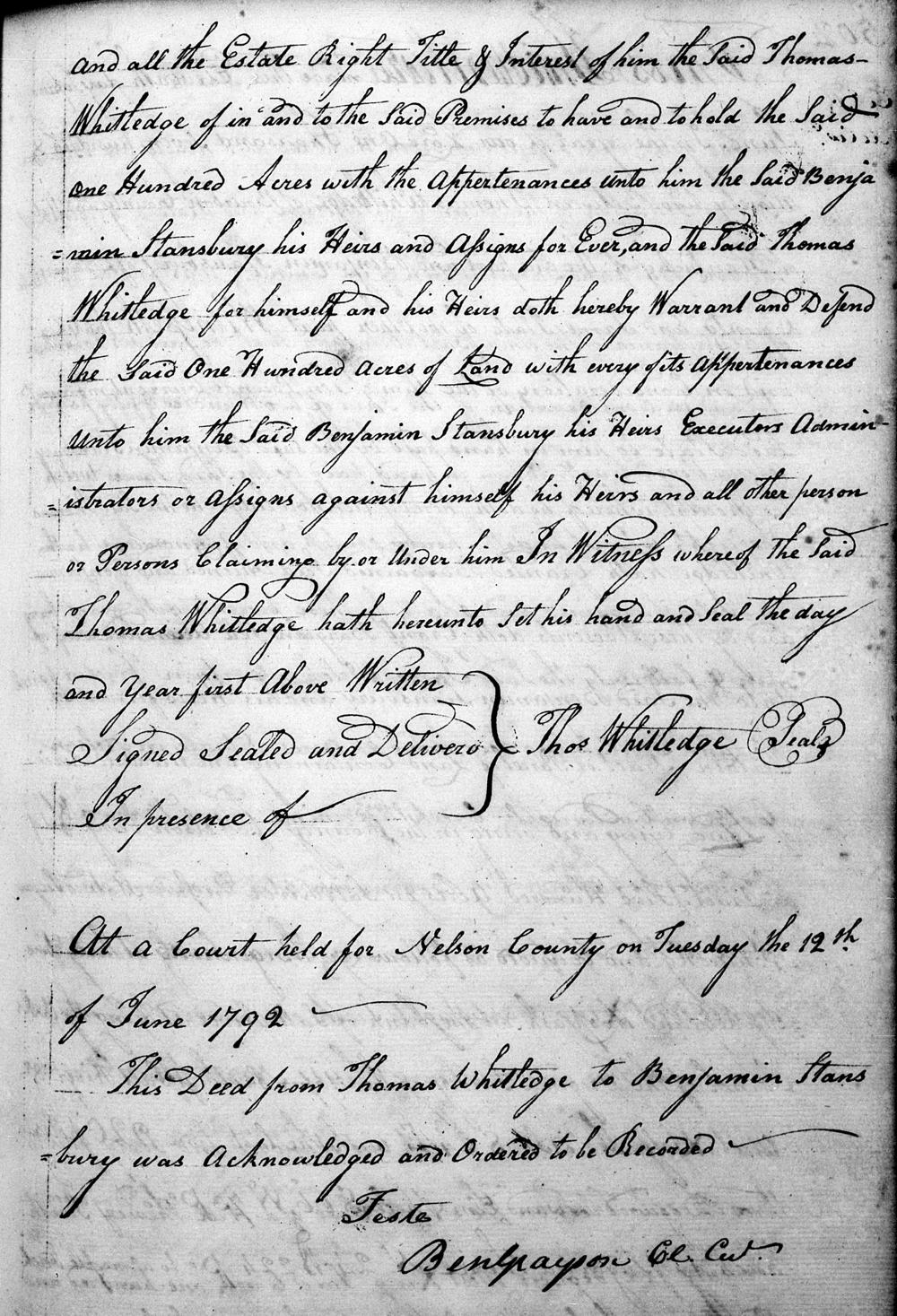 ---
If you, the reader, have an interest in any particular part of our county history, and wish to contribute to this effort, use the form on our Contact Us page to send us your comments about this, or any Bullitt County History page. We welcome your comments and suggestions. If you feel that we have misspoken at any point, please feel free to point this out to us.