Settling Wesley Phelps' Estate
Wesley Phelps died intestate, perhaps in 1891, leaving a considerable estate. As he had no children and no living siblings, his widow, Nancy F. Phelps stood to inherit his entire estate. However, Wesley had been born out of wedlock, the illegitimate child of Edwin Phelps and Alley McDaniel, and some of the descendants of Alley's siblings pressed their claim to his estate. They included James Croan, Edgar Croan, William McDaniel, Theodore Shoptaw, J. A. Shoptaw, Cordelia Shoptaw, Lula Shoptaw, Ally Hoglan, and Arterberry Hoglin, and perhaps others.
There was little dispute regarding Wesley's parentage, as Edwin Phelps had formally acknowledged it in his 1848 will, and those named above claimed that whatever claim Wesley's mother might have had to his estate would descend to the children of her siblings.
The case was brought before the Bullitt Circuit Court, and on 18 May 1892, that court rejected this claim, and ruled in favor of Wesley's widow, or rather to her devisees, as she died before the case was settled, leaving a will that devised her estate to her nieces and their children. The suit was appealed to the Court of Appeals which agreed with the lower court and sustained the earlier verdict.
W. T. Morrow was the executor of Nancy Phelps' will, and while the estate included nearly 500 acres of land scattered in multiple tracts, it also included debts amounting to $545 more than the value of the personal estate, meaning that some land would have to be sold. To do this, Morrow brought suit in Circuit Court against Nancy's heirs to obtain permission to sell the necessary land.
We are aware of one sale of 80 acres along Cedar Creek (tract #2, described below) that was sold to George T. Bailey and his son, George A. Bailey for $425.
The relevant decisions are shown below.
Bullitt Circuit Court Order Book 2, pages 511-512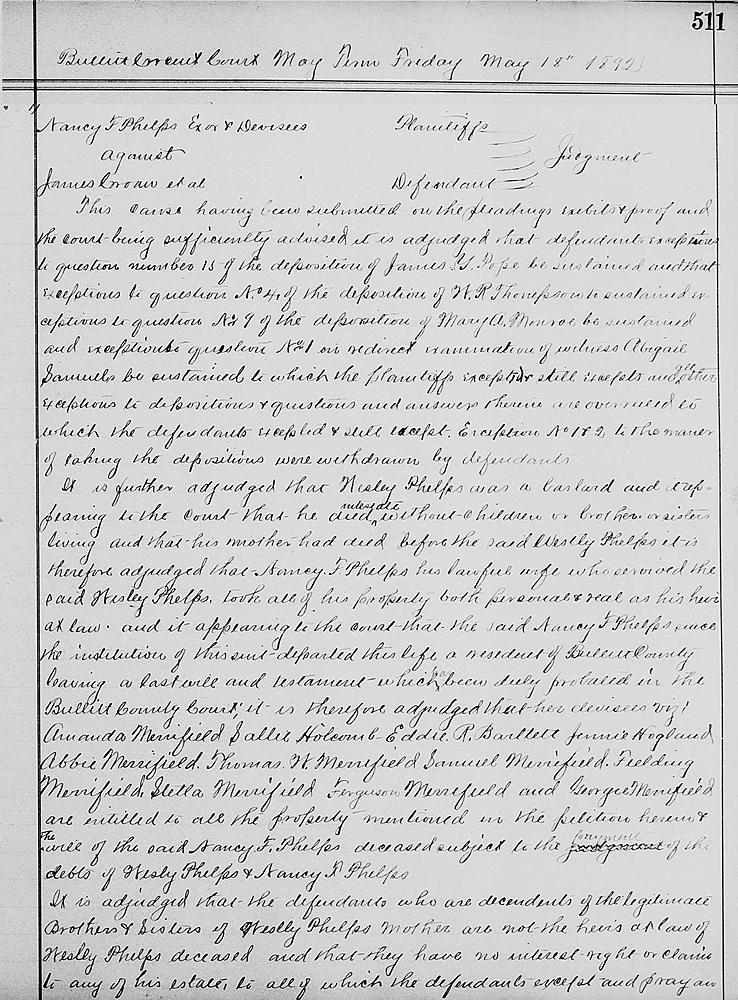 Southwestern Reporter, Volume 21, February 20-April 24, 1893, Page 874-5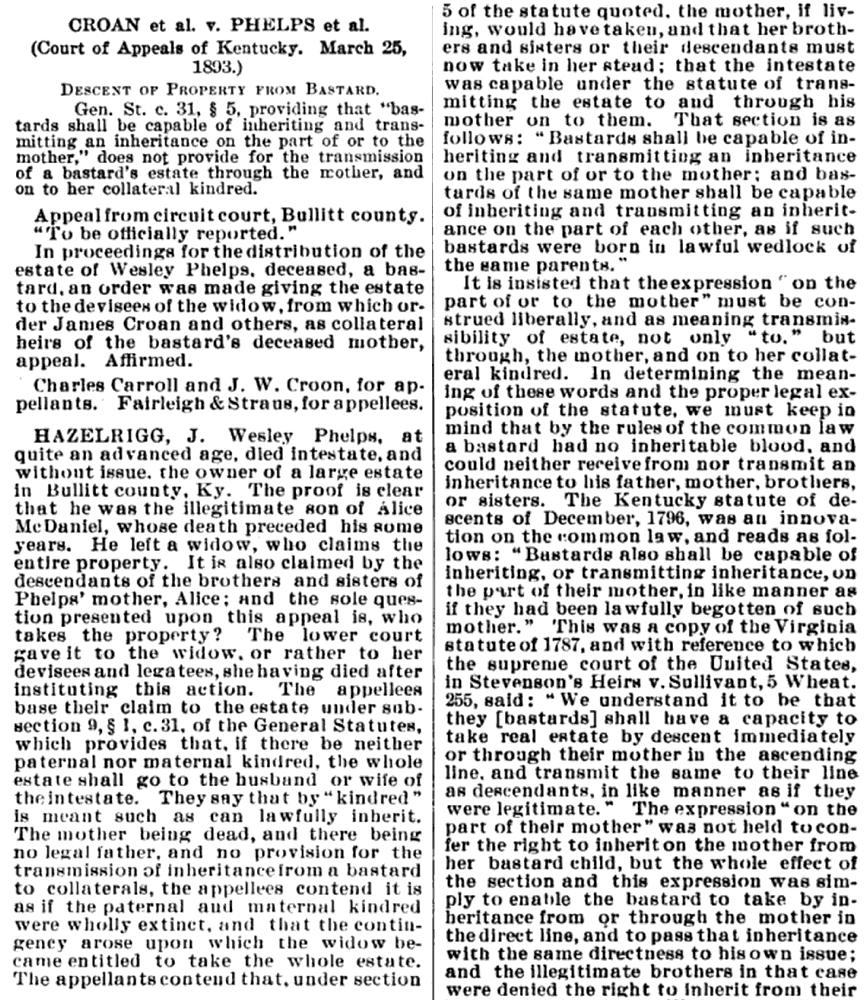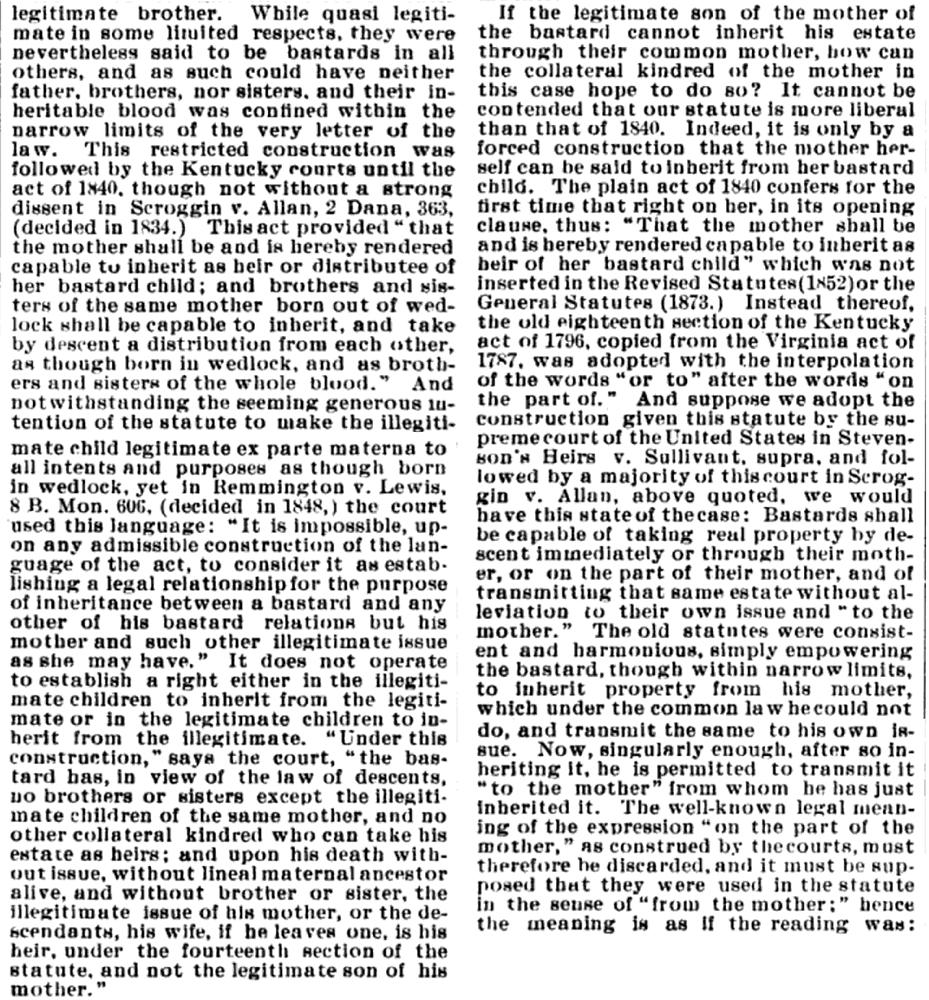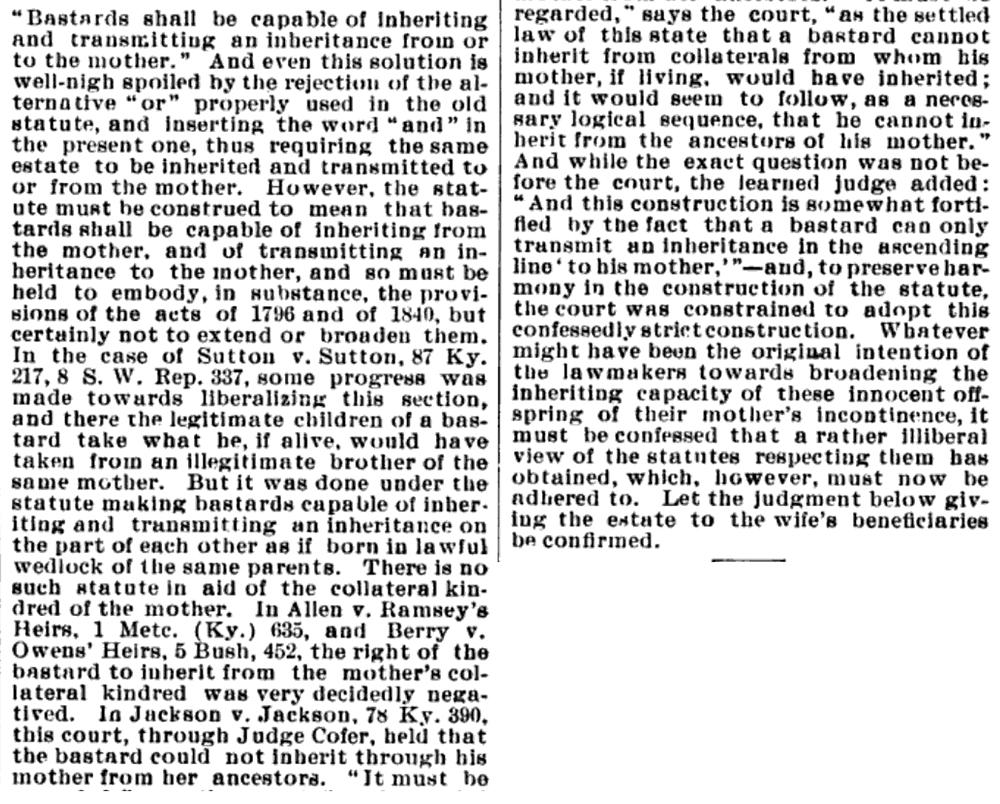 Bullitt Circuit Court Order Book, Pages 35-39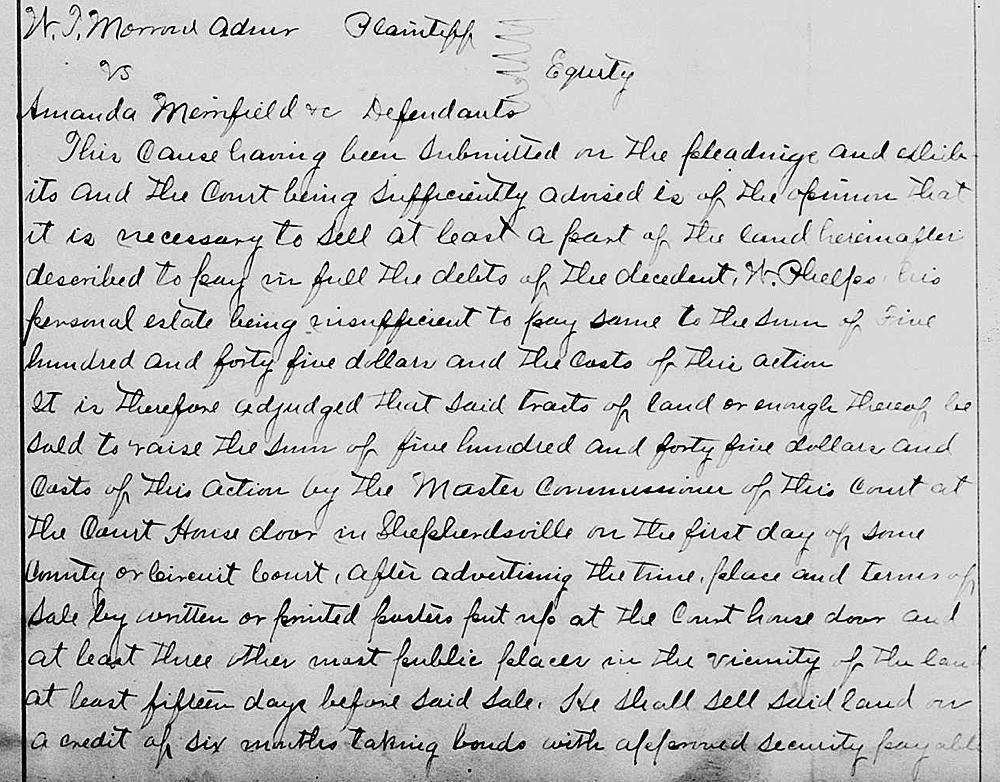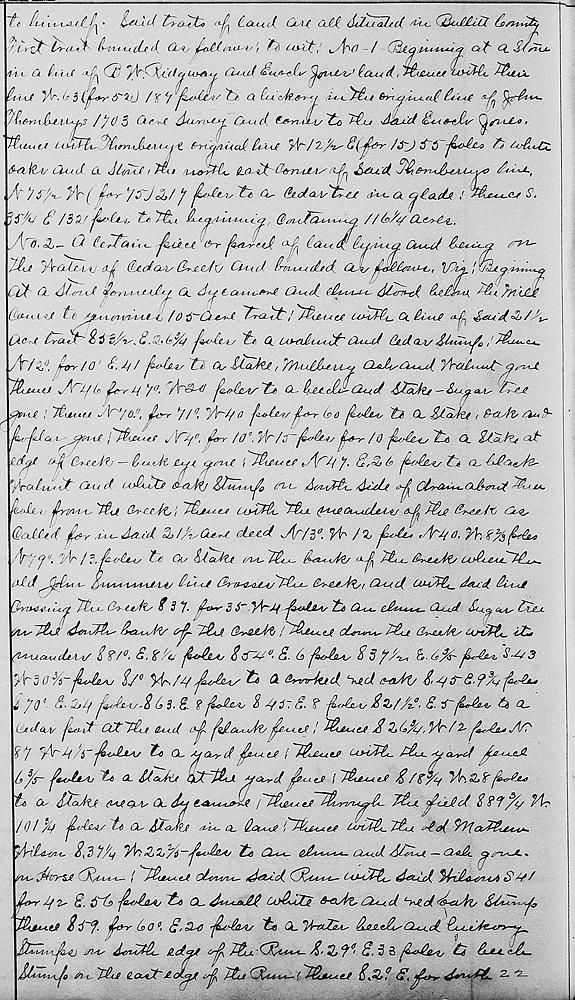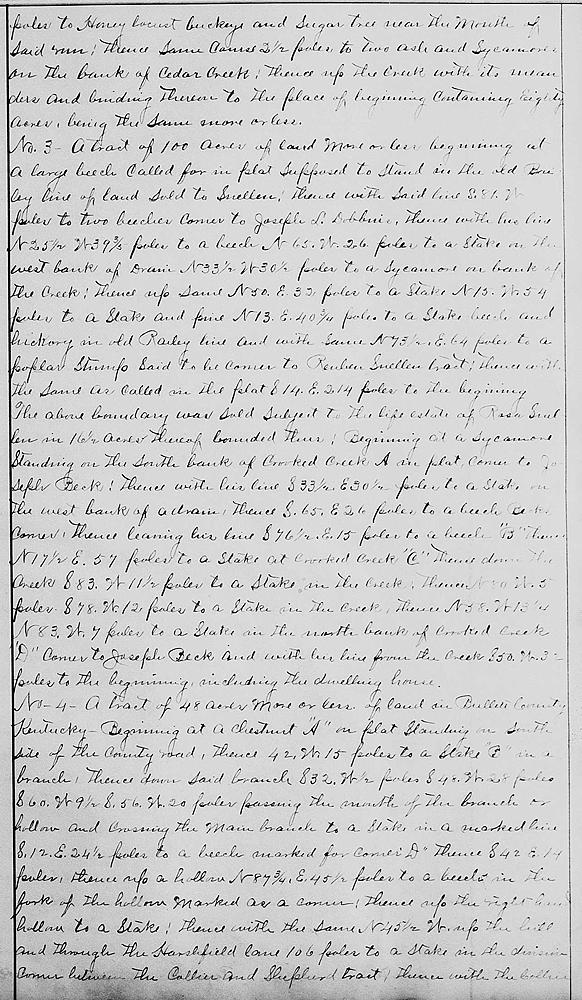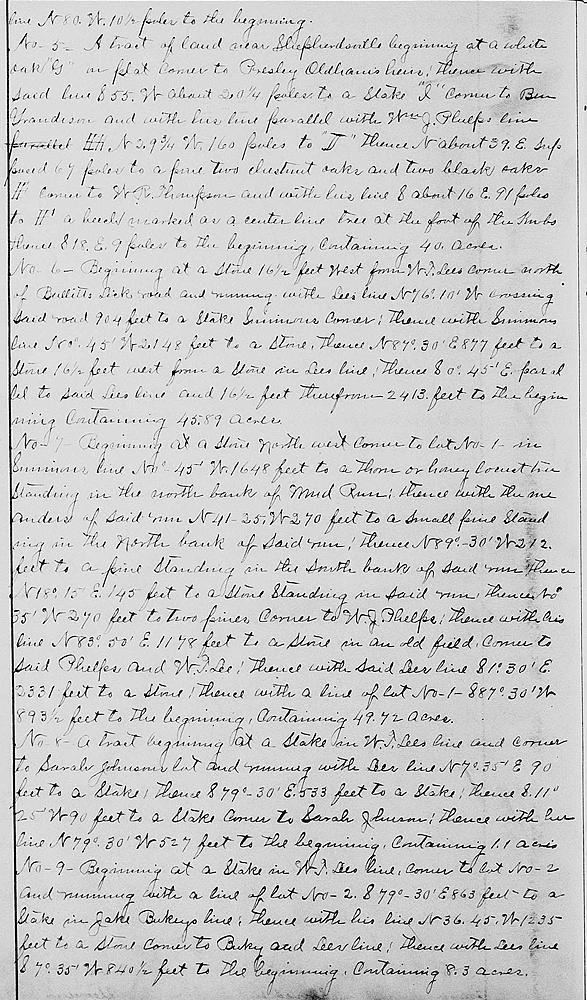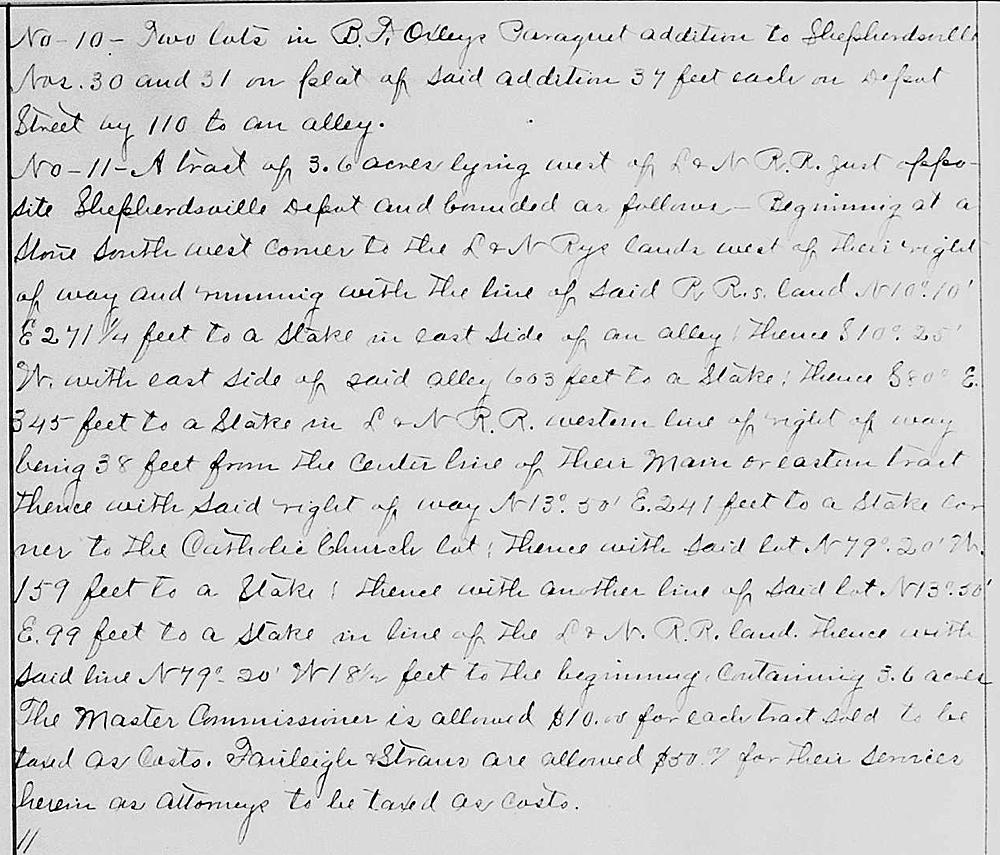 ---
If you, the reader, have an interest in any particular part of our county history, and wish to contribute to this effort, use the form on our Contact Us page to send us your comments about this, or any Bullitt County History page. We welcome your comments and suggestions. If you feel that we have misspoken at any point, please feel free to point this out to us.