Edwin Phelps' 1848 Will
Edwin Phelps, brother of Guy Phelps, wrote his will to devise his estate to his nephew Thomas Phelps, and also to Wesley Phelps who he acknowledged as his son, born of Alley McDaniel.
---
Bullitt County Will Book D, Page 64
I Edwin Phelps of the county of Bullitt, state of Kentucky, being old and weak in body, but of sound, disposing mind and memory, do make, publish and declare this to be my last will and testament. And first I desire that after my death to be buried in a decent and Christian manner. Second, I desire that all my just debts be paid, should I owe any at my death, out of my estate. And after payment of my just debts, I will and bequeath all the balance of my estate, which consists of one negro man named David, and all my promissory notes of hand due to me for money in the hands of Thomas Phelps, my nephew, and all other of my estate of every description to Wesley Phelps who ws born of the body of Alley McDaniel whom I recognize as my son, and Thomas Phelps my nephew, the son of my brother Guy Phelps, to be equally divided between them, the said Westley and Thomas to hold and enjoy the same forever. And I do hereby appoint my said nephew Thomas Phelps my executor of this my last will and testament, hereby revoking all former wills by me made. In testimony whereof I have hereunto set my hand and seal the 19th day of October 1846. (signed) Edwin (his x mark) Phelps
Signed, sealed, acknowledged and delivered in presence of Nat P. Saunders, J. D. S. Peacock.
(signed) N. F. Phelps
Witnesses: David M. Bates, James D. Hough.
State of Kentucky, Bullitt County Court, January 17th 1848.
This day the foregoing will and testament of Edwin Phelps dec'd was produced in open court and proved by the oaths of Nathaniel P. Saunders and Jonathan D. S. Peacock, the two subscribing witnesses thereto, to be the true last will and testament of Edwin Phelps, deceased, agreeably to law, and ordered to be recorded, which is truly done in my office. Attest. Noah C. Summers, Clerk of Bullitt County Court.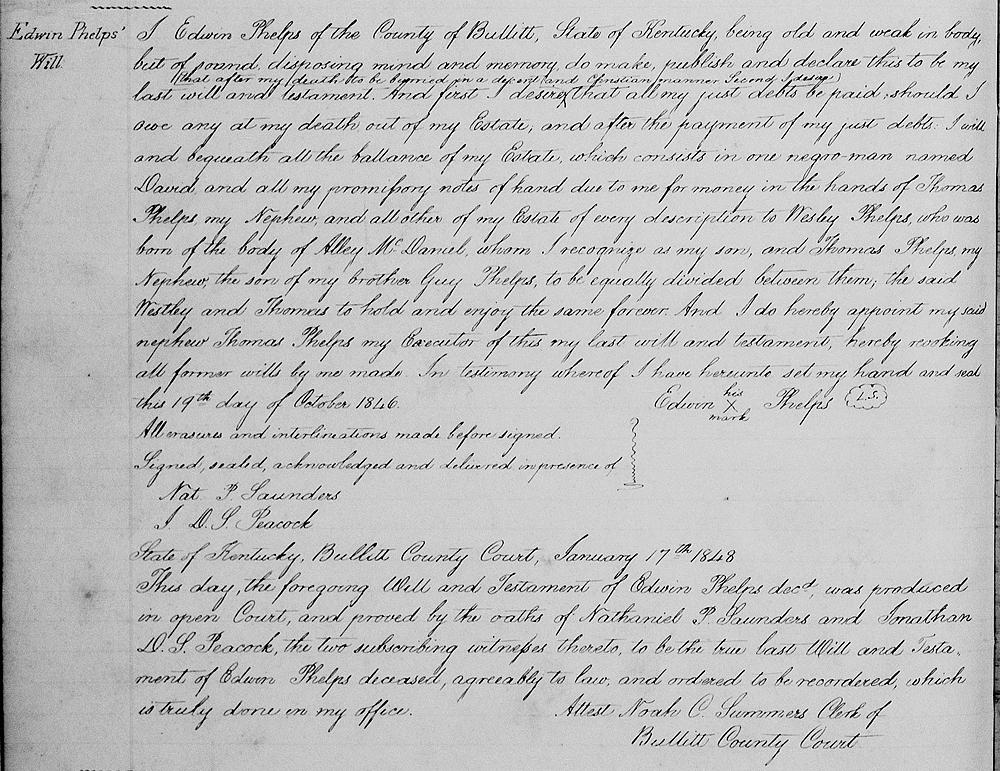 ---
If you, the reader, have an interest in any particular part of our county history, and wish to contribute to this effort, use the form on our Contact Us page to send us your comments about this, or any Bullitt County History page. We welcome your comments and suggestions. If you feel that we have misspoken at any point, please feel free to point this out to us.