William C. Bullitt to William Congrove
On the death of Colonel William Christian, "Saltsburg" as he called his Bullitt's Lick property was willed to his son John. Following John's death, the property went to his sisters including Priscilla Bullitt. Then, on 4 Sep 1801, Alexander and Priscilla deeded their one-fifth control of the Bullitt County property to their sons Cuthbert and William. Since the sons were not yet 21, Alexander kept control of their share of Bullitt's Lick in his hands. When they came of age, each would control a tenth share of the salt lick. This deed is transcribed and displayed on another page.
Cuthbert was the first to sell his share, signing an agreement with Henry Crist in October 1814 to exchange his share for $666. Apparently Crist completed this payment in the form of three female slaves named Henna, Maria, and Juliana. Then in June 1819, Crist transferred ownership of this tenth share to William Newbolt and needed for Cuthbert Bullitt to sign a deed over to Newbolt which he did in May 1822, as shown on another page.
His brother William Christian Bullitt continued to own his tenth share of the lick tract until he sold it to William Congrove in November 1835, after the saltworks had closed down. The purchase price was three annual $88.50 payments. This deed is shown below.
---
Bullitt County Deed Book H, pages 406-7
This indenture made this ninth day of November in the year 1835 by and between William C. Bullitt of the county of Jefferson and state of Kentucky of the first part and William Congrove of the county of Bullitt and the state aforesaid of the second part. Witnesseth said Bullitt in consideration of three several sums of $88.50 each secured at three several notes of said Congrove payable on the ninth day of November 1836, one other payable on the ninth day of November 1837, and one other payable on the ninth day of November 1838, hath sold and doth hereby for himself and his heirs give, grant, bargain, sell and convey to the said Congrove; to hold to him and his heirs in fee simple, all my interest, title and claim in a certain tract land in Bullitt County called Bullitt's Lick tract, patented it is understood to William Christian, for one thousand acres but containing something more; also my interest in two thousand acres adjoining, understood to be entered and surveyed in the name of William Christian but not patented to him; said William C. Bullitt derives title to one tenth part of said Bullitt's Lick tract and also to one tenth of the two thousand acres adjoining before mentioned by deed from Alexander S. Bullitt and Priscilla his wife recorded in the Jefferson County clerk's office on November 9th 1801, and said William C. Bullitt hereby conveys a complete quit claim to his interest aforesaid be the same more or less but gives no warranty of title. Witness the hand and seal of said Bullitt the day and year above first written. (signed) William C. Bullitt, M. A. Bullitt.
I Worden Pope, clerk of the county court of Jefferson County in the State of Kentucky do certify that on this day the written and foregoing deed from William C. Bullitt and wife to William Congrove was produced to me in my office and acknowledge and delivered by the said Bullitt to be his act and deed. Witness my hand this ninth day of November 1835. Worden Pope CCK by Walter W. Blair DC.
I Worden Pope, clerk of the county court of Jefferson County in the State of Kentucky do certify that on this day the within and foregoing deed was acknowledged and delivered before me in my office by Mildred A. Bullitt, wife of William C. Bullitt, a party thereto to be her act and deed. That I examinedthe said Mildred A. separate and apart from the said William C. her husband and having shown and explained said deed to her she declares that she has signed, sealed, delivered and acknowledged said deed as and for her act and deed of her own free will and consent without the persuasion, threat or compulsion of her said husband and relinquished her right of dower in the premises therein conveyed; that she was willing said deed should be recorded and did not wish to retract her said acknowledgement. Witness my hand this seventh day of December 1835. Worden Pope Clk by Walter W. Blair DC.
State of Kentucky, Bullitt County Sct
I Noah C. Summers, clerk of the county court for said county, do certify that the foregoing deed was on this 27th day of March 1837 produced to me in my office for record and being duly authenticated the same together with the certificates thereon endorsed are truly recorded in my office. N. C. Summers, Clerk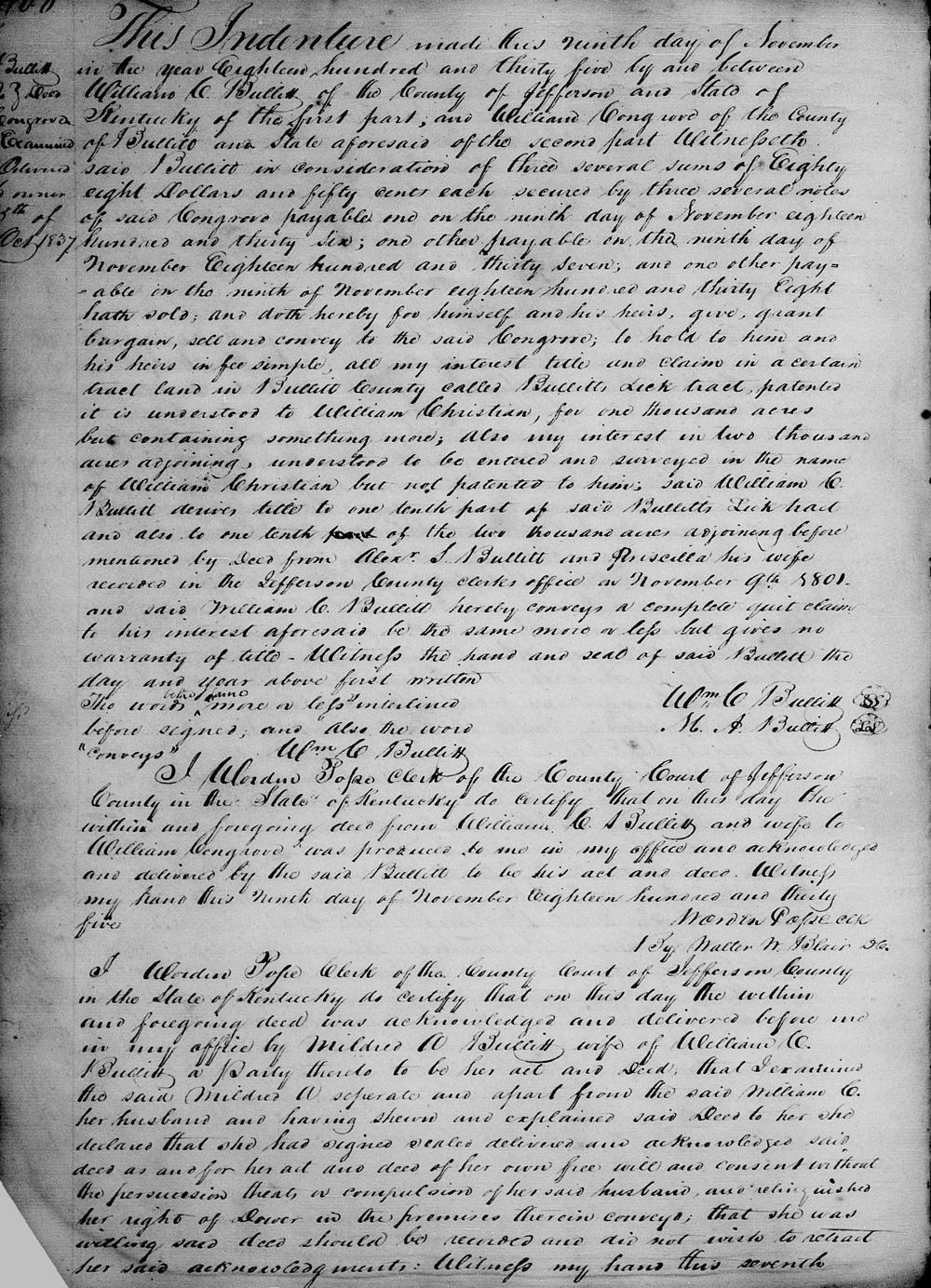 ---
If you, the reader, have an interest in any particular part of our county history, and wish to contribute to this effort, use the form on our Contact Us page to send us your comments about this, or any Bullitt County History page. We welcome your comments and suggestions. If you feel that we have misspoken at any point, please feel free to point this out to us.