Cuthbert Bullitt to William Newbolt
On the death of Colonel William Christian, "Saltsburg" as he called his Bullitt's Lick property was willed to his son John. Following John's death, the property went to his sisters including Priscilla Bullitt. Then, on 4 Sep 1801, Alexander and Priscilla deeded their one-fifth control of the Bullitt County property to their sons Cuthbert and William. Since the sons were not yet 21, Alexander kept control of their share of Bullitt's Lick in his hands. When they came of age, each would control a tenth share of the salt lick. This deed is transcribed and displayed on another page.
Cuthbert was the first to sell his share, signing an agreement with Henry Crist in October 1814 to exchange his share for $666. Apparently Crist completed this payment in the form of three female slaves named Henna, Maria, and Juliana. Then in June 1819, Crist transferred ownership of this tenth share to William Newbolt and needed for Cuthbert Bullitt to sign a deed over to Newbolt which he did in May 1822, as shown below.
His brother William Christian Bullitt continued to own his tenth share of the lick tract until he sold it to William Congrove in November 1835, after the saltworks had closed down. The purchase price was three annual $88.50 payments. This deed is shown on another page.
---
Bullitt County Deed Book D, pages 534-5
This indenture made this __ day of May 1822 between Cuthbert Bullitt of the one part and William Newbolt of Nelson County of the other part. witnesseth that whereas by contract bearing date to the 25th day of October 1814 the said Cuthbert Bullitt and also Elizabeth B Dickinson sold their interest in Bullitt's Lick and in 1000 acres of land adjoining to Henry Crist for the sum of $2000, the interest of said Bullitt being one tenth, and the interest of said Elizabeth being one fifth of the said lick and 1000 acres, and whereas the said Crist on the 7th day of June 1819 assigned and transferred to William Newbolt all his right and interest in and to the aforesaid purchase by endorsement on the original article or contract now in the hands of the said Elizabeth, and whereas the said Elizabeth has acknowledge the performance by said Crist of the said contract so far as it was intended for her benefit, and has conveyed her interest in said lick and land to the said William Newbolt, and whereas said Bullitt acknowledges the receipt of the purchase money on his part (to wit) $666 2/3 in three negroes, to wit Henna, Maria, and Juliana, conveyed and delivered to him by Nicholas Crist in discharge of the debt of Henry Crist, and whereas by the original contract said Bullitt was entitled to a mortgage on his said interest to secure the title to said negroes should it be ever questioned, now therefore this indenture witnesseth that in consideration of the premises the said Cuthbert Bullitt hath this day conveyed and doth hereby alien, express and convey unto the said Newbolt all his interest in the said lick and land, it being one undivided tenth part to have and to hold to him the said Newbolt and his heirs forever, and the said Bullitt convenants to warrant and defend the title to the said interest hereby sold and conveyed against all persons and claims whatever, but it is clearly understood the above conveyance is made on the condition that a lien is to be retained on said interest herein conveyed for the security of the title to the above named negroes until other satisfactory security shall be given for the title of said negroes. In testimony of the premises said Bullitt has signed, sealed, delivered the above indenture on this 25th day of May 1822. (signed) Cuthbert Bullitt. In the presence of Edward H. Hamilton, Josephias (his X mark) McDonald, E. B. Dickinson.
State of Kentucky. I George F. Pope, clerk of the county court of Bullitt County, do certify that on this day the within indenture was produced to me in my office and proved by the oaths of Edward H. Hamilton and Josephias McDonald(?), witnesses thereunto, to be the act and deed of Cuthbert Bullitt for the purposes therein mentioned. Whereupon I have recorded the same together with this certificate in my said office as required by law. Witness my hand this 27th day of May 1822. (signed) George F. Pope.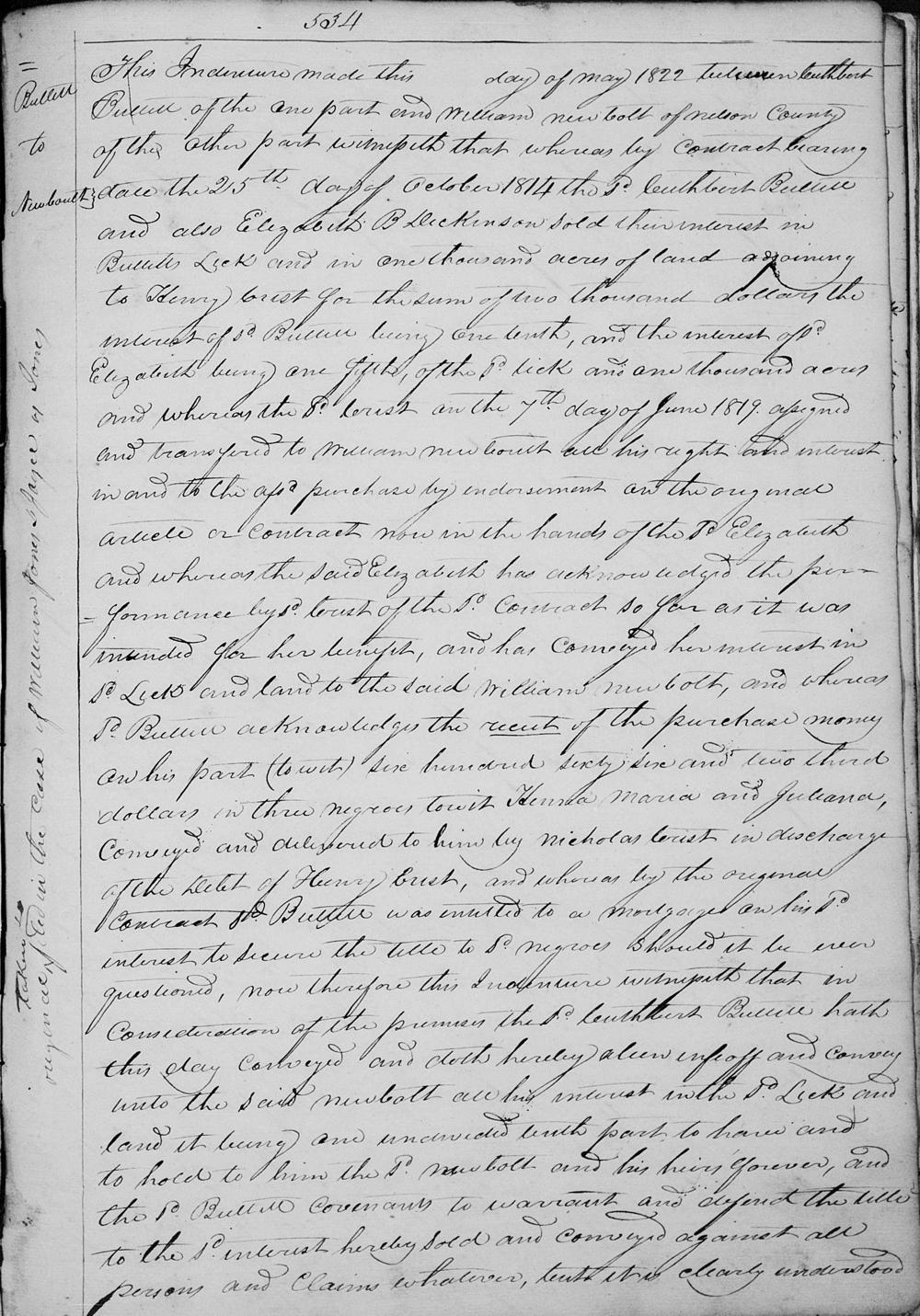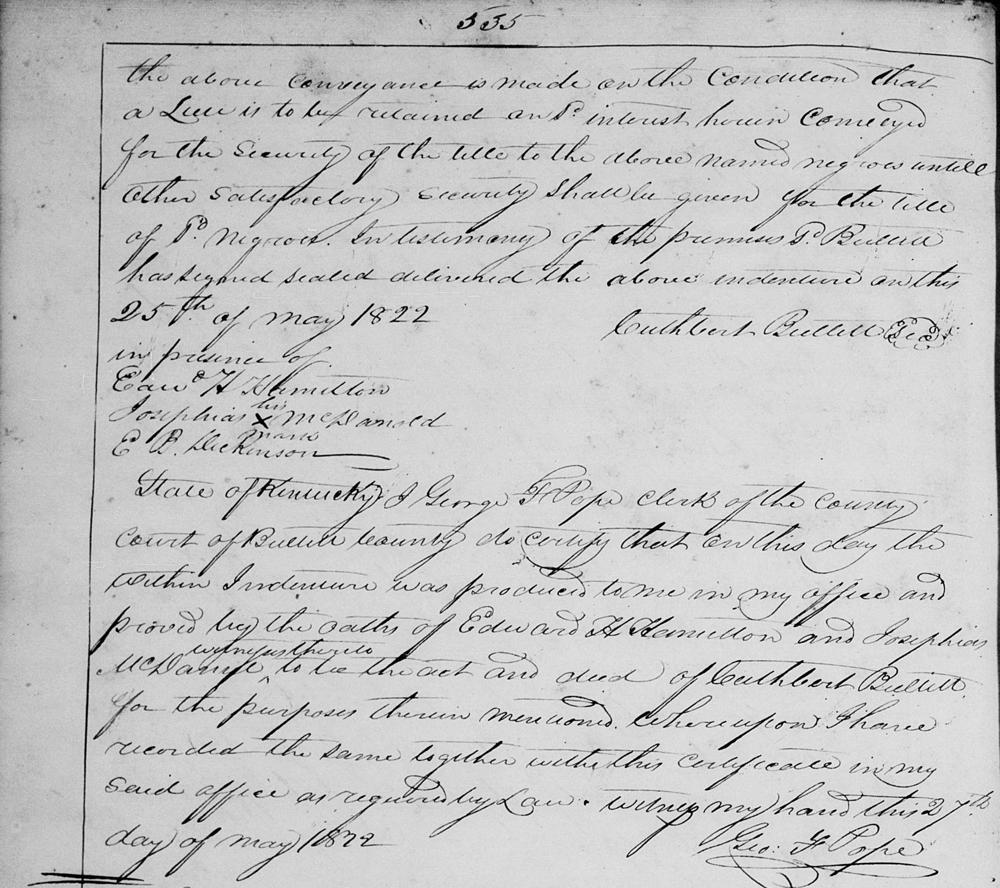 ---
If you, the reader, have an interest in any particular part of our county history, and wish to contribute to this effort, use the form on our Contact Us page to send us your comments about this, or any Bullitt County History page. We welcome your comments and suggestions. If you feel that we have misspoken at any point, please feel free to point this out to us.