Robert Shanklin to Richard Shanklin - 212 Acres
Robert and Magdaline Shanklin of Jessamine County sold this land to Richard Shanklin of Bullitt County. It lay on the western side of the Shanklin 1400 acre settlement and preemption.
---
Bullitt County Deed Book C, pages 41-42
This indenture made this fifteenth day of November eighteen hundred and eleven between Robert Shanklin and Magdaline his wife of Jessamine County of the one part and Richard Shanklin of Bullitt County of the other part. Witnesseth that the said Robert and Magdaline for and in consideration of the sum of one dollar to them in hand paid by the said Richard before the sealing and delivering of these presents do grant and bargain the receipt whereof is hereby acknowledged have granted, bargained and sold, aliened, released, conveyed and confirmed and by these presents do grant, bargain and sell, alien, release, convey and confirm unto the said Richard Shanklin, his heirs, executors and administrators forever a certain tract or parcel of land situate in the county of Bullitt containing two hundred and twelve acres, part of the said Robert's preemption survey or surveys of 1000 acres, the west end thereof and bounded as followeth, viz. Beginning at a large poplar a corner to Edward Williams and said Shanklin's most north west corner, running thence South with the western boundary line of said Robert's land to his south west corner, thence East with his southern boundary line so for that a line parallel to the first line across to the northern boundary line and with the same northern boundary line west to the beginning will include the quantity to have and to hold the said tract or parcel of land with all and singular the appurtenances to the said Richard Shanklin and his heirs forever, and the said Robert Shanklin and Magdalene his wife doth covenant and agree to and with the said Richard Shanklin his heirs &c that they and their heirs will warrant and forever defend the said two hundred and twelve acres of land herein described unto the said Richard Shanklin his heirs &c against themselves and their heirs and against all persons claiming or to claim the same under the title of said Robert but not against the claim of any other person or persons. It being the intention of the parties to this indenture and their express agreement that the said Robert is never to be accountable in case the said land or any part thereof should be lost or taken away by any adverse conflicting title. On testimony whereof the said Robert Shanklin and Magdalene his wife have hereto subscribed their names and affixed their seals the day and year before written. (signed) Robert Shanklin, Magdaline (her X mark) Shanklin. Done in presence of Geo R Pope as to Magdaline Shanklin.
Bullitt County towit
I Frederic W. S. Grayson, clerk of the county court in and for the county aforesaid, do hereby certify that on the 14th day of November 1811, the within indenture was acknowledged by Robert Franklin before me to be his voluntary act and deed, and that I have recorded the same together with this certificate in my office as required by law this 5th day of November 1813. (signed) Frederic W. S. Grayson
Deed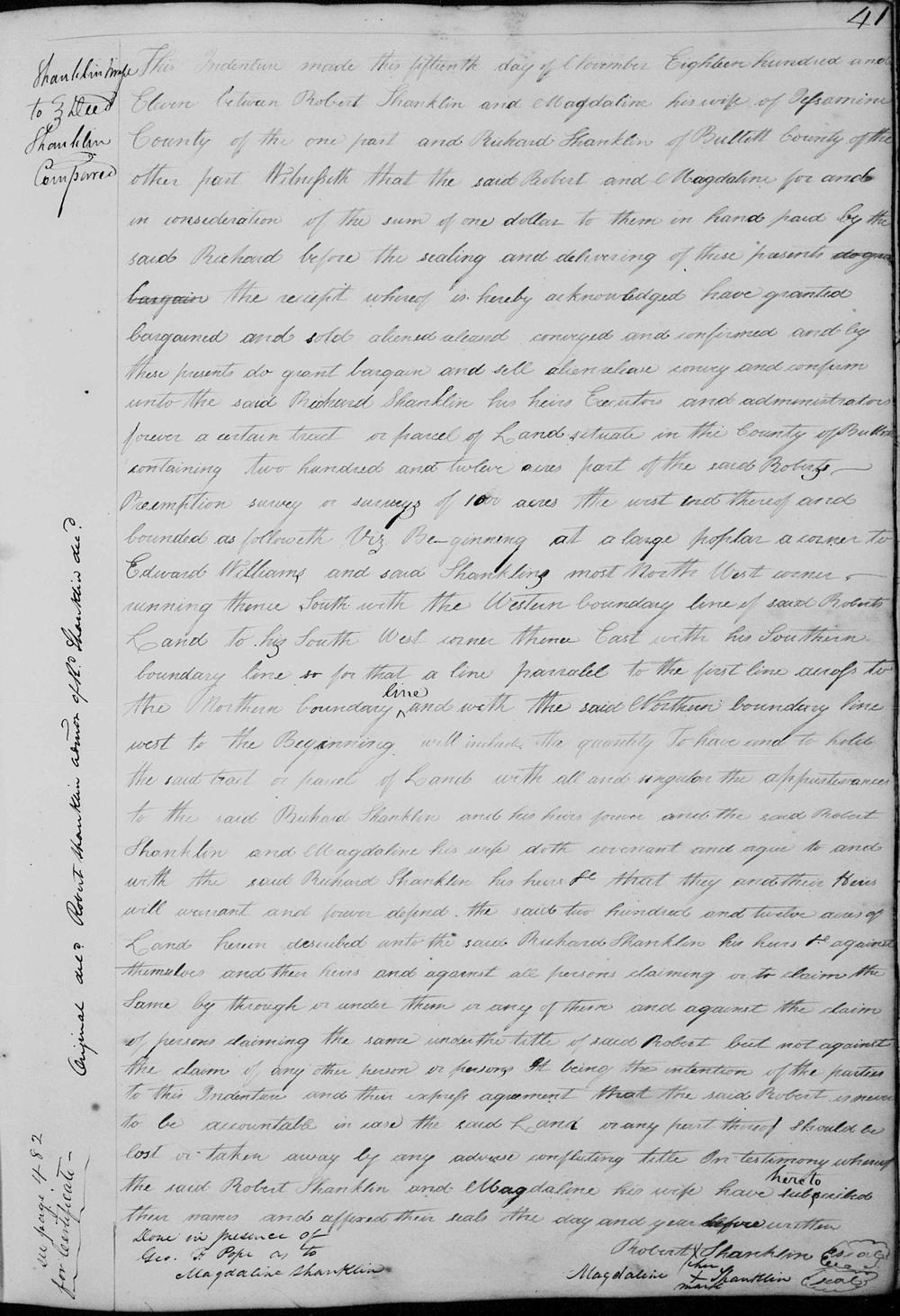 ---
If you, the reader, have an interest in any particular part of our county history, and wish to contribute to this effort, use the form on our Contact Us page to send us your comments about this, or any Bullitt County History page. We welcome your comments and suggestions. If you feel that we have misspoken at any point, please feel free to point this out to us.