Randolph Railey Jr to John H. Baker, 1833
In December 1833, John H. Baker paid $300 to Randolph Railey in exchange for whatever title Railey possessed to a large part of a tract surveyed for Matthew Walton, described on another page.
---
Bullitt County Deed Book H, Pages 36-37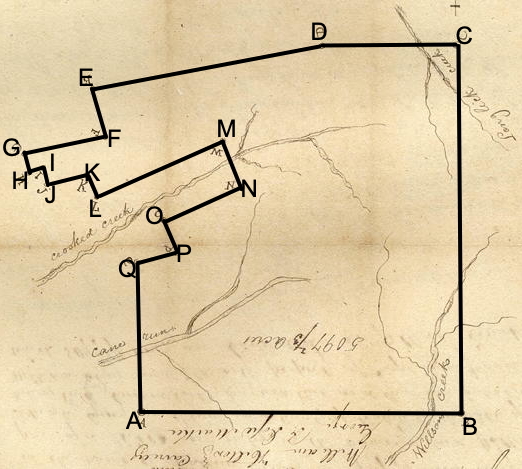 This indenture made this 17th day of December in the year of our Lord one thousand eight hundred and thirty three between Randolph Railey Jr. by his attorney in fact Noah C. summers of Woodford County and State of Kentucky of the one part, and John H. Baker of Bullitt County and same state of the other part. Witnesseth that the said Randolph Railey Jr. for and in consideration of the sum of three hundred dollars current money of the United States to him in hand paid, the receipt whereof is hereby acknowledged, has granted, bargained and sold, and by these presents the said Railey does grant, bargain sell and convey until him the said Baker a certain tract of land lying in Bullitt County on the waters of Long Lick, Crooked Creek, Cane Run and Willson's Creek containing five thousand and ninety seven and two thirds acres of land more or less which said tract of land is part of a tract of 5957 3/4 acres surveyed on the 3rd of August 1795 for Matthew Walton and being a part of Matthew Walton's 20,000 acre entry, the part here sold was patented to William Elzey on the 28 February 1796 and having been transferred by deed to Joseph Lewis Jr. was sold on the 6th November 1816 agreeably to law by the registry of the Land Office of the State for the taxes due thereon by said Lewis (who was a nonresident) and regularly conveyed by John M. Foster, Register of said land office, to said Randolph Railey Jr. by deed dated the 18th June 1823, and recorded in the clerk's office of the Court of Appeals of this state which said land here sold adjoins the old patented tracts of land in the name of Paul Froman, John Ray, John Carr and Richard Morton and is bounded as follows to wit. Begining at [A] Daniel Lennom's S.W. corner at two white oaks and a small hickory, thence East with said Lennom's line 850 poles to [B] two cedars and a poplar, thence North 980 poles to [C] a white oak, hickory and beech, thence West 350 poles to [D] a white oak, thence South 85° West 75 poles to Paul Froman's corner at two white oaks and a dogwood, thence continuing the same course with Froman's line 320 poles to two white oaks, course continued in all 630 poles to John Ray's line at [E] a white oak, thence with said Ray South 11° East 125 poles to [F] three white oaks, thence South 79° West 215 poles with said Ray to a corner of Richard Morton's 500 acre survey on Crooked Creek to [G] an ash and two sugar trees, thence with said Morton South 11° East 48 poles to [H] two beeches, thence North 79° East 40 poles to [I] a white oak and maple, thence South 11° East 40 poles to [J] a mulberry and beech, thence North 79° East 116 poles to [K] a beech and white oak, thence South 11° East 50 poles to [L] a black oak and white oak, a corner of John Carr's survey, thence with Carr's line North 70° East 378 poles to [M] an ash and dogwood, thence South 20° East 127 poles to [N] two white oaks and a pine, thence South 70° West 215 poles [O] to Richard Morton's line at a white oak thence South 11° East 90 poles to [P] a black oak and beech, thence south 79° West 100 poles to [Q] Dennis Lennom's line at a a black oak, thence south 395 poles with said Lennom's to the beginning (but out of the tract here sold is reserved and not conveyed hereby a tract of 350 acres conveyed by said Railey on the 30th day of May 1825 to John Snellenbarger - see deed recorded in Bullitt County in book G, page 12) with all the appurtenances. To have and to hold said land here sold to him said Baker and his heirs forever free and clear of and from the title of him said Randolph Railey Jr. and his heirs and all persons claiming under him. And siad Railey so convenants with said Baker to so warrant and defend said land. But it is understood that if the land here sold be lost or any part thereof by any other or better claim said Railey is not responsible, he said Baker being made acquainted with the title to the said land. In witness whereof the said Randolph Railey Jr. by his attorney in fact N. C. Summers has hereunto set his hand and seal the date first written. (signed) Randolph Railey Jr. by his attorney in fact N.C. Summers.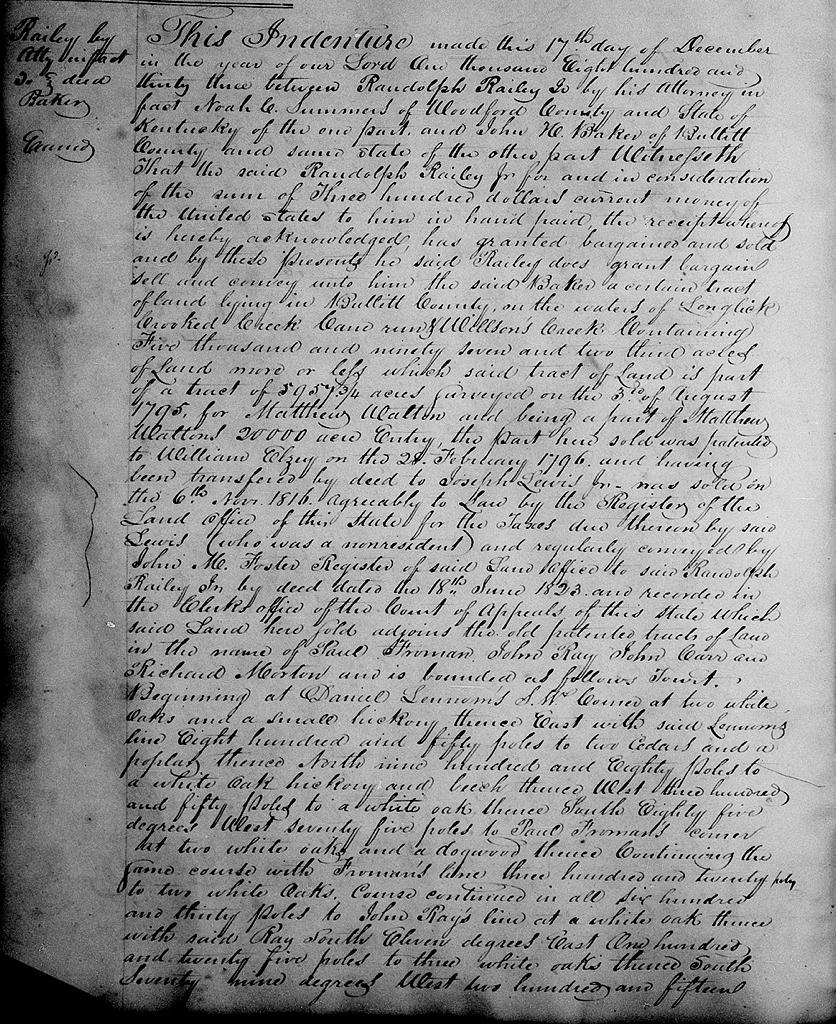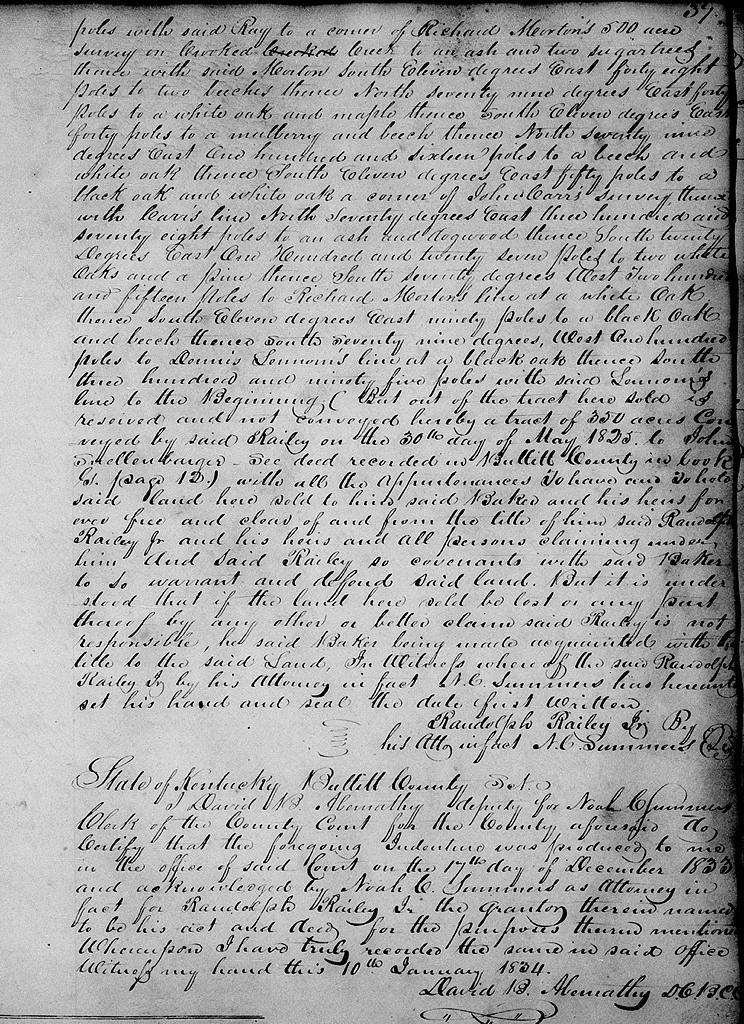 ---
If you, the reader, have an interest in any particular part of our county history, and wish to contribute to this effort, use the form on our Contact Us page to send us your comments about this, or any Bullitt County History page. We welcome your comments and suggestions. If you feel that we have misspoken at any point, please feel free to point this out to us.