Jacob Myers to John Essary, 235 Acres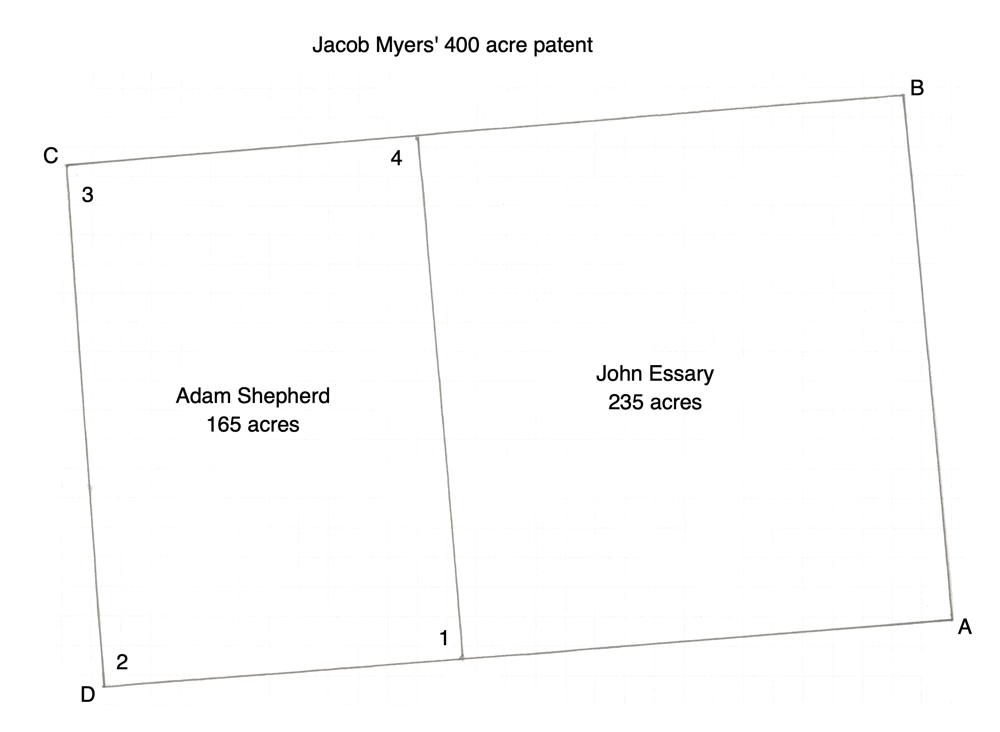 According to page 523 of Michael and Bettie Cook's Kentucky Court of Appeals Deed Books, Volume 4, in the Supreme Court of the District of Kentucky Deed Book A, on page 299, Jacob Myers of Lincoln County, on 30 Jan 1787, sold 235 acres located in Nelson County on Long Lick Creek to John Ezry [Essary] for 100 pounds. This was part of a tract patented to Myers on 2 Dec 1785. This indenture was witnessed by Harry Innes, Thomas Todd, and John May, and recorded in the deed book on 23 Mar 1787.
We were able to obtain this information with the help of Jeannie Bailey of the Bullitt County library, and the staff at the Daviess County Public Library through the interlibrary loan system.
By comparing the original 400 acre tract patented by Jacob Myers with the 165 acres of it that he sold to Adam Shepherd, we are able to determine the boundaries of John Essary's 235 acre tract.
We will arbitrarily begin at [A] Jacob Myers' original southeasterly corner at a large poplar and 3 beech tree, then North 5° West 200 poles to [B] Myers' northwesterly corner of 2 white oaks at the foot of a knob, then South 85° West 188 poles to [4] 3 beech trees, a corner to Adam Shepherd's 165 acre tract, then South 5° East 200 poles to [1] a poplar and beech trees at Shepherd's southeasterly corner, and then North 85° East 188 poles to the beginning.
---
If you, the reader, have an interest in any particular part of our county history, and wish to contribute to this effort, use the form on our Contact Us page to send us your comments about this, or any Bullitt County History page. We welcome your comments and suggestions. If you feel that we have misspoken at any point, please feel free to point this out to us.