Jacob Myers to Adam Shepherd, 165 Acres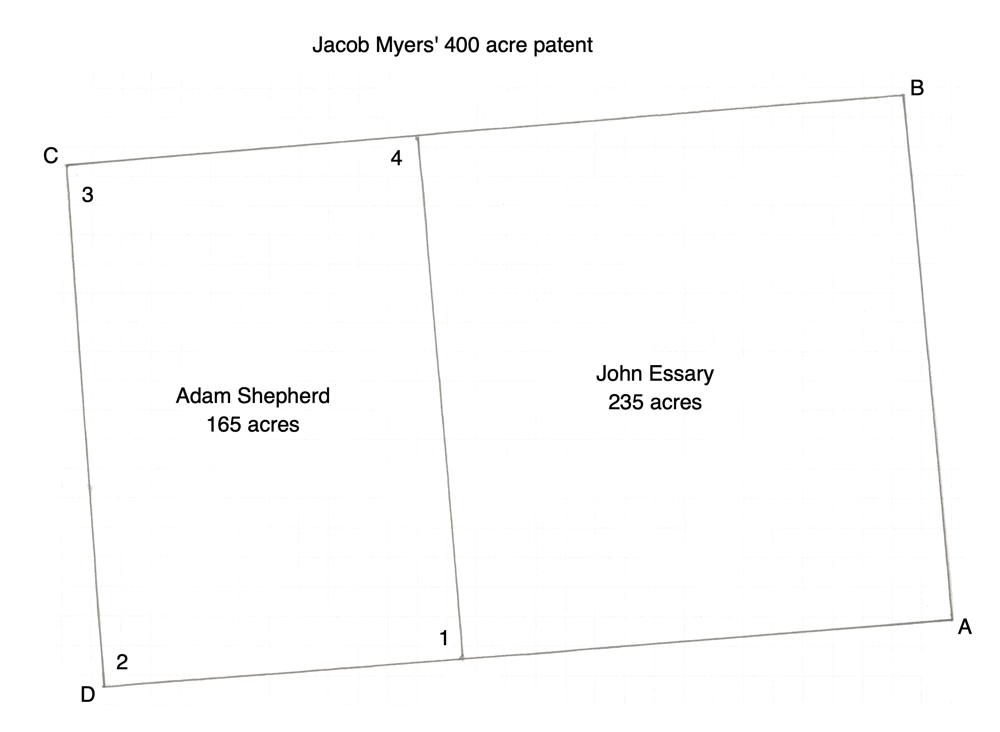 In 1787, Jacob Myers sold 165 of the 400 acres he had patented near Long Lick Creek to Adam Shepherd. At that time, the land was in Nelson County. Below is the deed transcription, followed by an image of the deed. Shown here is a drawing of the 400 acres as split between Shepherd and John Essary.
---
Nelson County Deed Book 1, pp 80-81
Jacob Myers to Adam Shepherd
165 acres - Long Lick Creek - 30 Jan 1787
This Indenture made this thirtieth day of January, one thousand seven hundred and eighty seven between Jacob Myers of the County of Lincoln of the one part and Adam Shepherd of the County of Nelson of the other part. Witnesseth that the said Jacob Myers for & in consideration of the sum of one hundred pound to him in hand paid at and before the sealing and delivery of these presents, the receipt whereof the said Jacob doth hereby acknowledge, the said Jacob hath granted, bargained and sold and by these presents do grant, bargain, sell, alien & confirm unto the said Adam Shepherd and his heirs forever all his right, title and interest of, in and to a certain tract or parcel of land situate lying and being in the said County of Nelson on Long Lick Creek containing one hundred and sixty five acres, being part of a tract which was granted by patent bearing date the second day of December one thousand seven hundred and eighty five and bounded as follows. Beginning at [1] John Essery's corner a poplar and beech and running thence South eighty five degrees West one hundred and thirty two poles to [2] a beech and mulberry, thence North five West two hundred poles to [3] two hickories and a sassafras, thence North eight five East one hundred and thirty two poles to [4] three beech trees, thence South five degrees East two hundred poles to the Beginning, to have and to hold all and singular the premises above described unto the said Adam Shepherd his heirs or assigns forever to his and their proper use and behoof, and the said Jacob Myers, the said tract of land with the appurtenances unto the said Adam Shepherd and his heirs from him the said Jacob Myers & his heirs & from the claim of all and every person or persons whatsoever shall and will warrant and forever defend by these presents. In witness whereof the said Jacob hath hereunto set his hand and seal the day and year first above written. (signed) Jacob Myers. Witnessed by Harry Jones, John May, Sherman Todd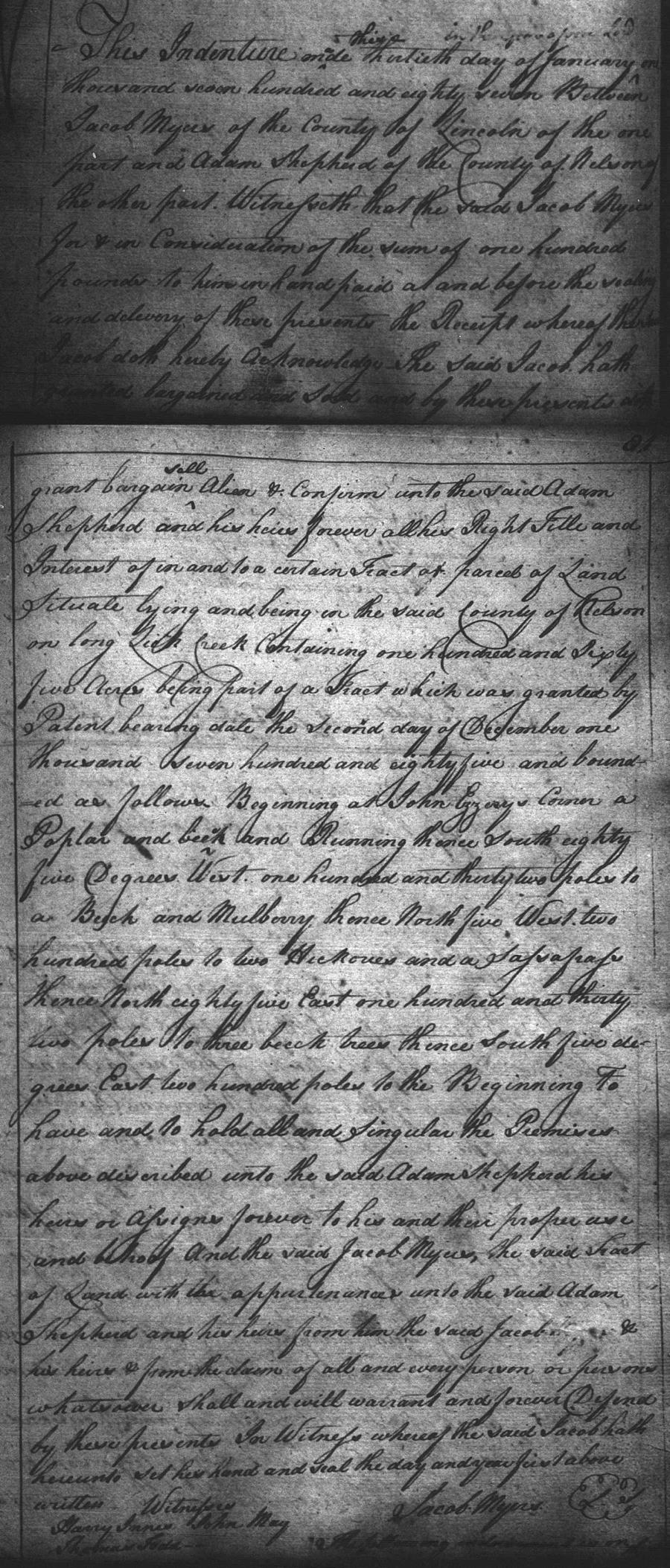 ---
If you, the reader, have an interest in any particular part of our county history, and wish to contribute to this effort, use the form on our Contact Us page to send us your comments about this, or any Bullitt County History page. We welcome your comments and suggestions. If you feel that we have misspoken at any point, please feel free to point this out to us.