Ben Stansbury to Polly Stansbury - 656 Acres
On 4 Jan 1822, Benjamin Stansbury conveyed 656 acres to his wife Polly Stansbury with Mason Lunsford as trustee. He also conveyed livestock, furniture, tools, and slaves to her. This land almost certainly included the 456 acre tract patented to him that lay between William Christian's 1000 acre Bullitt's Lick tract and Peter Shepherd's 600 acre tract. It likely also included the 100 acres that Stansbury purchased from Adam Shepherd out of that 600 acre tract. We are uncertain about the final 100 acres claimed in this deed.
---
Bullitt County Deed Book D, Pages 482-484
This indenture made and entered into this fourth day of January in the year of our Lord one thousand eight hundred and twenty two between Benjamin Stansbury of the one part Mason Lunsford of the second part and Polly Stansbury of the third part. Whereas the said Benjamin Stansbury, feeling desirous to create an estate for the exclusive use and benefit of the aforesaid Polly Stansbury for an account of divers considerations moving him good and valuable in conscience and wishing the same to be so considered in law, now in consideration of ten dollars to the said Benjamin Stansberry in hand paid by the said Mason Lunsford, the receipt whereof is hereby acknowledged, hath granted, bargained, sold and delivered and do by these presents grant, bargain and deliver to the said Mason Lunsford the following property (to wit) six hundred and fifty six acres of land in Bullitt County near Bullitt's Lick now occupied by B. Stansbury, seven head horses, twenty eight head of cattle, thirty seven head of sheep, forty two hogs, nine negroes named Vine, Linda, Edward, Jacob, Philip, Aldelene, Alexander, Maria & Lureann during the life aforesaid Stansbury all the household & kitchen furniture & all the farming tools such as ploughs etc., all notes, bonds & demands of every description & all personal property whatever that the said Benjamin Stansbury has in possession & that he has a right to, in the hands of any person whatever. It is further to be understood by this deed that the aforesaid property is conveyed to the said Lunsford for the use, benefit & behoof of the said Polly Stansbury that is she is to have the rents & profits of the aforesaid property and the proceeds arising thereupon are to go the use and be under the entire control and management of the said Polly Stansbury and to be at her disposal in any way whatever that she may think proper, and the said Mason Lunsford is not to dispose of any of the aforesaid property other than by the will and approbation of the said Polly Stansbury, and as a signification of her siad will and approbation in a sale or disposal of any of the aforesaid property she is to write in the deed or instrument with the said Mason Lunsford that is or may be intended to pass the same by sale or otherwise and nothing short of the aforesaid requisition shall enable the aforesaid Mason Lunsford to divest the aforesaid property and of the tenor conveyance & influence of this deed. In testimony whereof the parties have hereunto set their hands and affixed their seals the date first written. (signed) Ben Stansbury, Polly Stansbury, Mason Lunsford. Witness: Henry Gore.
It is also agreed on and understood that in case the aforesaid Polly Stansbury should die before the said Benjamin Stansbury the aforesaid negroes are to be returned to the said Benjamin & to be his entire property as they were before the coincidence of this deed & in that case only witness our hands and seals. (signed) Ben Stansbury, Polly Stansbury, Mason Lunsford. Witness: Henry Gore.
State of Kentucky
I George P. Simmons, deputy clerk of the County Court of Bullitt County, do certify that on this day the within named Benjamin Stansbury, Polly Stansbury & Mason Lunsford came personally before me in my office and acknowledged & delivered the within & foregoing instrument of writing to be their act and deed for the purposes therein mentioned. Whereupon I have recorded the same with this certificate in my said office as required by law. Witness my hand this 14th day of January 1822. (signed) George P. Simmons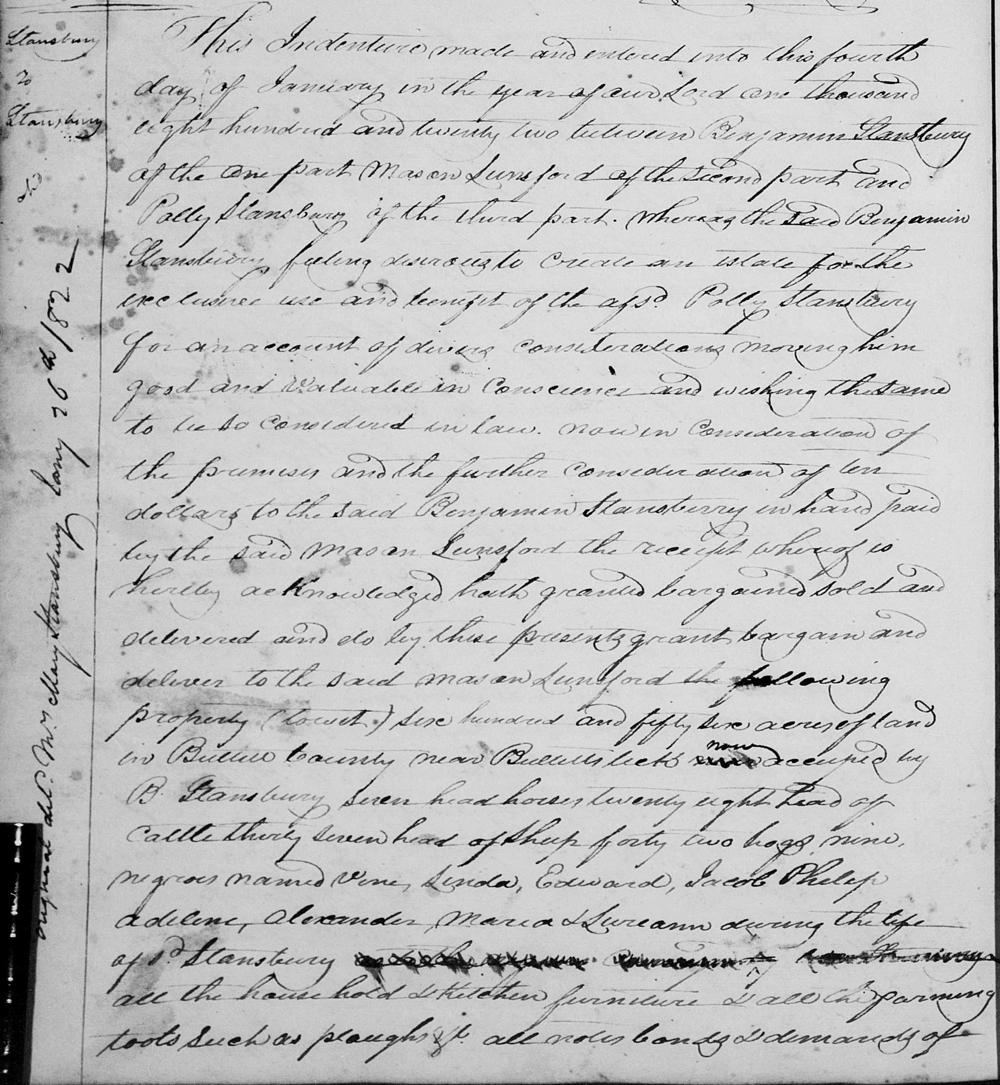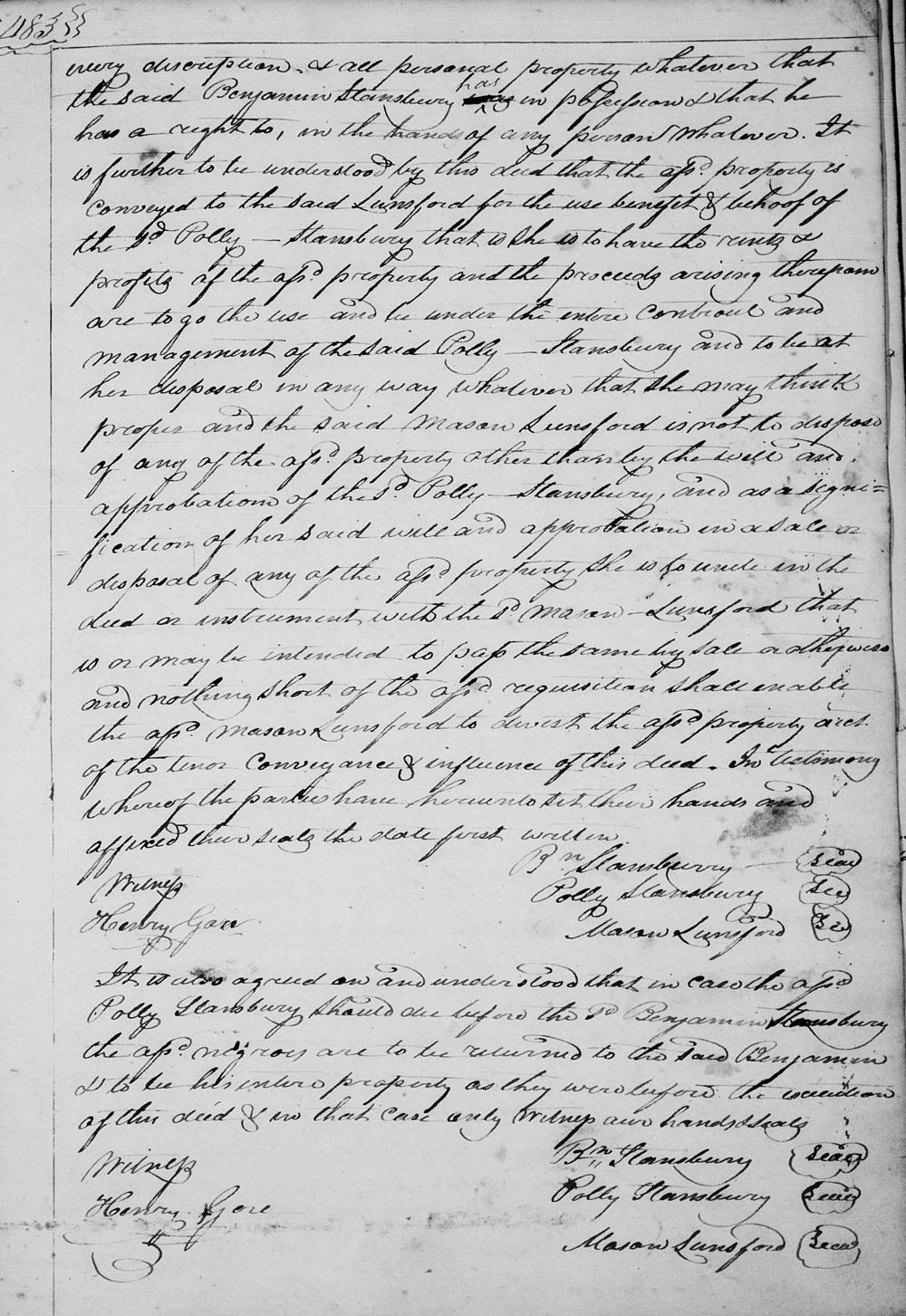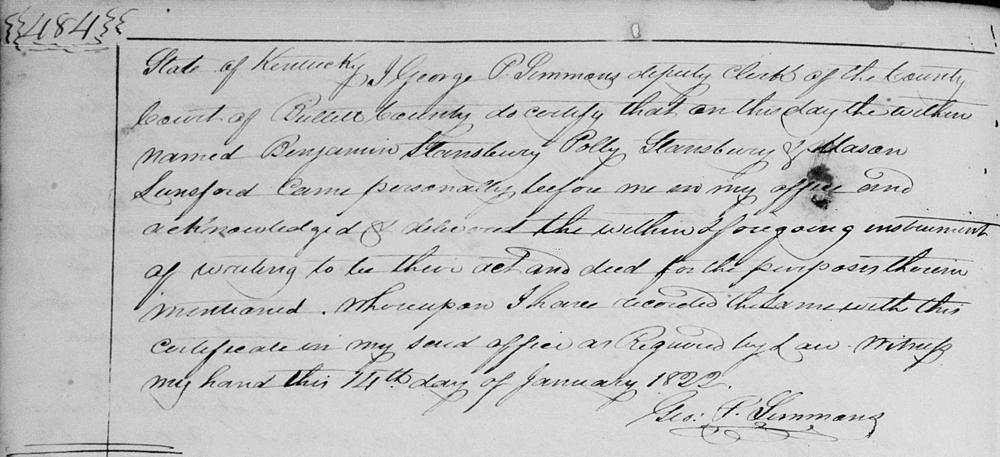 ---
If you, the reader, have an interest in any particular part of our county history, and wish to contribute to this effort, use the form on our Contact Us page to send us your comments about this, or any Bullitt County History page. We welcome your comments and suggestions. If you feel that we have misspoken at any point, please feel free to point this out to us.